Beautiful. Unique. Enchanting. These are just a few words that come to mind when you think of an alexandrite ring. Maybe it is alexandrite's rarity or ability to change color under different lighting, but this gemstone has a fascinating aura and beauty that can make your heart skip a beat. Are you looking for a gorgeous and unique ring that is perfect for all occasions? You have come to the right place!
Alexandrite: The Color-changing Gemstone
Alexandrite belongs to the chrysoberyl mineral family. It consists of beryllium, chromium, and aluminum oxide and gets its blue-green color from chromium. Additionally, as a pleochroic gem, alexandrite exhibits different hues. You can catch a glimpse of green tones under daylight and reddish-purple hues under incandescent lighting. No wonder why people also refer to Alexandrite as 'Emerald by day, Ruby by night.'
Alexandrite is one of the durable gemstones, with a score of 8.5 on the Mohs scale of hardness.
In addition, it is also one of the birthstones for June and the traditional gemstone to mark and honor the 55th anniversary. If you know someone whose birthday falls in June or your 55th anniversary is around the corner, you can always gift your friend or partner Alexandrite jewelry, respectively.
History and Origin of Alexandrites
It is believed that the alexandrite gemstone was initially discovered in 1830 at an emerald mine in the Ural region of Russia. Some miners in the Tokawaja emerald mine in the Ural Mountains came across some emerald-like stone with an odd discoloration. These stones seemed to look green in sunlight but showed reddish tones when placed under incandescent light or candlelight at night.
The miners subsequently gave the stones to the Tsarist government. These stones came into light when Crown Prince Alexander, also known as Tsar Alexander II, came of age. These stones get their name after Prince Alexander, who placed these newly found gemstones on his crown.
However, nowadays, you can also find alexandrites in Brazil, Sri Lanka, and East Africa.
Alexandrite Symbolism
Alexandrite is a gemstone with deep symbolism. It stands for good luck, riches, intellect, and embracing change. Its color-shifting nature also symbolizes the significance of maintaining balance in our lives and embracing the different emotions we feel and hold within ourselves. Isn't it quite symbolic in a poetic sense?
Alexandrite Jewelry
The durability of alexandrites is not the only quality that makes this gemstone a good choice for jewelry. Let's explore the other reasons that make Alexandrites a popular and sought-after choice for gemstone jewelry!
A rare gemstone
Did you know that alexandrite gemstone is rarer than a diamond? Every woman should own a piece of jewelry that is special. And what's better than a ring featuring alexandrite, a unique and rare stone? You can pair this stunning ring with any outfit without any trouble! Moreover, the rarity of this gemstone also makes it quite valuable and highly sought-after.
Best of both worlds
Have you ever been in a dilemma where you are confused between a ruby and an emerald ring? An alexandrite ring is a solution to your predicament! As I already stated, alexandrites appear to change their colors!
At first glance, you might notice bluish-green hues, especially in the daylight. However, you will be surprised to see the beautiful purplish-red color under incandescent lighting! Don't worry. Your gemstone is not flawed; it's just the magnificent and dynamic personality of alexandrite!
Looks great in any setting
Alexandrite stone looks stunning in all jewelry settings because of its color-shifting quality. If you are considering getting a solitaire ring, alexandrite should be your go-to choice because of its chameleon-like nature, where it can take center stage.
Not just that! Alexandrite also looks phenomenal in a halo and side stones settings, as the accent stones bring out the brilliance of the colored stone. The dual-color nature of alexandrite works impressively against the neutral and glittering backdrop of diamonds and moissanite.
Additionally, the various warm and cool tones that alexandrite exhibits go well with all metal hues, from white gold and platinum to more cheerful colors like rose and yellow gold. There's no doubt your alexandrite ring will look unique and breathtaking in all kinds of settings!
An ideal choice for an engagement ring
If you want your engagement ring to stand out from others, then you should go for something unique and exquisite like Alexandrite!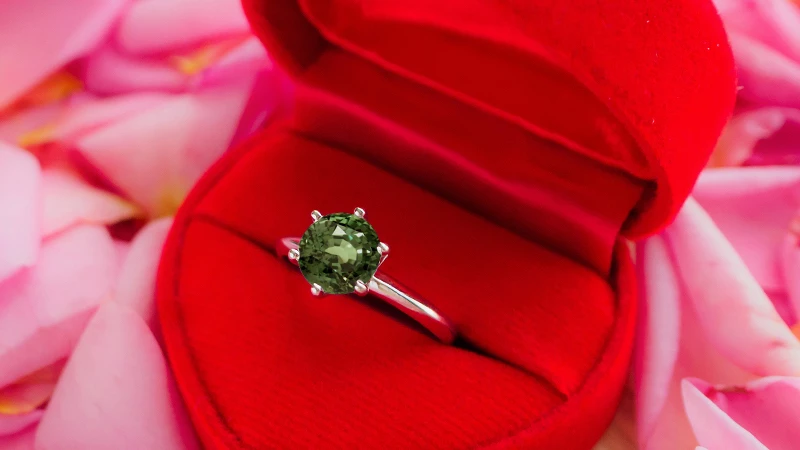 An alexandrite engagement ring is the perfect choice for a change-loving woman. It symbolizes love, commitment, and compassion. Put a radiant smile on her face by surprising her with this gorgeous engagement ring!
Available in all cuts and shapes
Another reason to love alexandrite is that it comes in all cuts and shapes! Each alexandrite gemstone is unique, and the cut can greatly affect how the colors of the stone emerge.
Round-cut alexandrites are by far the most popular choice. However, you can also go for other fancy cuts and shapes, where each one highlights the stunning quality of the color-changing gemstone!
Some Stunning Alexandrite Rings
Round Alexandrite Solitaire Ring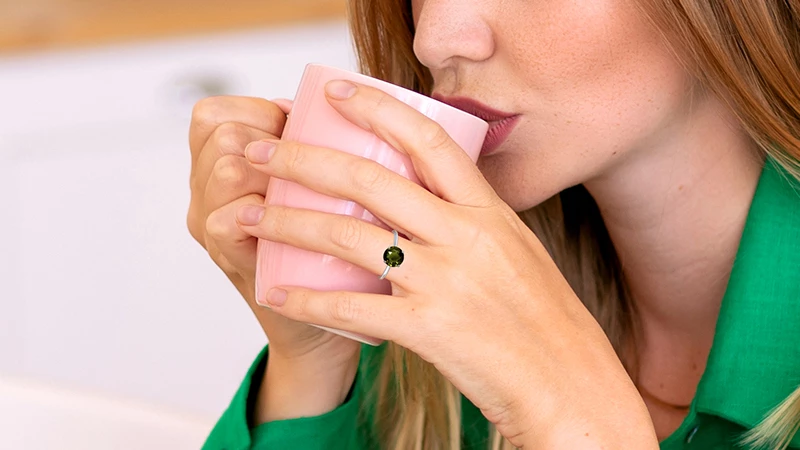 This solitaire ring featuring a round alexandrite gemstone brings out the beautiful hues of the stone. This classic ring style exudes elegance and is perfect for daily wear and every occasion.
Diamond Halo Alexandrite Ring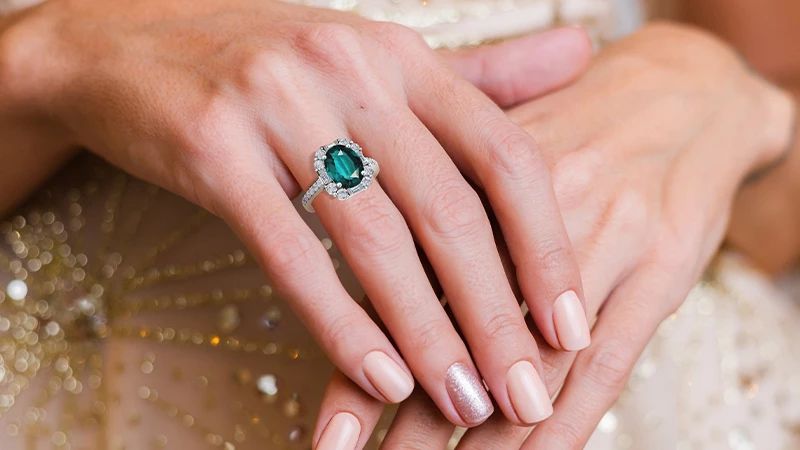 Do you like things sparkly? This ring is exactly what you are looking for! It features an alexandrite stone surrounded by a beautiful halo of diamonds, giving the overall ring an ethereal and alluring appeal.
Three Stone Alexandrite Ring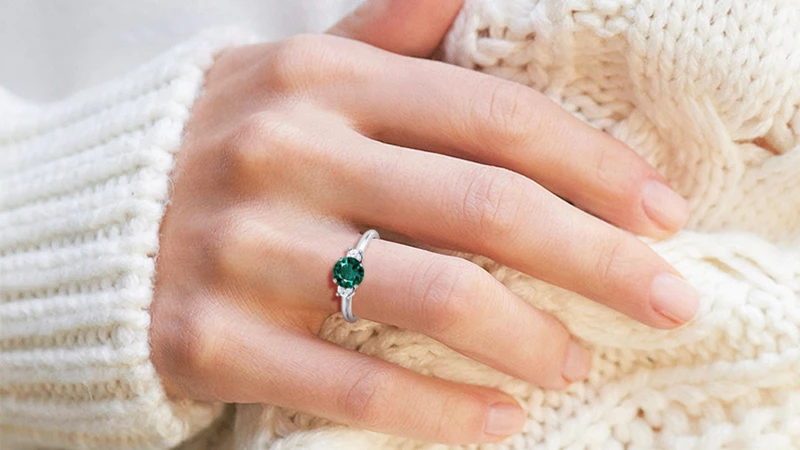 This three-stone ring featuring a pear-cut alexandrite along with two accent stones on either side is an ideal engagement ring choice. The beauty and magnificence of this ring will make her heart skip a beat when you propose to her!
Final Thoughts
Finding a beautiful ring that is perfect for every occasion can be daunting. It should have a perfect balance of elegance and glamor. Speaking of elegance and glamor, have you considered an alexandrite ring? The dual colors of this gemstone ring perfectly capture subtleness and glam. Alexandrite is also a durable gemstone that you can wear every day. You can find stunning alexandrite jewelry at GemsNY and that too on irresistible offers!