Blue sapphire pendants are the most thoughtful gifts for your loved ones, but choosing one from many is quite a demanding task. We call it a demanding task because it demands your time and attention. Giving a gift has always been a wonderful way of appreciating someone's contribution to your life. Whether you choose a gift for your significant other or a friend who is special to you, sapphire pendant necklaces are always a sought-after choice. Choosing a pendant from the ocean of gift ideas that can express your feelings is a tough task. Allow us to make it easier for you. We have done the research and brought you some parameters which can help you to get the perfect jewel for the special person in your life.
Start With The Gemstone
The first step in choosing a perfect jewel is deciding on a gemstone, so start choosing from attributes of sapphire. There are many fancy gemstone cuts, sizes, shapes and colors of sapphire from which you can pick your favorite one. To make your sapphire pendant necklace one of its kind jewelry pieces, you should pick every single attribute carefully. Consider the personality, hairstyle and body type of the wearer before proceeding to choose any of these attributes.
Consider The Metal
Metal plays an important role in any jewelry piece. In other words, we can say that metal is the foundation of a jewel. The choice of metal for any jewelry piece depends on your budget and the purpose of the jewel. If you are looking for an everyday wear jewel that is also durable, you should go for 14k white gold. You will have some more options in white metal, such as platinum, sterling silver and 18k white gold. Rose gold and yellow gold are usually suitable for special occasions because they are delicate and relatively less easy to maintain.
Gemstone Setting Is Important    
Gemstone setting refers to the style in which a gemstone is set in a jewelry piece. There are different settings, such as prong, bezel, halo or tapped cathedral. Depending on the overall design of the pendant, you can choose any one of these gemstone settings. While knife-edge prong settings go perfectly well with pear-shaped gemstones, the halo setting looks beautiful when you have a princess-cut centerstone in your pendant. Similarly, the bezel setting goes well with round gemstones. 
To make it simpler, we have shortlisted some elegant sapphire pendant necklaces for you. You can quickly pick them and amaze your loved one with your choice.
 Pear Shaped Diamond Sapphire Pendant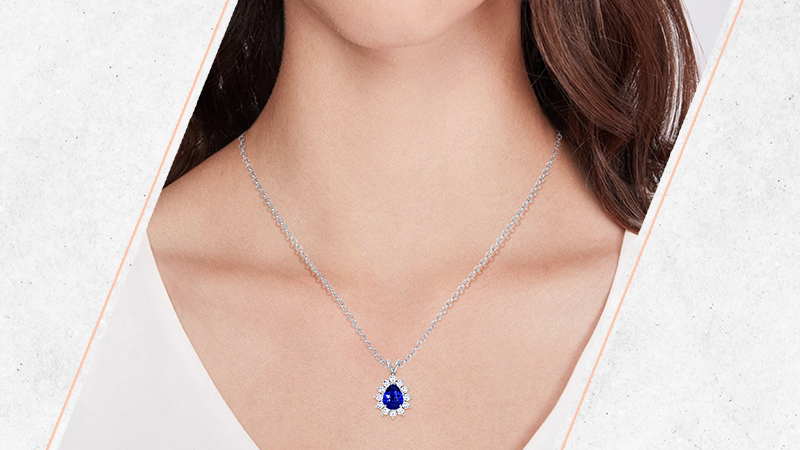 The goodness of sapphire is complemented with accent diamonds, and the intricate design of this pendant creates an everlasting impression. We have already discussed that a prong setting goes perfectly well with a pear-shaped gemstone, so this pendant necklace has all the fantastic features. You can choose the base metal according to your requirements because this pendant is available in white, yellow, rose gold and platinum.
Round Bezel Set Sapphire Pendant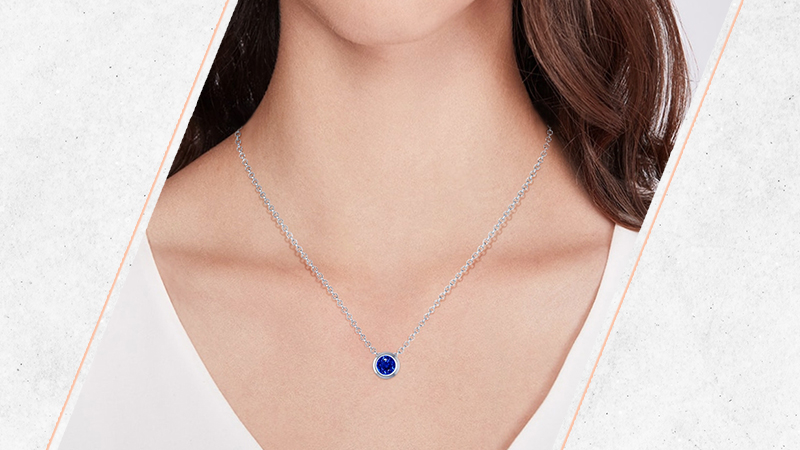 If you want to keep it simple and want her  to think of you every time she sees this piece of jewelry, go for this round-shaped sapphire pendant. Your loved one can wear this pendant in her day-to-day routine because it will add a touch of elegance to any outfit she picks. This pendant features a round shape sapphire set in a bezel setting and comes with a chain in the same metal.
Heart-shaped Prong Set Sapphire Pendant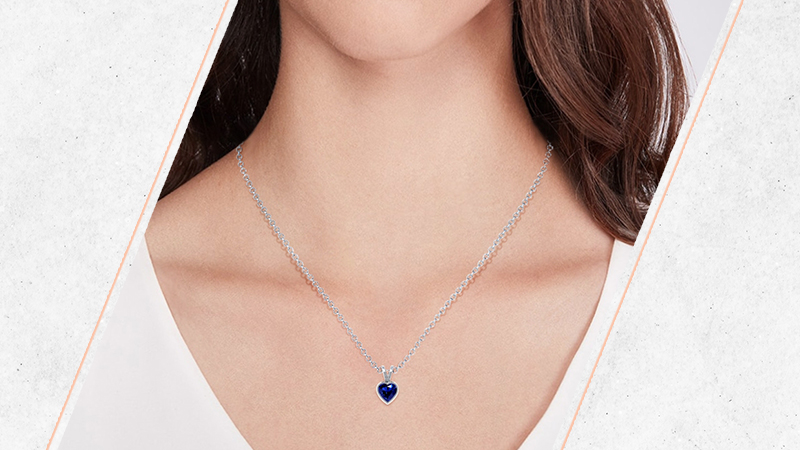 A heart-shaped pendant is a signature jewel to express love, so this pendant will definitely make her fall for you. The most beautiful thing about this pendant is that it alluringly features the gemstone at its best because the prongs are hardly visible from the front. The pendant looks like a blue heart cuddling around her neck.These were some tips and suggestions for the selection of a blue sapphire pendant necklace. Life is a beautiful journey full of unpredictable happy and sad moments, so it is worth enjoying every moment and appreciating the contribution of your dear ones. We hope that now it will be easier for you to choose the perfect gift which will portray your feelings to your someone special.