The king of gemstones – Ruby is known to represent passion and romance. It is one of the most popular and sought-after choices when it comes to buying color gemstone engagement rings. From the bold pigeon blood-red color to its pinkish-purplish hues, ruby is a cut above the rest in terms of looks. Also, ruby scores 9 on the Mohs scale of hardness, meaning that the gemstone can easily withstand the rigors of daily life. Over the years, ruby has become an eye-catching alternative to a more conventional diamond as a ring's centerstone. The alluring color and impressive hardness of ruby make it a preferred choice for modern brides. 
While ruby rings have been around for a very long time, the last few decades have seen a surge in the popularity of ruby engagement rings, thanks in large part to its adulation amongst celebrities. From Ashley Simpson to Katy Perry, ruby engagement rings have tickled the fancies of so many Hollywood divas. Here are just a few of the most notable celebrity ruby engagement rings.
1 & 2. Jessica and Ashlee Simpson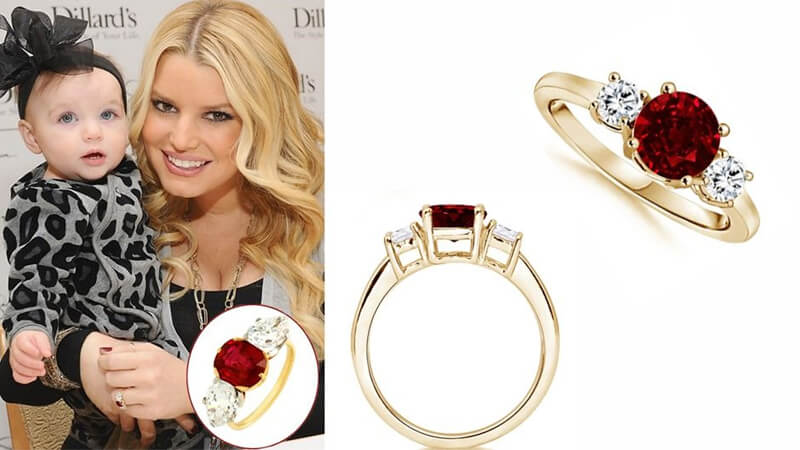 Sisters Jessica and Ashlee Simpson are famous for their singing abilities and eye for design. It was expected that these multi-platinum-selling siblings would stray from the norm and choose color stones for their engagement rings.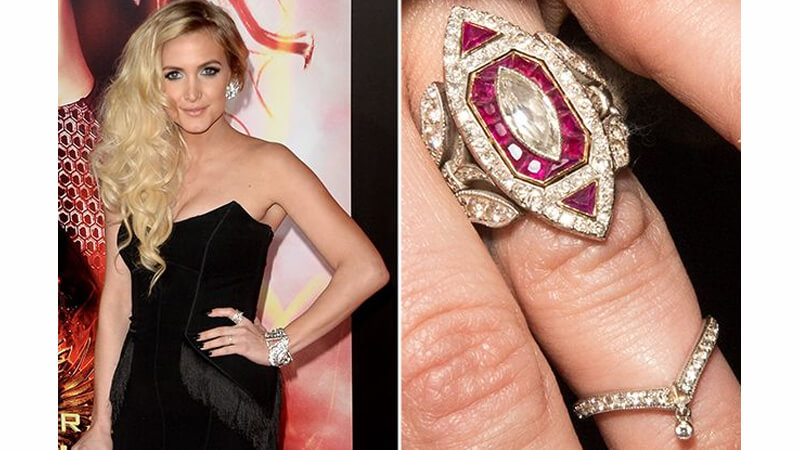 As expected, they both opted for ruby rings. Famed designer Neil Lane designed the rings for both sisters – a ruby and diamond Edwardian-style ring for Ashlee and a 5-carat three-stone ruby ring for Jessica.
3. Victoria Beckham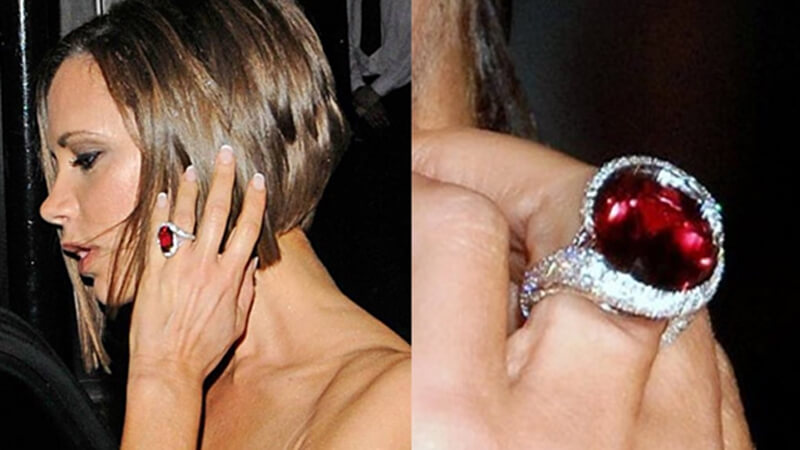 At this point, the name Victoria Beckham is almost synonymous with extravagant engagement rings.
Through 22 years of marriage to David Beckham, she has amassed 14 rings! During all these years, Posh Spice has switched up her engagement rings so many times. In 2009 she received a stunning oval-cut ruby set in a unique floral diamond setting. This is her second-color gemstone ring and ninth overall.
4. Katy Perry
Singer Katy Perry is known for her trendsetting and unique style, so it was only fitting that her engagement ring followed suit.
Her (approximately) 2-carat oval ruby ring is set in a halo setting surrounded by 8 white diamonds. While the designer is unknown, this ring is believed to be vintage. By posting a picture of her ruby engagement ring on Instagram, the American singer-songwriter announced her engagement with the British actor Orlando Bloom.
Also read: 10 Celebrities Color Gemstone Engagement Rings
5. Sarah, Duchess of York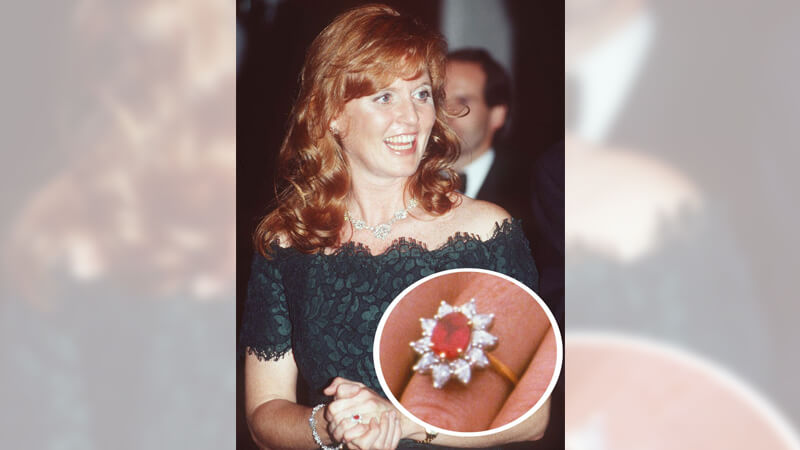 The royals have been setting the trend for color gemstone rings since the debut of Princess Diana's famous blue sapphire ring in 1981. This trend continued in 1986 when The Duchess of York, Sarah Ferguson, received her Burmese oval ruby engagement ring from Prince Andrew. The ring features a huge Burmese ruby enclosed with 10 sparkling diamonds.
At GemsNY, we have an entrancing collection of ruby engagement rings that will never fail to excite your curiosities. Explore our collection for inspiration or bring your fascination to life through our bespoke services. To replicate celebrity engagement rings, visit our ruby engagement ring page, where you can shop from our preset ruby ring collection or select your desired ruby based on color, shape, clarity, carat weight, etc., then add it to your favorite ring setting. We can also make a custom jewelry piece that's unique to you.