Celebrities around the world have never failed to amaze their followers with their charming looks, unparalleled fashion statements, exceptional body language, and elevated confidence. And guess what, the exquisite world of gems and jewelry always assists these celebs in adorning themselves with self-love overwhelmed with pride in their success and stardom. 
Be it flawless diamonds, lush green emeralds, scarlet-hued rubies, or vibrant blue sapphires, celebs have always nailed to grace every social gathering with some of the most marvelous jewelry pieces, many of which have become a benchmark in the fashion universe. So, instead of their attire, hairstyle, and makeup, we will be discussing celebrity jewelry accessories, and in particular, aquamarine fashion in this blog.
Tracing the Origin of Mystic Aquamarines
The blue species of the mineral beryl is known as aquamarine most of which are pale bluish-green in color which can be enhanced through heat treatment. The name of the gemstone is made up of two words, 'aqua' meaning 'water' and 'marine' derived from another word 'marina' meaning 'of the sea' in Latin.
With a rating of 7.5 to 8 on the 10-point Mohs hardness scale, the value of the stone is determined by how strong its natural blue color is along with other factors such as its carat weight, clarity, and cut. Today, aquamarines are mostly mined in countries such as Brazil, Sri Lanka, Russia, China, India, Myanmar, Madagascar, Kenya, Afghanistan, Nigeria, Pakistan, Tanzania, Australia, the United States, etc. 
Spiritual Symbolism of the March Birthstone: Aquamarine on Radar
Just like the unsettling waves of the ocean, the majestic hues of the transparent light blue aquamarines can make your heart skip a beat or two without you realizing the cryptic symbolism behind this gemstone. According to ancient cultures, Romans would believe that keeping aquamarines by their side during sea voyages would protect sea travelers from unforeseen dangers and could ward off illnesses. The ancient Japanese and Chinese would also prefer aquamarines for making historical and cultural artifacts.
For a long time, aquamarines have been the ultimate token of courage & harmony and have represented everlasting youth for their wearer. Filled with playfulness and joy, the stone has the capability to heal the emotional trauma of its owner with its cool temperament, thus also reducing their stress levels and bringing inner peace. It could eventually provide you with clarity of thoughts in the heart and mind to fight through rough times. Hence, if you are born in the month of March then an aquamarine birthstone will bless you with all the goodness in this world. 
Trending Aquamarine Showstoppers on Red Carpet
Shallow ocean-blue colored aquamarines are truly a delight to stare at and admire which is why even the most famous celebrities and personalities around the planet could not resist adorning themselves with these mesmerizing gemstones. 
An aquamarine engagement ring from the engagement ceremony of pop sensation Justin Timberlake and actress Jessica Biel in December 2011 garnered huge public attention. Timberlake's thoughtful inclusion of March gemstone resembling Biel's birth month created a diamond centerstone and aquamarine side-stones studded platinum ring which made its place in the Vogue Magazine's list of top 10 Best Celebrity Engagement Rings of all time.
Other instances when aquamarines shined bright include the 2013 Cannes Film Festival appearance of Karlie Kloss donning aquamarine link drop earrings lined with diamonds. Diana Agron also dared to pair her crimson-hued long gown with antique pendant earrings made out of diamonds and aquamarines. 
At another event, glamorous Berenice Bejo set the red carpet on sizzling fire with royal blue attire aligned with diamond, sapphire, and aquamarine earring drops. Emmy Rossum also flaunted her aquamarine and pearl drop earrings with a matching tiara and captivated a million hearts at an Oscar Party. The red carpet of the 2014 Oscars was illuminated by blue aquamarine and diamond drop earrings along with a large aquamarine studded bracelet worn by Jessica Biel.
Apart from those mentioned above, other celebs who have created highlights with their aquamarine love include Reese Witherspoon, Lady Gaga, Carrie Underwood, Charlize Theron, Elton John, Diana Ross, Cobie Smulders, and Sarah Jessica Parker.
Royals Glammed Up in Aquamarine
The silky texture and hypnotic hues of aquamarines not only bewitched the stars from the entertainment industry but also dignified the ladies of royal families around the world.
Exceptional collections of aquamarine gemstones possessed by the British Royal Family include a classic range of Brazilian Aquamarine stones presented to Queen Elizabeth II by the Brazilian government. These stones were later carved into a suite of jewelry pieces, including a necklace, a pair of earrings, tiaras, rings, bracelets, brooches, clips, etc. to suit her majesty's magnetic personality which she was pictured donning several times.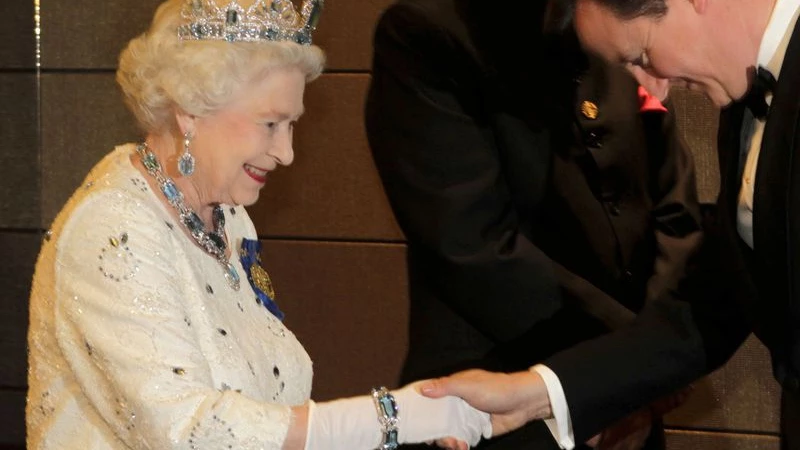 Aquamarine rings especially appealed to the phenomenal beauty, Diana, Princess of Wales who was spotted flaunting her large emerald-cut aquamarine stud at several public events. She was also seen sporting a large emerald-cut aquamarine pearl cuff bracelet and diamond-aquamarine drop earrings on another occasion. Her ring was later passed as a keepsake to her youngest daughter-in-law, the Duchess of Sussex, Meghan Markle who wore it on her wedding day in 2018 and at several other occasions later on.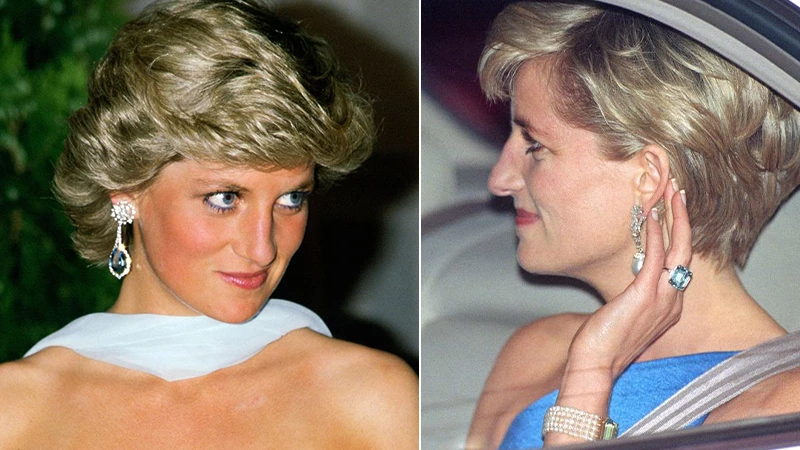 Another member of the British Royal Family who has an affinity for the sky blue aquamarines is Sophie, Countess of Wessex who has been seen in 'Five Aquamarine Tiara' many times. She also has in her aquamarine collection an emerald-cut aquamarine brooch with diamonds encircling it, a single high-carat aquamarine embellished diamond crown which can also be worn as a necklace along with a matching aquamarine pendant, and an aquamarine cocktail ring.
The queens and princesses of other countries have also showcased their affection for the seawater of a gem. Queen Maxima of The Netherlands creates headlines whenever she adorns a Brazilian aquamarine suite of jewels from the Dutch Royal Family's treasury. The members of the Sweden Royal Family have also been photographed on several instances styled in an aquamarine tiara and ear drops from the Swedish Royal collection. The Crown Princess Mary of Denmark Royal Family also owns her exclusive collection of aquamarine jewelry gifted by her husband consisting of a pair of aquamarine-inspired drop earrings, a pearl choker, a cocktail ring, and many more.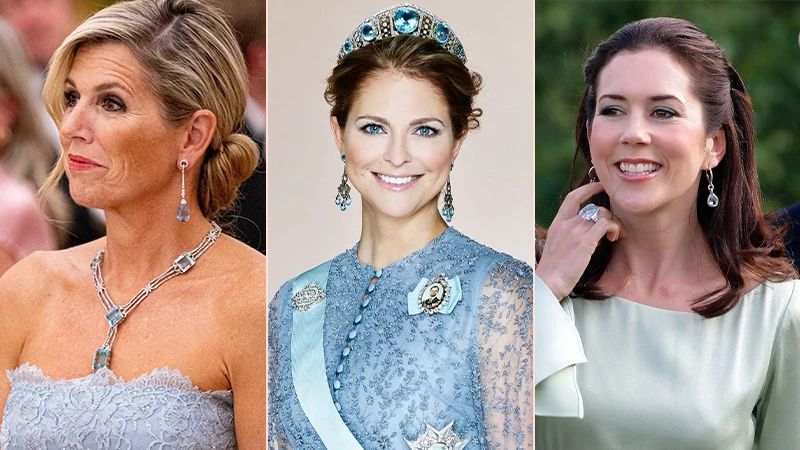 Parting Thoughts
The calming aquamarines have made a special place in hearts since their soothing hues complement the majority of skin tones. Their durability as well as affordability as compared to other colored gemstones, have only enhanced their popularity in the last few decades. 
In case you are also fascinated by aquamarines and wish to get one to decorate your engagement ring or wedding band, then we, at GemsNY, have got you covered with an enticing range of natural aquamarine rings and jewelry. Alternatively, you can get yourself a customized version of your own aquamarine ring and engrave your bountiful love on her ring finger connected to her heart.