Gemstone bracelets have long been a part of women's jewelry collections but have not been praised as much as other ornaments like rings, necklaces, and earrings. But with the passage of time and with new artistic designs & captivating patterns, gemstone bracelets are making an indelible mark in the world of jewelry and fashion.
Gemstones such as diamond, sapphire, ruby, tanzanite, and emerald are some of the cherished choices when it comes to wristlets. Hollywood celebrities like Penelope Cruz, Hailey Bieber, and JLo have also taken the craze of gemstone bracelets to an entirely new level. Nowadays, women are proudly wearing gemstone bracelets to add charm and elegance to their outfits.
Enough of talking about the trending gemstone bracelets, right? Now, let's cut to the chase and find out some of the most trending chic gemstone bracelet options that will amp up your look.
Diamond Bracelet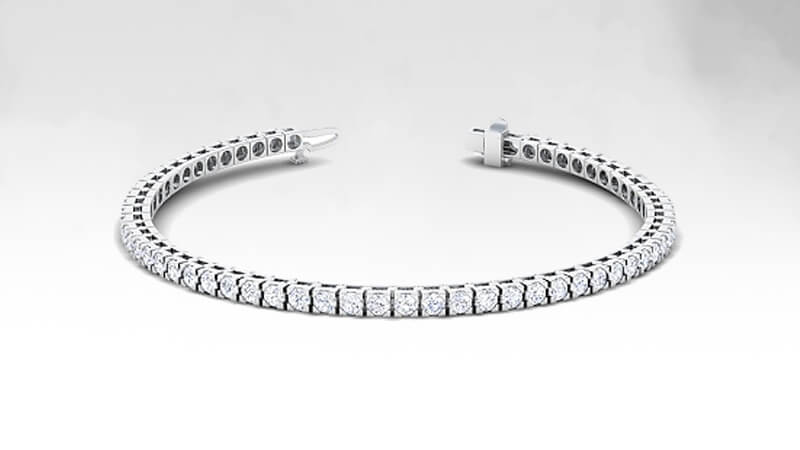 If there were to be a gemstone bracelet that sets you apart from others, it would only be a diamond bracelet. The incomparable brilliance of diamonds lights up your attire and makes you a center of attraction at any party. Because of the classic and timeless beauty of diamond bracelets, they will never go out of style and always be loved by women. 
Not many people know that Lt. Princess Diana loved to adorn diamond bracelets though she chose a sapphire ring for her engagement, moving away from the royal tradition. Many known celebrities such as Meghan Markle, and Kate Moss love to beautify themselves with dazzling diamond bracelets. Design yourself a marvellous diamond bracelet in different settings, such as prong and bezel, to make your fashion quotient perfect.
Sapphire Gemstone Bracelet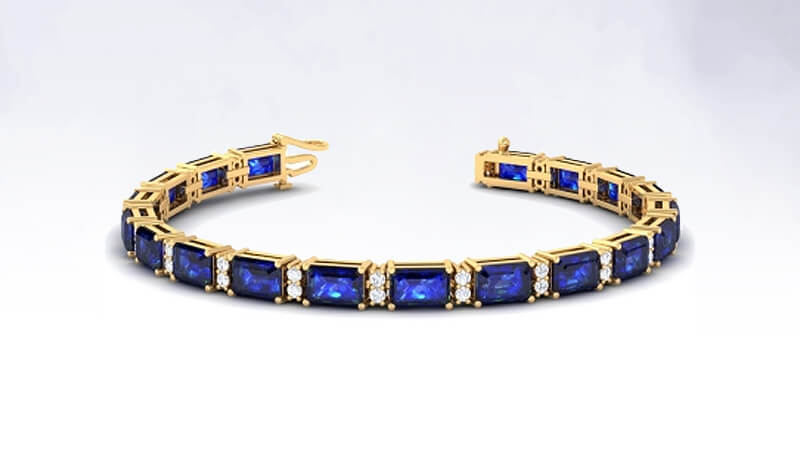 A diamond may be a classic choice for wristlets, but sapphire also sets the bars high. Sapphire is an incredible alternative for a bracelet, making it perfectly suitable for any special occasion. The exhilarating blue vibe of this magical stone compels you to add one to your jewelry collection. You can choose to go with the prong setting to amplify the appearance of the bracelet. The prong setting covers less area of gemstone and allows a considerable amount of light to interact with the stone to enhance the sparkle of the bracelet.
Ruby Gemstone Bracelet
If you have a charming and romantic personality, then a ruby bracelet is a perfect pick for you. Ruby is a symbol of love & passion and known as the 'King of Gems' due to its alluring red hue that ignites romance. The timeless appearance of a ruby bracelet makes you stand out at any event. Pair your gorgeous ruby bracelet with a ruby solitaire necklace and earrings to fashion yourself uniquely. You can also make a combination of diamonds and rubies to make your bracelet look one-of-a-kind.
Tanzanite Gemstone Bracelet
Tanzanite is a rare and expensive gemstone, but it's a worthy addition to your jewel box. The calming indigo-blue stone simply catches all your attention and adds a chic factor to your character. Tanzanite gemstone bracelet set in platinum and rose gold metal makes a perfect proposal gift. If you're planning a surprise proposal for your lady love, take a different way and propose to her with an eye-catching tanzanite bracelet.  
Emerald Gemstone Bracelet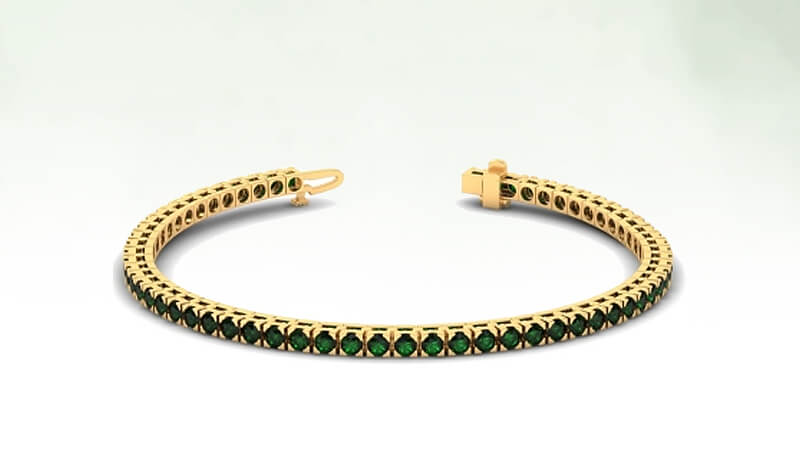 If you love the fresh and lively vibe of green, then no other gemstone can match your expectations than emerald. The alluring green of the emerald evokes positive vibes and strengthens intuition. Design an emerald bracelet in antique-inspired style to give your bracelet a rusty look. This bracelet will undoubtedly distinguish you from others whenever you go to any event or ceremony.
We all focus on rings, earrings and necklaces when it comes to glam up our looks with jewelry. But gemstone bracelets are some of those options that can turn on your glamour goals.
Raise your bars high with the designer gemstone bracelets. We at GemsNY are savvy at designing the jewelry you want to add to your jewelry collection. Our best craftsmanship and quality gemstones make the jewelry exceptional. Check out our amazing bracelet collection and grab one for yourself now.