Blog Outline:
Welcome to the realm of men's emerald jewelry – a world of sophistication, class, and boldness. At GemsNY, we take pride in curating a collection of men's emerald jewelry that embodies these qualities and more. From stunning emerald rings to elegant emerald bracelets, our collection has something for every man who wants to make a statement.
Picture yourself in a luxurious suit, adorned with the perfect piece of men's emerald jewelry. As you enter a room, all eyes turn to you, drawn in by the beauty and power of your accessories. This is the world of men's emerald jewelry, where the finest gems meet the most exquisite craftsmanship.
At GemsNY, we know the value of quality and exclusivity. That's why our emerald jewelry for men is made with the utmost care and precision, using only the finest materials. Our designs are tailored to your unique style and personality, whether you prefer a classic look or something more daring. So, let's dive into this comprehensive guide and discover the world of emerald jewelry together.
Beauty and Meaning of Emerald Jewelry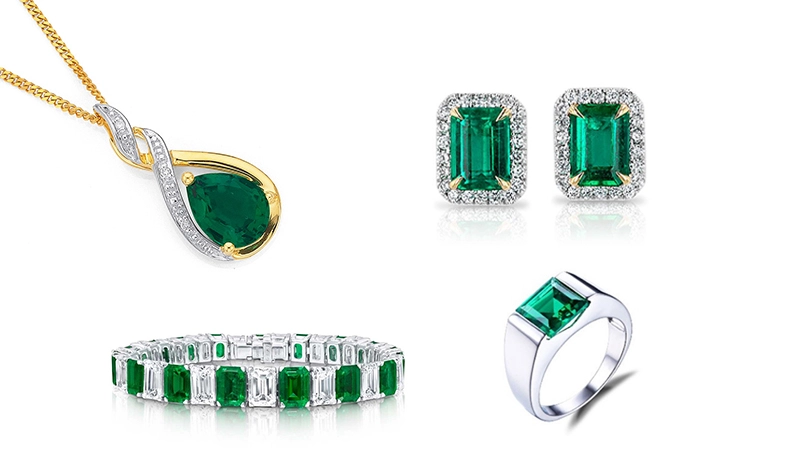 Emeralds are a type of mineral called beryl and they're famous for their stunning green color. The deeper the green hue, the more precious and valuable the emerald is. These beautiful gems are mined in various locations worldwide, but the finest quality emeralds are usually found in Colombia, Zambia, and Brazil. When it comes to emerald jewelry, there are many types to choose from, including rings, bracelets, necklaces, and earrings.
History of Emerald Jewelry
Did you know that emerald jewelry has a fascinating history? In ancient times, the Egyptians believed that emeralds had special healing powers and wore them as good luck charms. The Romans, on the other hand, associated emeralds with Venus, the goddess of love, and often gave them as precious gifts to their loved ones. During the Middle Ages, emeralds were thought to have the ability to cure illnesses and ward off evil spirits. It's amazing to see how this beautiful gemstone has been cherished and celebrated throughout history.
Types of Men's Emerald Jewelry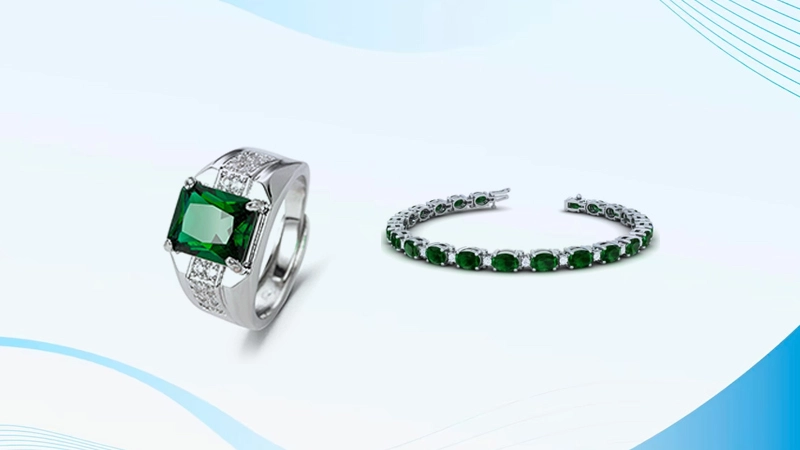 When it comes to men's jewelry, emerald rings are definitely a top pick. They offer a timeless charm and come in a wide range of styles, from traditional solitaire rings to edgier, modern designs. And if you're looking for something to adorn your wrist, emerald bracelets are a perfect option. You can wear them alone or mix and match with other bracelets to create a personalized look. While emerald necklaces and earrings may not be as common, they can still make a stunning addition to any outfit, adding a touch of sophistication and refinement.
Popular Men's Emerald Ring Designs
Men's emerald rings come in various styles, ranging from classic to contemporary designs. Here are four of the most popular emerald ring designs to consider:
Classic Solitaire: This timeless design features a single emerald set in a simple band. It's perfect for those who prefer a traditional look.
Three-Stone: This design features three emeralds of different sizes set in a row. It's a great way to showcase the beauty of the emerald and add some sparkle to your finger.
Halo: This design features a center emerald surrounded by smaller diamonds or emeralds. It creates a stunning and dramatic effect, making it a popular choice for engagement rings.
Signet: This design features an engraved emerald set in a metal ring. It's a great way to add a personal touch to your jewelry.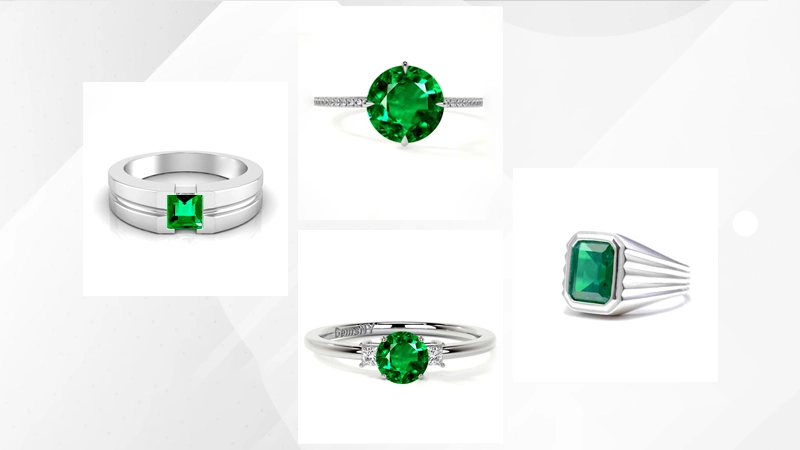 Popular Men's Emerald Bracelet Designs
Apart from emerald rings, men are now embracing emerald bracelets, too! These jewelry pieces are gaining popularity among the fashion-savvy for their rich green hue that pairs beautifully with metals like gold, silver, and platinum.
Here are some popular emerald bracelet designs for men:
Classic Single Strand: A single strand of emerald beads, usually paired with a simple metal clasp, is a timeless and elegant design. This bracelet can be worn alone or stacked with other bracelets for a bolder look.
Cuff Bracelet: A cuff bracelet with a single emerald stone or multiple emeralds set in a row is a classic and bold design. It adds a touch of sophistication to any outfit and can be worn as a statement piece.
Tennis Bracelet: A tennis bracelet with a row of small emerald stones is a subtle yet stylish design. It can be worn daily and is perfect for both casual and formal occasions.
Charm Bracelet: A charm bracelet with emerald charms or a single emerald stone as the centerpiece is a trendy and unique design. It can be customized with different charms and worn as a personal and meaningful piece of jewelry.
Whether you prefer a classic or bold design, emerald bracelets are a stylish and versatile accessory for any man's jewelry collection.
Choosing the Right Emerald Jewelry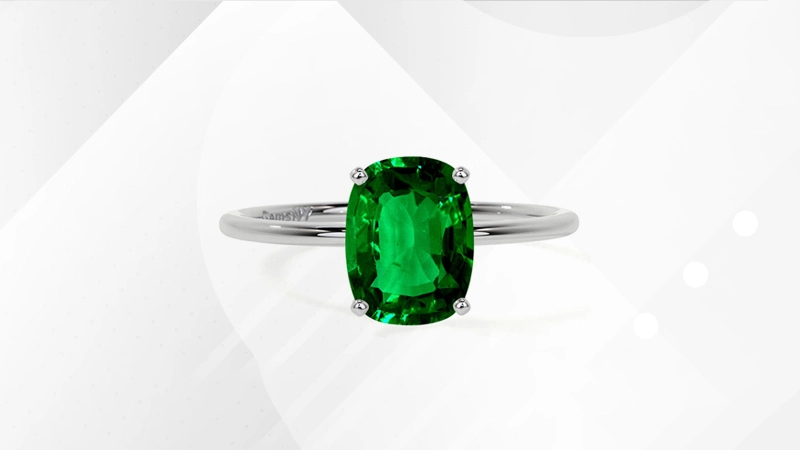 When you're picking out emerald jewelry, there are a few things you should keep in mind. First, you'll want to make sure you're getting a high-quality emerald. Look for one that has a deep green color and as few imperfections as possible. Secondly, you'll want to choose a setting that really shows off the beauty of the emerald, while also matching your own unique style. And finally, don't forget to consider the size of the emerald! You'll want to make sure it's the right size for the piece of jewelry you're choosing and fits with your own personal taste.
Caring for Emerald Jewelry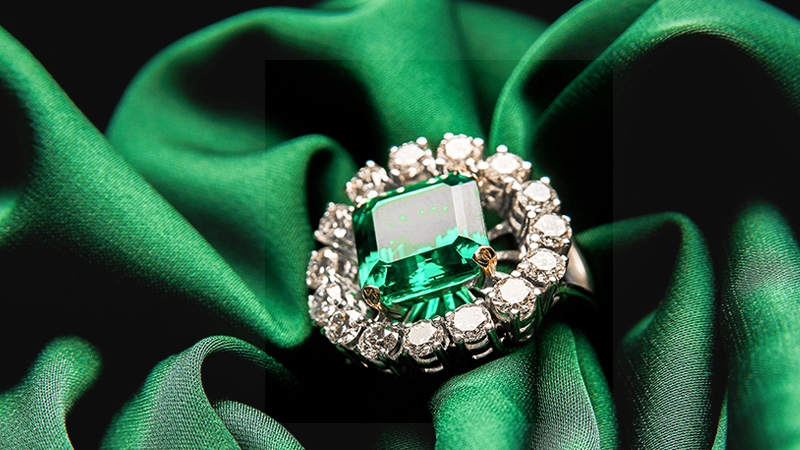 Emeralds are delicate gemstones and require proper care to maintain their beauty. Avoid exposing your emerald jewelry to harsh chemicals, such as bleach or chlorine. Store your emerald jewelry in a soft cloth or jewelry box to prevent scratches. Clean your emerald jewelry with a soft cloth and warm, soapy water.
Last piece of the Puzzle
Congratulations! You are now well-versed in the world of men's emerald jewelry. You have learned about this stunning gemstone's history, properties, and various designs. Now, it's time to take the next step and add a touch of luxury and elegance to your style with men's emerald jewelry.
Whether you're looking for a classic and understated piece or a bold and daring design, emerald jewelry is sure to make a statement. So, don't hesitate! Head over to GemsNY and explore our collection of men's emerald jewelry today. With our stunning designs, you're sure to find the perfect piece that will elevate your look.
| | | | | | |
| --- | --- | --- | --- | --- | --- |
| Type of Jewelry | Quality Check | Hardness | Popular Cuts | Settings | Metals |
| Emerald Jewelry | Deep green color with minimal inclusions | 7.5-8 on the Mohs scale | Oval, cushion, pear, round | Halo, solitaire, three-stone | Gold, platinum, silver |
| Emerald Ring | Deep green hue with no visible inclusions | 7.5-8 on Mohs scale | Oval, cushion, pear, round | Halo, solitaire, three-stone | Gold, platinum, silver |
| Emerald Bracelet | Deep green color with minimal inclusions and finely cut gemstone | 7.5-8 on Mohs scale | Oval, cushion, pear, round | Classic Single Strand, Cuff, Tennis, andCharm bracelet | Gold, platinum, silver |