Introduction
Emeralds are one of the most prized gemstones in the world. Emerald stones have been treasured for centuries by royalty, collectors, and jewelry lovers. They are known for their rich green color and striking beauty. However, not all emeralds have equal value and it can be difficult to distinguish a high-quality real emerald stone from a lower-quality emerald. In this write-up, we'll take a closer look at some of the key factors that can help you buy emerald stones of good quality.
Let us start with the 4Cs of emeralds.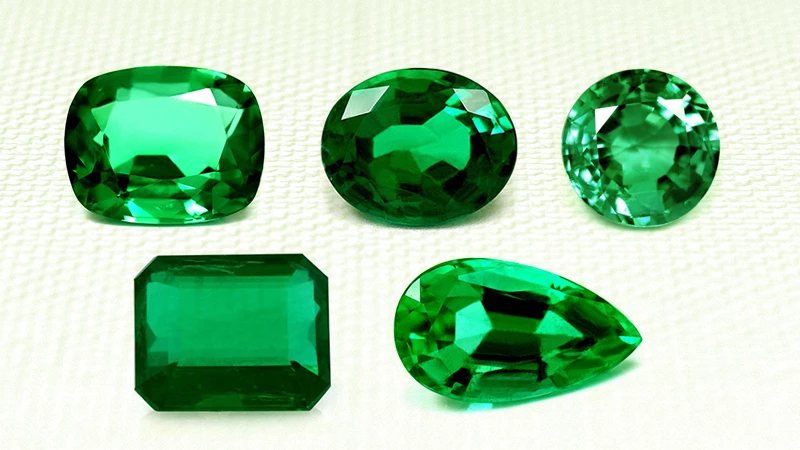 Color
Color is one of the most important factors in determining the quality of emeralds. A high-quality real emerald should have a deep, rich green color that is evenly distributed throughout the stone. The color of a natural emerald is caused by the presence of chromium and vanadium. The ideal color of the emerald stone is a pure green hue with a slightly bluish undertone. Avoid stones that have yellow or brown hues, as these can indicate impurities in the stone. A good quality emerald should also have a consistent color without any visible color zoning or patches. It's worth noting that the color of an emerald can vary depending on the lighting conditions, so it becomes important to view the stone under different lighting sources to get a better sense of its true color.
Clarity
Clarity is another important factor to consider when evaluating an emerald. Emeralds often have natural inclusions, or internal flaws, which are sometimes referred to as "jardin", meaning garden in French. While some inclusions are acceptable, excessive inclusions can affect the stone's transparency and overall beauty. Look for stones that have good transparency or are eye clean. In other words, we can say gemstones with inclusions that do not affect the stone's overall appearance are good to go. It's also worth noting that emeralds are typically less transparent than other gemstones, such as diamonds, so some degree of inclusions is to be expected.
Cut
The cut of an emerald can also affect its beauty and overall value. A well-cut emerald will have good proportions with a symmetrical shape that maximizes the stone's color and clarity. The most common cut for emeralds is the rectangular or square cut. Another well-known cut is the emerald cut. This cut features step-like facets that create a beautiful play of light and dark areas within the stone. Other cuts, such as the oval or round cut, can also be used for emeralds, but the emerald cut is generally considered to be the most classic and elegant.
Carat Weight
Carat weight is another factor to consider when evaluating an emerald. The size of an emerald can affect its value, with larger stones typically being more valuable. However, it's important to note that larger stones may also have more inclusions or other flaws. So it becomes important to consider all of the factors when evaluating a stone's value. The carat weight of an emerald is determined by its size and weight, with one carat equaling 0.2 grams. It's worth noting that large emerald crystals are rarer and more valuable than smaller ones, so the price per carat can increase significantly regardless of inclusions as the size of the stone increases.
Origin
The origin of an emerald can also affect its value. Emeralds from certain locations, such as Colombia or Zambia, are highly prized for their rich color and high quality. Colombian emeralds, in particular, are known for their deep, saturated green color and exceptional clarity. Other factors, such as the stone's treatment history and overall market demand, can also affect its value. Some emeralds may be treated with oils or resins to improve their clarity or color, while others may be left untreated.
Choosing The Right Emerald Stone For Engagement Ring
If your exercise of identifying the best natural emerald is for an emerald engagement ring, then let's get specific. These key factors will help you choose a perfect engagement ring.
– Choose a gemstone that can pair with accent stones. If you do not want your engagement ring to be based on a solo centerstone choose all the attributes of center emerald in a way that it can complement accent stones beautifully.
– Before choosing a gemstone cut, consider the gemstone setting in your engagement ring. Emerald-cut emerald looks perfect in a dainty ring with prong settings, while round-cut goes perfectly well with a halo-setting emerald stone engagement ring.
-Choose a metal wisely if your preference is an affordable engagement ring. Emerald is a gemstone that goes perfectly well with all metals, so you should not bother much about the combination of any metal with emerald stone. All you need to do is to choose 14K gold instead of 18K because it is less expensive.
-Go for an optimal gemstone size and clarity. An extra-large size gemstone will overpower the beauty of accent stones and engraving on the ring. Choosing an eye-clean emerald gemstone over a flawless one can be a wise decision because your emerald engagement ring centerstone will be fixed and no one is going to examine its clarity with professional equipment. 
Identifying Good Quality Emeralds For Your Other Accessories
Other accessories may include emerald pendants, emerald earrings, or emerald necklaces. You should always choose real emeralds for these accessories because real emeralds come with a good hardness score, making your accessories durable. Also, they do not get easily scratched by other objects of the daily household. The size, cut and clarity of emerald stone depend on the style of the jewelry piece. However, we would suggest that you should always go for natural emeralds. If you have budget constraints then you can find an emerald stone for sale on any online jewelry-selling portal.   
The legacy of emerald stone followed from the time of Queen Cleopatra. You may also find many influencers and celebrities wearing emerald jewelry on special occasions or events. Identifying a perfect emerald stone requires careful consideration of several factors, including color, clarity, cut, carat weight and origin. By evaluating these factors and working with a reputable jeweler or gemologist, you can find a high-quality emerald that is both beautiful and valuable. So start your treasure hunt today and get your masterpiece for life.