Christmas may be waving a teary goodbye in the rearview mirror, but there's something even better to look forward to; your birthday! January babies are blessed with garnet gemstone as their birthstone. Here is everything you need to know about this January birthstone beauty.
Introduction
The word garnet can trace its origins to the Latin word granatus which itself comes from granum, meaning grain or seed. This is a possible reference to pomum granatum or pomegranate, the red seeds of which resemble the most popular, red variety of garnet.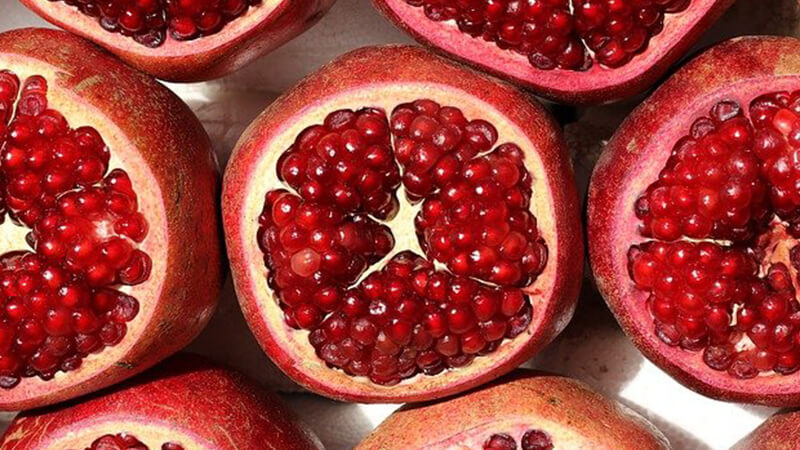 Most types of garnet are created when a sedimentary rock with high aluminum content, such as shale, is subjected to heat and pressure and turn into metamorphic rocks. Africa has the largest deposit of garnets but they can also be sourced from India, Russia and Central and South America. 
Colors and Types
The redness evoked in the etymology of its name is misleading. When it comes to Garnets the name of the game is color. Red garnets may be the most abundantly available but there are others as well. From sun-kissed amber to breezy blues, its rich palette of color is what makes the eclectic gemstone so exciting.
The different types of garnets tend to have similar physical properties but different chemical compositions. Some major types of commercially viable garnets include deep red pyrope, honey colored hessonite, electric green tsavorite, Purplish-pink rhodolite, burgundy almandine and inky black melanite. 
Garnet's light transmission properties can range from the gemstone-quality transparent specimens to the opaque varieties used for industrial purposes as abrasives. The mineral's luster is categorized as vitreous (glass-like) or resinous (amber-like).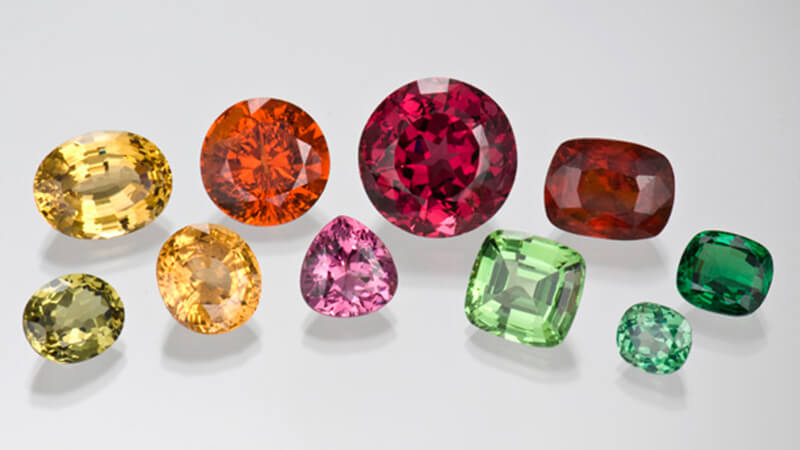 Legends and History 
Garnet was very popular in ancient Rome and Egypt. Red garnets were particularly famous amongst Egyptian pharaohs who would be entombed with garnet jewelry when they died. The practice of putting valuable commodities alongside the dead was a common practice. They were meant to be used in the afterlife.
Legend has it that in his quest to save all of God's living creatures, Noah embarked upon his ark with a garnet lantern. Garnet symbolizes perseverance, strength and deep commitment. Aren't these qualities a savior might possess? (Noah, we are looking at you buddy)
With the discovery of the famous Bohemian garnet deposits in central Europe around 1500, the availability of red garnet increased dramatically. This source became the nucleus of a regional jewelry industry that reached its peak in the late 1800s. Many European Royal houses embraced the garnet fever and commissioned garnet jewelry.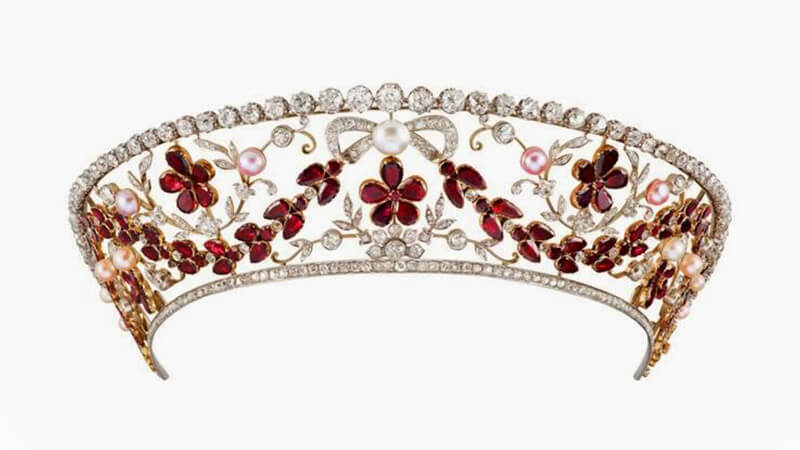 Care 
On the Mohs Scale of Hardness, garnet scores between 6.5 and 7.5, indicating that the gemstone is quite durable. While the chances of you cracking open the garnet set in your favorite piece of jewelry are pretty slim, all gemstones need occasional care and garnet is no exception. 
The best way to clean garnet is with a soft cloth and warm soapy water. Garnet can be sensitive to heat so don't overdo it with the warm water. Make sure to wipe the soapy-residue off with a clean wet cloth before placing it back in your vanity.
You can also use an ultrasonic cleaner on your garnet if it has no fractures. Steam cleaning however, is a big no.
Garnets are incredibly exciting due to their versatile color options. They are also one of the more affordable gemstones. If you are a January-born looking for a statement piece for your birthday or celebrating your second marriage anniversary, do have a look at our collection of the January birthstone garnet jewelry. If you want to gift a lovely gemstone to someone special, explore our immense collection of loose gemstones and pick a single gemstone or matched pair for that special present.