Gemstones and jewelry have been popular among humans since they were discovered under the earth's crust. Even before metal jewelry came into existence, people would wear jewelry made out of shells, bones, feathers, and colored stones that were none other than the gemstones we cherish today as invaluable. While ancient civilizations adorned themselves with jewelry to reflect their power, prestige, and wealth, we find several instances of gemstones used in social and religious rituals as well because of the spiritual powers associated with these gemstones. People would also wear jewelry to protect themselves from evil eyes or against several deadly ailments. In this blog, we are focusing on how jewelry, especially engagement rings made of rubies and diamonds, created a sensation in the market and still continues to rule.
How Gemstone Engagement Rings Became Popular?
In the olden days, people from aristocratic families, royal backgrounds, and noble origins would wear jewelry as a symbol of high social status and as a piece of identification of their rank, apart from considering jewelry as a way of self-expression and innovation. But it was not until the second half of the 15th century that the concept of wearing engagement rings to express a husband's ownership over his wife was first noted.
It was from then on that the tradition of people exchanging rings for wedding proposals became popular, and over time, it began to symbolize the couple's eternal love commitment rather than ownership. The first record of a diamond engagement ring dates back to 1477 which was offered by the Archduke Maximilian of Austria to his betrothed, Mary of Burgundy. There have been several instances where other precious and semi-precious stones turned out to be marvelous center stones of some of the most popular engagement rings in history.
Are Rubies and Diamonds a Good Match for Engagement Rings?
Diamonds have been celebrated for a long time for their eye-blinding brilliance and symbolism associated with eternal love & commitment. These are the major reasons behind diamonds being the first choice for engagement rings. But other precious gemstones like sapphires, rubies, and emeralds have also made the list of the most sought-after gemstones for engagement rings.
Talking about rubies, their deep-rooted red hues are a good omen for a couple seeking blessings in the name of prosperity, romance, passion, courage, vitality, and good fortune in love relationships. As such when the sparkling brilliance of diamonds is combined with the warm and passionate rubies, it creates a perfect keepsake for generations to cherish, especially to commemorate the love bonding between a couple who might be your parents or grandparents.
What to Expect From Rubies & Diamonds in Terms of Durability?
It is a well-known fact that the mighty diamonds rate highest on the 10-point Mohs hardness scale and are known to be the hardest natural substance on the planet. The red wine-hued rubies are just a point below with a fine rating of 9 on the Mohs scale, thus making both stones probably the best gemstone pair to be made into an ideal engagement ring. The exceptional durability of both stones offers them excellent resistance against cracking, chipping, scratching, or wearing from everyday use and hence makes them perfect candidates for engagement rings.
Aren't Rubies Too Expensive to be Embellished in Engagement Rings?
All precious stones command high prices, and among them, the stones with the best quality in terms of color, clarity, cut, and carat weight are the priciest of all. The same goes for rubies; the stones with a "pigeon's blood red" color and those from specific mining locations, such as the rubies mined from Burma, command exceptional prices among other varieties of rubies. So if you are looking for a budget-friendly ruby centerstone, then you need to compromise with the color and carat weight.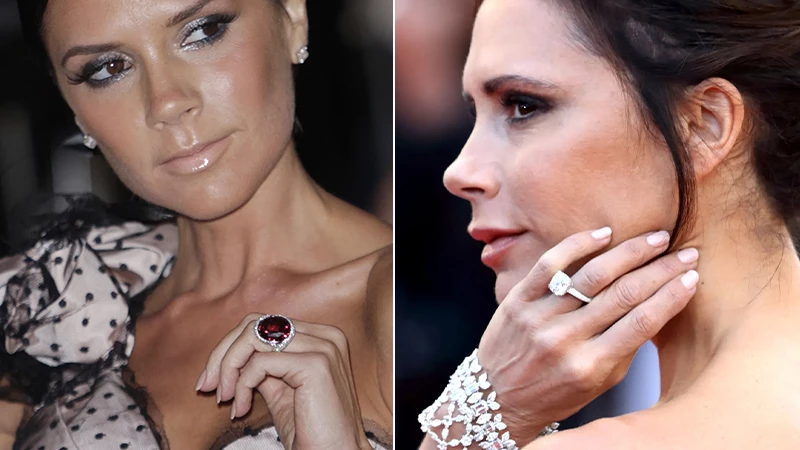 What are Some of the Brightest Ruby and Diamond Engagement Rings in the Royal Treasury?
In this section, we have listed a few ruby and diamond sparklers from the royal treasury which have dazzled the eyes of everyone. Princess Margaret from the British Royal family was presented a stark red-toned ruby surrounded with dainty diamonds on her engagement with Antony Armstrong-Jones, which grabbed a lot of eyeballs in 1960. A cluster ruby diamond engagement ring that adorned Sarah Ferguson's ring finger for the first time in 1986 was a gift of love and tribute to her red hair from her now ex-husband, the Duke of York.
The royal union of King Philippe of Belgium and his wife witnessed in 1999 a stunning ruby engagement ring, which is still cherished by the couple as a token of their love. The Crown Prince Haakon of Norway is also known to have bestowed a ruby diamond engagement ring to his wife in 2001. The ring is an heirloom passed down by his grandparents and parents. The Crown Prince Fredrik of Denmark also bonded over a diamond and ruby ring with his wife in 2003.
Can You List Celebrity-Styled Ruby and Diamond Engagement Rings?
Celebrities from the entertainment industry have also set ruby and diamond standards in engagement rings. Elizabeth Taylor is well-known to have possessed a suite of ruby and diamond jewelry, which also contained a stellar ruby and diamond ring. The next on the list is singing sensation sisters Ashlee and Jessica Simpson, both of whom have eyes for ruby & diamonds and hence opted for engagement rings embedded with rubies and diamonds.
During the course of her more than two-decade-long union with her husband, Victoria Beckham has proudly flaunted her engagement ring collection on several occasions. In 2009, she received a ruby and diamond ring featuring a huge ruby as the centerstone and left all of us stunned. And how can we forget Katy Perry's flower-inspired ruby and diamond engagement pick which is more than just breathtaking for her followers and even jewelry designers all over the world?
Conclusion
Many believe that besides diamonds no other gemstone can create a wondrous center stone for something as special as the engagement ring that you would wear every day. But the blood-red colored rubies favored for their enchanting hues that symbolize love and romance, are also favored as the center stone of engagement rings. And what if someone wishes to curate an engagement ring with both stones paired next to each other? So instead of buying only a diamond engagement ring or a ruby engagement ring, you can go for a stunning ruby diamond engagement ring at our website, where you'll find amazing deals and exciting offers.