Have you ever had that moment when you're curating an outfit, and you're like, "Ugh, it's good, but it's not quite there"? Well, what if we told you the secret sauce to completing that outfit puzzle might just be a show-stopping tanzanite necklace? Yep, you heard right—we're diving into the world of tanzanite necklaces that aren't just accessories, they're style statements that'll turn heads and set vibes like never before. But wait, there's more to this gem than meets the eye. It's not your ordinary gemstone but it's also the superstar December birthstone. So gear up for an epic adventure through the tanzanite necklaces, where elegance, charm, and serious slayage await. 
All About That December Birthstone Vibes
Ever stumbled upon a gem that's basically the fusion of a deep blue ocean and a captivating splash of violet? Yes, that's tanzanite – the December birthstone sensation which is redefining jewelry. It's a gem that plays with colors like an artist, effortlessly blending blues and purples. It's like wearing a piece of the ocean's soul on your neck, and trust me, that's just the beginning.
But wait, there's more that Tanzanite has in store for you. It's got some serious sparkle games too. Think dazzling flashes with every move, adding magic to your vibe. And here's the scoop: that tanzanite isn't just a pretty face. With its trichroic nature, it shows different colors at different angles. It's a gemstone chameleon, adapting to your style and mood like a pro.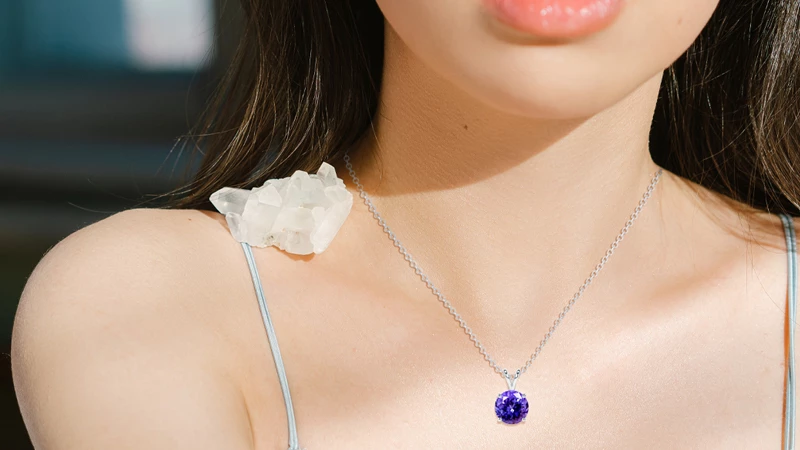 Why Opt for Tanzanite Necklaces?
Let's face it, being basic is overrated. And when we're talking necklaces, let's just say tanzanite is like the rock star of the gemstone world. It's bling that tells a story. Imagine having a piece that speaks volumes about your style, your attitude, and your vibe – that's what tanzanite necklaces bring to the table.
Just think, you're gearing up for that swanky gala, or maybe you're just craving some "hey, I look amazing" vibes during your coffee run – then tanzanite necklaces got you, fam. They're like your style sidekick, whispering in your ear, "You've got this!" With their distinctive blue-violet hues and remarkable clarity, tanzanite necklaces have this magical ability to transform your outfit into a masterpiece. And here's the kicker: Tanzanite is a rare beauty. Like, it's found in only one place on the entire planet—a tiny spot in Tanzania. That exclusivity? It's like having a VIP pass to the coolest style party ever. 
How to Choose Your Tanzanite Necklace: A Quick Guide!

1. What's Your Vibe, Though?
Are you the laid-back type, vibing with those chill moments? Or maybe you're all about that boho spirit, embracing the free-spirited feels. Or you might just be here to own the world, slaying like the fashion boss you are! Why does this matter, you ask? It's because your vibe sets the stage for finding that tanzanite necklace that shouts out, 'Hey, this is me!' And trust us, tanzanite isn't just any gem; it's got this magical way of resonating with your vibe and making you shine brighter than ever. So, what's your vibe, and which tanzanite necklace is going to tell your story?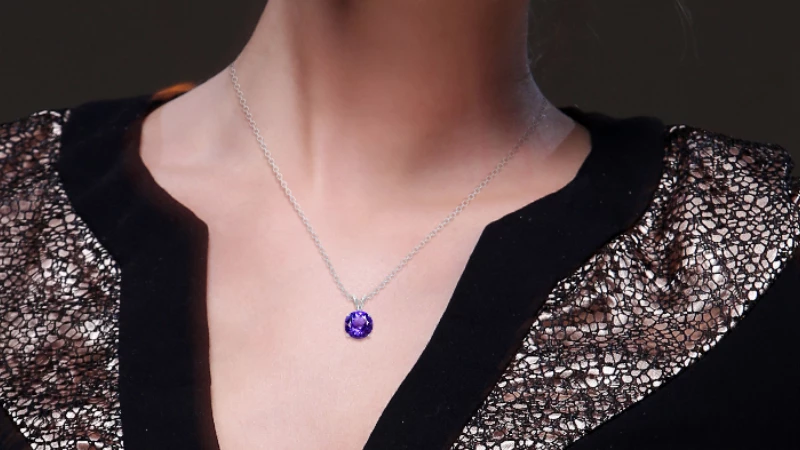 2. Outfit Goals: Slaying the Match Game
If your wardrobe boasts that timeless 9-to-5 ensemble, go ahead and choose a dainty tanzanite pendant for an instant infusion of chic vibes. And when you're getting ready for a night that's bound to be absolutely lit, reach for that striking tanzanite statement necklace. You'll walk into the event owning it like the superstar you've always been. But wait, the magic doesn't stop there. Imagine having a cozy brunch with your crew, and your casual yet stylish outfit could use a little extra flair. Enter the tanzanite charm necklace – a perfect blend of elegance and relaxed vibes. Believe me, tanzanite is the ultimate wingman, effortlessly adapting to your style and giving you that extra edge you've been hunting for.
3. Occasion Game: Shine On, You Star!
Every occasion paints a different picture, and your jewelry is like the brush that adds the perfect strokes. When it comes to tanzanite necklaces, vibe is everything. Planning a romantic dinner? Pick a chic solitaire tanzanite necklace that whispers elegance. For a lively birthday bash, go for a diamond-studded tanzanite necklace that sparkles as you dance the night away. And when it's a cozy family gathering, embrace the comfort with a layered tanzanite necklace that exudes both elegance and familiarity. Let the occasion be your compass, guiding you to the tanzanite necklace that's tailor-made for the magic of the moment.
4. Cuts and Designs: Playing with Shapes!
Let's dive into the world of tanzanite cuts and designs—where the real magic happens! Imagine tanzanite as a dazzling canvas, and the cuts are like the masterstrokes that bring out its brilliance. From the timeless round cut that's a classic go-to to the edgy pear shape that's all about uniqueness, each cut is like a window into Tanzanite's soul.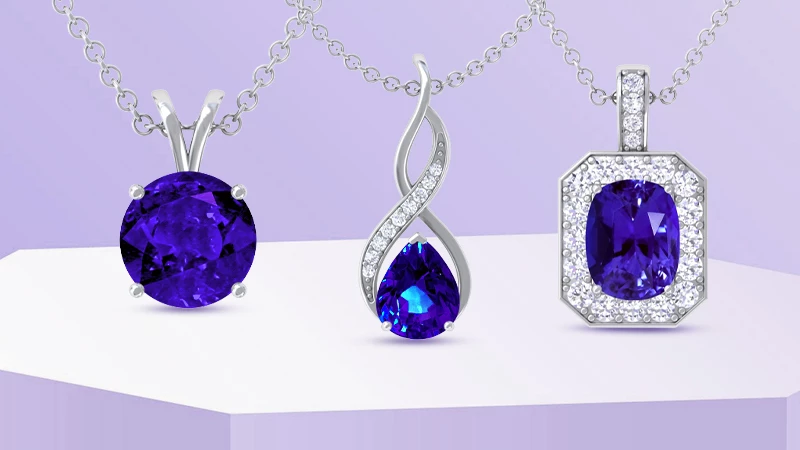 But wait, there's more to this gemstone story. Designs here aren't just about shapes; they're about crafting intricate tales with gems and metals. Imagine tanzanite hand-in-hand with other gemstone pals, like a harmonious color party that's a feast for the eyes. And then there's the metalwork! It's like the jewelry version of haute couture – intricate, jaw-dropping, and totally you. This symphony of colors and textures isn't just accessory jazz but it's your chance to rock a look that's as unique as your vibe. So, whether you're all about classic elegance or pushing style boundaries, tanzanite's cuts and designs have got you covered in the most dazzling way possible.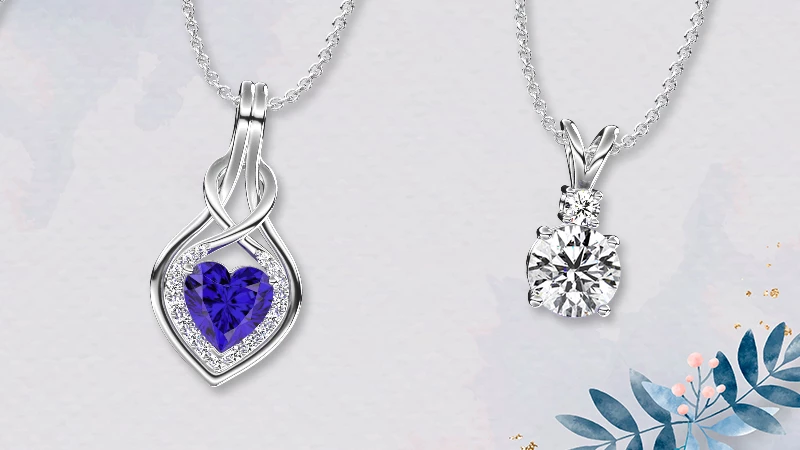 5. Your Story, Your Sparkle: Customization Delight
Step onto the stage with a necklace that's more than mere eye candy—it's your personal story cast in dazzling bling. This is where customization unveils its enchantment, and believe me, it's pure magic. Envision your name, the birthstones of your beloved, or symbols that harmonize with your very being etched onto that tanzanite necklace. All of a sudden, it transforms from a simple accessory into a cherished heirloom that speaks volumes. Your journey, your style, and the allure of tanzanite – they all meld into a statement that's truly your own. Brace yourself to embrace your vibe with every glimmer and shimmer.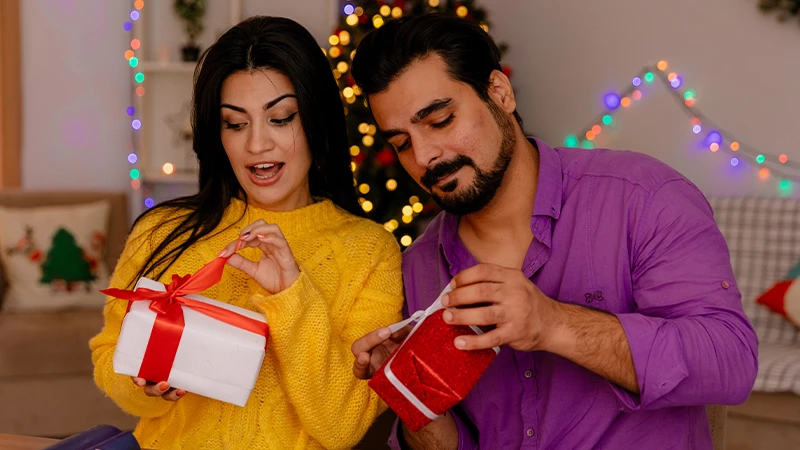 In a Nutshell: Your Tanzanite Adventure Awaits
There you have it, folks! The world of tanzanite necklaces is a universe of elegance and charm. From rocking that December birthstone vibe to unraveling the art of design and occasion, each puzzle piece crafts your unique tanzanite tale. Remember, your choice isn't just a necklace but it's your personal style anthem.
So are you all set to conquer this Tanzanite treasure hunt like a true trendsetter? Whether you're treating yourself to a gem splurge or gifting your loved ones, let the tantalizing tanzanite gem be your guide into a realm of unmatched elegance. And you know what's even cooler? GemsNY ups the variety game, offering tanzanite in more cuts than your favorite TikTok dance moves. Get ready to shine as the gem you were always meant to be and brace yourself for a journey of pure grace!