Tsavorite is a very new discovery in the gemological world. First discovered in Kenya in 1967, tsavorite quickly gained popularity largely due to the interest in the gemstone by Tiffany & Co. Gemologists were so enamored with tsavorite that they imported it to the United States in droves, and began featuring it in a number of settings and designs.
While tsavorite may not have the historical significance that many other gemstones possess, it remains a favorite among high-end designers as well as collectors, who recognize its immense beauty and rarity. At present, tsavorite is one of the most coveted garnet varieties in the market. The appealing color, dependable durability, and excellent value are the reasons behind this gemstone's popularity. In this article, we talk about some of the world's most popular tsavorite garnet gemstones that quite made a name for themselves. So, let's get started.
East African Tsavorite
One of the largest and most valuable gemstones to ever come out of Africa is a tsavorite. Weighing at a whopping 325.14 carats, this gemstone is exceptional for its clean, fine color.
This tsavorite was mined in Tanzania, and is estimated to be worth well over $2 million. The impressive size, perfectly saturated color, and startling clarity and transparency of this gemstone make it a historic gem. After its initial inspection, the tsavorite was sent to Thailand where it was cut and faceted.
Tiffany & Co Tsavorite
It is no secret that Tiffany & Co is largely responsible for the popularity of the tsavorite. It is a favorite among industry designers not just for its rich color, but for its remarkable durability and affordability. Tsavorites are on average over 200 times rarer than emeralds, but are sold at a fraction of the price. Many in the industry refer to tsavorites as "Rolls-Royces at Cadillac prices".
This allows designers to create remarkable pieces without ballooning their budget. To this day, tsavorite remains a favorite at Tiffany & Co, where it is always featured in the famous annual Blue Book Collection. One of the most remarkable tsavorite pieces came from the 2016 Blue Book, which showcased an exquisite yellow gold basket ring that featured an 11.79 carat oval tsavorite. This ring was priced at $115,000 and is believed to now belong to a private collection.
Chopard's Red Carpet Collection
Famed Swiss jeweler Chopard is known for their luxurious and intricate designs. Through their own retailers or with collaborations with other institutions, Chopard is consistently producing high-end jewelry that pushes the limit on design.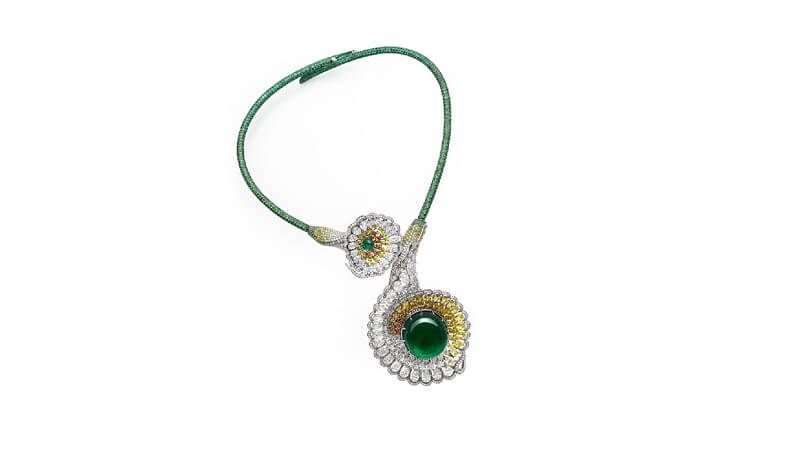 Since 1998 they have partnered with the Cannes Film Festival to not only craft the Palme d'Or award, but also to design pieces for the stars on the red carpet. Many of these looks are iconic in fashion history and end up being highly influential in fine jewelry for years to come. This year's Chopard Red Carpet collection featured many tsavorites, including a diamond necklace set with emeralds, tsavorites, and sapphires, as well as a set of earrings which featured a tapestry of tsavorites and blue & pink sapphires.
These popular tsavorite garnet stones of the world might have ignited your feelings about getting this gemstone. So, if you're thinking of buying a tsavorite gemstone, you might want to take a look at GemsNY's charming collection of tsavorites. Amongst GemsNY's rolling inventory of 50,000+ loose gemstones, you'll surely find yourself a tsavorite that tickles your fancy. So, what are you waiting for? Get the stone of your dreams now!