An engagement ring should be unique, unconventional and a wonderful portrayal of emotions and love. Diamonds are the most cherished choice when it comes to engagement rings. But not anymore. The trends have taken a massive shift and brides-to-be now want something avant-garde and stylish.
By the way, an engagement ring doesn't necessarily have to feature a beautiful sparkling diamond. Nowadays, color gemstones are a new trend on the market. Morganite is gaining immense popularity because of its appealing color shades that give a more feminine appearance to the wife-to-be.
Why Morganite?
The subtle pinkish and purplish shade of morganite looks absolutely classic and timeless. The admirable beauty, great brilliance and outstanding durability of morganite make it a perfect and unconventional color gemstone choice for the engagement ring.
Here is a complete morganite engagement ring guide that will help you purchase a piece that complements the wearer's inimitable personality.
Also Read: Emerald Cut Engagement Rings Guide
A Bit About Morganite
A perfect alternative to diamond – morganite is a relatively new entry in the world of gemstones. The magical gem with hypnotic pink hues was discovered in Madagascar in 1910. The dreamy pink stone got its name after the well-known American financier and gem aficionado – J.P. Morgan.
With ethereal pink that evokes emotions and boasts a feminine vibe, morganite is undoubtedly a great option for a classic engagement ring. If legends are to be believed, morganite is the stone of 'Divine Love' and symbolizes everlasting love and a deep connection between two people. Morganite is also thought to promote self-confidence and inner peace in the wearer's life. So, whether you're feeling negativity around you, struggling with your relationships or finding true love, wearing a stunning piece of morganite jewelry can do wonders for you.
What Are The Pros And Cons Of the Morganite Engagement Ring?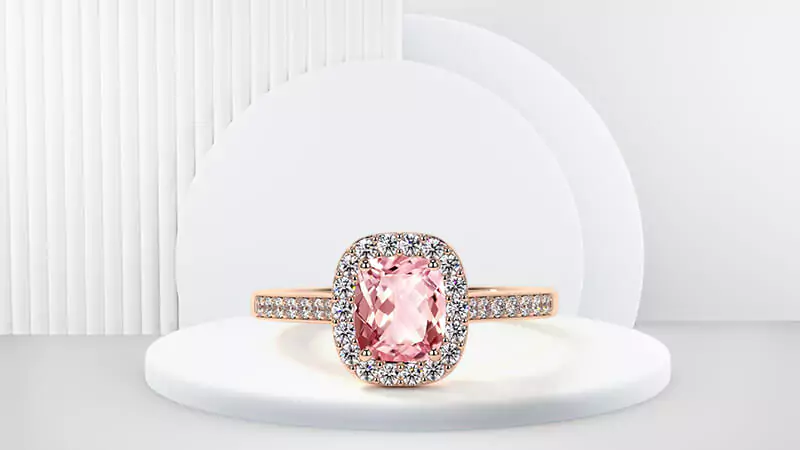 Don't be carried away with the eye-catching beauty of the pink gemstone morganite that has captured the attention of every woman; there are also some cons as well as pros of buying a morganite engagement ring. You might like to check on all the factors before adding a morganite engagement ring to your collection.
People Also Like: Ring Metal Guide
Because morganite is captivating, let's start with the pros first.
Morganite Pros
The majestic rose petal hue that portrays thousands of emotions and evokes sentiments is the reason why morganite has become a beautiful alternative to the traditional diamond engagement ring.
If you've got bored with the colorless diamond and are inclined towards color gemstones, then morganite will surely gratify your search for a beautiful and appealing gemstone for your engagement ring.
Don't want to be harsh on your pocket? Well, don't worry! Our rosy morganite collection is more affordable than either a colorless or a pink diamond. The feminine peachy gem morganite is not just unapologetically beautiful but also way more affordable than diamonds.
If you want a decent sparkle in your engagement ring, then morganite is a great option for you. Because the morganite swanks a glimmering effect when observed under the daylight.
Excited to buy a morganite? But wait… Don't just make a decision to buy a morganite just now.
Let's discuss the cons of this compelling gemstone.
Morganite Cons
Morganite scores 7.5-8 on the hardness scale, making it quite softer than other gemstones like sapphire, ruby and emerald. So, you need to take slightly more care of your morganite engagement ring as opposed to a sapphire or emerald ring.
Morganite is a somewhat brittle gemstone and needs to be taken care of promptly. You cannot wear your morganite ring while doing every task, such as exercising, bathing, washing dishes, working with chemicals and so on.
It's great if you select a morganite for your engagement ring. But you need to opt for a secure ring setting that is not only exceptionally gorgeous but also ensures that the stone does not get damaged.
You need to clean your morganite engagement ring regularly because it can easily get dirty.
Points To Chew Upon Before Buying A Morganite Engagement Ring
While all brides-to-be are now seeking out the best color gemstone options for their engagement ring, you will instantly fall in love with the rosy tone of a morganite. But wait… There is still a lot you need to look for before making a morganite engagement ring a symbol of your eternal relationship.
Let's cover some important points that you should factor into your decision making process before buying the perfect morganite ring for your loved one.
Color: The Heart Of The Ring
Of course, the color of the gemstone can make your ring one of a kind. In fact, the color is the heart of the ring, reflecting your true personality.
Morganite is a proud member of the magical beryl family and exhibits dazzling pink hues. The shades of morganite range from purplish pink to dreamy rose pink to alluring peachy pink, making the stone the most beautiful and valuable option for an engagement ring. However, purplish pink to pure pinkish shades of morganite with strong color saturation is what makes the stone unique and distinctive.
Must read: Dainty Engagement Rings
Cut: The Main Lead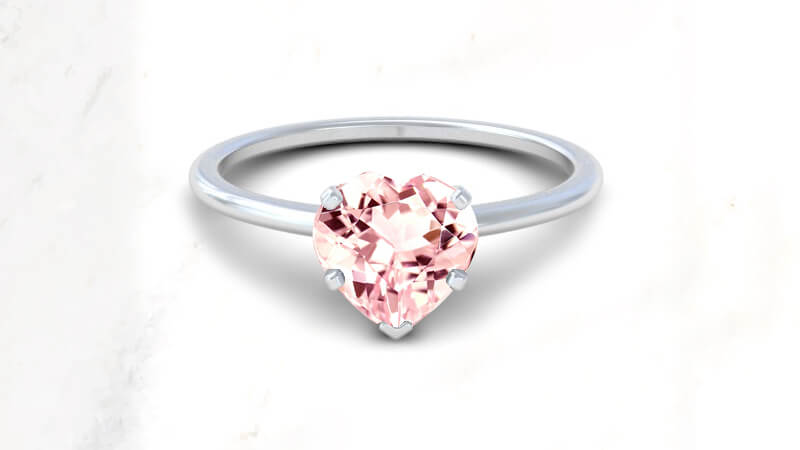 But why is cut so important in a gemstone? Let us enlighten you. The cut brings out the true character of a gemstone. It is responsible for the exceptional beauty and brilliance of a gemstone. Generally, morganites are faceted with flat tops and when light refracts inside the morganite, the faceted cut reflects it through the outer facets, providing the maximum brilliance and fire to the stone. Morganite having symmetrical cuts tends to show off consistent sparkle and render such an appearance to your engagement ring that no one can resist a second look.
Shape: The Essence Of The Ring
Referring to the outline of the gemstone, the shape truly adds character to the ring. The mindfully selected shape displays the incredible beauty and brilliance of the gemstone. So, you need to be thoughtful about the perfect shape of morganite before designing a gorgeous engagement ring. While every shape is unique and beautiful in itself, round, cushion and oval shapes will do magic with your morganite engagement ring. These shapes will bring out the best feature of the stone and when you propose to her with this ring, she will surely go head over heels again.
Setting: The Makeup Of The Ring
After deciding upon the color, cut and shape of morganite, it's time to know in what setting the stone would fit perfectly. As discussed above the morganite is a soft stone and it needs to be cradled in a setting that secures it from being damaged or chipped. Though all ring settings are beautiful and keep the stone secure, four-prong, six-prong and bezel ring settings are the most trending and stylish settings of all.
Metals: A Final Touch To Your Ring
The most beautiful gem of all should be matched with a metal that not only elevates the beauty of the ring but also adds charm to it. After all, metal is the last of the things that set the seal on the aesthetic appeal of the ring. Following the current trend, rose gold is one of the most preferred choices that will surely complement the spellbinding beauty of the morganite. Rose gold will perfectly match the rose petal like pink shade of morganite and give a sophisticated touch to the ring.
How To Ensure The Quality Of The Stone?
Is it real or not? This question always bothers us, right? But don't worry. we are still with you. Firstly, ask for a certificate of authentication from your jeweler. Here, at GemsNY, you will only get the stones certified by renowned labs like GIA, IGI, etc.
Secondly, the imperfections in the morganite should not be visible to the naked eye. If you come across any morganite with visible inclusions, avoid buying it. Also, the most high-quality morganites are pink and clean to the eyes.
How You Can Take Care Of Your Morganite Engagement Ring?
Taking care of your morganite ring is not rocket science instead, it's as easy as pie. You just need to take a bowl with warm water and add liquid soap to the water, mix it well and soak your morganite ring in the mixture for a few minutes. After that, rub the ring with a clean toothbrush to wash off the dirt and then dry it with a soft linen cloth.
Final Words…
Now that we have come to the end of this morganite engagement ring guide, it's time to buy a piece for your significant other. We have a dazzling collection of morganite engagement rings that will match the personality of your partner. You can also design a dazzling morganite ring as per your partner's aesthetics. Our gemologists on staff are savvy at designing exceptional pieces of jewelry.
Check out our extensive range of gemstone jewelry collections today.