It's no secret that sapphire is one of the world's most popular and highly-sought after gemstones. This popularity combined with the rarity of sapphire has it commanding one of the highest prices per carat of any gemstone. The variety of colors can make it more difficult for you to select the ideal color.
While the beauty of blue sapphire can never truly be replaced by another gemstone, there are several blue sapphire alternatives which will still look similarly stunning. Here are some of the best "replicas" for different blue sapphire intensities.
Tanzanite: Intense and Vivid Blue
Tanzanites are one of the most popular gemstones emerging in the jewelry industry today. Made from a variety of the mineral zoisite, tanzanites are a relatively recent discovery, mined for the first time in 1967.
While tanzanite may not have an extensive history as sapphires, some believe it represents wisdom, dignity, and truth. In the short time that tanzanite has been on the market, it has become a staple in the collections of both jewelers and customers alike due to its vivid colors and incredible value.
While many tanzanites have purple hues, there are some which are primarily royal blue, making them look strikingly similar to intense or vivid blue sapphires.
View GemsNY's tanzanite collection.
Aquamarine: Sky Blue
Over the last few decades, aquamarine has easily become one of the most popular gemstones. Aquamarines are a variety of the mineral beryl. Emeralds are also formed from the same mineral. Unlike emeralds, which are known for their deep green color, aquamarines are notable for their crisp blue to green-blue color.
Like emeralds, aquamarines have a rich history dating back to ancient civilizations. As time has gone by and fashion and tastes continuously change, the aquamarine has only increased in popularity – primarily due to its bright and vibrant blue color, large size, and international appeal. The crisp blue color of the aquamarine which is absent of green hues is most like the sky blue intensity of the blue sapphire.
View GemsNY's aquamarine collection.
One of history's most popular yet unknown gemstones is spinel. It is a variety of the mineral spinel group with which it shares its name. Much like sapphires, spinel can be found in a wide variety of colors and hues – including blue.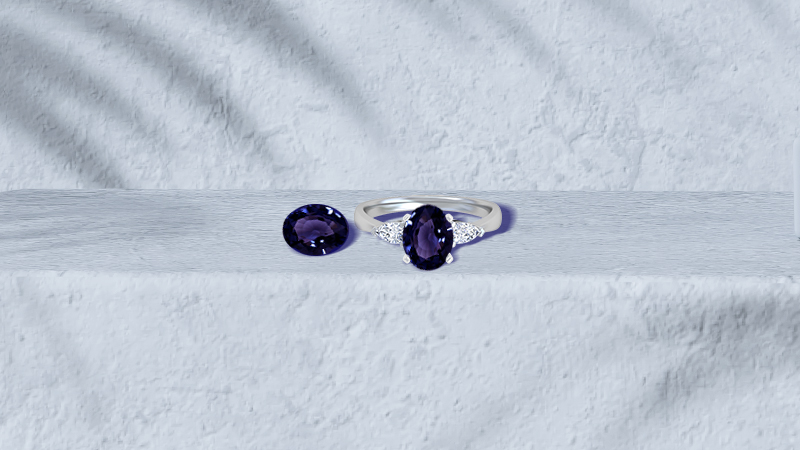 While spinel bears very little name-recognition compared to other precious gemstones, it has recently become a very popular addition to many fine jewelry and personal collections, mainly due to its wide variety of vibrant colors, historical prominence, and excellent value. The darker hues of blue spinel most closely replicate the look of a navy blue or midnight blue sapphire.
View GemsNY's blue spinel collection.