Imagine the anticipation and excitement that bubble inside you as you carefully select the perfect gift for someone special. The joy you feel as you wrap it neatly with a bow and write a heartfelt note. And then, the moment finally arrives when you get to present your gift to your loved one, watching as her eyes light up with happiness and gratitude. There's something truly magical about giving a gift – it's a thoughtful and heartfelt gesture that shows just how much you care. Don't you agree that there's no greater satisfaction than making someone you love feel cherished and appreciated?
If you're searching for a gift that truly reflects the beauty and importance of your beloved, a sapphire pendant may be an excellent choice. While sapphires are famous for their intense blue hue, you'll be surprised to find them in many other beautiful colors that complement all skin tones and add a touch of elegance to any outfit. Moreover, sapphire necklaces come in various styles, which means there's a unique design for your beloved that will add depth and personality to her jewelry collection, making it a timeless and cherished piece for years to come.
Indulge in the captivating beauty of sapphire necklaces as we take a step into the vibrant world of sapphires. Along the way, we'll explore some exquisite sapphire pendants that would make for great gifts.
Sapphire Gemstone
Sapphire, one of the four precious gemstones, is a variety of a mineral called corundum. It is highly valued for its dazzling color, durability, and rarity. With a remarkable hardness rating of 9 on the Mohs scale, it is one of the toughest gemstones and can withstand everyday wear and tear. Although sapphires are commonly known for their blue color, they can also come in a range of other hues like green, yellow, pink, purple, and orange, which are known as fancy sapphires.
What does sapphire gemstone symbolize?
The sapphire gemstone is a beautiful and precious stone that has a rich history of symbolism. It represents peace, wisdom, abundance, and good health, making it a popular choice for those seeking inner peace and well-being.
Sapphire is also known as the stone of new love and commitment, and many people believe that it encourages faithfulness and loyalty in relationships. It has a timeless quality that makes it a perfect choice for marking special occasions.
In fact, sapphire is the birthstone for September as well as the traditional gemstone for celebrating the 5th and 45th wedding anniversaries. This makes a sapphire necklace a perfect gift for someone you love, whether to celebrate a milestone or simply to show how much you care.
Beautiful Sapphire Pendant Necklaces That Make Great Gifts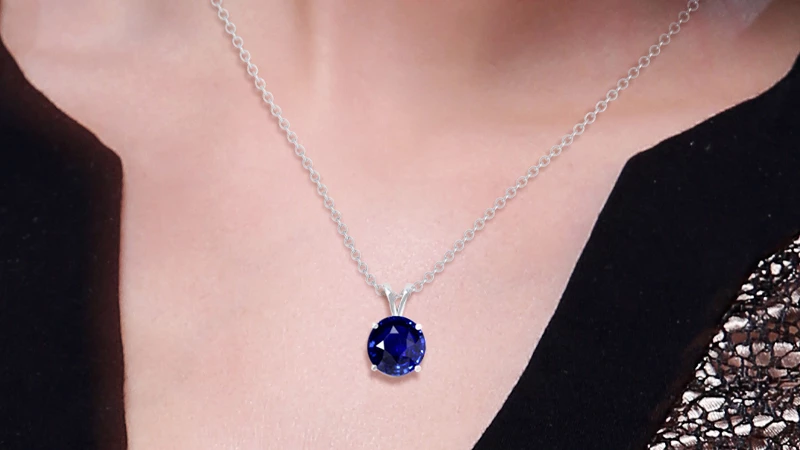 Solitaire Sapphire Pendant
A solitaire sapphire pendant is a stunning piece of jewelry that exudes a sense of timeless elegance. The simplicity of the design combined with the lustrous blue of the sapphire creates a classic look that can complement any outfit. The oval and pear-cut solitaire sapphire pendants are some of the popular choices, each with its unique flair.
If you are looking for a gift for someone who likes understated and elegant jewelry, a solitaire sapphire pendant would be an ideal choice. The pendant can be worn on a daily basis and would make a statement without being too flashy.
Three-stone Sapphire Pendant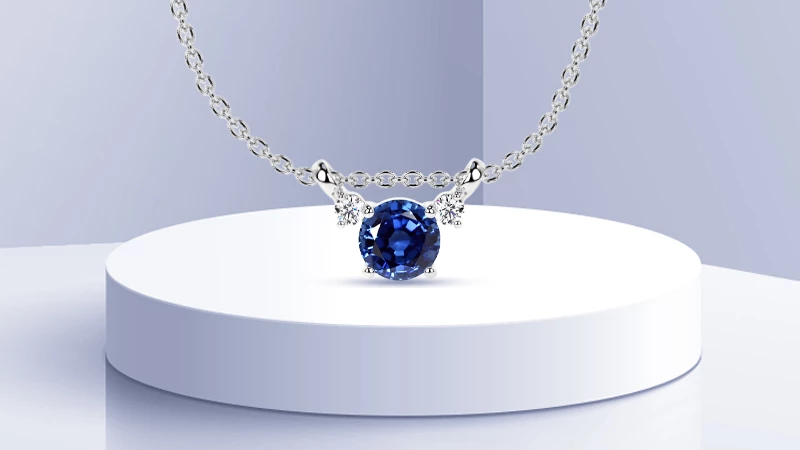 For a more vibrant and cheerful look, a three-stone pendant will be perfect. It features a yellow sapphire as the center stone and round diamonds on either side. The yellow sapphire is a symbol of happiness and prosperity, and the diamonds add a touch of sparkle to the overall design.
Heart-shaped Sapphire Pendant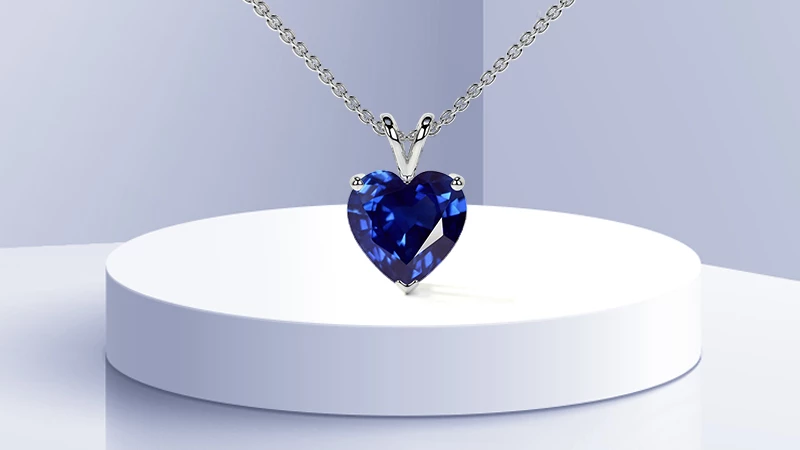 If you want to express your love in a romantic way, a heart-shaped pendant featuring pink sapphires is an excellent choice. The soft pink hue of the sapphire paired with the delicate heart-shaped design creates a charming and feminine piece that would make a perfect gift for your significant other.
What Makes Sapphire Pendants The Perfect Gorgeous Present
Timeless Appeal
The mesmerizing hue of a sapphire pendant evokes a sense of sophistication and elegance. The gemstone's timeless appeal is further accentuated by the intricate design of the pendant. It is a piece of jewelry that exudes both beauty and classiness and is sure to capture the attention of anyone who lays their eyes on it.
Versatile and Stylish
When it comes to stepping out in style, a sapphire necklace can be the ultimate accessory to help you stand out from the crowd. With its beautiful hue and sparkling brilliance, it's hard not to be captivated by its beauty.
Picture your beloved getting ready for a brunch date with her girlfriends – she slips into her favorite dress and adds a touch of sophistication with a sapphire necklace. Whether it is a delicate pendant or a bold statement piece, it's sure to be a conversation starter.
But that's not the best part! She can wear this pendant for any occasion, from a casual day out to a party. It's a versatile accessory that can be paired with any outfit, from a simple white tee and jeans to a stunning evening gown.
So, whether she is dressing up for a special occasion or simply wants to add a touch of glamor to her everyday look, a sapphire necklace is the perfect accessory to achieve it all.
Personal Gift
Imagine the look on your beloved's face when you gift her a stunning sapphire pendant. If sapphire is her birthstone, it adds an extra layer of personalization and meaning to the piece of jewelry. She will cherish it for years to come, and every time she wears it, she will be reminded of your love and thoughtfulness.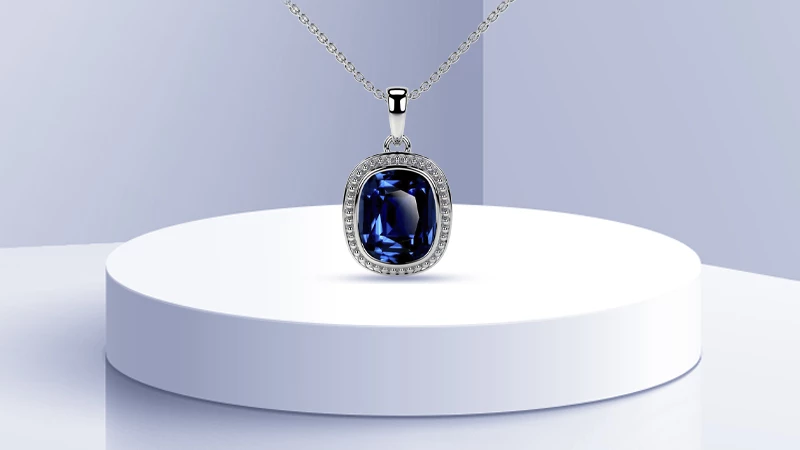 Buy a Gorgeous Sapphire Pendant
Did the beauty of a sapphire pendant necklace leave you feeling enchanted? Captivate the heart and eyes of your beloved by gifting her a gorgeous sapphire pendant. You can find stunning designs at GemsNY!