Emerald rings are the kind of green jewelry one can die for, don't you think? I mean, have you seen an emerald in real life? Man, it's the most transcendent thing of beauty you'd ever come across. Possessing an emerald is almost like having an elixir of contentment to one's name because of the gemstone's rich, soothing green color. Having said that, choosing a ring embellished with emerald is as complicated as soothing the aura of an emerald; in fact, it requires a certain level of understanding of the emerald's quality, various ring settings, and some itsy-bitsy but vital particulars.
From choosing the color of your emerald centerstone to picking a protective setting for your ring, things get a little dramatic if you take up the task without proper knowledge. But now that our paths have crossed, I'll let you take the easy road and sit tight while I go uphill and enlighten you about choosing emerald rings that are a cut above the rest.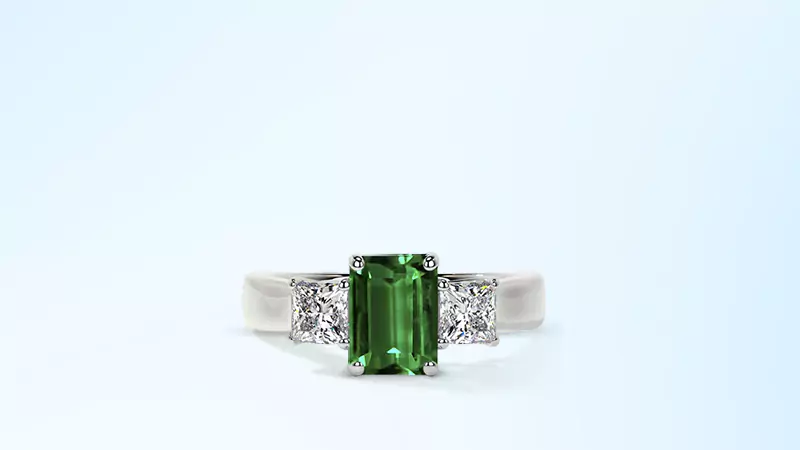 Which Color You Should Choose For Your Emerald And Diamond Ring?
Well, if you want to get a decent green emerald gemstone while saving some money, opt for a stone that's not too high on saturation. Stones with pure hues and high saturation surely stand out like nothing else does, but they also command the highest prices. So, unless you want to splurge all that you've got, you better go for an emerald that's neither too dark nor too light. Emerald rings in a slightly yellowish green color are also affordable. But remember, if your preferred emerald stone is too yellowish, there are chances it might be a different variety of beryl.
Do Emeralds Have Clarity Issues?
They surely do. Emeralds typically contain eye-visible inclusions, no doubt that eye-clean emeralds are exceptionally rare and pricey. That said, you should refrain from choosing emeralds with inclusions that have a negative impact on their transparency and clarity. Now, the thing is, you need to choose an emerald that looks alluring enough even after containing eye-visible inclusions. Well, calm down Ethan Hunt, I'll help you. You can choose from those emerald rings with inclusions placed near the edges of their centerstones as they seem more appropriate compared to others. There you go!
Which Cuts Best Complement Emerald Engagement Rings?
The most economical cut as regards emerald is the emerald cut. Because emerald crystals are usually hexagonal in shape, the emerald cut accounts for less waste of the rough stone compared to other fancy cuts. However, you can also go for the brilliant-cut if you want the centerstone of your emerald and diamond ring to exhibit fascinating scintillation. To get that perfect emerald ring of your dreams, look for a gemstone with perfect symmetry. That's because the appeal of a gemstone lies in not only its color and clarity but also its symmetry. Emerald rings with perfect symmetry are surely a treat to glance at.
What Is The Best Ring Setting For Emerald Rings?
The setting of your ring is one of its integral aspects that should be chosen based not just on the trends but the hardness of the centerstone of the ring. Gemstone hardness is ranked on the Mohs scale of hardness. On the Mohs scale, emerald scores 7.5 to 8, meaning the gemstone offers decent hardness and durability. However, that doesn't mean you can pick any ring setting for emerald rings. On the contrary, you should choose a ring setting that offers dependable security to the centerstone while at the same time highlighting its brilliance and fire. In that sense, let's take a quick look at the most protective ring setting for rings with emeralds – the bezel ring setting.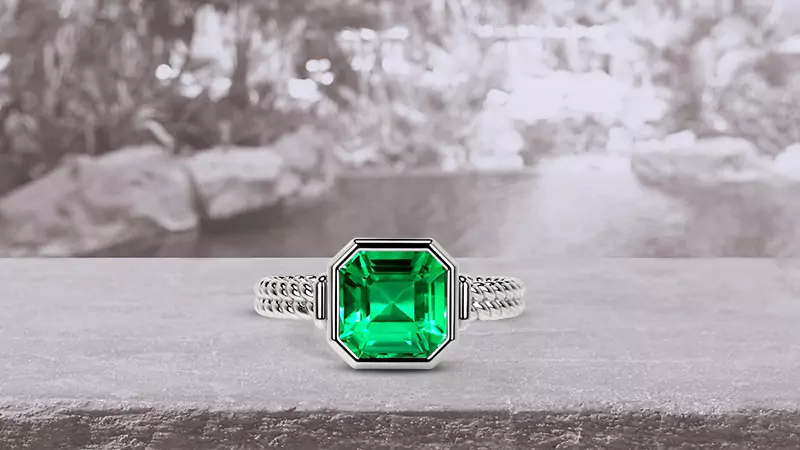 Bezel Setting
This type of setting encases the centerstone of the ring in metal. The reason why the bezel setting is said to be the most protective ring setting is that it doesn't leave the sides of the centerstone of a ring exposed like other ring settings. Emerald rings with bezel ring settings are sturdy enough to withstand the wear and tear of average everyday life. Choosing this ring setting for your ring ensures that it remains intact when you hit the glove compartment of your car next time. Well, nothing to be ashamed of because we all do that on a regular basis.
The Itsy-bitsy Particulars
Apart from the above discussed factors of emerald rings, there are some other things you need to pay attention to. You should not belittle these factors or particulars at any cost otherwise, there are chances that you might end up feeling disappointed with your purchase. The first and foremost thing is that you should always get emerald rings for men or any other jewelry pieces from a reputed jewelry seller only. Some people make the mistake of getting their jewelry from unknown jewelers and find themselves at the door of regret as regards the quality of their purchased jewelry piece. On the other hand, you can swear by the authenticity of a jewelry piece bought from a reputed jewelry seller.
That's because reputed jewelry sellers like the GIA (Gemological Institute of America) or GemsNY provide you with a certificate of authenticity for your purchase. One more thing that will benefit you the most is picking a metal for your emerald and diamond ring based on your skin and skin tone. Metal is the soul of a ring that paints the whole ensemble in its color. However, choosing a metal is not as easy as it sounds. When you buy a jewelry piece without particularly choosing its metal as per what suits your skin, you make your skin vulnerable to allergies because certain metal alloys cause skin allergies. So, if you have skin sensitivities then you better choose your metal based on your skin and skin tone.
The Bottom Line
Now, what's your take on emerald rings, Ethan Hunt? Are you ready to snap up some beautiful emerald rings to make your special occasions even more special? Well, I thought so. While you're at it, you can have a look at some of our emerald rings for sale. So, happy shopping!