Introduction
 Morganite, with its delicate shades of pink and peach, has gained immense popularity as a gemstone choice for jewelry. Its subtle yet captivating beauty makes it a sought-after gem for engagement rings, earrings, necklaces, and more. However, when purchasing a morganite gemstone, it's essential to consider certain factors to ensure you're making a wise investment. In this quick guide to morganite gemstone jewelry, we have tried to put all the key aspects to look for in a morganite gemstone before you make a purchase and answered some frequently asked questions about morganite jewelry. 
Let us begin with the gemstone itself. Morganite is a pink variety of beryl and here are the factors you should look for in a perfect gemstone
Color
Color is one of the most crucial factors when evaluating a morganite gemstone. Morganite's color tone varies from pale pink to peach. It occasionally exhibits hints of violet or orange. The most desirable morganite gemstones possess a delicate, even color with a consistent tone throughout the stone. Avoid gemstones with uneven color distribution, visible spots, or excessive color saturation, as these can affect the gemstone's overall beauty. 
Clarity
Clarity refers to the absence of internal flaws, known as inclusions, within the gemstone. While most morganite gemstones contain minor inclusions, the key is to find a stone that strikes a balance between clarity and overall appearance. Ideally, look for a gemstone that is eye-clean, meaning it has no visible inclusions to the naked eye. However, keep in mind that morganite tends to have fewer inclusions compared to other gemstones, so a slight compromise in clarity may be acceptable if the stone displays exceptional color and brilliance.
Cut
The cut of a morganite gemstone greatly influences its overall beauty and how light interacts with the stone. A well-cut morganite gemstone will exhibit optimal brilliance, sparkle, and color play. A symmetrically cut gemstone will exhibit an exemplary play of light by reflecting most of it while at the same time obscuring any dark spots within. Additionally, a well-cut morganite gemstone will have smooth symmetrical facets and therefore an enhanced visual appeal.
Carat Weight
Morganite gemstones are available in a wide range of carat weights, from small accent stones to large center stones. When considering the carat weight, take into account the size of the jewelry piece you intend to create or the purpose for which you're buying the gemstone. It's important to note that larger morganite gemstones tend to be rarer and can command higher prices. However, prioritize the overall quality and visual appeal of the stone over its size alone.
Origin and Certification
While not directly related to the quality of the gemstone, considering the origin of your morganite and obtaining a proper certification can provide assurance regarding its authenticity and ethical sourcing. Morganite is primarily sourced from Brazil, Madagascar, Mozambique, and the United States. A reputable jeweler should provide information on the gemstone's origin, as well as any relevant certifications or documentation to validate its authenticity.
When purchasing a morganite gemstone, it's important to consider its color, clarity, cut, carat weight, and origin. By paying attention to these factors, you can be sure of getting a high-quality gemstone that meets your aesthetic preferences and budget. Select a piece of morganite jewelry that showcases the gemstone's beauty and aligns with your personal style and preferences. Remember that investing time and effort into choosing the right piece will allow you to enjoy the elegance and charm of morganite for years to come.
Here are some stunning morganite jewelry pieces that showcase the gemstone's mesmerizing charm and grace. 
1. Morganite Engagement Rings
Morganite engagement rings have gained significant popularity as an alternative to traditional diamond rings. The soft, romantic hues of pink and peach lend a distinct character to these rings and make them a symbol of love and femininity. Whether set in rose gold, white gold, or platinum, morganite engagement rings exude a delicate and captivating aura. From classic solitaires to vintage-inspired designs or intricate halo settings, there is a wide range of styles to choose from, allowing you to find the perfect ring that reflects your unique taste. 
2. Morganite Earrings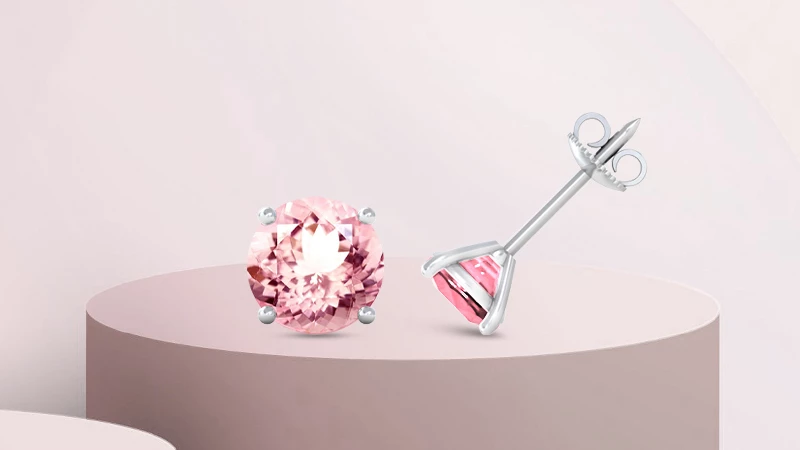 Morganite earrings are a stunning addition to any jewelry collection. The gentle blush tones of the gemstone create a soft and feminine appeal that beautifully complements various skin tones. Delicate studs, dangling earrings, or hoop designs adorned with morganite gemstones can add an elegant touch to any outfit from casual ensembles to formal attire. Whether you prefer a simple and understated style or a more intricate and ornate design, morganite earrings are sure to make a statement.
3. Morganite Necklaces
Morganite necklaces are a graceful and eye-catching accessory. A single stone morganite pendant in a delicate chain can create a refined and sophisticated look. Alternatively, multi-stone necklaces or intricate pendant designs adorned with diamonds or other gemstones can showcase the beauty of morganite in a more elaborate and luxurious manner. Whether worn as a standalone piece or layered with other necklaces, a morganite necklace is sure to draw attention and evoke a sense of femininity and charm. 
4. Morganite Bracelets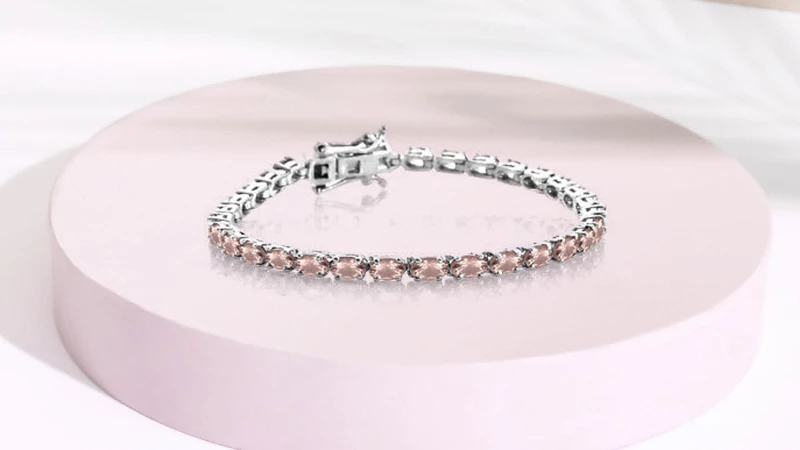 Morganite bracelets offer a graceful and subtle way of incorporating this beautiful gemstone into your jewelry collection. Delicate chain bracelets with morganite accents or bangles adorned with a row of sparkling morganite gemstones in a tennis bracelet can add a touch of elegance to your wrist. The soft and soothing pink hues of morganite make it a versatile gemstone that pairs well with other metals and gemstones, allowing you to create a personalized and enchanting bracelet stack. 

You might be eager to purchase morganite jewelry, but you may have some questions on your mind. So now we will answer some frequently asked questions about morganite jewelry to ensure that you make a well-informed and satisfying purchase. 
1. Which Morganite can be the best Centerpiece?
The quality of the gemstone itself is paramount when selecting morganite jewelry. You should pay attention to the color, clarity, cut and carat weight of the gemstone. We have already discussed several quality and grading factors of this gemstone in detail. So, your choice of gemstone is now completely a matter of personal preference and occasion. 
2. Is it a Best Friend of all Metals?
Consider the metal options available for your morganite jewelry. The metal setting can greatly influence the overall aesthetic appeal and durability of the piece. Common choices include white gold, yellow gold, rose gold and platinum. Each metal has its unique qualities, so select one that complements the color of the morganite gemstone and suits your personal style and skin tone. 
3. What are the Design and Setting Options? 
The design and setting of the jewelry piece play a crucial role in showcasing the morganite gemstone. Consider the style, shape, and overall design elements that appeal to you. Whether you prefer a classic solitaire setting, a vintage-inspired halo design, or an intricate and unique arrangement, choose a design that resonates with your personal taste and reflects your personality. Additionally, ensure that the setting is secure and protects the gemstone from damage or loss.
4. Which Outfit Can be Teamed With Morganite? 
Think about the versatility and wearability of the morganite jewelry. Consider whether the piece can be easily incorporated into your everyday wardrobe or it is more suited for special occasions. Versatile jewelry that can be teamed with any outfit on any occasion provides excellent value and ensures that you get the maximum value out of your investment. 
5. Is it a Budget Friendly Gemstone?
Set a realistic budget for your morganite jewelry purchase. The price of morganite can vary based on factors such as gemstone quality, carat weight, and design intricacy. Determine your budget range beforehand, taking into account your preferences and priorities. Remember that while larger gemstones or intricate designs can be captivating, it's crucial to strike a balance between quality and budget to make a wise investment. 
6. From Where to Buy?
When purchasing morganite jewelry, choose a reputable and trustworthy jeweler. Research and read customer reviews to ensure that the jeweler has a track record of providing high-quality gemstones and excellent customer service. A reputable jeweler will also be knowledgeable about morganite and can guide you through the selection process, answer your questions, and provide any necessary certifications or documentation. 
Conclusion
Overall, morganite jewelry pieces offer a captivating blend of elegance and femininity. From engagement rings to earrings, necklaces, bracelets, and statement rings, there is a wide array of stunning options to choose from. The delicate pink and peach hues of morganite create a soft and romantic aura that complements various styles and occasions. Whether you prefer classic and timeless designs or more contemporary and customized styles, morganite jewelry is sure to leave a lasting impression with its undeniable beauty and charm.