Less might be more sometimes but certainly not when you're getting engaged with the love of your life. To be blessed enough to spend your whole life with that one person who loves you to the moon and back is an altogether different feeling. As things move towards celebrating this feeling, you long for an engagement ring that's nothing short of an impression of your love story.
But seeking out an engagement ring isn't a doddle; you're looking for the most special purchase of your life, the one that whispers your name to her heart. It could be an ensemble of a big diamond with an array of accent stones (if she's friends with diamonds); it could be a fusion of simplicity and elegance with just a single appealing stone and the most basic of the shank.
…Or
It could be the most romantic of all engagement rings, a true depiction of the past, present and future of your love – a three-stone engagement ring…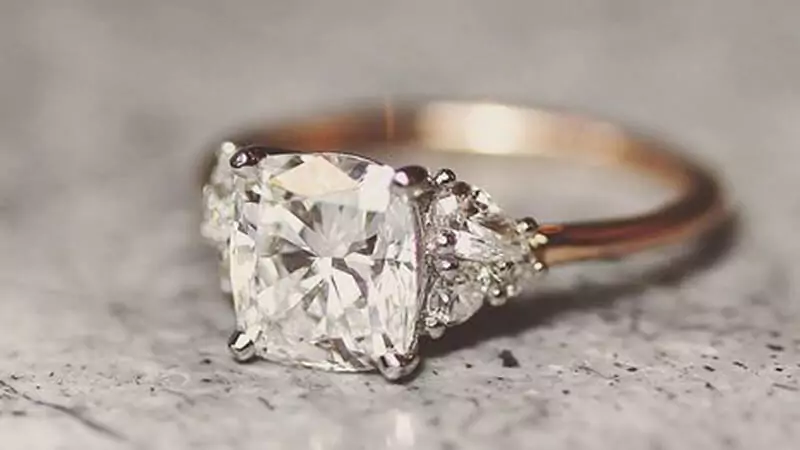 Dramatic would be the term that utterly describes three-stone engagement rings. A classic three-stone engagement ring comprises a centerstone accompanied on each side by a smaller gem. The meaning of three-stone engagement rings has been under debate ever since they came into being, perhaps as early as in the 17th century.
Also Read – How to Drop Hints to Get the Engagement Ring You Adore
Different Views
Some people think that three-stone engagement rings are all about friendship, love and fidelity, but for others they symbolize a love that environs the past, present and future. For some, a three-stone engagement ring symbolizes mother, father and child, while for others it represents the Holy Trinity.
In today's times, three-stone engagement rings have become quite popular primarily because of their great appeal and the advantage they provide to those who can't pick between two of their favorite gems. While a typical three-stone engagement ring features a centerstone surrounded by two accent diamonds, the question of choosing color gemstones as accent stones still endures. But that should be a personal choice.
What About Choosing Color Gemstones As Side Stones?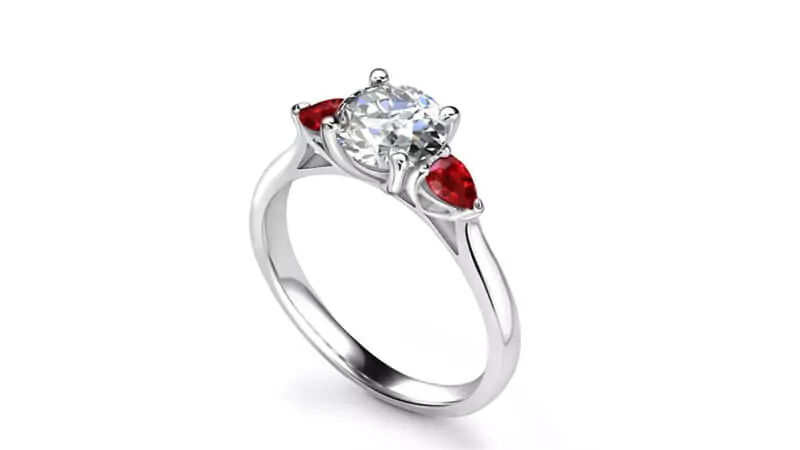 If she wouldn't mind a pop of colors, you can border the centerstone of your three-stone engagement ring with color gemstones. As she'll be wearing her three-stone engagement ring every day forever, you should consider choosing the side stones based on not only their aesthetic appeal but also their hardness. Gems that score 8 or above on the Mohs scale of hardness will make great side stones whereas those that fall below that score are best for low-contact jewelry like earrings or necklaces. 
Choosing color gemstones as side stones requires a great sense of cherry-picking. A pinch of thoughtful consideration and finesse is all that's needed. Because side stones are meant to amplify the beauty of the centerstone, the color of the side stones and the centerstone should harmonize well. For a satiating visual combination, try picking side stones having color grades that go well with the color of the centerstone. The idea is to infuse an effect that makes the ring stand out instead of creating an unimpressive set of precious gems put together at random.
The Mountings
How enticing your three-stone diamond engagement ring looks also depends on how the gems are mounted in the ring. The mounting or the setting of a ring influences the brilliance of its gemstones. If a stone doesn't get enough room to shine, it won't be able to catch the light enough. The more room a gem gets to exhibit its brilliance, the more the gem will be conspicuous. The ring's setting shouldn't be chosen only with the aim of turning heads wherever you go but it should also secure the gems in their places.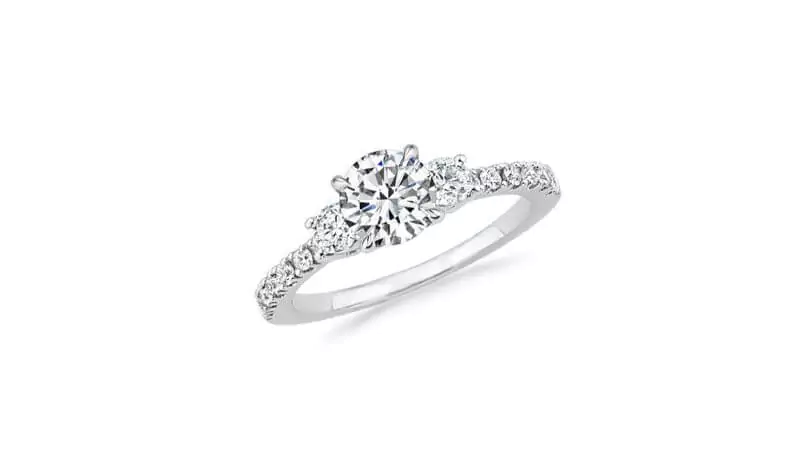 You need a setting that offers a perfect combination of both protection and limelight to the gems. This is where the prong setting comes in. In the prong setting, the gem is held securely by metal claws, usually in groups of four to six. The prong setting better exhibits the brilliance of the gem while keeping it secure in its place.
What About Metal?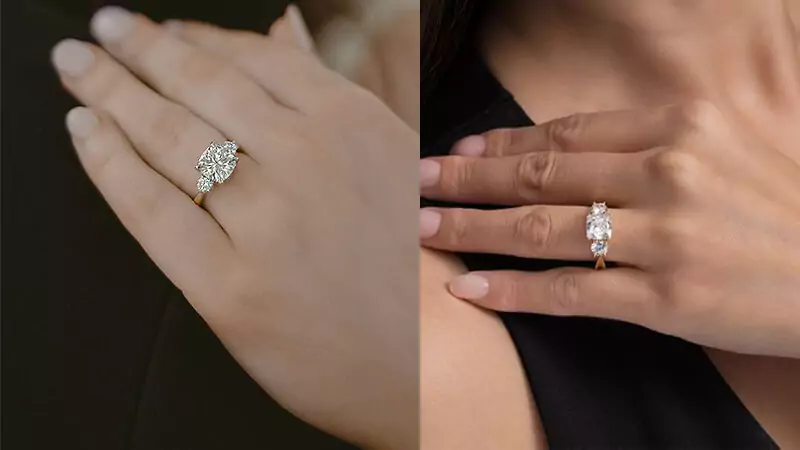 The metal of your three-stone engagement ring is another important aspect that you just can't take lightly. Metal should always be chosen based on the wearer's skin and not the trends. Asking your love beforehand whether she's allergic to any specific metal is the ideal way of choosing a metal for her engagement ring. Considering the trends while choosing a metal for any jewelry piece and not the skin or skin tone is the reason why people end up having skin allergies.
Must Read – Two-stone Engagement Ring: Perfect For The Two Of You
Effort Matters The Most
What truly makes an engagement ring the best is the person giving it. The mere fact that you're putting so much effort into customizing your engagement ring is enough to make her go speechless. While I'm pretty sure you'll shine at designing a perfect three-stone oval engagement ring, here are some inspirational designs for you just in case you get bogged down in detail.
Go on, scroll down.
Three-stone Ruby Engagement Ring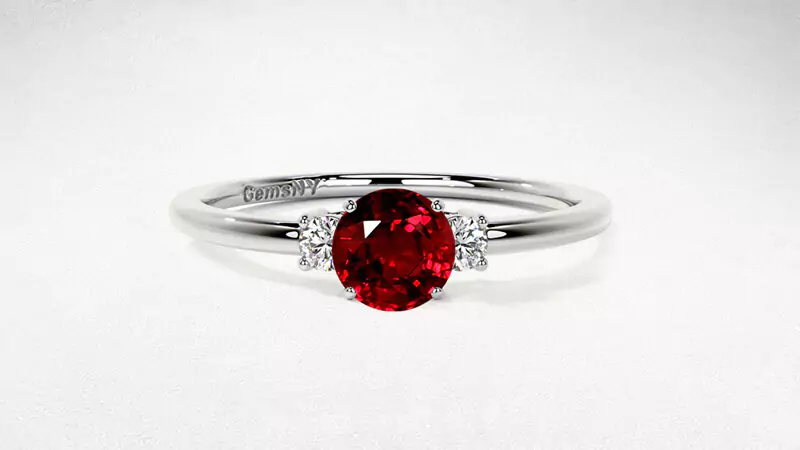 Because ruby symbolizes love, passion and commitment, a three-stone engagement ring embellished with this gemstone has to be the first on our list. A mysteriously appealing ruby held with four knife edge prongs sits in the middle of two glittering diamonds that dramatically add to the oomph of the centerstone. The ring's dainty shank will profoundly add to the beauty of her finger.
Three-stone Tanzanite Engagement Ring
With two trillion-cut glitzy diamonds, a shank that exhibits grace, and an alluring square-cut tanzanite, this three-stone engagement ring has grandeur written all over it. The lush blue color of the centerstone syncs well with the accent stones, creating a lasting and arresting effect.
Three-stone Pink Tourmaline Engagement Ring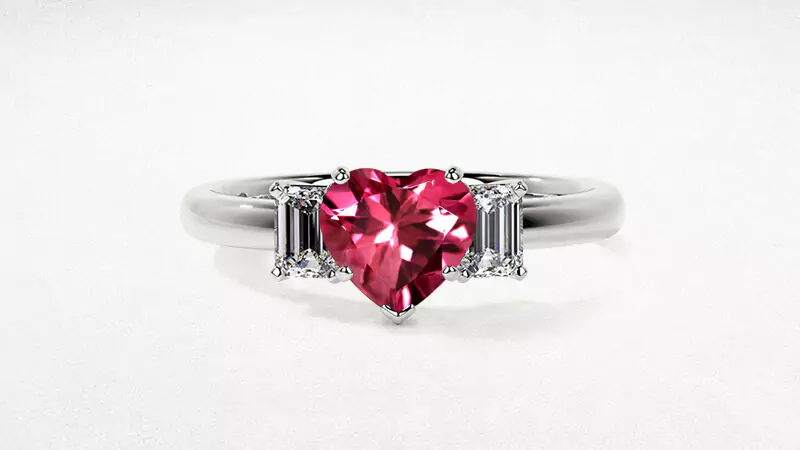 The heart-shaped tantalizing pink tourmaline centerstone of this ring will surpass all the grand gestures that you've planned for your big day. Featuring two emerald-cut diamonds that are nothing short of an ode to the charm of pink tourmaline, this engagement ring is a true blend of love and beauty.
Three-stone Emerald Engagement Ring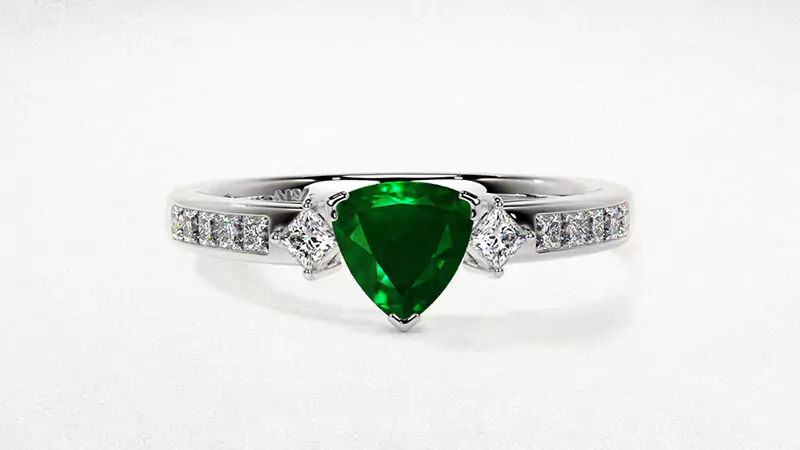 The restful color of this beautiful emerald centerstone will never fail to make an impression in her heart whenever she looks at the gemstone. The glory of the emerald featured in this ring is taken to another level through a snazzy shank full of tiny diamonds. If she wants something dramatic, this engagement ring's breathtaking design will never disappoint her.
Three-stone Sapphire Engagement Ring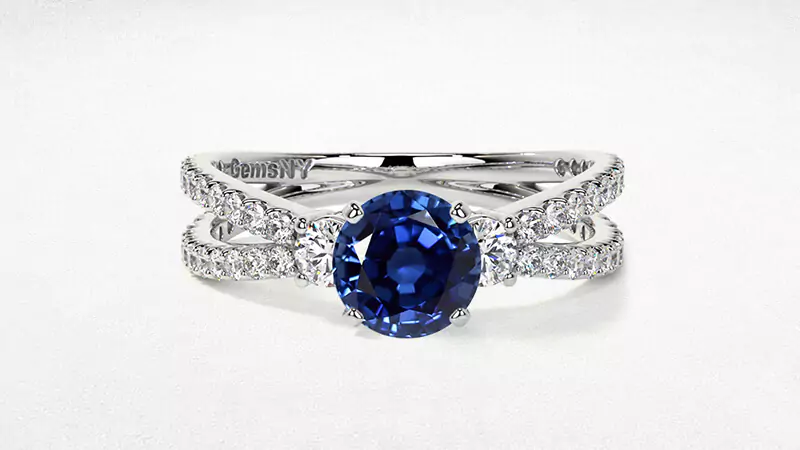 This list can never end without a three-stone sapphire engagement ring. The ring features an intense blue sapphire secured with four prongs and adorned with a criss-cross split shank that makes sure the ring captures everyone's attention in a trice. Studded with an array of small glossy diamonds, the ring's shank looks perfect for a centerstone that's a personal favorite of royalty.