There is a famous quotation about love "Anyone can catch your eye, but it takes someone special to catch your heart." So if someone has already caught your heart, your next step will be getting them into your life; for this, you will need a ring. We all know the significance of an engagement ring, so it is not required to mention it here. Everyone has their own emotions attached to the expression of love. Have you ever wondered why all the ideas of expressing love end up with a diamond ring? Well, diamonds are ruling over the hearts of couples for a long time. We all know that they are the king of hardness and their fire and brilliance are a bold expression of your love for her. So, are you looking forward to making your engagement day grand with a beautiful diamond ring without spending all your money only on the engagement ring? If yes, this write-up will tell you how to make both ends meet.
We are presenting you with seven diamond engagement rings under a carat. These rings will look fancy and will save you a lot of money, which you can utilize to make the celebration grand.
1. By-pass Shank Diamond Ring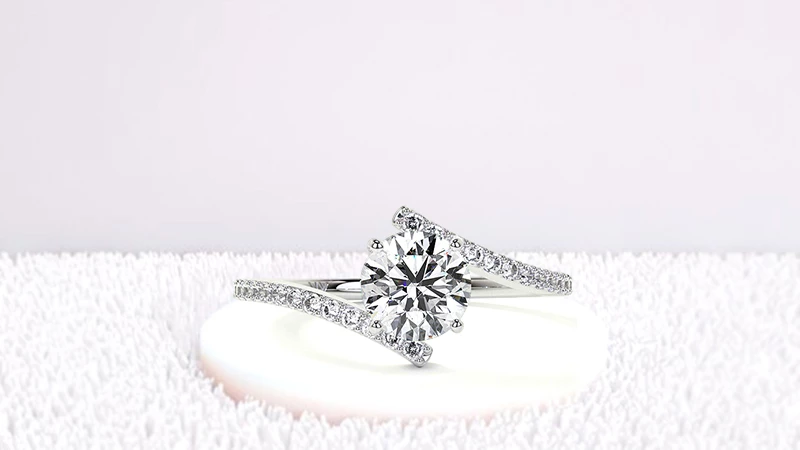 A by-pass shank ring comes with a meaningful love message that two soulscame from different paths in life and got connected with each other with a sparkling bond. This by-pass shank ring has tiny accent diamonds on the shank and a small diamond as a centerstone. It is one of the most beautiful and affordable diamond engagement rings.
2. Halo Setting Diamond Ring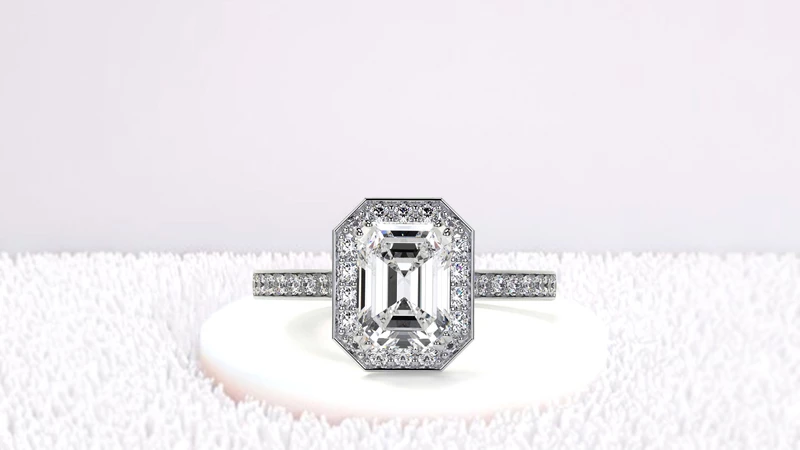 The halo ring is a bold statement of style. It is a popular ring setting; you might have seen many celebrities or influencers wearing a halo-setting ring. The best thing about this ring is that even if you choose a tiny diamond as a centerstone (one-carat), the halo setting makes it appear larger. This 1- carat diamond engagement ring will create an impression that no one will be able to get through easily.
3. Prong Setting Diamond Ring
In this dainty diamond ring, four prongs hold the center diamond beautifully. The design of this ring is kept simple and if you choose a less expensive metal, such as 14k white gold, it can save you a lot of money. At GemsNY, you will find options to choose from different shapes of gemstone cuts for your dainty diamond ring. The thin shank of the ring highlights the center diamond well and makes its sparkle visible from a distance.
4. Emerald Cut Side Stone Ring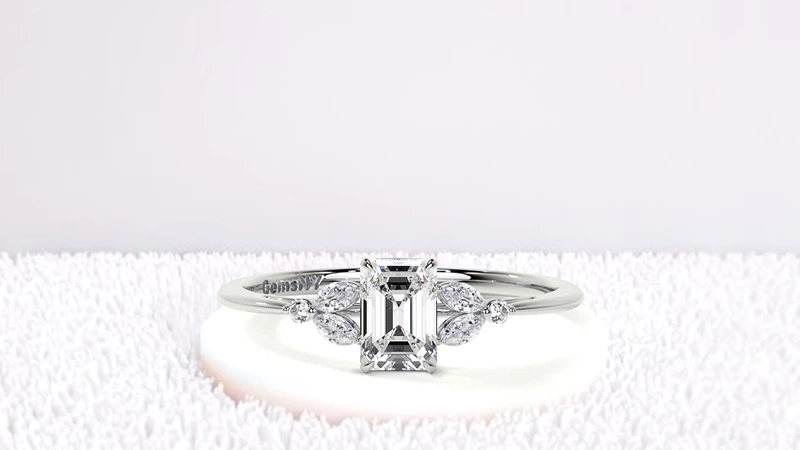 If you are ready to stretch your budget a little bit then you can get a side stone diamond ring. This ring is extraordinarily beautiful because it has an emerald cut gemstone that is widely celebrated as the personal favorite of celebrities and influencers. Side stones in this ring are in the shape of leaves, making the ring stand apart. Four prongs beautifully hold the centerstone in a way that even a one-carat gemstone appears bigger. If you are someone who loves things that are out of the box and can create an everlasting impression, this ring will be a perfect pick for your engagement.
5. Tapered Cathedral Diamond Ring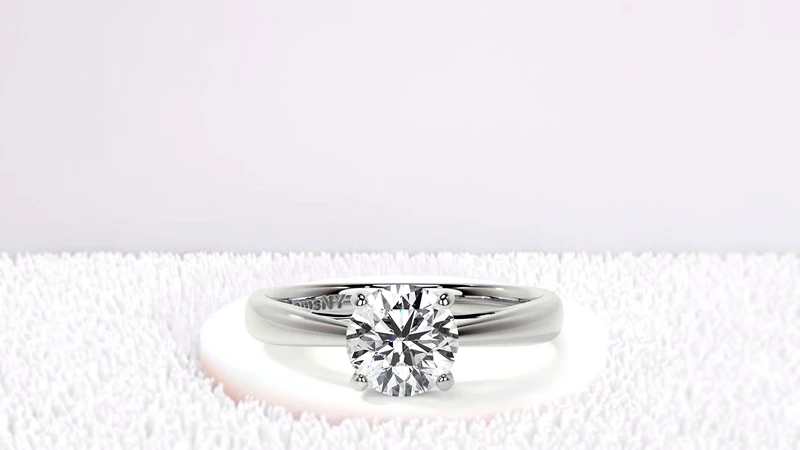 A tapered cathedral ring setting holds the centerstone like a crown and elevates the beauty of even a smaller stone. For this reason, it can be considered the best gemstone setting for a one-carat diamond engagement ring. To take the ensemble to a whole new level, you can choose from different metals, such as white, yellow and rose gold. This ring looks perfectly well in any metals of your choice, so you can easily configure your affordable diamond engagement ring without compromising on its appearance.   
6. Star Shaped Diamond Ring
Why not choose a star-shaped ring for the star of your life? The celestial setting of this ring holds the diamond perfectly with 6 prongs. You don't even need to be worried about the durability of this ring because of two reasons. While the first reason is that diamond is the toughest gemstone of them all, the second is that the six-prong setting makes the ring extraordinarily durable. Because an engagement ring is a jewelry piece that your lady love will cherish throughout her life, it must have considerable durability.
7. Twisted Shank Diamond Ring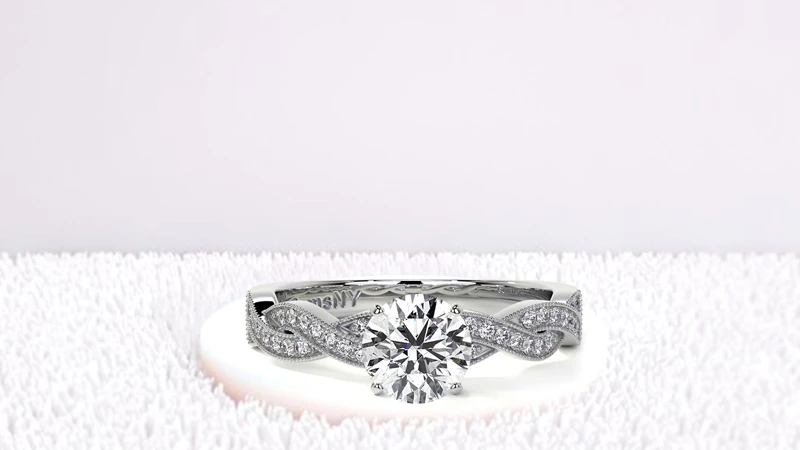 What makes an engagement ring perfect is the combination of an appealing gemstone, a sturdy ring setting, and a metal that suits the wearer's skin and skin tone. All these three aspects make an engagement ring a jewel that can be cherished for a lifetime. This diamond engagement ring has a twisted overlapping shank with accent diamonds. The appearance of this ring catches the eyes of everyone because of its unique shank that makes this thing of beauty appear sparkling from all angles. Because the overall appearance of this ring is appealing enough to turn heads wherever you go, you get the liberty to fashion this ring with a one-carat diamond centerstone.
When it comes to concluding things, we can say that choosing a one-carat diamond engagement ring is a wise decision. It helps you stay within the budget and can also make your engagement day special. So get your jewel for life in your budget to avoid compromising on the number of guests you'll love to be with on your special day.