A color that ignites imagination, a hardness that can last for generations with just minimal care, and a history of admirers, that's the most penny-plain description of emeralds you'll ever come across. Ride along with me in this short hop of an emerald engagement ring guide as I put you in the picture about the dos and don'ts of buying the engagement ring you've always craved for.
What Is Emerald?
Belonging to the beryl family of minerals, emerald is an exclusively green gemstone. Emerald gets its vivid green color from the presence of trace elements vanadium and chromium. The beryl mineral family also includes another beautiful gemstone, aquamarine.
Where To Begin?
Engagement ring is an expression of love, an expression that varies from person to person. That's why lovers try to be precise with their selection of engagement rings. But precision comes from clarity (of one's thoughts and wants) and how aptly clarity is conveyed. In that sense, to get the bespoke engagement ring of your dreams, I think we should definitely begin with learning about its components – centerstone, setting and metal. So, without further ado, let's first learn the details of your engagement ring's centerstone and its 4Cs – color, clarity, cut and weight.
What Should I Look For In My Emerald Centerstone?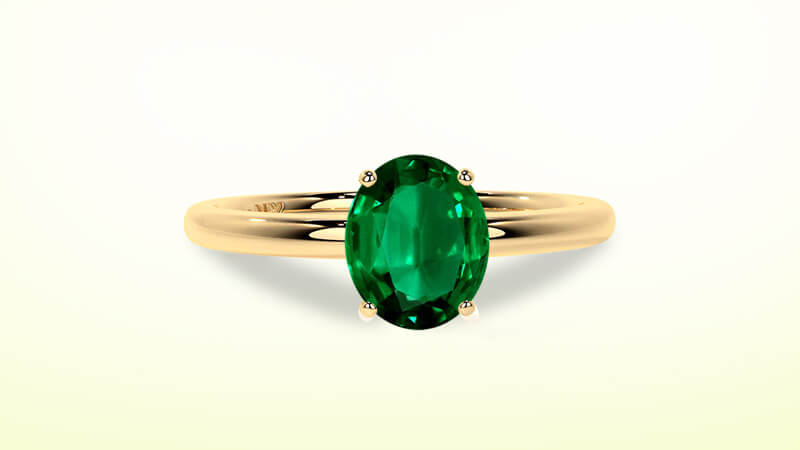 A tone that's not too dark and saturation that's even, that's the combination you should be looking for in your emerald centerstone, and that's something you shouldn't surely sneeze at. The intensity of green in emeralds is of utmost importance. Therefore, the most coveted emeralds are those that have bluish-green to pure green colors. A highly transparent emerald with evenly distributed color is the pick of the bunch. The appearance of emeralds also depends on their source. For instance, Colombian emeralds are known for their more intense green color, whereas Zambian stones have a more bluish-green tone.
To What Extent Are The Inclusions Accepted In Emeralds?
Well, inclusions are typical to emeralds and for this reason, people in the trade accept the presence of inclusions in emeralds. You'll most likely come across emeralds containing inclusions visible to the unaided eye. But, there's a fine line of distinction regarding the extent to which the inclusions in emeralds are accepted. For example, inclusions that drastically affect the transparency and clarity of the gemstone and reduce its value, are not accepted. On the other hand, eye-clean emeralds are rare birds.
Is There Any Ideal Cut For Emeralds?
Yes, as a matter of fact, there is. The ideal cut for your emerald centerstone is the one you fancy. You can customize your engagement ring's emerald centerstone the way you like. It all depends on how you want to fashion your emerald and which is the cut you best connect with. There are so many cuts available, and emeralds look awe-inspiring in all shapes. While you're at it, and the fact that knowledge is power, let me tell you that the cutter has to make cutting decisions based on the depth of color, inclusions and hardness. There's no room for errors because mistakes cause weight loss, reducing the value of the stone.
Okay, What About The Carat Weight?
There are no rules regarding an ideal carat weight either. While emeralds in the range of 1 to 5 carats are popularly used as centerstones, you can choose the carat weight of your stone as per your liking. As much as I'd not like to say it, your budget can be a determining factor for the size of your gem. If you're ever so inclined to spare no expense, bingo!
What About The Ring Setting?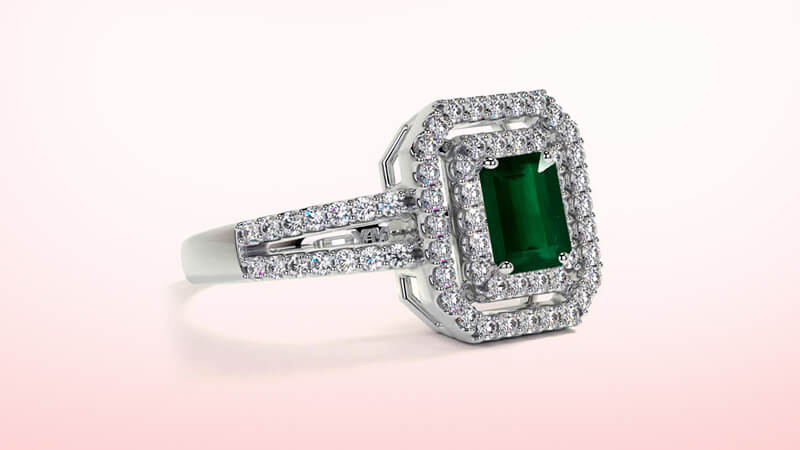 The ring setting of your emerald engagement ring is what will keep the centerstone in its place. Therefore, you should not pick just about any ring setting at random but give it a thoughtful consideration. Emeralds score 8 on the 10-point Mohs scale of hardness signifying their considerable strength to withstand the wear and tear of average everyday life. Still, you should choose a ring setting that not only protects your centerstone but also amplifies its brilliance.
For instance, the prong setting is a wise option. In this type of setting, the centerstone is held by four or six metal claws (as per your choice). These metal claws secure the centerstone firmly while also exposing a large portion of its area for visual appeal. If you're someone who wouldn't mind extra shimmer, go for the halo ring setting in which the centerstone is encircled with tiny accent stones that add to its brilliance. There are many ring settings for you to choose from, however, an ideal ring setting is the one that offers a balance of security and shine. Yes, you got that right, there is something genuinely ideal this time.
Which Metal Would Be Best For Me?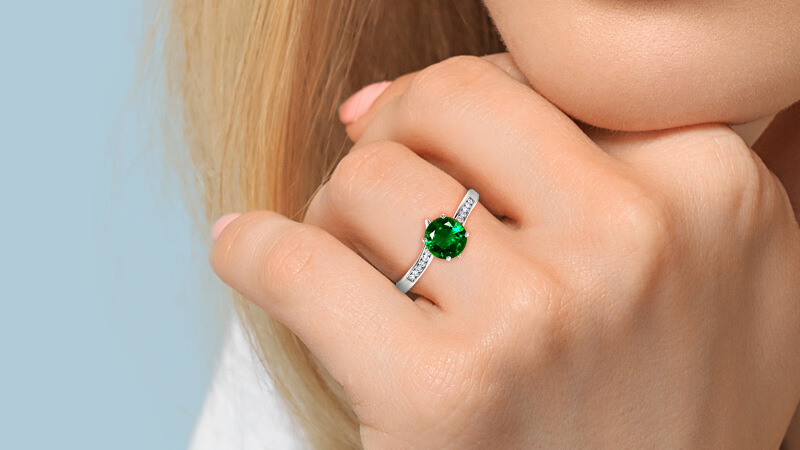 This one is again a personal choice, just like the cut and carat weight. You should always select a metal that you're comfortable with, and it should not cause you any type of skin allergies. When choosing a metal, most people think that this component of their engagement ring doesn't make much difference. On the contrary, metal is of the essence because you'd be wearing your engagement ring for a very long time. So, why not pick a metal that suits your skin?
Your engagement ring should be a reflection of your love and the bond that you share as a couple. Personalization adds more meaning to your engagement ring, making it extra special. While with this emerald engagement ring guide, I have tried to cover everything from the centerstone to the setting and metal, there's one more thing that might excite you, and that's engraving.
Take fashioning your engagement ring to a whole new level by engraving a personal quote or just about anything that you both cherish. The whole idea here is to infuse feelings of love because your engagement is momentous. And above all, it's vital to make her happy so that she doesn't turn out to become the 'amazing Amy' from the movie Gone Girl. KEEP HER HAPPY!
Most Beautiful Emerald Rings to Buy
Let's end this article with a bunch of emerald engagement rings that are a cut above the rest.
Classic Four-Prong Emerald Engagement Ring
A bold and sparkling emerald engagement ring that makes a statement like no other. Set in detailed 14K white gold and secured with the classic four-prong setting, the emerald centerstone looks ever-so gorgeous. This ring will surely turn heads wherever you go.
Traditional Emerald-Cut Emerald Engagement Ring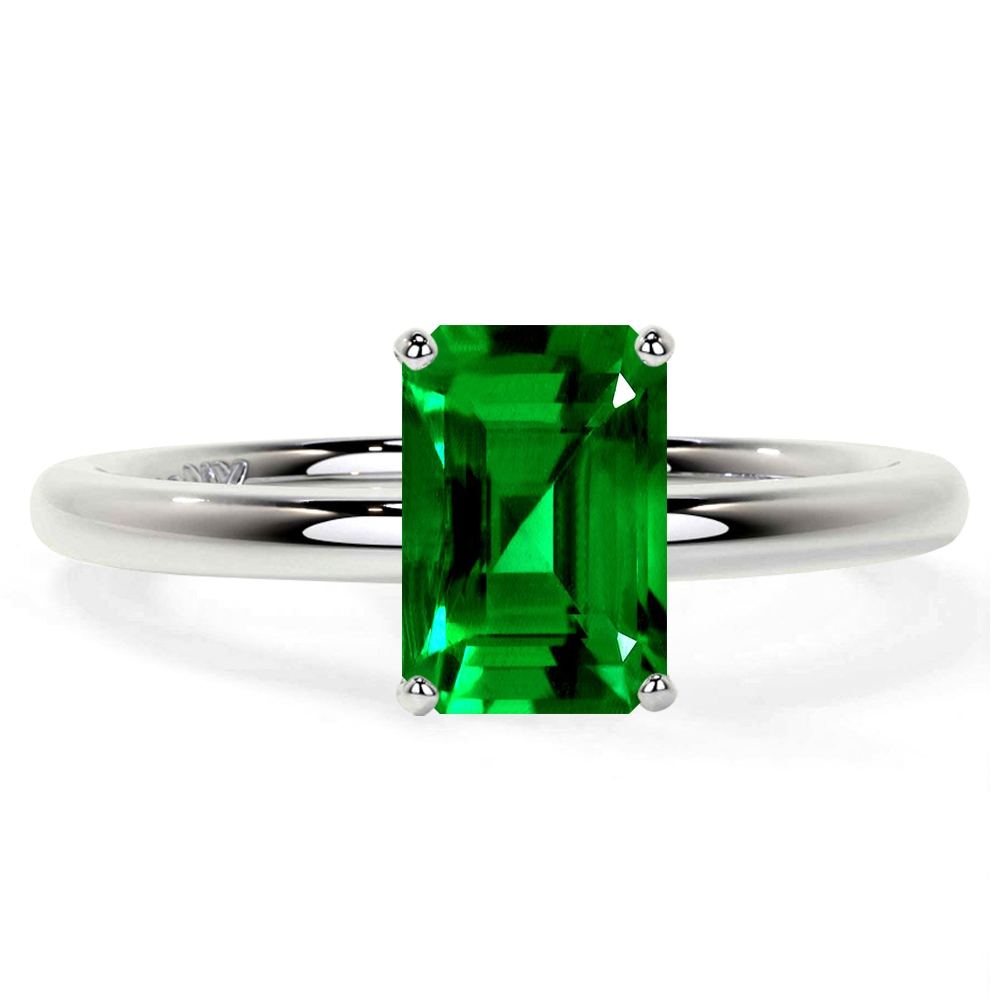 Featuring a unique and minimalistic design and an elegantly beautiful emerald, this ring can definitely put the others in the shade. If you're looking for a ring with a simple and graceful design, this is the one for you.
Oval-Cut Halo Emerald Engagement Ring
Featuring a natural emerald gemstone encircled with a halo of small diamonds that never fail to catch the light, this emerald engagement ring is for lovers of drama and oomph. Thoughtfully handcrafted by our experts, this emerald ring is nothing but a sign of love and beauty.
Emerald Engagement Ring With Diamond Cluster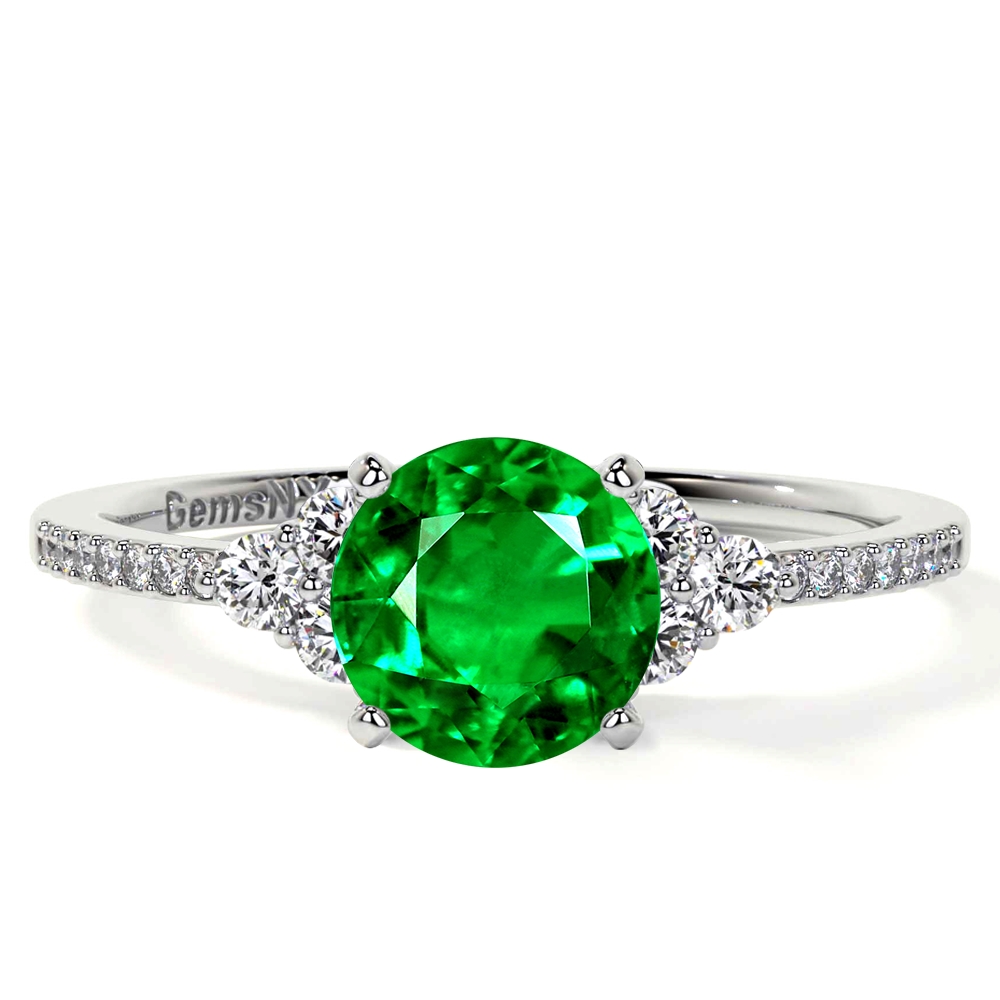 Enhancing the visual appeal of the emerald centerstone in all its glory, this emerald engagement ring can elate your heart like nothing else does. Let her sparkle with this mindfully created gorgeous emerald ring and celebrate this milestone of your life magnificently.
Halo Emerald Engagement Ring With Pave Set Diamonds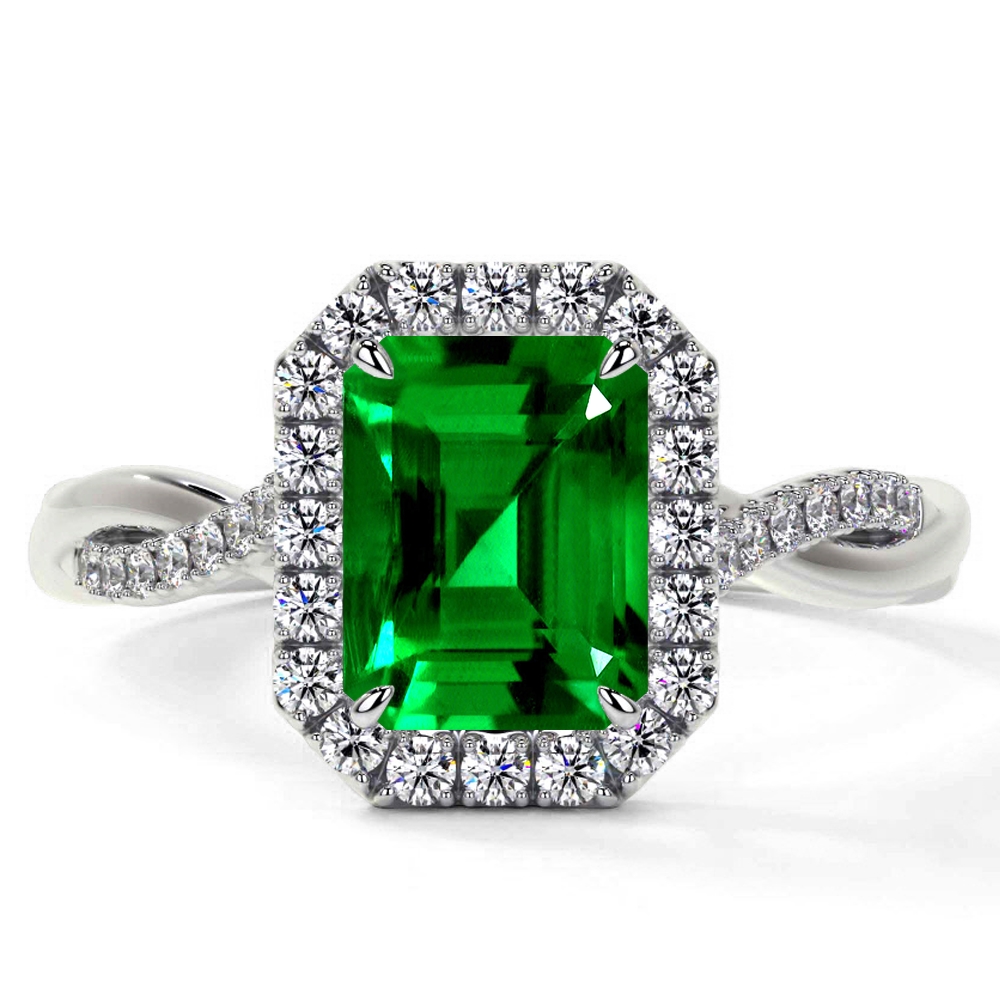 Best showcasing the radiant color of the emerald centerstone, this halo of diamonds is just meant to steal the spotlight. Adorn her finger with this chic emerald engagement ring that augments the beauty of the emerald with a twisted band and pave set diamonds.
Heart-Shaped Emerald Engagement Ring
A heart-shaped engagement ring is itself a token of love, but when brandished with the grace of emerald, the ring becomes enthralling. Proposing your lady love with this irresistible thing of beauty can surely work wonders for you.
Three-Stone Emerald Engagement Ring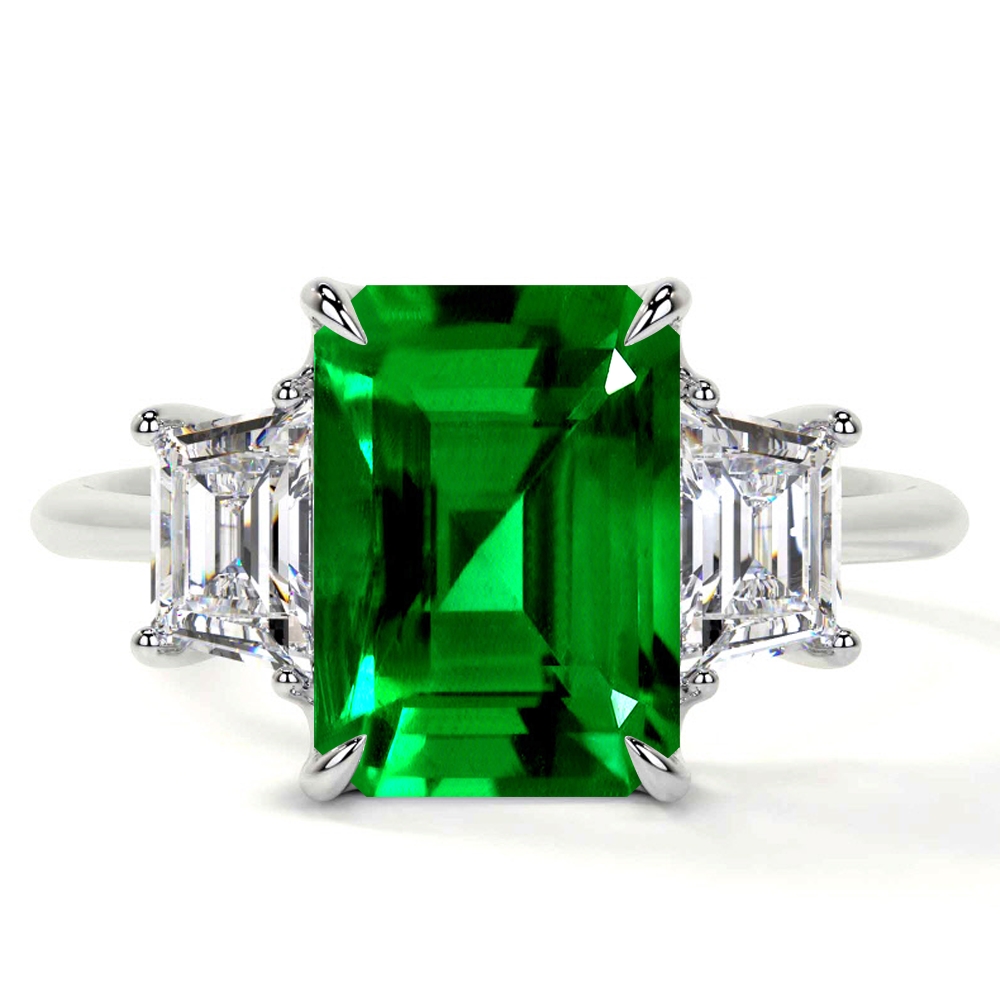 Mark your special moment with this alluring three-stone emerald engagement ring that symbolizes the past, present and future of your unique love story. This ring is a perfect example of a blend of simplicity and finesse.