A blend of sumptuous blue, striking violet, and vivid purple color and rarity that defines incomparability, the exotic tanzanite possesses everything it takes to seize the attention of everyone. This tanzanite engagement ring guide will thoroughly enlighten you, leaving no space for confusion.
Prelude
To call tanzanites alluring would be an understatement. To call tanzanites rare would come about as a modest compliment. No matter how strenuously you try, it always feels like you cannot convey the magnificence of tanzanite in words. Tanzanite is more of a recent discovery, found in the year 1967 in the foothills of Mount Kilimanjaro in Tanzania. Since then, till now, the 7 kilometers long and 2 kilometers wide small mining area is the only source of tanzanites.
The fact that you cannot find tanzanite elsewhere on Earth makes it a thousand times rarer than what you call the typical engagement ring gemstone – diamonds. Also, tanzanite's relatively recent discovery could not stop it from becoming one of the most coveted gemstones, especially craved by modern brides as their preferable engagement ring gemstone.
Quality Factors
The 4Cs of a gemstone – Cut, Clarity, Color & Carat weight – constitute its quality and grading factors. In order to precisely get the stone of your dreams, you need to grasp the significance of the quality factors.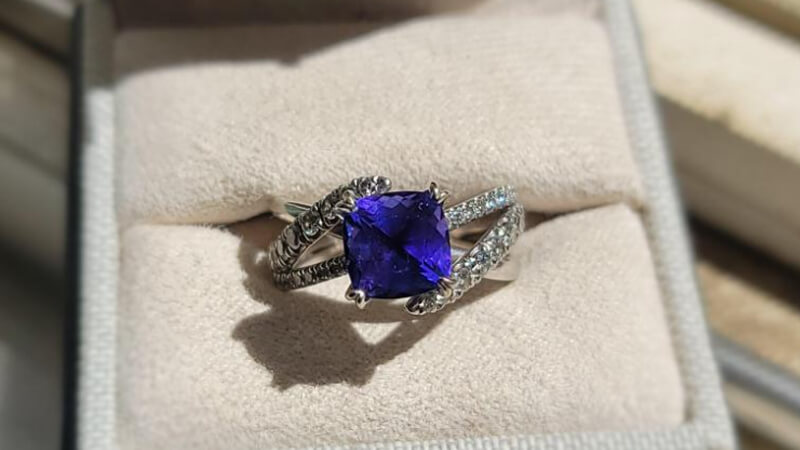 Color
Tanzanite is a pleochroic gemstone. Pleochroism is an optical phenomenon that can be found in certain gemstones. For a gemstone to be considered pleochroic, it should display different colors when viewed at different angles and in different lighting conditions. As tanzanite is pleochroic in nature, its cut influences the face-up color the consumer would see after it is embellished in a jewelry piece. Strong pleochroism in tanzanite is the reason why personalized samples exude a mix of blue and violet colors in an array of tones. Therefore, the cut is of the essence.
Clarity
Most of the tanzanites sold in the market do not have eye-visible inclusions. Thus, the ones with eye-visible inclusions are sold at low prices. Also, inclusions like fractures that cause durability problems dramatically affect the gemstone's value.
Cut
As the cutting direction determines the overall face-up color of tanzanite, the cut plays an important role. For instance, as tanzanites are pleochroic, if you want violet-purple tanzanite for your engagement ring, you want the lapidary to cut the stone in the direction that emphasizes the violet-to-purple color instead of the violetish blue color. On top of that, the lapidary also has to waste less rough and keep in mind the financial realities that the cut affects.
Carat Weight
While tanzanites are available in a wide range of sizes and designs, intense-colored tanzanites usually weigh 5 carats or above. If you don't want to compromise with the color intensity of tanzanite, you need a big stone for your engagement ring.
Hardness & Durability
Tanzanite measures 7 on the Mohs scale of hardness. While it may sound like the gemstone is not hard enough to be worn in a piece of jewelry, it is still a durable option. The hardness numbers in the Mohs scale do not justify the actual hardness of gemstones. For instance, a sapphire ranks 9 on the Mohs scale as compared to diamonds that are a 10.
This depiction of the hardness of sapphires and diamonds is not entirely accurate. There is a world of difference in the hardness of the two gemstones, whereas, in the Mohs scale, both the gemstones are mere a number apart. The durability and hardness of tanzanite might not match that of a sapphire or a ruby, but the gemstone is reasonably durable to be set in an engagement ring.
Tips: Your tanzanite engagement ring should emanate your personality and the bond you share with your beloved, which is why you need to personalize the attributes of your engagement ring.
Budget
Tanzanite is an enticing gemstone. Its perennial charm never fails to induce the beholders to buy it in a large size. But it is wise to fix a budget for your tanzanite engagement ring and stick to it. For instance, if violetish blue tanzanite excites you the most, you might want to settle for a small stone since something with that attribute comes with a hefty price tag. Fixing the price would also narrow the options regarding the ring's setting, metal, and other attributes.
Shape
The shape of your center stone should best display its shimmer. While there are a plethora of gemstone shapes & cuts available for you to choose from, none of the others flaunt the fire of this striking gemstone like the round shape does. The circular shape highlights the radiant depths of tanzanites.
Metal
While every metal suits the gorgeous lush blue color of tanzanite, you should opt for a metal that suits your skin. For instance, if you are allergic to a specific metal type, you should avoid it. Compromising with your comfort would eventually make you take off your engagement ring every now and then, which might make you feel disappointed, or even worse, guilty. And as engagement rings ought to be timeless, you better select a metal you can wear throughout your life.
Setting
An ideal ring setting does not overshadow the brilliance of a gemstone with its technical details. Instead, it highlights and firmly protects the center stone. And as far as that is concerned, the prong setting encircles and holds the center stone quite effectively. You can also pick the channel setting, pavé setting, halo setting, or a three-stone setting for your tanzanite engagement ring. There are no rules. If a specific ring setting tickles your fancy, go for it.
Conclusion
Tanzanite has veered the engagement ring trends and has long been ruling the roost with its awe-inspiring beauty. Nowadays, suitors find tanzanite the perfect gemstone with which they can pop their big question. While there are numerous reasons behind this inclination, the foremost one is that the rarity of tanzanite equals that of true love. Make sure you buy your tanzanite engagement ring from a dealer who not only understands your emotions but also esteems the rare bird – tanzanite.
While you're at it, GemsNY makes bespoke tanzanite engagement rings…