GemsNY is proud to bring you a dazzling showcase of the most stunning gemstone jewelry moments at the Cannes Film Festival from the last few years. The festival is not only a celebration of the best movies from around the world, but it's also a place where the stars come to showcase their fashion style and the jewelry they adorn. From Julia Roberts' iconic emerald and diamond necklace to Bella Hadid's exquisite Chopard earrings, the Cannes Film Festival has witnessed some of the most breathtaking gemstone jewelry pieces ever seen.
Let's take a trip down memory lane and relive the magic of Cannes jewelry by revisiting some of the most memorable moments from the past few years. Join us as we dive into the exquisite world of diamond earrings, gemstone necklaces, and more, all of which have graced the red carpet at Cannes. So, sit back, relax, and get ready to be transported into a world of glitz and glamor.
1. 2016: Julia Roberts' Emerald and Diamond Necklace
Julia Roberts made a bold and stunning statement on the Cannes red carpet with her emerald and diamond necklace. She wore the gorgeous necklace with her stunning black gown, which was a true work of art from the Chopard high jewelry collection. The necklace not only made her appear to be a true member of Hollywood royalty, but it also paid tribute to Elizabeth Taylor's well-known red carpet pendant, which helped her become a true fashion icon.
Julia Roberts has a knack for making a statement with her attire, and her emerald and diamond necklace from Cannes Jewelry of 2016 was just one of many examples of her exquisite taste. She looked like the ball's belle thanks to the necklace's exquisite emphasis on her beauty. The emerald gemstone represented rebirth and expansion, which sums up Julia Roberts' professional history admirably.
2. 2017: Salma Hayek's Baïkal Necklace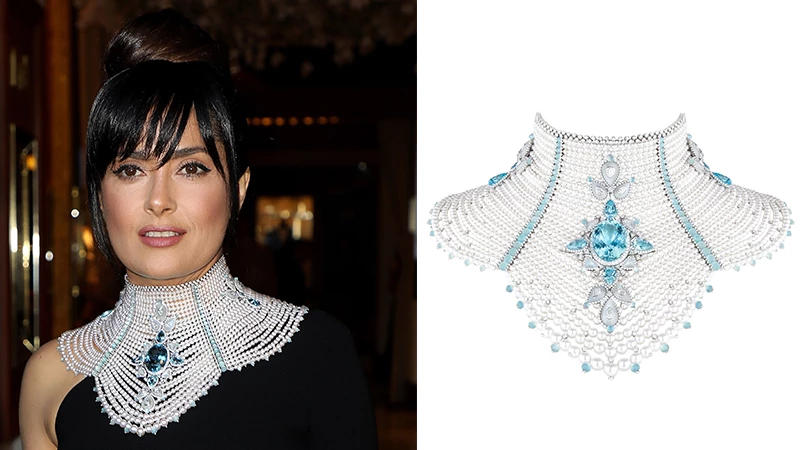 The Cannes Film Festival has always been a place where stars come to shine, and Salma Hayek definitely did not disappoint in 2017. She stepped out on the red carpet with a jaw-dropping piece of jewelry that left everyone in awe. The Baïkal necklace from Boucheron's Hiver Impérial Collection was a masterpiece that perfectly complemented her stunning gown.
But it wasn't just any ordinary necklace. The centerpiece of the necklace was a mesmerizing Santa Maria aquamarine weighing a whopping 78.33 carats! Surrounding the aquamarine were glistening moonstones, lustrous Akoya pearls, and of course, diamonds, adding an incredible level of sophistication and elegance to the piece.
3. 2018: Carla Bruni's Diamond and Sapphire Necklace
If you thought that Carla Bruni's fashion sense couldn't get any more enchanting, think again. At the Cannes Film Festival 2018, she appeared on the red carpet in a stunning white Dior dress that accentuated her grace and elegance. But what truly set her apart was the diamond and sapphire necklace by Chopard which adorned her neck.
The intricate design and craftsmanship of the necklace, paired with the deep blue sapphires and glittering diamonds, made it a true masterpiece. Carla's understated yet powerful look was the talk of the festival, and the necklace added just the right touch of glamor and sophistication to her ensemble.
This just goes to show that when it comes to jewelry, less is often more. Carla's decision to go for a simple yet striking necklace speaks volumes about her style and personality. It's no wonder that she remains one of the most memorable celebrities at the Cannes Film Festival.
4. 2019: Priyanka Chopra's Diamond and White Gold Earrings
Everyone was captivated by Priyanka Chopra's stunning diamond and white gold earrings. The talented actress and style icon is used to being in the spotlight and knows how to enter a room. Her exquisite diamond earrings, which furthered her already stunning appearance with a touch of class and sophistication, were the ideal combination to her dual-shade sparkly gown.
Priyanka Chopra exuded grace and poise as she made her way down the red carpet, showcasing her impeccable sense of style and jewelry preference. Her diamond earrings, which shone brilliantly in front of the paparazzi camera flashes, were the ideal finishing touch to her ensemble. It is understandable why many people all over the world view her as a fashion icon and an inspiration.
5. 2021: Bella Hadid's Iconic Diamond Earrings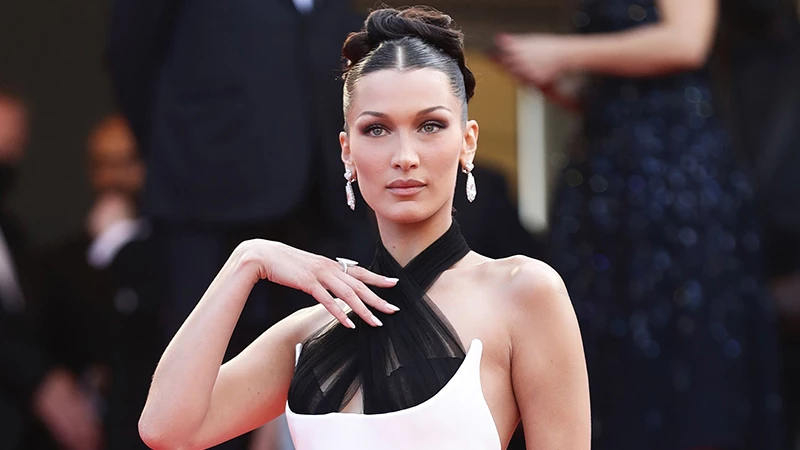 Bella Hadid, the queen of fashion, once again stole the show at the Cannes Film Festival of the year 2021 with her stunning gemstone jewelry. The entire world was in awe of her impeccable style and fashion-forward choices.
Even though her outfit was flawless, it was the Chopard Red Carpet Collection earrings that really caught everyone's attention. These earrings were simply breathtaking, with their pear-shaped diamonds of 18.05 carats that glistened in the light and added a touch of glamor to her already stunning ensemble. Bella's jewelry selection was not only a statement about her sense of style and impeccable taste, but it was also a fashion statement
6. 2022: Julianne Moore's Classic Diamond Emerald Necklace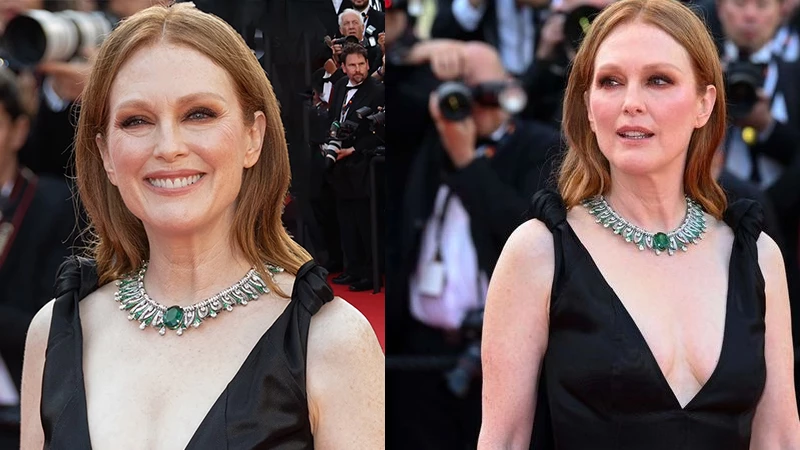 As the curtains opened at the 2022 Cannes Film Festival, the stunning Julianne Moore made an entrance that left everyone breathless. Her stunning black gown was embellished with some of the most dazzling Bulgari jewels, including the iconic 'Tribute to Paris' necklace. The piece features a magnificent Colombian cabochon-cut emerald weighing a whopping 35.53 carats, surrounded by a stunning array of diamonds and emeralds set in platinum.
As Julianne graced the red carpet with her presence, all eyes were on her show-stopping necklace, which added an element of timeless elegance to her ensemble. The necklace's center stone, the emerald, is one of the most coveted gemstones in the world, renowned for its rich, green hue and unparalleled beauty. And with the addition of diamonds and emeralds set in platinum, this stunning necklace showcased a masterful display of craftsmanship and design.
Final Thoughts
As we come to the end of our journey through the best gemstone jewelry moments at the Cannes Film Festival, one thing is clear: these iconic events are not only about movies but also about showcasing some of the most breathtaking jewelry pieces in the world. From diamond earrings to emerald and diamond necklaces, the stars of the festival always manage to bring their A-game when it comes to accessorizing.
GemsNY is pleased to present these iconic flashbacks from the Cannes Film Festival. As a brand that believes in the power of gemstones to elevate your outfit, we are thrilled to see how the festival's stars incorporate them with such ease and grace.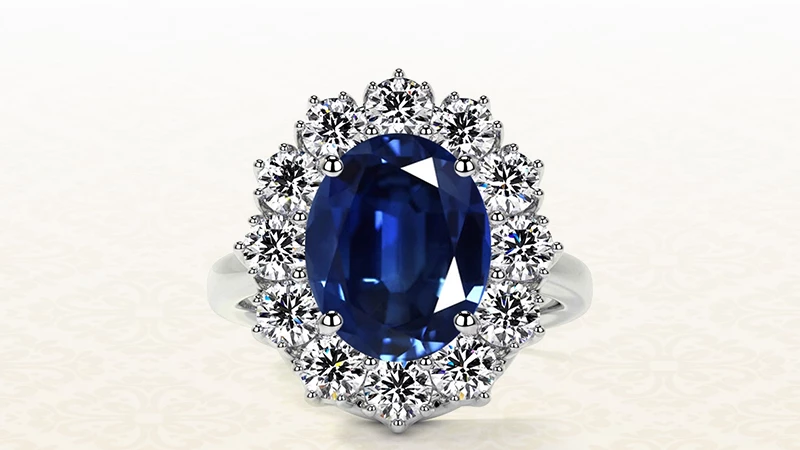 If these gorgeous jewelry moments have inspired you and you want to add some sparkle to your collection, you can look through the GemsNY jewelry collection. We have a large selection of exquisite gemstone jewelry, including diamonds, emeralds, sapphires, and many others. Our jewelry is expertly crafted by artisans and is intended to elevate your style and make you feel like a true Hollywood star. So, don't wait any longer and indulge in the luxury of GemsNY today!
P.S.- We can't wait to see what dazzling jewels and accessories the celebrities will be sporting at the upcoming Cannes Film Festival of 2023. Super excited about it!!!
Year
Celebrity
Famous Jewelry
2016
Julia Roberts
Emerald and diamond necklace
2017
Salma Hayek
Baïkal necklace with Santa Maria aquamarine, moonstones, Akoya pearls, and diamonds
2018
Carla Bruni
Diamond and sapphire necklace
2019
Priyanka Chopra
Diamond and white gold earrings
2021
Bella Hadid
Chopard Red Carpet Collection earrings with pear-shaped diamonds
2022
Julianne Moore
Bulgari 'Tribute to Paris' necklace with Colombian
cabochon-cut emerald surrounded by diamonds and emeralds set in platinum
*Credit Source –
Image 1st – https://www.elle.com/culture/celebrities/a36944146/bella-hadid-black-white-dress-cannes-film-festival-2021/