Remember how the coronation of Queen Elizabeth II (which took place in the year 1953) was considered one of the marvelous public spectacles of the 20th century? It was the first British coronation to be aired on television. There's no doubt that the ceremony attracted viewers from all over the world with its grand yet religious celebration.
And now, seven decades later, we've got to witness another British coronation ceremony. The crowning of Her Late Majesty's son and heir, King Charles III, and his wife, Queen Consort Camilla, took place on May 6. And what a spectacular ceremony it was!
Celebrities from around the world came to attend the British Royal Family's coronation ceremony, and many renowned artists even performed in the Coronation Concert. But our main topic of interest is what the British royal family is well-known for. Their royal jewelry!
Royal Jewelry Moments at King Charles III's Coronation
Royalty and fine jewelry go hand in hand. It's no wonder that the British royal family and other royals from across the world attended King Charles III's coronation in their finest jewels. Let's take a look at the stunning jewels the royals wore to the ceremony at Westminster Abbey.
King Charles III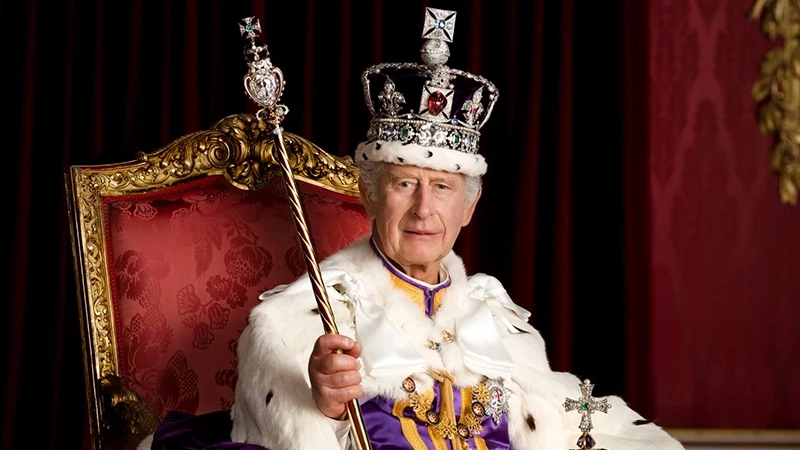 A coronation ceremony is incomplete without a crown. King Charles wore the St. Edward's Crown, which was crafted in 1661. This crown has rubies, garnets, tourmalines, sapphires, topazes, and amethysts embellishments.
The King also received the Coronation Ring, also known as the Sovereign's Ring. The ring, set with rubies and diamonds, is a representation of the King's love and dedication for the Commonwealth and the people he is pledging to serve lifelong, by God's will. The King was also seen wearing his famous pinky ring, which is a gold signet ring.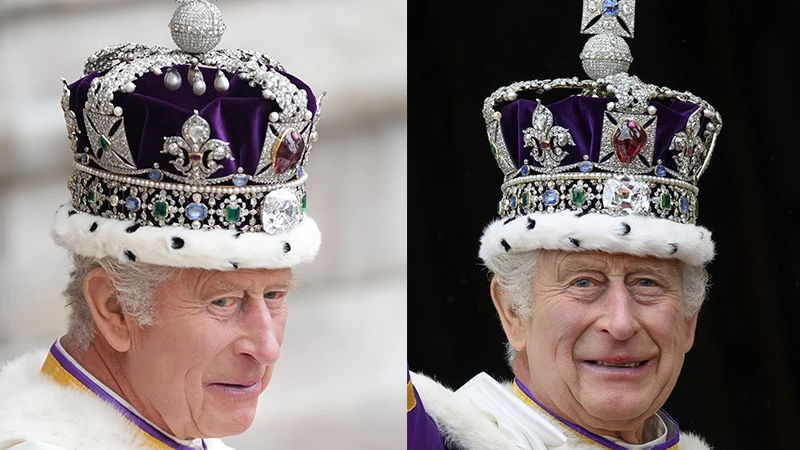 King Charles III wore the Imperial State Crown, crafted in 1937 by Garrard, as he got ready to address the audience from the balcony of Buckingham Palace. This crown belongs to the coronation regalia of the Crown Jewels and is embellished with precious gemstones — 269 pearls, 11 emeralds, 17 sapphires, 2868 diamonds, and 4 rubies, including the famous Black Prince's Ruby, the Stuart Sapphire, and the Cullinan II diamond.
With all these royal jewels, no wonder they are called the British royal family.
Queen Consort Camilla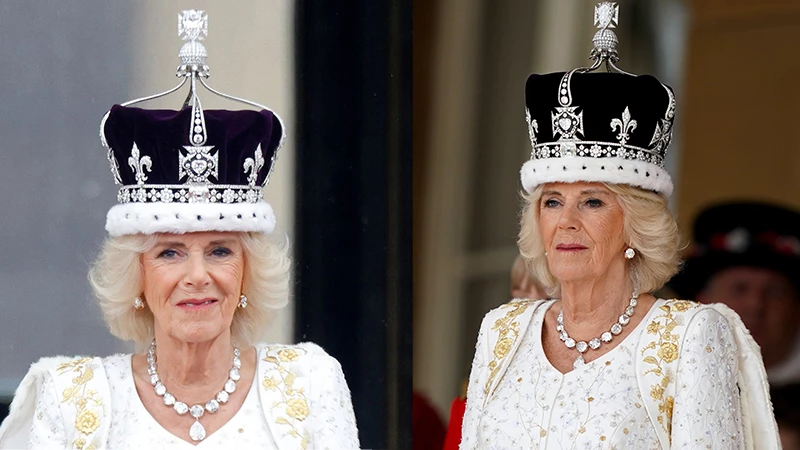 Queen Mary's Crown, which Garrard made in 1911 for Queen Mary's Coronation, was worn by the now Queen Consort Camilla. The crown, which has 2200 diamonds, has an openwork band placed in front with a removable rock crystal duplicate of the Cullivan IV, a sizable cushion-shaped diamond.
The Queen Consort also wore a dazzling diamond necklace (also known as the Coronation Necklace) that was initially created for Queen Victoria by Garrard in 1858. This necklace is made up of diamond stones pieced together from various sources, including the Lahore Diamond, a pear-shaped pendant diamond of 22.48-ct.
Britain's new Queen Consort completed her royal jewelry look with beautiful matching earrings.
Catherine, Princess of Wales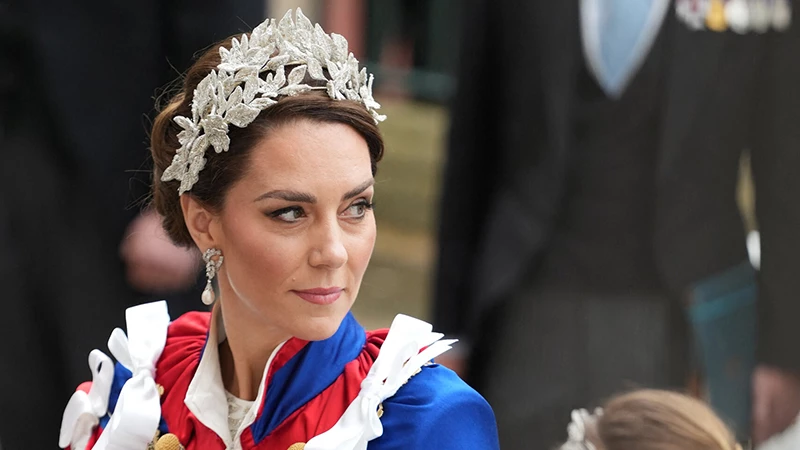 With her coronation jewelry, the Princess of Wales honored the royal women who came before her. She wore a pair of diamond and South Sea pearl earrings that once belonged to her late mother-in-law, Princess Diana, as well as a necklace made of three strands of diamonds that Her Late Majesty, Queen Elizabeth II, once possessed.
Kate Middleton surely has a way of wearing stunning jewelry while paying homage to her predecessors!
And let's not forget about her gorgeous floral crystal and silver headpiece, designed by Jess Collett x Alexander McQueen to match her Alexander McQueen outfit.
Princess Beatrice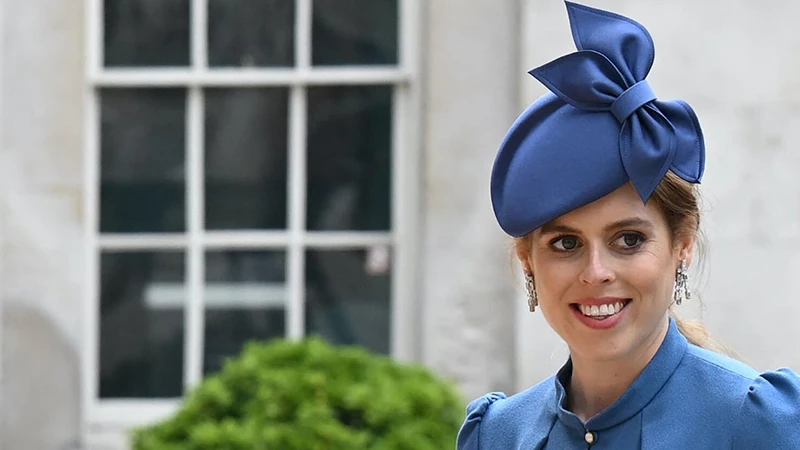 Princess Beatrice complemented her magenta dress and gold headpiece with a pair of hoop-shaped earrings by Garrard, which included pink sapphire, rubellite, and pink opal.
Princess Eugenie
A pregnant Princess Eugenie, Prince Charles's niece, wore an Albemarle diamond collar necklace and diamond drop earrings by Garrard to the British coronation ceremony, which complemented her navy blue dress and round hat.
Princess Charlotte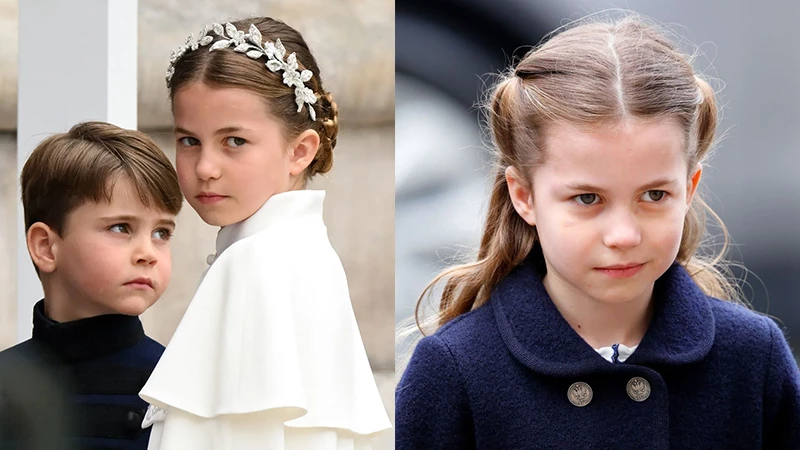 Princess Charlotte, daughter of Catherine (Kate Middleton), Princess of Wales, mirrored her mother's ensemble. She wore an ivory Alexander McQueen dress, white ballet shoes, and a matching floral headpiece by Jess Collet x Alexander McQueen.
Sheikha Jawaher bint Hamad bin Suhaim Al Thani of Qatar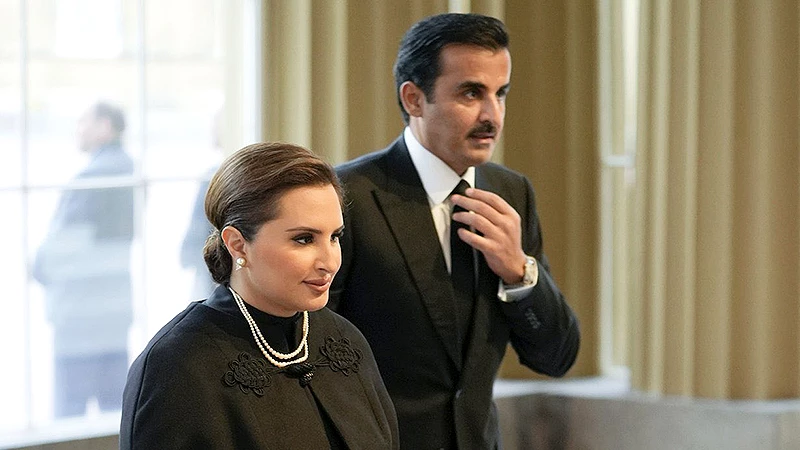 The Sheikha attended the coronation in a silver dress with embroidered details and a cream cape and paired the outfit with dazzling diamond chandelier earrings and diamond rings.
Crown Princess Mary of Denmark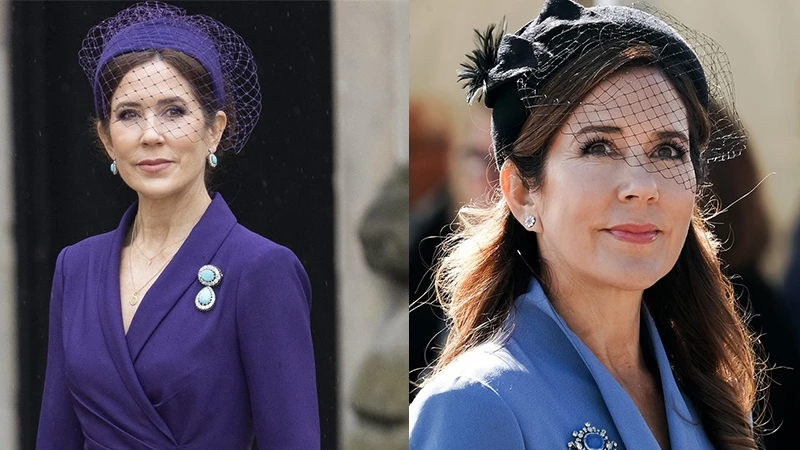 The Crown Princess complemented her wrap dress with teal-and-white-diamond drop earrings and a similar brooch.
Sophie, Duchess of Edinburgh
The Duchess of Edinburgh wore a beautiful white gown to King Charles III's coronation and finished the ensemble with stunning diamond and sapphire drop earrings.
Parting Thoughts
King Charles III's coronation was an eventful ceremony. The beautiful royal jewelry worn by the royal family members was a treat to the eyes of a gemstone and jewelry enthusiast such as myself. If you too loved these royal jewelry pieces, you can get your hands on gemstone jewelry and loose stones at GemsNY! Check out the stunning collection!
*Credit Source –
Image 1st – https://image.khaleejtimes.com/?uuid=375b5ce6-9b64-50fb-9e9c-02ce16511b02&function=cropresize&type=preview&source=false&q=75&crop_w=0.99999&crop_h=0.84383&x=0&y=0&width=1500&height=844
Image 2nd – https://media.cnn.com/api/v1/images/stellar/prod/230508125105-01b-king-charles-official-portrait-0508-crop.jpg?c=16×9&q=h_720,w_1280,c_fill/f_webp
Image 3rd – https://media.tatler.com/photos/64564e134b0c1dd7448416bf/master/w_1600%2Cc_limit/1252754712
Image 4th – https://www.brides.com/thmb/x58Z_3Je2wQZ8kg-7J4M_I4uvHE=/1500×0/filters:no_upscale():max_bytes(150000):strip_icc()/GettyImages-1488341770-45e3166272544f57b19a0154e7adc0a1.jpg
Image 5th – https://static01.nyt.com/images/2023/05/06/multimedia/06coronation-fashion-kate2-qgcl/06coronation-fashion-kate2-qgcl-articleLarge.jpg?quality=75&auto=webp&disable=upscale
Image 6th – https://s.yimg.com/ny/api/res/1.2/5RYr93X3l2B.7kYnkJNUHg–/YXBwaWQ9aGlnaGxhbmRlcjt3PTY0MDtoPTY0MA–/https://media.zenfs.com/en/marie_claire_us_340/f849a8ec628136e81b9274e325e28b83
Image 7th – https://m.imdb.com/name/nm3023757/news/
Image 8th – https://images.hellomagazine.com/horizon/landscape/fa724607fce5-eugenie.jpg
Image 9th – https://media.vanityfair.com/photos/645638223044d728fd5afd8d/master/w_2560%2Cc_limit/louis-charlotte.jpg
Image 10th – https://cdn4.premiumread.com/?url=https://gulf-times.com/gulftimes/uploads/images/2023/05/06/25150.jpg&q=100&f=jpg
Image 11th – https://www.diwan.gov.qa/briefing-room/news/general/2022/september/18/hh-the-amir-and-hh-sheikha-jawaher-attend-the-reception-ceremony-for-king-charles-iii?sc_lang=en
Image 12th – https://media.gettyimages.com/id/1488351133/photo/mary-crown-princess-of-denmark-arrives-at-westminster-abbey-for-the-coronation-of-king.jpg?s=612×612&w=gi&k=20&c=KI5S48DQ8wgCwXRsTHkAAvmkrxWli3lwMVbLaiyxnQA=
Image 13th – https://wwd.com/wp-content/uploads/2023/05/sophie-duchess-of-edinburgh-king-charles-coronation-dress.jpg?w=1000&h=563&crop=1
Image 14th – https://royalportraitsgallery.com/home/the-countess-of-wessex-attends-royal-ascot-day-3