Sparkle, brilliance and fire are the three primary attributes that make a gemstone likable though in the case of alexandrite, the crux is its color-changing property. That is where it holds its value. Alexandrite is a rare variety of the mineral chrysoberyl. It comes under the category of pleochroic stones, which means it exhibits different colors in different lights.
In daylight, alexandrite appears greenish-blue to dark yellow-green but in incandescent light it looks pink to red. If you have an alexandrite ring on your mind for your engagement, then before putting your money into it, you should go through this guide to get a jewelry piece that is one-of-a-kind.
What Is Alexandrite?
The mineral chrysoberyl, popularly known as alexandrite, was an accidental discovery by some Russian miners scouting for emeralds in the mines located in the heart of the Ural mountain range. In the early 1800s when it was discovered, the future Czar of Russia, Alexander II, came of age and thus the stone was named after him. Its red and green colors resembled the colors of the then Russian Imperial Army and perhaps this commonality earned alexandrite its royal stature. Soon it came to be known as the protector stone for soldiers in the battlefield.
Russian mines are long depleted but today Sri Lanka, East Africa, and Brazil are catering to the worldwide demand for this magnificent gem. You can also get this regal gemstone for your engagement ring. But before you do, let's equip you with some very important information about the alexandrite engagement rings.
Pros and Cons of Alexandrite Engagement Rings
An alexandrite engagement ring stands out because of its color-changing property. But, before choosing it, you should also know the color choice of your partner because after all alexandrite is a color gemstone and if your SO is a 'diamond' person, then perhaps you need to design your alexandrite engagement ring with due consideration to that fact.
Another important point of consideration is the hardness score of alexandrite. Though at 8.5 it is not close to a diamond, it is still a pretty sturdy stone absolutely suitable for such an important jewel. And yeah, one more thing, you get the benefit of two gems in one; after all alexandrite is not called the chameleon of all gemstones for no reason.
What You Should Look For in An Alexandrite Ring?
If you are somewhat unconventional, then a diamond engagement ring probably won't interest you. So, if you have decided to step out of the box, then first you should know what to look for in an alexandrite ring.
Which Metal Is Best For Your Alexandrite Engagement Ring?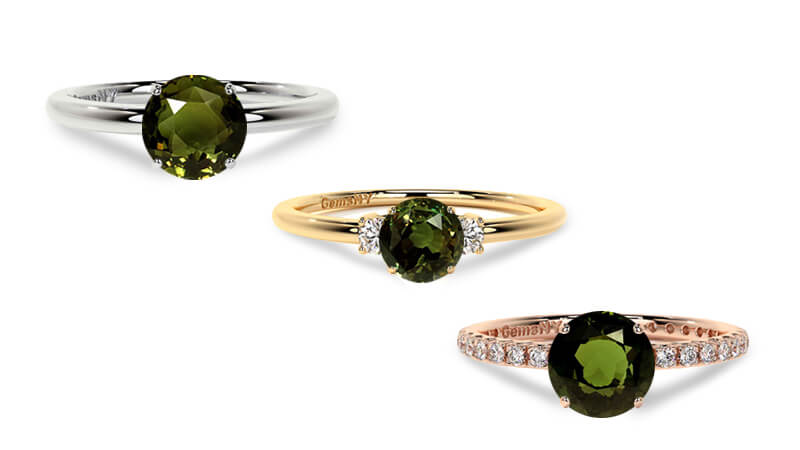 Although alexandrite is a gemstone that goes perfectly well with every metal but depending on the size and shape of the gemstone as well as the preference of your loved one, you can choose a metal. You should carefully examine the metal for a hallmark and purchase it with an authentic document. Another thing you should ensure about the metal is that it should suit the skin of your beloved. It is always a good idea to choose the ring metal she usually wears.
Price Of An Alexandrite Engagement Ring
A Genuine jewelry piece is not always overpriced; reputed jewelry sellers such as GemsNY ask for a reasonable price. That said, the color shift of an alexandrite gemstone drives its value; the stronger the shift, the higher the price. The tone of alexandrite is green to blue-green in the sunshine and red to purple-red in radiant light. Stones that are excessively dull or show slight color change are comparatively less popular and hence more affordable. On our website you can find an alexandrite engagement ring for as low as $701 to as high as $94,205.
Which Gemstone Setting Will Look Better In Your Engagement Ring?
Ring setting is another important factor that contributes to the overall appearance of your alexandrite engagement ring. The interface on our website enables you to choose from a selection of beautiful ring settings such as knife edge prong setting, vintage ring setting, side stone setting and celtic ring setting.
Which Gemstone Cut Is The Best For Your Alexandrite Ring?
Gemstone cut is where the actual fire and brilliance of a gemstone lie. Alexandrite is a gemstone for which the crux is color change but not the brilliance and fire. Alexandrites cut in pear, oval, trillion and marquise make the best-looking jewelry pieces.
What Should Be The Right Carat Weight For Your Ring?
There are two ways to figure out how large an alexandrite you can have – either you decide the size of the alexandrite you want or you decide the budget, keep some leverage and then depending on other factors such as quality of gemstone & type of metal, pick an alexandrite for your engagement ring.
For instance, you can go for a cocktail ring with an alexandrite of higher carat weight in sterling silver to be within the budget and get a big-size gemstone at the same time. Remember, the price of alexandrite doesn't move in a linear fashion just in case you want to upscale the quality or size of the stone.
Care Tips For Your Alexandrite Engagement Ring
An engagement ring guide is incomplete without featuring the care tips. Fortunately, alexandrite is a pretty sturdy gemstone and doesn't require any special equipment for its care. It is a gemstone that is very easy to handle. You can clean your alexandrite engagement ring with a soft brush using a mild mixture of luke warm water and soap. But first you need to soak it for a while to loosen up the oil & dirt. After gently cleaning with a brush, rinse in clean water and wipe with a lint free cloth.
Diamond, sapphire and ruby with greater hardness scores can scratch alexandrite. So, keep your alexandrite ring away from your ruby, sapphire and diamond jewelry to prevent any abrasion.
This complete guide is meant to help you choose the right alexandrite engagement ring. If you want to break the trend, alexandrite is the right choice. Create an alexandrite engagement ring using our user-friendly interface, which allows you to customize the ring setting, gemstone cut, size, metal & design. Make the most of our attractive discounts and get your dream engagement ring at an unbelievable price.
Most Stunning Alexandrite Engagement Rings
Alexandrite Prong Set Ring With Round Diamonds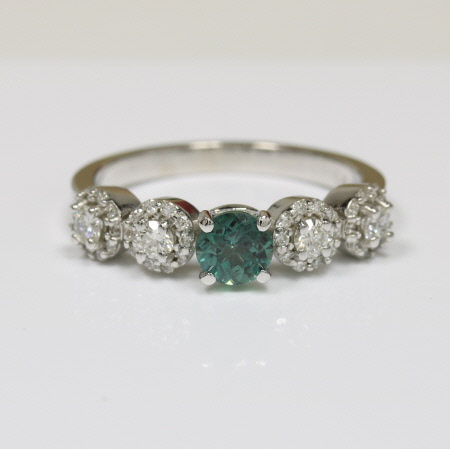 This prong-setting alexandrite ring has diamonds set all around the alexandrite and on the shank. The ring has a round-cut alexandrite which is beautifully held by four prongs.
Oval Cut Alexandrite Prong Set Halo Ring With Round Diamonds (1.69cttw)
A halo-setting ring is the first choice of every woman because it highlights the center stone at its best. This ring has a decorative shank and its rose gold metal makes a perfect contrast with the alexandrite.
Round Shape Alexandrite Prong Set Ring With Round Diamonds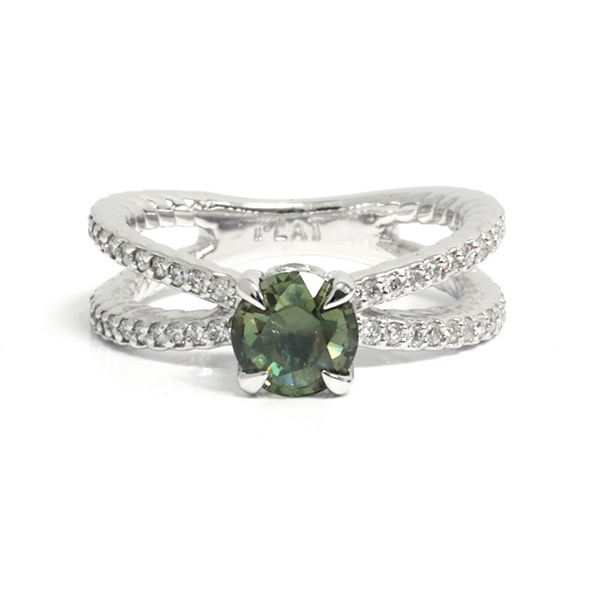 If you are looking for a ring that does not look ordinary, then this ring is the best choice for you. Its decorative shank looks like many strings are joining each other. This engagement ring catches the eyes of everyone.
Heart Shape Alexandrite Solitaire Ring (0.57cts)
A heart-shaped ring is a perfect way to express your love. Alexandrite in heart shape looks amazingly beautiful and grabs the attention of everyone. This ring is a way to express love for your partner on the day of your engagement.
Oval Cut Alexandrite Prong Set Celtic Ring With Round Diamonds (0.84cttw)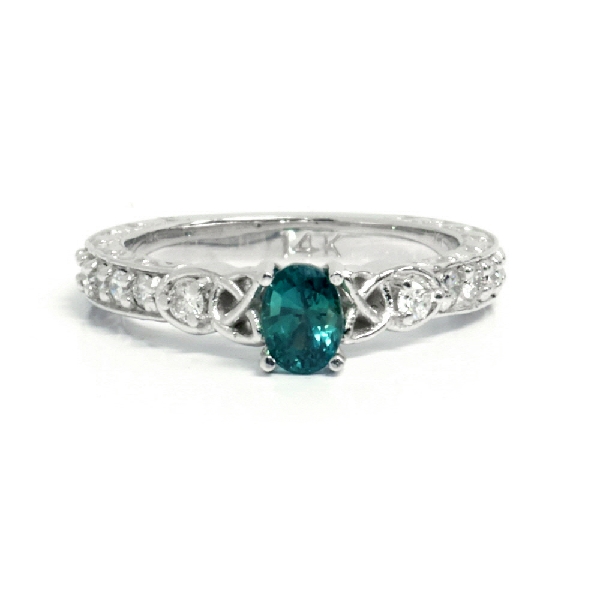 If art is something your loved one is inclined towards, then this piece of art is the right choice. She will definitely love it because the beautiful engraving on the ring makes it stand apart. An oval shape of alexandrite and white gold is a combination that perfectly defines chemistry between you and your partner .