Finalizing your engagement ring can be an overwhelming process. Deciding on a diamond or a color gemstone for your ring is not the only step that you should put your efforts in! Choosing the correct metal in which these precious gems will be set is also one of the crucial steps that you should focus on.
For engagement rings, white metal is normally preferred, as this metal exudes a statement of timeless elegance. Now, which white-colored metal should you choose? There are two significant metals that make a ring look chic and dazzling – Platinum and White gold.
Platinum vs White gold has always been a debatable issue concerning the superiority of one over the other. However, both of these metals have e their pros and cons and one shouldn't eliminate the other from the suggestions given by friends or family! We have listed the differences between the two striking metals that will help you choose the correct metal for your jewel!
White Gold
There are 3 different colors of gold that you can choose from to make your engagement ring – white, yellow, and rose. White gold is an alloy made of pure gold and other metals like zinc, nickel, and copper to harden it and make it durable to use for a long long time.
White Gold comes in 2 varieties – 14k and18k gold. In 14k jewelry, the quantity of pure gold is 58.3% and in 18k it is 75% the rest is alloy!
Platinum
The white metal, which is usually preferred for engagement bands, is highly sought-after. Platinum is used in its natural form as the purity of it stands at 95%-98%. Platinum occurs in white color, so mixing the metal to provide it color is not required. Platinum is heavier than gold in that it is denser and therefore has more weight for the same volume. Further, platinum reserves on our planet are not as abundant as those of gold. All these factors contribute to the relatively higher price of platinum per unit by weight.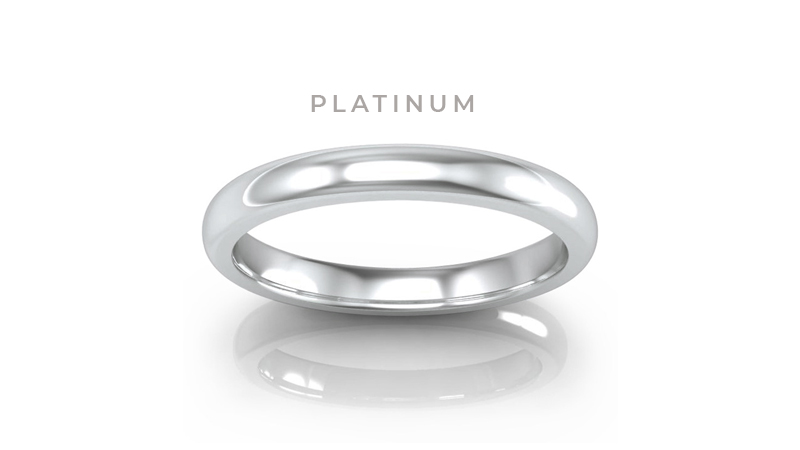 Since platinum commands a higher price than white gold, price is also one of the determining factors while choosing between the two. 
| | |
| --- | --- |
| Pros of choosing platinum | Cons of choosing platinum |
| Hypoallergenic | Expensive |
| Rare in nature | It will get dull eventually |
| A status symbol | A good amount of cleaning and care is required |
| Highly durable | |
| Brighter shine | |
>> White Gold Vs Platinum: The Comparison
| | | |
| --- | --- | --- |
| Topic | White Gold | Platinum |
| Composition | White Gold is an alloy of gold & other elements. In 14k gold, , the proportion of pure gold is 58.3% and in 18k gold it is 75%. | Platinum is used in its natural form and no other element is mixed since platinum in itself is a very hard metal having 95-98% purity naturally. |
| Price | Lower in cost than platinum | Commands a higher price tag |
| Replating Requirement | White gold has a plating of rhodium which gives it the white shine. Re-plating is required in 2-3 years depending on the use. | Platinum doesn't have any plating.However, it does lose its shine over time. |
| Durability | Durable for everyday wear | More durable for daily-wear jewelry |
| Color | White, Shiny Surface | White, Shiny Surface |
Verdict
No doubt that the white gold vs platinum debate is here to stay, but you're the decision-maker, and making an informed decision is your responsibility. So we would like to conclude by giving a summary about both metals so that the selection process becomes easier.
White gold comes in different types – 14k and 18k with different compositions of gold added to it. In comparison to platinum, white gold is more affordable and economical, so if you're on a budget, place your hands on the white gold without a second thought..
Platinum is 95-98% pure in its natural form and  it is much more durable than white gold. Because of its rarity, platinum falls in the expensive range and hence showcases your status in society.If the budget constraint isn't an issue, then platinum is the way to go for it won't require replating anytime and the sheen remains intact for years to come.
GemsNY is your go-to companion to make an informed decision whilst selecting an engagement ring for yourself. We have 50,000+ natural gemstones and over 5 different metals to choose from. We believe in making your dream jewelry come true by redefining luxury.