The festive season is already in talks with Thanksgiving around the corner. Gratitude and happiness are in the air with people being grateful to each other. Lavish Thanksgiving dining makes the atmosphere merrier with close friends & relatives exchanging pleasantries. Some people find their peace of mind by indulging in religious activities & offering humanitarian services for the well-being of the underprivileged. The celebration simply can't end without cheering for football or watching the Thanksgiving Day Parade.
What about you? How are you getting ready to welcome the most auspicious days of the year with Thanksgiving? Are you planning to make the holiday season and Christmas special? Have you already prepared your shopping list for Black Friday & Cyber Monday? Well, if you are up for some jewelry purchases, then you have landed on the right page and most importantly at the perfect time. 
Guess what…GemsNY, a renowned US jewelry brand, has got you covered with one of its grandest sales of the year!!! It's high time to get your hopes up, the 2023 Cyber Monday Sale is on its way with a blast. Save the dates: November 25th to November 27th, 2023 are going to be mega sale days with up to 25% off on all jewelry deals exclusively on the official website of GemsNY.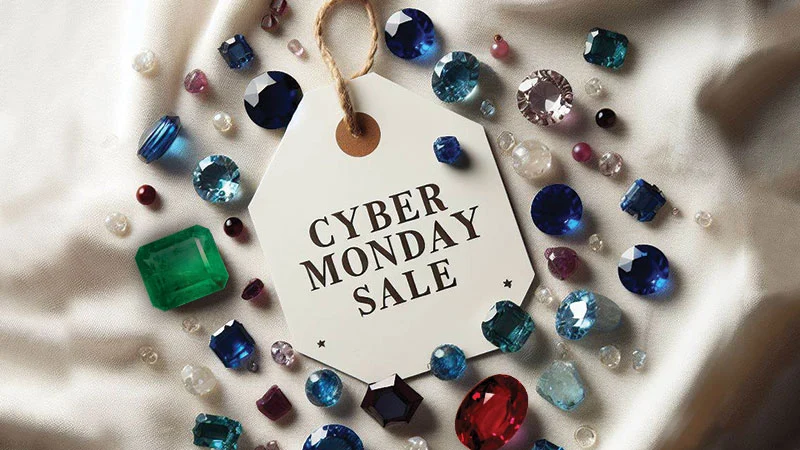 Cyber Monday: What is it About?
Every year, Thanksgiving gives us the biggest reason to celebrate love, life, and relationships in a better way. We have a lot to prepare for the upcoming holiday season and Christmas. Black Friday is approaching to hit the US market with a bang followed by Cyber Monday which is going to offer a wider platform to both the customers and the sellers by taking offline commercial activities online. Technically speaking, Cyber Monday marks one of the busiest and liveliest online shopping events of the year in the United States.
Cyber Monday is exactly similar to Black Friday except that the former is dedicated exclusively to online shopping. Cyber Monday is actually the first Monday to fall after Thanksgiving and generally occurs between the last week of November and the first week of December. What makes Cyber Monday special is that shopkeepers offer sales on their product offerings with attractive discounts and exclusive offers to customers to increase the online sales market.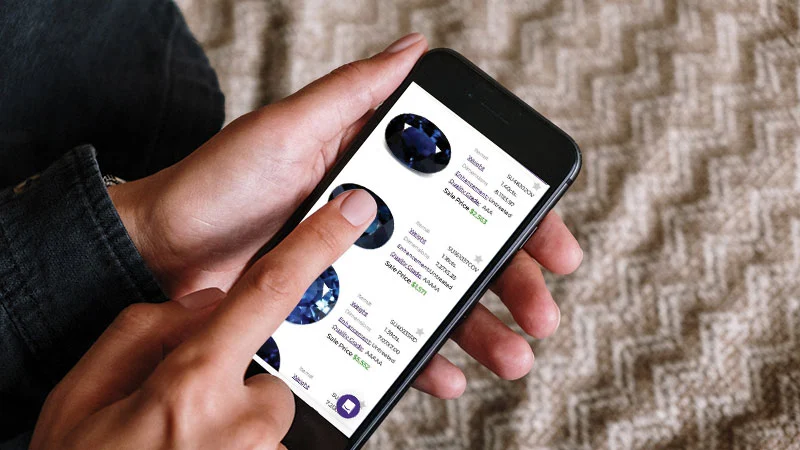 What are GemsNY's Offerings for its 2023 Cyber Monday Sale?
With festivities on hype, GemsNY has rolled up its sleeves to host one of the biggest online jewelry sales events of the year on the brand's official website. With up to 25% discount on fine jewelry, loose gemstones, and diamonds, we are eager to make your jewelry buying experience mind-blowing. Take a look at what we have in-store to offer to you this Thanksgiving. With the 2023 Cyber Monday Sale on its way, shop all you can!!! 
Ever-expanding Stock of Gemstone Rings & Bands
Want to confess your love to your soulmate with a token of ever-lasting love and commitment? Discover a mesmerizing range of naturally-colored gemstone & diamond engagement rings along with wedding bands for men and women at up to 25% discount in the 2023 Cyber Monday Sale. 
From multi-colored sapphires to vibrant green emeralds, rosy pink morganites to blood-red rubies, and violet-hued tanzanites to color-shifting alexandrites, we have a lot more in stock to offer. Get your spirits high with a collection of couple wedding bands in an exquisite range of metals for you to cherish for a lifetime and beyond.
Grand Collection of Pendant Necklaces & Bracelets
In this 2023 Cyber Monday Sale, curate your favorite gemstones and metal settings to engrave style on your wrist and glamor on your neckline with up to 25% discount on bracelet and pendant necklace purchases. Shop for gemstone eternity strings, designer bracelets, and metal wristbands for men and women, featuring pave, halo, and prong settings.
Gift your children a keepsake for generations to pass down with solitaire, three-stone, designer  and astrological pendant necklaces in all the precious (diamonds, emeralds, ruby, sapphire) and semi-precious gemstones (garnet, spinel, paraiba tourmaline, tanzanite, morganite, peridot, alexandrite, etc.).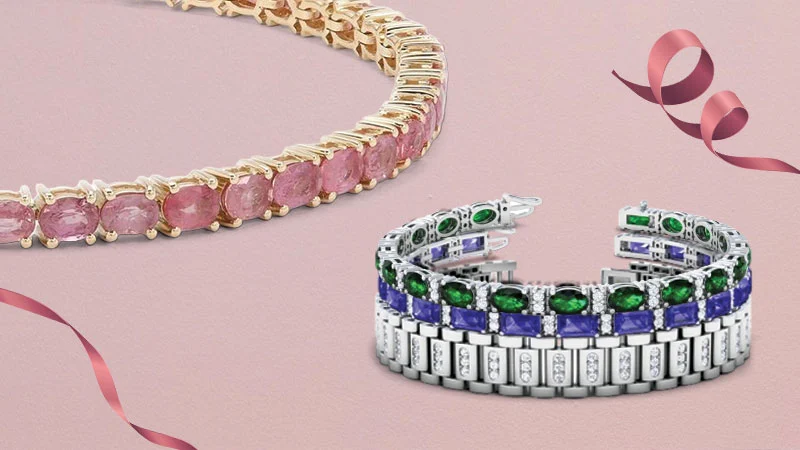 Sparkling Array of Gemstone Earrings
If you are the type who does not step out of your house without sporting a pair of earrings then our 2023 Cyber Monday Sale is the best time for you to add a whole new collection of dazzling earrings to your jewelry case. Enjoy up to 25% discount on solitaire studs, cluster earrings, and designer danglers embellished with natural & lab-grown diamonds as well as naturally-colored gemstones. We promise to help you reinvent your fashion jewelry style so your family and mates won't resist but idealize your iconic festive vibes.
Wide Range of Loose Gemstones
And that's not all, we are one of the largest loose gemstone dealers in the US, with a 100% conflict-free and certified natural gemstone collection of precious and semi-precious gemstones. There is such a huge number of natural and lab-created diamonds in our inventory that you won't break the bank after investing in GemsNY's certified loose diamonds in favorable color, cut, clarity, and carat weight.

The 2023 Cyber Monday Sale gives you an opportunity to buy loose gems of preferred quality with a discount of up to 25%. This massive deal is surely something you won't afford to miss if what you have in mind is a custom-made jewelry design in rings, pendants, bracelets, and earrings. Get your loose gemstones today and set them in your favorable metal setting the way you want on a later date.
Wondering Why To Choose GemsNY?
It's quite natural to explore multiple jewelry-selling websites when the online jewelry market is expanding like never before. But GemsNY will surely give you the best reasons to multiply your delight with our exclusive benefits for our customers.
Extended Return Period: We offer a standard 30-day return period on all product offerings except for custom-made jewelry on regular days but the 2023 Cyber Monday Sale has an extended return period for you to take advantage of.
Whopping Cyber Monday Sale Discount: Get a discount of up to 25% on all of our product offerings during the 2023 Cyber Monday Sale and save a lot on your pocket.
Promotional Alerts: Subscribe to our texts to receive $50 off or become our VIP subscriber to get instant alerts on our discounts, sales, offers, promotions, and news throughout the year.
Exciting Referral Bonuses: Refer our product offerings to your family & friends in return for attractive bonuses. Your referral will get $50 off on their first order and you will get $75 on your referral's first purchase…amazing, isn't it?
Means to Flexible Payment: Check out our flexible payment plans on our official website and choose the one that suits you the best.
Ready-to-Ship Delivery: Get instant delivery on ready-to-ship or finished products to make your purchase experience more exciting than just satisfactory.
Free Shipping on Delivery & Return: Sounds unbelievable but it's genuinely true, we are providing free-of-cost delivery and return shipping facility to our customers within the United States.
Jewelry Consultation: Get one-to-one consultation from our expert gemologist for a thoughtful and genuine purchase. Connect with us anytime to fix the appointment.
And there's a lot more that you are yet to discover. When there is so much to offer, it will be a waste of your resources and time to simply ignore it. Browse our collection today and wish list your items to pay later when the discounts go live.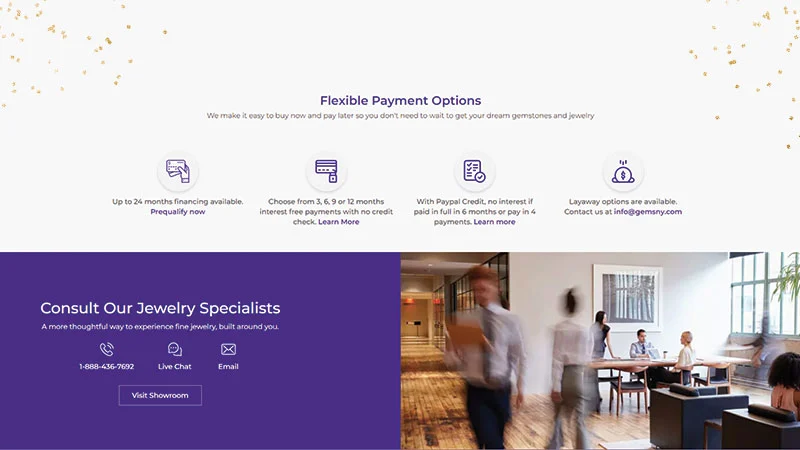 Conclusion
The holiday season is up, are you still pondering on what to buy and what not to keep up with your expanding budget? Yeah, we know you have a lot on your plate, you have to decorate your place to welcome the guests and also exchange gifts with them. But don't forget to first thank yourself for being nice to everyone throughout the previous year.
You definitely deserve a token of sincere gratitude from yourself and those around you for your beautiful presence. So this Thanksgiving, why restrict yourself from buying a jewelry treat when GemsNY has got so much to offer and you will get a lot to save? Shop as much as you want because it's raining discounts at GemsNY my friend.