It has always been a subject of interest for human beings how the energies of the planets and the universe affect human life. Astrology has long been intertwined with gemstones and jewelry as we believe that wearing birthstones according to the zodiac can enhance energy in our lives and bring forth positive influences. For those born under the zodiac sign of Aries, diamond is their birthstone. In this article, we will delve into the significance of the Aries birthstone and explore the exquisite jewelry options that celebrate the fiery essence of this dynamic sign.
Aries: The Fire Sign
Aries, the first sign of the zodiac, is associated with individuals born between March 21st and April 19th. Ruled by Mars, the planet of action and energy, Aries individuals are known for their fiery and courageous nature. They possess an inherent enthusiasm, a pioneering spirit, and a zest for life. Diamond, which is the Aries birthstone, perfectly complements these dynamic qualities through its fire, brilliance and timeless allure.
The Aries Birthstone: A Symbol of Strength and Clarity
Aries can consider themselves lucky to have diamond as their birthstone. Diamond is the only gemstone made of a single element which is carbon. The birthstone for Aries has a rich history associated with royals and aristocrats. It has always been a part of royal jewels used in coronation ceremonies. Renowned for its extraordinary beauty and durability, this gemstone carries deep symbolism and holds significant meaning for those born under the sign of Aries.
1. Strength and Resilience: Aries individuals are known for their unwavering strength and resilience in dealing with challenges. Similarly, diamonds are renowned for their exceptional hardness and high resistance to everyday wear and tear. They are the hardest natural substances on Earth. Wearing diamond jewelry can serve as a reminder of the Aries' inherent strength and the ability to overcome obstacles.
2. Clarity and Focus: Aries individuals possess a strong sense of purpose and determination. Diamonds, with their remarkable clarity and brilliance, can symbolize the Aries' focus and clarity of thought. Wearing a diamond can help Aries individuals stay centered and aligned with their goals, enhancing their decision-making abilities.
3. Amplifying Energy: Diamonds are believed to amplify the energy and traits of the wearer. They enhance natural leadership qualities, confidence and self-motivation in Aries individuals. Diamond acts as an energy catalyst, empowering Aries individuals to shine brightly and make a lasting impression on everybody.
Aries Birthstone Jewelry
Aries birthstone jewelry provides a perfect opportunity to showcase the vibrant and passionate nature of this zodiac sign. A birthstone jewelry piece is your everyday-wear jewel. Hence, it should go well with all your attires and moods. Here are some popular jewelry options featuring diamonds that are ideal for Aries individuals and can be perfectly paired with all their outfits.
1. Diamond Rings: Aries individuals can embrace their bold and assertive nature by adorning their fingers with exquisite diamond rings. Whether in solitaire settings or with intricate diamond accents, these rings symbolize strength, individuality and a commitment to one's personal journey. Many celebrities and influencers have showcased diamond rings on the red carpet. You can easily find their replicates online. So, Aries individuals can effortlessly choose a diamond ring for themselves.
2. Diamond Pendants: Aries individuals can wear their birthstones as elegant diamond pendants close to their heart. These timeless pieces can feature a solitary diamond or a cluster of small diamonds, capturing the essence of the Aries' liveliness and passion. A diamond pendant can also be a perfect gift for your loved one. You can gift a heart-shaped pendant to your loved one and any minimalistic pendant to a friend or a relative.
3. Diamond Earrings: Aries individuals can enhance their natural charm and confidence by wearing dazzling diamond earrings. From classic diamond studs to sparkling dangle earrings, these pieces add an element of glamor and sophistication to any ensemble. Earrings are the first thing people notice when they look at your face and a pair of diamond earrings never fails to add an extra glow to your face.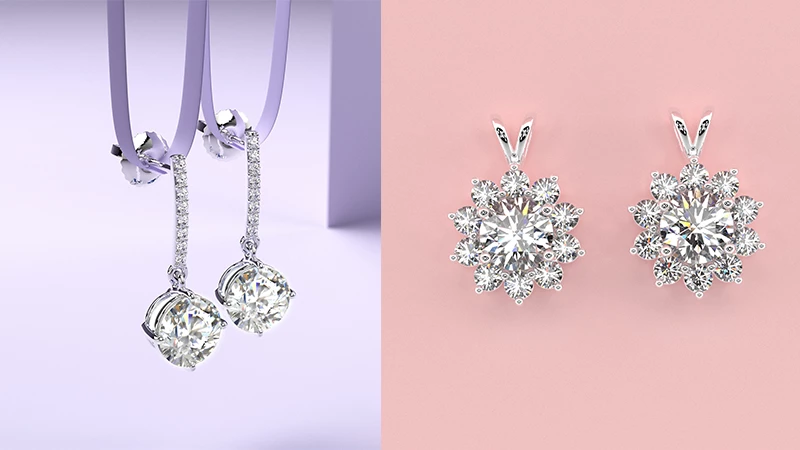 4. Diamond Bracelets: Aries individuals can adorn their wrists with diamond bracelets, reflecting their radiant and charismatic personality. Tennis bracelets, bangles, or delicate chains are all wonderful choices symbolizing Aries' ability to captivate and inspire. A diamond bracelet creates an everlasting impression in business meetings or on a date.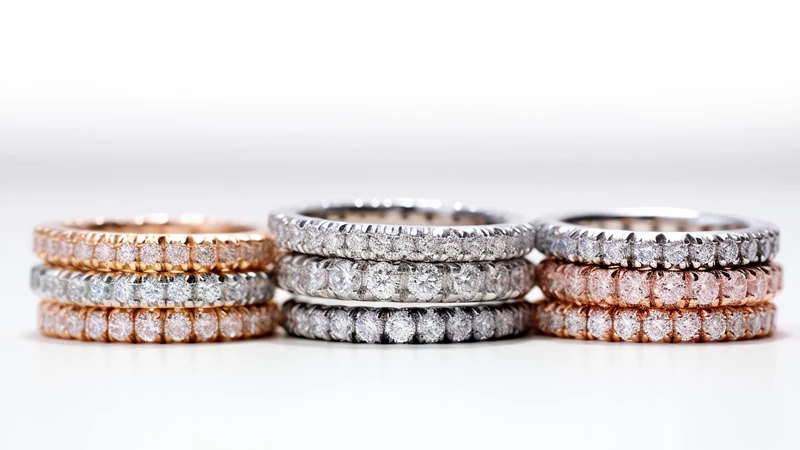 5. Diamond Band: Diamond band is a very easy-to-manage accessory. If you are looking for a birthstone jewel that you can wear every day despite having a tough routine, then a diamond band can be your pick. A diamond band can also be embellished with other colored gemstones which can take its styling game to the next level. 
Conclusion
Aries' birthstone jewelry, featuring the enchanting diamond, serves as a powerful symbol of strength, clarity and energy for those born under this fire sign. Diamond's inherent qualities align perfectly with the dynamic nature of Aries individuals, empowering them to embrace their unique qualities and continue on their life's journey with confidence. If you're an Aries, wearing diamond jewelry can make you feel more connected to your zodiac and benefit from its celestial energy. So, if you are planning to buy Aries' birthstone jewelry, then attractive discounts on GemsNY can be a boon for you. Shop now to grab the best deals.