Imagine you're standing in front of a mirror, heart aflutter, anticipation building. It's the morning of your wedding day, and every detail is poised to make your dreams come true. From the gleam of your bridal jewelry to the perfect makeup, you're about to embark on a journey of style and elegance. This is the moment you've been waiting for, a day that's yours to sparkle like never before. Welcome to our blog, where we'll be your guiding star through the world of bridal jewelry and makeup, ensuring your wedding style is nothing short of unforgettable.
1. How Does Bridal Jewelry Make You Look Stunning?
Your bridal jewelry isn't just pretty accessories; they show off your unique style. Whether you love timeless elegance or modern chic, you've got plenty of choices. From gorgeous engagement rings to gemstone jewelry with rubies, emeralds, sapphires, or alexandrites, your options are endless. These stunning pieces will add a classy touch to your wedding style.
Tip 1: Mix It Up: Don't hesitate to combine different metals and gemstones. Mixing gold and silver or various gems can create a dazzling effect.

Tip 2: Go Bold: One or two eye-catching pieces can make a strong impression. A diamond necklace or elegant chandelier earrings can be the perfect finishing touch to your bridal look.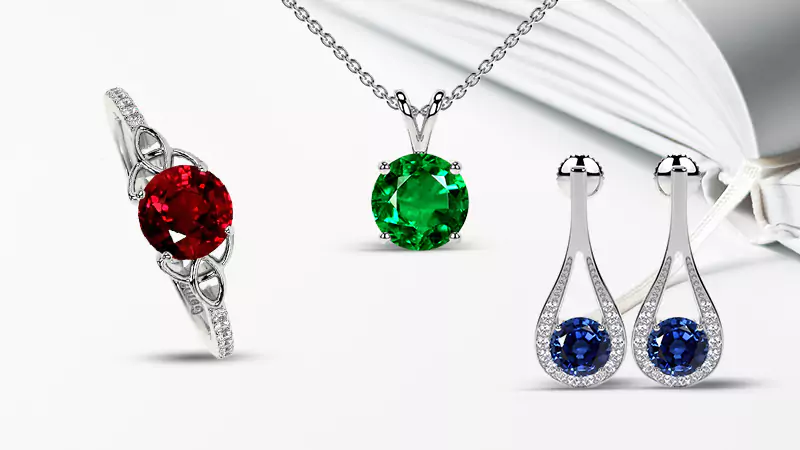 2. Wedding Accessories: The Perfect Complement
Think of wedding accessories as the 'wow factor' for your bridal look. From tiaras to hairpins, these little details play a big role in creating your unique wedding style. Fashion jewelry adds glamor without burning a hole in your pocket. So, have fun experimenting to find what suits your outfit and personality best.
Tip 3: Match Your Dress: Think about your dress when choosing accessories. If your dress is simple, go for bold jewelry like a statement necklace or stunning chandelier earrings. For a detailed dress, opt for dainty pieces like emerald studs or a delicate gemstone pendant.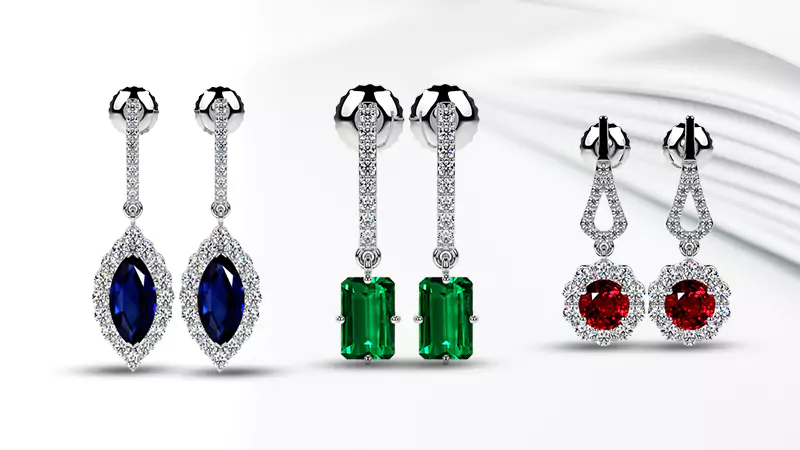 Tip 4: Personalize Your Accessories: Make your accessories extra special by including things that have a sentimental value to you and your partner. It could be a family heirloom, a cherished keepsake, or even customized jewelry. Think about pieces engraved with your initials or an important date – it's a simple way to make your wedding look truly unique and meaningful.
Bridal Makeup Tips: Glow From Within
Your bridal makeup is the canvas for your wedding style. It should enhance your natural beauty and make you feel confident. Here are some tips to achieve that perfect bridal glow.
Tip 5: Skin Preparation: Begin with a good skincare routine to ensure a smooth canvas. Use hydrating products and exfoliate regularly for that radiant look.

Tip 6: Trial Runs: Before your big day, play around with your makeup. Go for natural, dewy looks for a fresh and radiant glow. Or be bold with a smoky eye or a striking red lip to showcase your unique style. Don't hesitate to try something new and discover the look that makes you feel your best on your wedding day.
Wedding Fashion: Unveil Your Style
Your wedding style should be an expression of your personality. From traditional to bohemian, there are countless ways to make your wedding truly yours. Fashion jewelry and accessories can play a significant role in shaping your wedding fashion.
Tip 7: Be Unique – Don't be afraid to break the rules. Consider colored gemstones such as sapphire, peridot or alexandrite for a unique touch.
Gemstone Jewelry: Adding Colors to Your Wedding Ensemble
Gemstone jewelry brings vibrant hues to your bridal outfit. Be it emerald earrings or a ruby pendant, these colorful gems level up your style. Match them to your dress for a harmonious look or to create a striking contrast. Let your jewelry speak a colorful tale.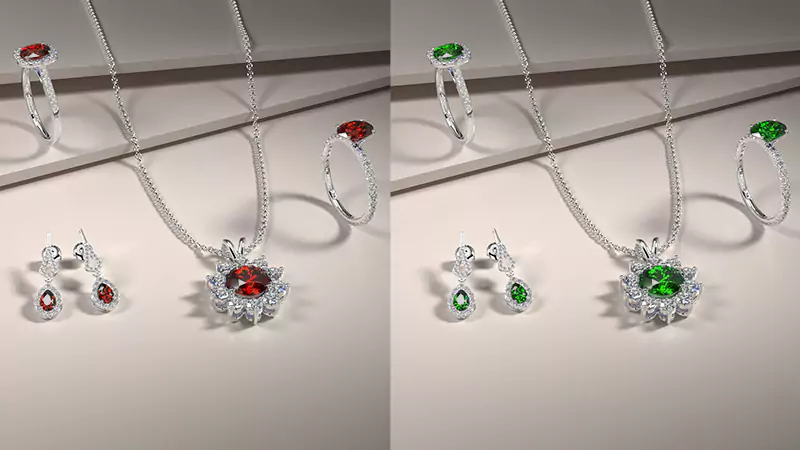 Elevate Your Bridal Look with Bracelets, Anklets, and Toe Rings
Beyond the obvious choices such as necklaces and earrings, don't forget the charm of body jewelry. Bracelets, anklets, and toe rings can jazz up your style with elegance and a touch of individuality. Perfect for your big day!
i. Colored Gemstone Bracelets: Bracelets are like your fashion best friends – adaptable and tailored to your style. Sure, classic diamonds are always an option, but why not jazz up your look with vibrant gemstones like sapphire, tanzanite, or tsavorite? Not only do these gems splash color, but they also carry special meanings.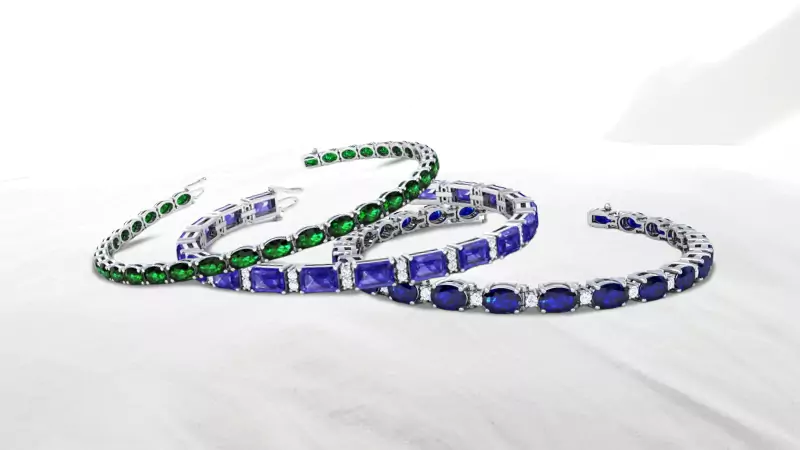 Sapphire: A blue sapphire bracelet stands for loyalty and fidelity, the ideal symbol for your wedding day. Plus, its rich blue shade goes well with most wedding colors.
Tanzanite: This violet-blue beauty symbolizes new beginnings and transformation, perfect for brides starting a new chapter.
Tsavorite: With its vibrant green, tsavorite represents growth and abundance, making it a superb choice for nature-inspired weddings.
ii. Anklets: Anklets are like the subtle yet charming whisper of style. They can be dainty and simple, or they can sparkle with gemstone accents. When picking one, think about how it compliments your shoes. It can put your bridal footwear in the spotlight, especially if you're going for unique or open-toed shoes.

iii. Toe Rings: For beachy or bohemian weddings, think toe rings. These delicate pieces add a touch of whimsy, a unique way to express your personal style, especially if you're rocking barefoot sandals.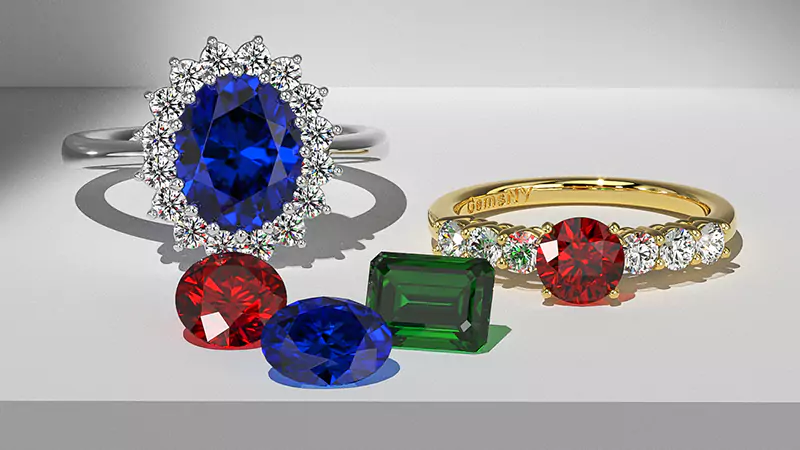 Final Thoughts
Your wedding day is your time to sparkle, and every detail, from your jewelry to your makeup, should resonate with your unique style. It's about weaving magic with gemstone jewelry, accentuating your beauty with flawless makeup, and choosing fashion pieces that speak to your soul.
And guess what? GemsNY is your backstage pass to this dazzling journey! Imagine a treasure trove of bridal jewelry awaits you, right from the coziest corner of your home. Dive into our world of elegance, where engagement rings gleam with promise and gemstone accessories add that perfect touch of glamor.
This isn't just jewelry; it's a statement, an expression of your love story. GemsNY is your partner in crafting the fairytale of your dreams. So, get ready to shine, to stand out, and to embark on the most enchanting journey of your life. Your wedding day is a magical story, and we are here to make every chapter absolutely spellbinding. Here's to your happily ever after!!