In the world of stunning gemstones, there is an exquisite gem that has captivated the hearts of all jewelry enthusiasts: the blue spinel gemstone. Showcasing a vivid blue color, reminiscent of the tranquil beauty of the ocean, blue spinel gemstone rings are more than just a piece of jewelry; they are a token of glam, beauty, and evergreen charm. In this blog, we'll explore the exquisite blue spinel ring designs, their brilliance and more. Stay Tuned!
Unique Designs Catering to Every Taste
When we talk about blue spinel gemstone rings, there is a wide range of unique designs available in the market. Craftsmen and jewelry designers take pride in crafting exquisite and enchanting spinel ring designs that emphasize the excellence of gemstone. From classic solitaire rings to the Jazz-era inspired settings, each ring features the mesmerizing beauty of blue spinel gemstone. The delicate amalgamation of metalwork and gemstone creates a harmonious symphony of color and excellence, making every blue spinel ring a masterpiece in its own way. 
The Dazzling Mesmerism of Blue Spinel Ring
Imagine the exquisite rays of sunlight dancing on the tranquil surface of a blue lake– that's the sort of mesmerism that blue spinel gemstone rings bring to its wearer. When light mirrors with the edge of the gemstone, a mesmerizing kaleidoscopic effect emerges, painting an attractive canvas that draws all the attention. This unmatched shimmer is what makes blue spinel rings a masterpiece, making them an essential piece of jewelry for those who seek a hint of elegance and sophistication in their lives. 
An Essence of Individuality 
Blue spinel rings are not just a piece of accessory, but they are also an essence of individuality and fashion style. With their vivid blue color and peerless brilliance, these rings create a bold statement that aligns with those who admire beauty in simplicity. Whether you wear it to amplify your everyday fashion or any special occasion, a blue spinel ring is a symbol of a distinctive taste and a deep acknowledgement of beauty and uniqueness.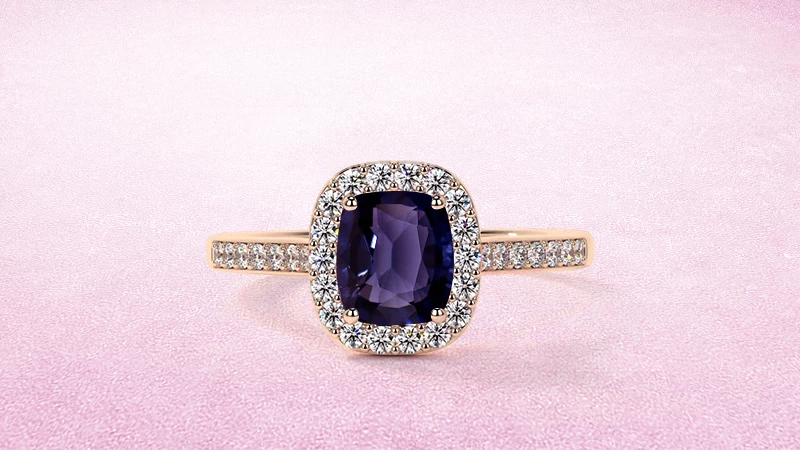 From Engagement to Forever
Nowadays, blue spinel engagement rings are gaining quite a lot of popularity because of their exquisite color and allure. Opting for a blue spinel gemstone as the centre stone is a testament to an enduring love that is as unique and priceless as the gemstone itself. Blue spinel engagement ring exhibits a mesmerizing and ageless aura, symbolizing loyalty and faithfulness. These rings are a perfect choice for those who seek a modern alternative to traditional options. 
The Excellence of Blue Spinel Rings
The excellence of blue spinel rings transcends the aesthetic beauty of the gemstone. It captures the emotions, memories, and moments that are treasured by those wearing them. The moment light mirrors from the facets of the gem, blue spinel rings become more than just an accessory– they become a part of wear's voyage, and a reflection of their unheard story. 
Celebrating Birthstones and Beyond
Blue spinel gemstone is treasured not just because of its brilliance but also for its importance as a birthstone. Those who are born in September are fortunate to have this gorgeous gem as their birthstone, a token of wisdom, calmness, and protection. Blue spinel rings make not just a meaningful birthday gift but also a priceless legacy that can be passed down to future generations. Apart from their significance as birthstone, blue spinel carries a mystical beauty that surpasses cultures and countries, making it a cherished gem for everyone around the world. 
From the Vision of Craftsmen
Creating a blue spinel ring is an unseen collaboration amidst nature's artistry and the vision of expert artisans. Gem cutters analyze the unique properties of gemstones, such as its intensity of color, and brilliance of clarity, to enhance its alluring beauty. The artistry extends to jewelry designers who then craft unique settings that elevates the gem's radiance. This detailed artistry changes a raw blue spinel into an exquisite piece of wearable fine art.
A Spectrum of Mesmerizing Hues
Every blue spinel is the pure essence of nature's wonder. The spectrum of blue hues, varying from subtle pastels to rich velvety shades, reflects the kaleidoscopic colors of the world around us. This wide range ensures that each blue spinel ring is as peerless as the person wearing it, grabbing a hint of the universe's exquisite palette and portraying it with exceptional refinement.
Summing Up
Blue spinel gemstone rings stand as a striking will of nature combined with human's artistry. With their vivid blue hues, and mesmerizing excellence, these rings are more than accessory, they are symbols of glamor and sophistication. Whether gifted as an epitome of love or purchased for personal embellishment, a blue spinel ring will persist to be a captivating symphony of color and brilliance, whispering its ageless beauty through generations. 
Explore precious and semi-precious gemstones, including blue spinel, on our website, and enjoy a good discount on your first order!