Do you ever go through your jewelry collection and realize that something is missing? Your jewelry collection might seem incomplete without an emerald ring. After all, it is hard to overlook the beauty and brilliance of this nature-colored gemstone. It belongs to the beryl gemstone family and gets its famous green hue from chromium traces.
Its rarity and distinct, lush green hue makes it one of the precious and sought-after stones, along with sapphire, diamond, and ruby.
Today, emerald jewelry has become popular among many, including celebrities and stars. It might make you believe that emerald-based jewelry is something new to us. However, not many people know that they have been popular for centuries! Let's take a look at the different emerald rings and jewelry pieces through different ages and timelines.
If you look it up, you'll learn that emerald is said to have made its first discovery in Egypt as early as 330 BC! Quite ancient, aren't they? And during that period, the commoners were not allowed to own and wear emerald jewelry. Only the pharaohs wore them in the form of rings and necklaces. Ancient people also considered this gemstone to be a symbol of eternal life, and that's why many Egyptian kings were buried with an emerald.
Even the famous Egyptian pharaoh, Cleopatra, was obsessed with this gorgeous green gemstone and adorned herself in emerald jewelry.
If you take a look at ancient jewelry, you can easily notice how different these are from the ones we have today.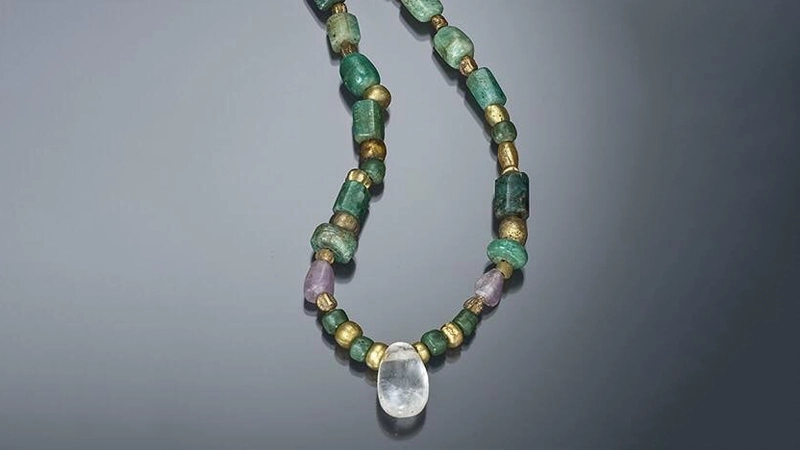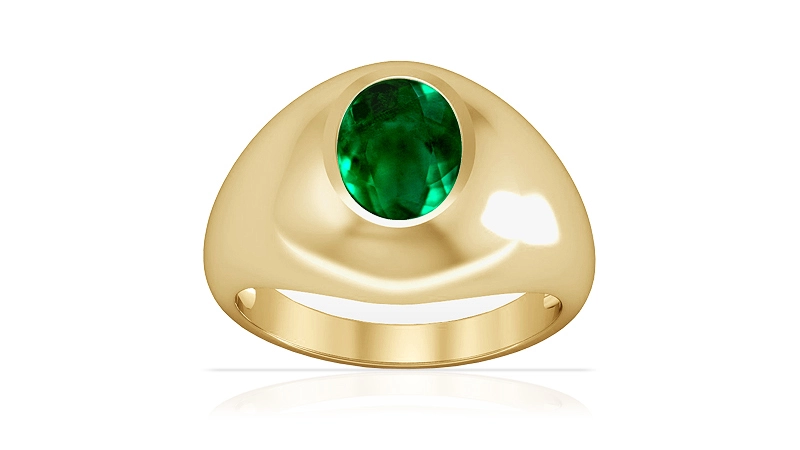 That's because the jewelry pieces we have today are made with modern technology and tools, whereas the ancient ones were typically crafted with handy techniques like hammer work and soldering. Although these emerald rings and necklaces are no less beautiful, they lack proper cut, brilliance, and luster. That again shows how far we have come in improving the quality of gemstone jewelry.
Emeralds were also famous and well-liked in classical Greece and Rome. Gemstones of this period are quite distinguishable from others, as the raw and rough gems were polished and carved in seals.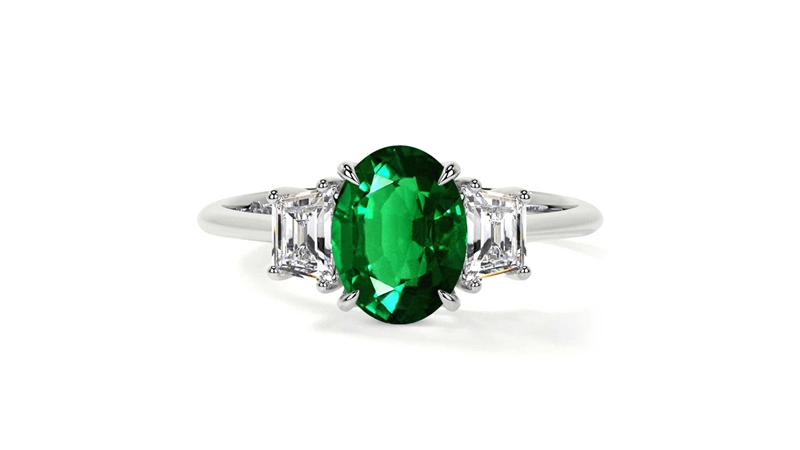 You can clearly see the polishing on the rough emerald, pearls, and gold ring in the picture. The metalsmith during the ancient Roman and Greece ages performed the granulation technique, where the jewelry surface was decorated with gold beads.
We are all aware that mankind has continuously experienced development from time to time. In fact, it still is. We keep discovering things that prove to be pontifical for us, whether those things are related to our health or the clothes we wear. Needless to say, the same goes for jewelry.
Moving forward to much recent timelines, we witnessed a significant improvement in the making and appearance of emerald rings.
The late Duchess of Windsor wore a magnificent platinum engagement ring having a 19.77-Carta Cartier emerald that King Edward VIII gave her. This ring was designed in 1936.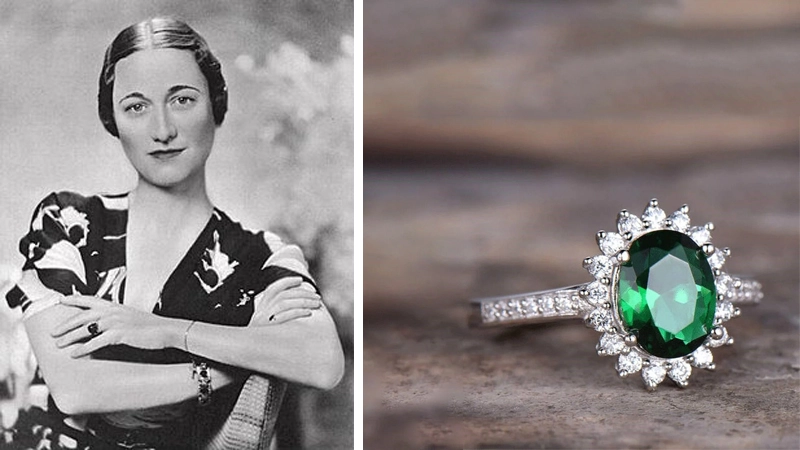 Have a close look at this ring and then compare it with the emerald rings from the ancient Egyptian and Roman eras. What do you notice? You can see the difference between the two, everything from their cut, design, shape, and luster!
As more time passes and we equip ourselves with better tools, we witness more development in the art of jewelry making.
Now, all of us know who Angelia Jolie is. She's known for her beauty and kindness. Moreover, if you have seen her red carpet pictures, it's easy for anyone to realize her love for gemstones! Angelina Jolie owns and wears many emerald jewelry pieces, ranging from necklaces and earrings to emerald rings! Have a look at this: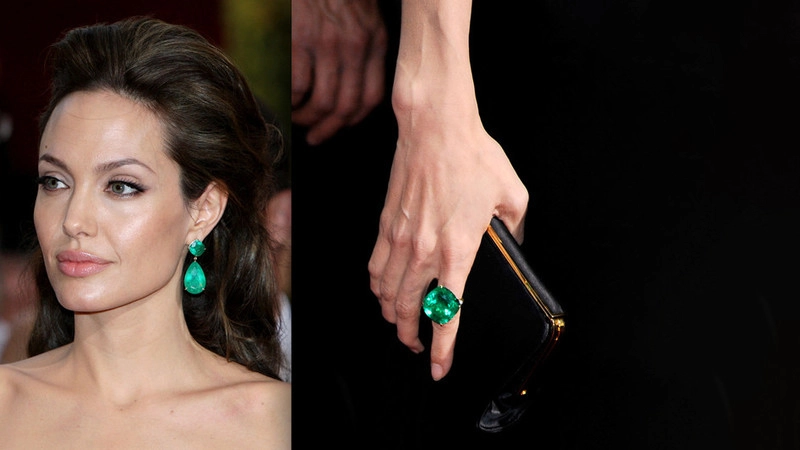 With a single look at the picture, you can tell that emerald jewelry has only developed throughout history. With easy access to modern technology, tools, and resources, experts can design better and more magnificent emeralds as well as other gemstone jewelry. Isn't that an amazing improvement? You, too, can spruce up your style and give yourself a glam look with a gorgeous and intricately-designed emerald ring! Have a look at our spectacular collection at GemsNY.
*Credit Source –
Image 1st – https://www.pinterest.com/pin/757238124839144209/
Image 2nd – https://pbs.twimg.com/media/Dw7JIecW0AE4WqU.jpg:large
Image 3rd – https://about.emeralds.com/wp-content/uploads/2017/02/ancient-egyptian-emerald-necklace.jpg
Image 4th – https://www.sndgems.com/authentic-ancient-signet-rings-rich-green-color-vibrant-trade-colmbia-emerald-gold-signet-ring-depicting-a-lion-and-claw-artist-gem-cutter-benedetto-pistrucci-withdesigns-copies-images-roman-court-workshop.jpg
Image 5th – https://about.emeralds.com/wp-content/uploads/2017/02/Ancient-Roman-emerald-pearl-ring.jpg
Image 6th – https://highjewellerydream.com/wp-content/uploads/2014/09/wallis-simpson-emerald-engagement-ring.jpg
Image 7th – https://pinterest.com/pin/714735403380313640/