Rubies are one of the world's most popular gemstones. Known for their rich red color and durability, rubies exhibit a depth of color that makes them stand out in any jewelry piece.
Rubies have been highly sought after for centuries, and each year brings about a new trend in ruby jewelry which continues to establish the gemstone as one of the trendiest and most fashionable gemstones in the industry today. Ruby has always been the center of attraction for those who hold an interest in the gemstone world. The gemstone has a rich history and you can find many proverbs and folklore about rubies.    
Purchasing a ruby may seem daunting, but it doesn't have to be! Here's some information that might be helpful when selecting your next ruby jewelry.
Treatments – The More You Know
The treatment that a ruby goes through is one of the most important factors to determine its quality. Treatment refers to any process in which a gemstone is enhanced outside of its natural state and the cutting process. Treatments can enhance a gemstone's color and remove or reduce the number of inclusions or fractures within the gemstone. 
Keep in mind: each gemstone has different treatment processes that are accepted by the industry. Never purchase a gemstone that has been treated with an unrecognized process by the industry. 
Fortunately, at GemsNY we sell only those treated ruby gemstones which meet the well accepted norms of  industry standards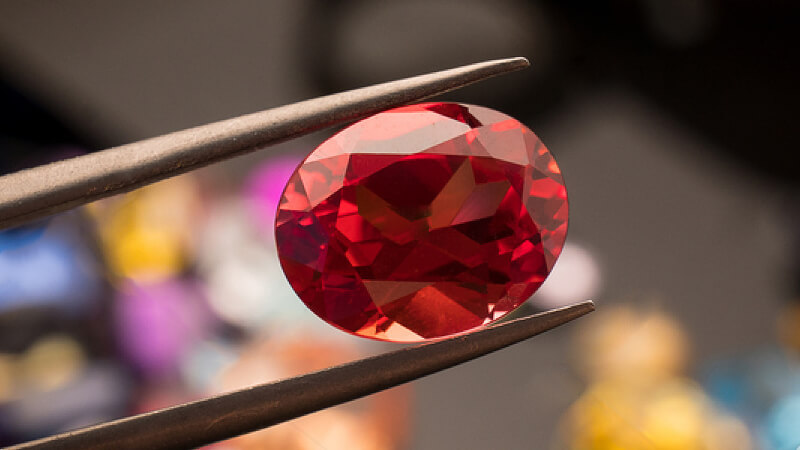 There are two generally accepted treatments for rubies – heat treatment and composite treatment.
Heat treatment is a common application among many gemstones; the ruby is heated between 800 and 1,800 degrees to increase color saturation. This treatment is stable and permanent.
Composite treatments work a bit differently. They are done in conjunction with heat treatment to fill the ruby with glass or lead. These are typically applied to only rubies with many fractures and inclusions because such gemstones would otherwise be unsuitable for jewelry. However, composite treatment is not stable and must be disclosed to the customer prior to the sale-purchase transaction. Still, many people purchase composite rubies as they are extremely affordable. 
With the proper precaution and education, a composite ruby can be an excellent and long-lasting addition to your collection, especially in earrings or pendants.
Keep It Stylish
It's no secret that rubies have been around for centuries. However, just because they are a part of historical relics, doesn't mean rubies aren't still fashionable. To adorn yourself with sparkling ruby jewelry, you can find ruby pendants, earrings, bracelets and rings in various cuts and settings. The right metal type with the perfect shape of the gemstone can make your jewelry piece one of a kind in itself.  
Designers and jewelers have been consistently evolving the style of the ruby to adapt it to the latest fashion trends. Fine jewelry designers such as Wendy Yue, Erica Courtney, and Stephen Webster also consistently produced rings, watches, and necklaces which feature rubies in a modern-day setting. 
If new and fashionable ruby jewelry is something that appeals to you, then perhaps you can put on your creative hat for a while to experiment with designs of ruby jewelry. We can custom make almost any piece of design you come up with! Visit our custom section here to begin crafting your jewel today!