Introduction
Back in the day, who'd have thought that there'll come a time when the world-famous, the hardest substance on earth, the diamond gemstone, will have to compete with a rather lesser-known gemstone for its place in an engagement ring?
Well, let's get you out of that thought and help you reach a conclusion while drawing a comparison between diamond and morganite.
Basis Of Comparison
In this article, I've compared the morganite gemstone with diamond based on two parameters, color and hardness. The reason for this is simple: you're choosing an engagement ring gemstone whose most vital prerequisites are its appearance and endurance. The cut, clarity, carat weight and style of your engagement ring stone aren't taken as parameters of comparison because these depend on your personal preferences that you can decide on once you conclude the ongoing matter in question.
I've also set aside the price quotient in this comparison, presuming you're loaded enough to get a diamond engagement ring that can break the bank of many. That's because other things being equal if you didn't have enough money to buy a diamond engagement ring, we wouldn't be having this discussion in the first place.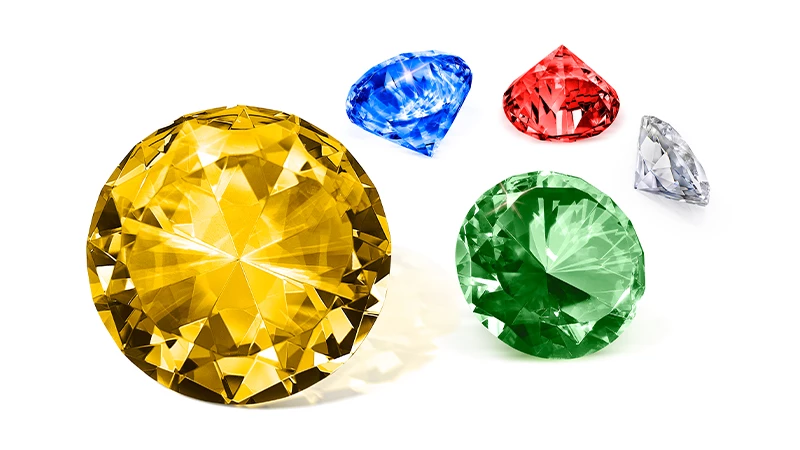 Color
As regards the color, diamond gemstones get an enormous advantage over morganites because the former ones come in many different colors as opposed to the latter ones which are only peachy pink with orange, red, purple and violet undertones. Classic diamonds are colorless, but diamonds also come in many colors like yellow, brown, green and orange, to name a few.
There's no doubt that with diamonds, you get the liberty to choose from a range of colors, which otherwise, you don't get with morganites. However, don't let this fact dissuade you from getting a morganite gemstone for your engagement ring because colored diamonds or the fancy color diamonds, as they are generally called, command way higher prices than ordinary colorless diamonds. Morganite on the other hand is quite affordable.
In no way should you underestimate the peachy pink color of morganites because it has its great share of fans, especially in 2023. The peach color of morganite has been in fashion and ruling the hearts of folks for a decade now to be disparaged over comparison with the diamond gemstone whose popularity has been backed up by the heavy marketing it has enjoyed for decades. Having said that, technically, I think diamonds win the day.
Hardness
Do you know the meaning of the Greek word adamas? If you don't, the word means the hardest steel. Diamond gets its name from this Greek word. Diamond is the hardest substance on earth. End of topic. There's no other gemstone that can outdo diamond in terms of hardness. By now you might be thinking that I'm singing praises of the diamond gemstone. However, that's not the case, and I'm just referring to facts.
The hardness of diamond is two points above that of morganite on the Mohs hardness scale, in the sense that the former scores 10 compared to the latter's 8. So, technically, diamond wins this one too.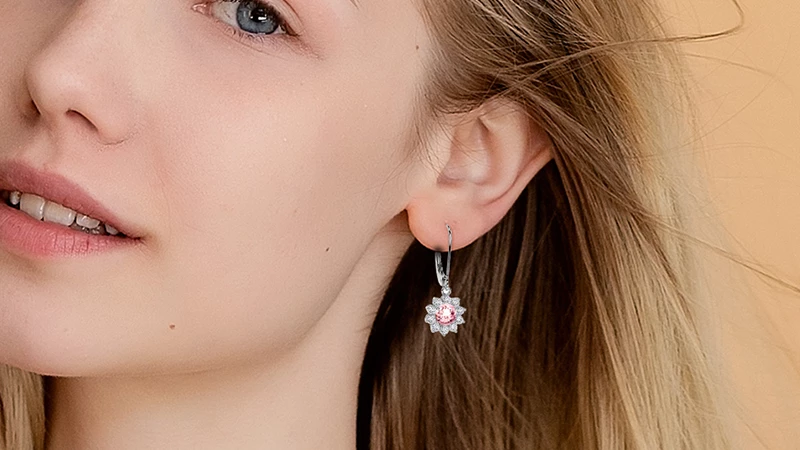 But wait, is an 8 an unacceptable hardness score for an engagement ring stone? It's clearly not. That's a pretty favorable score for an engagement ring centerstone. And with little care and cleaning, it'll surely last long. Look, at the end of the day, it all boils down to how your sweetheart keeps her prized possessions. Besides, this is an engagement ring that we're talking about. So, I'm sure that she'll keep it all safe and sound because it holds immense emotional value to both of you.
The Upshot
Is it just me, or do you also feel that the comparison we started hasn't helped us reach a definite conclusion? I mean, there are two sides to this comparison. Strictly speaking, the diamond gemstone outshines morganite in both the parameters that we took at issue. But there's an entirely different upshot to the conundrum of it all if we look at it from more of a friendly and easy-going approach. So, let's take one more parameter of comparison between the two gemstones, and then we're done.
Rarity
I've taken rarity as the final parameter because the idea of it seems just about perfect for an engagement ring stone. Don't you think? I mean, the rarer the engagement ring stone, the more deserving it is to mark your love. In that sense, the morganite gemstone is a better choice for your engagement ring. Surprised? Well, most people don't know this, but morganites are rarer than diamonds. But due to the lesser-known status of morganites, their prices aren't high.
Diamonds, on the other hand, have enjoyed great admiration and adoration from the world. But they aren't as rare as they're presented to be. On the contrary, diamonds can be termed as some of the most common gemstones. Let's understand this with an example: you might have seen many people wearing a piece of diamond jewelry. But how uncommon it is, even in today's times, to spot somebody wearing ruby, emerald or morganite jewelry? That's the difference I'm talking about.
The perception that diamonds are extremely rare was established by De Beers. The famous British corporation once controlled somewhere around 75% to 85% of the diamond rough supply. This control helped them manipulate the prices of the diamonds in the gemstone market. As a result, the skyrocketed prices infused the perception that diamonds are extremely rare.
The Takeaway
The main takeaway arising out of this comparison is in your favor. I'm saying this because you always wanted to propose to your love with a Morganite engagement ring. You probably got attracted to morganite because of two reasons, it's color and price. The color of morganite is symbolic of love, so it's evident that it caught your attention. Moreover, choosing the morganite gemstone for your engagement ring will also go easy on your pocket, so it's a great option.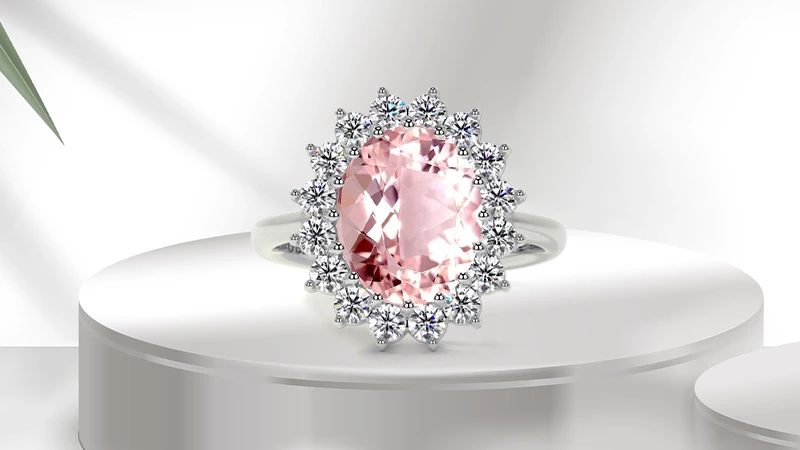 As far as the diamond gemstone is concerned, if you're feeling bad for it, why not encrust the morganite centerstone of your engagement ring with a halo of diamonds? 😉
By the way, don't forget to check out GemsNY's morganite engagement rings. They've been getting a lot of attention lately. Oh, and you can also create your own engagement ring with the morganite gemstone at GemsNY. So, there you go!