Octagon diamonds, an exceptional and enchanting choice in the world of gemstones, offer a stunning blend of geometric elegance and excellent sparkle. In this article, we'll explore the meaning and symbolism of octagon diamonds, their brilliance, merits & demerits, and some crucial factors to consider when buying these unique gemstones. So, without any further ado, let's get started!
What is an Octagon Diamond?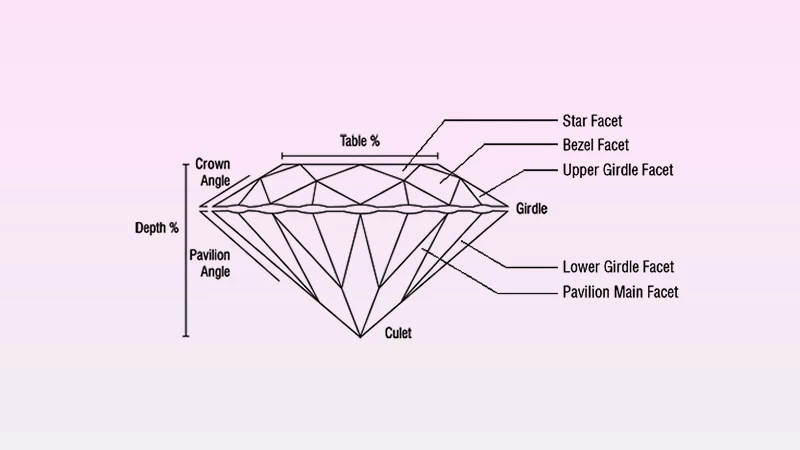 As the name suggests, an octagon diamond has eight sides when looked from the top resembling an octagon. This unique shape gives a modern twist to the traditional round cut, resulting in a mesmerizing and striking appearance. This contemporary shape can be an ideal choice for those who admire both the beauty of a diamond and the allure of geometric design.
Moreover, octagon diamonds also carry some unique symbolic significance. Let's discover what they are!
Meaning and Symbolism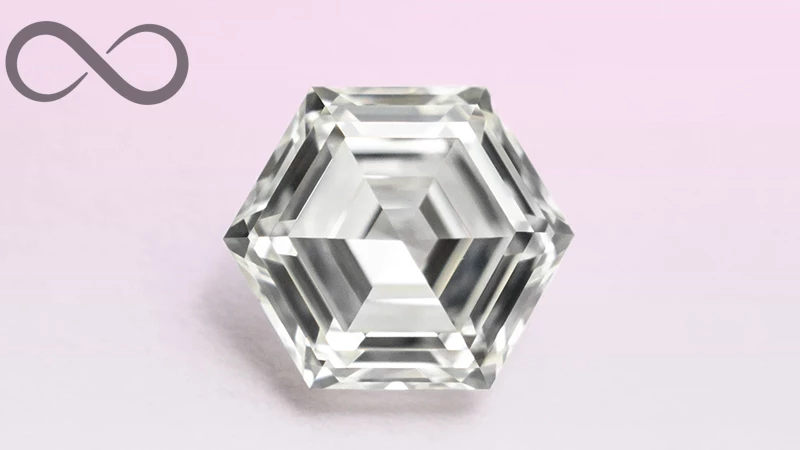 Like any other shape of a diamond, octagon diamonds also hold their profound symbolism. This alluring shape is often connected with renewal and rebirth, owing to its resemblance to the number eight, which represents infinity. This symbolic significance makes octagon diamonds a perfect choice for engagement rings, symbolizing enduring love and evergreen commitment. 
Brilliance of Octagon Diamond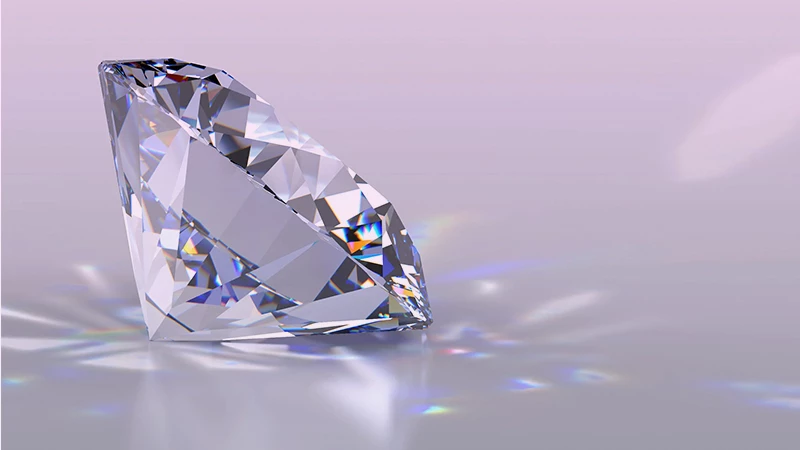 One of the most fascinating factors of octagon diamonds is their brilliance. When cut with precision, octagon diamonds can exhibit unique fire and sparkle. The amalgamation of a well-cut octagon shape and diamond's alluring properties creates a mesmerizing kaleidoscopic effect, captivating anyone fortunate enough to catch a glimpse of it.
Merits and Demerits of Octagon Diamond
Like other diamond shapes, octagon diamonds too have their fair share of merits and demerits which you need to consider when making a purchase. 
Merits
Unique Appeal
Octagon diamonds hold the potential to stand out in a crowd, making these gems an extraordinary choice for those who like experimenting with their style for a distinctive look.
Symbolism
The symbolic significance of octagon diamonds adds an extra layer of meaning to jewelry pieces, especially engagement rings.
Sparkle
The unique shape of octagon diamonds can sparkle under low light, resulting in a striking effect that mesmerizes onlookers.
Demerits
Less Common & Pricier
Octagon diamonds might not be readily available because this cut requires a greater degree of expertise in cutting. Due to a higher degree of precision and expertise required, an octagon diamond is also pricier as compared to a round diamond of similar size & quality.
Potential for Wastage
Cutting a diamond into an octagon shape can result in more wastage compared to traditional cuts.
Chipping Risk
The sharp edges of octagon diamonds can be more susceptible to chipping or damage compared to other cuts, which means these gems require extra care and maintenance. 
Octagon Diamond Vs. Round Diamond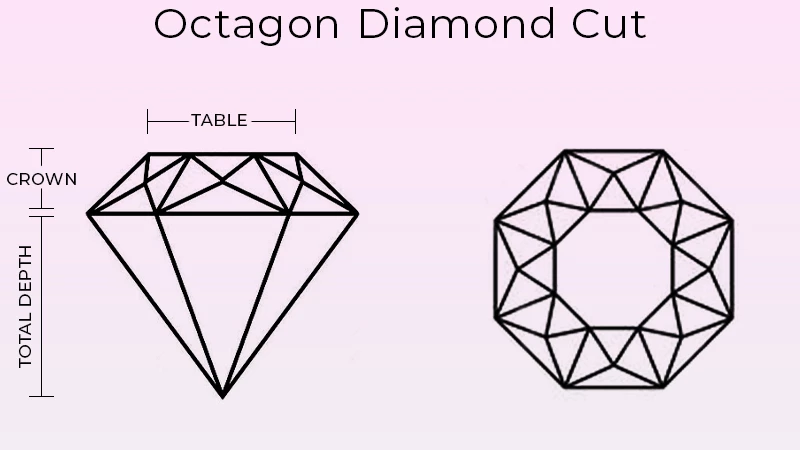 | | | |
| --- | --- | --- |
| Aspect | Octagon Diamond | Round Diamond |
| Shape | Octagonal | Round |
| No. of facets | Typically 57-67 | Typically 57-58 |
| Brilliance | Unique, Bold | Classic, Scintillating |
| Symmetry | Sharp angles | Circular perfection |
| Availability | Less Common | Abundant |
Factors to Consider When Buying Octagon Diamond
For someone who is planning to purchase an octagon diamond, here are some essential factors to keep in mind.
The 4Cs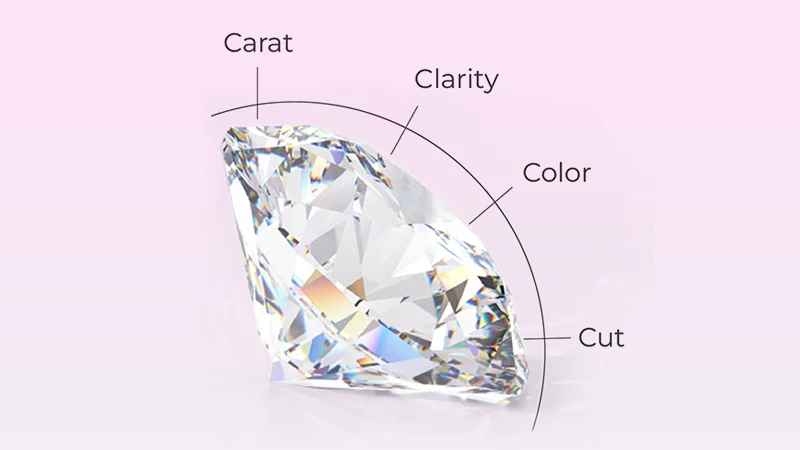 Octagon diamonds, like all other diamonds, are graded on the 4Cs– cut, color, carat weight and clarity. Carat refers to the weight and size of the diamond. Color grade determines the existence of any visible tints with D being the most colorless and desirable. Clarity evaluates internal or external inclusions and premium grade signifies lack of imperfections. Cut encompasses the symmetry and polish which significantly influence the brilliance of a diamond.
Certificate of Authenticity
Always opt for an octagon diamond certified from well-known gemological laboratories, such as GIA or IGI to ensure the quality, authenticity and origin of the diamond.
Setting
Consider the type of jewelry setting that emphasizes the octagon shape and elevates the allure of the diamond.
Octagon Diamonds in Jewelry
Octagon diamonds have made their way into numerous types of jewelry, and are not just limited to engagement rings. The fascinating cut and shape of these diamonds can be incorporated into a wide range of exquisite jewelry pieces, including pendants, necklaces, earrings and bracelets. Whether you are seeking to add a hint of elegance to your outfit or looking for a unique gift for your loved one, octagon diamonds offer versatility and charisma. 
Engagement Rings or More
Octagon diamonds has a close resemblance to the asscher cut. Both feature step-cut facets, creating a mirrored and geometric shape. Their shared emphasis on clean lines and sharp angles makes them akin. You can explore some of our exquisite asscher cut diamond rings to get some idea of octagon diamond rings.
For someone considering octagon diamond rings, it's crucial to think about the ideal setting and design which can amplify the allure of these irresistible shapes.
Solitaire Setting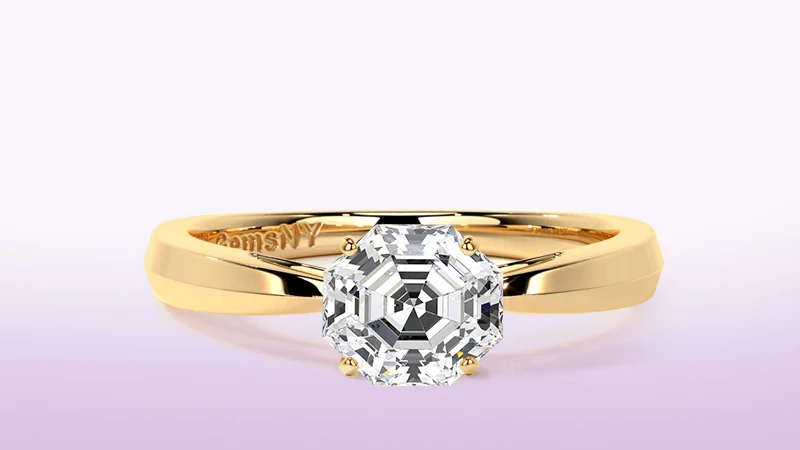 Solitaire settings accentuates the beauty of an octagon diamond by placing it at the centre of attention. This setting permits the unique shape to stand out, emphasizing the diamond's geometric allure. 
Halo Setting
An octagon diamond halo ring, when seen from afar, brilliantly creates an illusion of a round diamond. But those with discerning eyes can acknowledge its unique octagonal charm up close.
Three-Stone Setting
A three-stone setting, featuring an octagon diamond in the centre flanked by marquise cut or emerald-cut diamonds on either side, magnificently amplifies the allure and opulence of the central stone.
Bezel Setting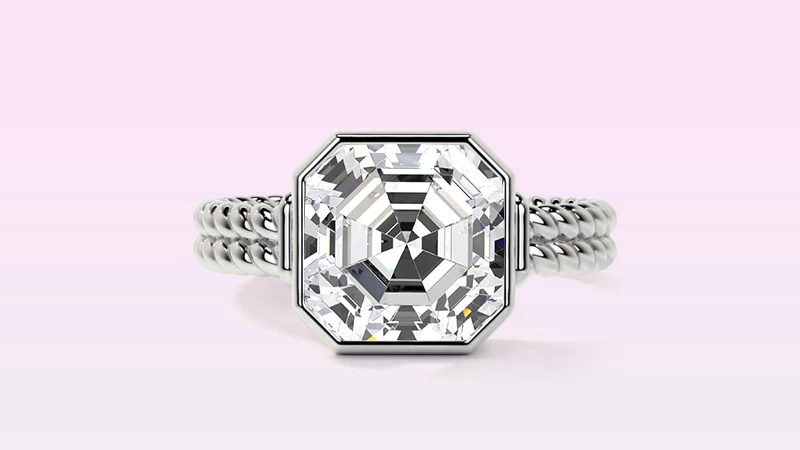 Bezel setting is less suitable for octagon diamonds due to its encircling metal border. It conceals the unique octagonal shape and diminishes the diamond's distinctiveness and geometric elegance. This setting is usually used with round or square shaped diamonds, it's a personal choice if you favor the design.
Tension setting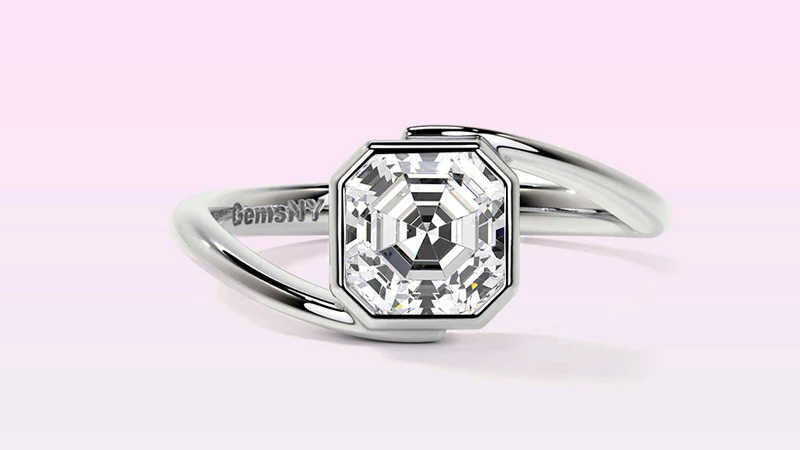 Octagon diamond in a tension setting captivates with a modern, minimalist charm. The diamond appears to float within the metal band which showcases its sleek lines and geometric beauty.
Beyond Rings
Octagon diamonds can be used in various types of jewelry besides rings. Such pieces are bespoke ones, so finding them online in ready-made inventory is a task in itself. You can take inspiration from our jewelry featuring the asscher cut to visualize how octagon diamonds will perhaps look like albeit a bit more dazzling.
Pendant Necklace 
A pendant featuring an asscher diamond can be an exquisite extension to your jewelry collection. It can dangle beautifully from your neck, adding a hint of sophistication to your look.
Earrings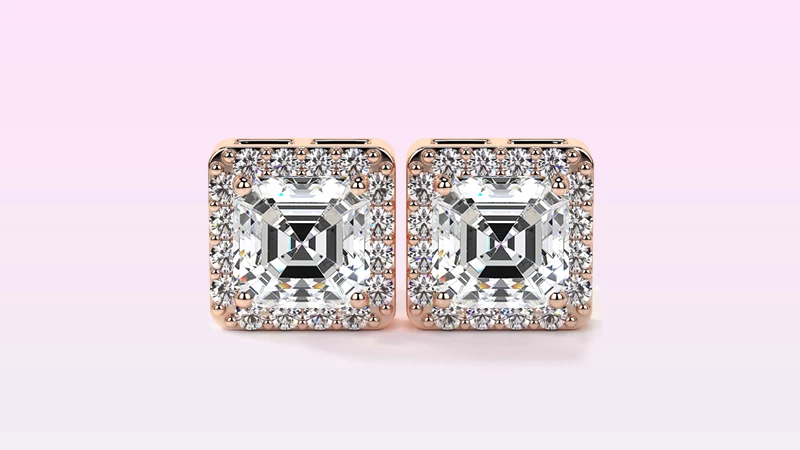 A pair of earrings prettified with Asscher diamonds can frame your face gracefully and catch the light with every moment. Whether you prefer studs or drop earrings, these accessories make a dazzling choice for special events. 
Bracelets 
A fine asscher-cut diamond bracelet can be a bold, statement piece that exudes sophistication and luxury. It can be an extravagant accessory for formal events. 
Parting Thoughts
Octagon diamonds provide an array of possibilities in the world of jewelry. The unique shape, excellence and profound symbolism make these gems a brilliant choice for numerous events. Our customization service is a beacon for those seeking octagon diamond jewelry. Our expertise ensures that your unique vision becomes reality, since ready-made octagon pieces are scarce. Explore our website for stunning diamond jewelry and rings at inspiring discounts.
| | |
| --- | --- |
| Merits | Demerits |
| Distinctive and Striking | Less Common |
| Exceptional Sparkle | Not Widely Available |
| Competitive | Expensive |
| Versatile | Corners Chipping Risk |