Imagine a love story unfolding, vibrant and passionate, like a flourishing garden adorned with the most gorgeous blooms. Just as each flower possesses its unique charm, the world of bridal jewelry has embraced a radiant gem that mirrors the intensity of love itself – the enchanting ruby engagement ring. In this blog, let's take a trip through time to discover why ruby rings are the hottest trend in bridal jewelry, and how they became so alluring. So, grab a cup of tea, and let's delve into the fascinating world where the fiery spirit of rubies intertwines with the blossoming emotions of true love.
1. The Fascinating History of Ruby Gemstones
Let's embark on a journey through history to uncover the origins of ruby gemstones. These precious treasures were first discovered in ancient lands, with the most renowned sources including regions such as Myanmar (formerly Burma), Thailand, Sri Lanka, and Madagascar. From the depths of the earth, these vibrant red gems emerged, enchanting civilizations for centuries.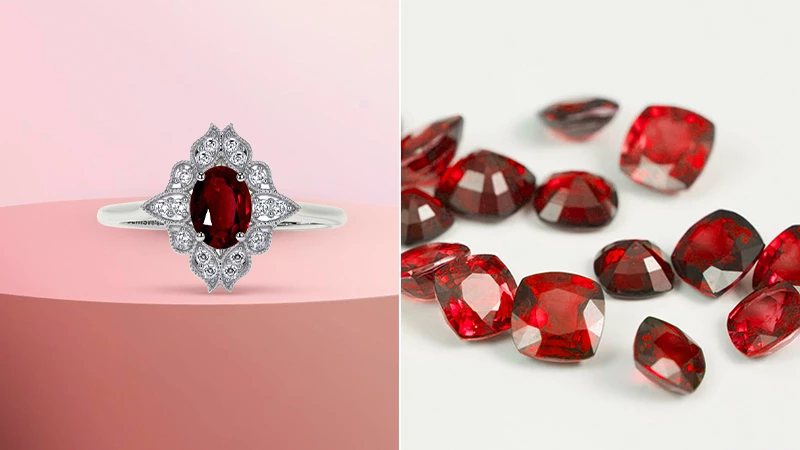 The allure of rubies spans back thousands of years, with ancient cultures attributing mystical and symbolic qualities to these fiery gemstones. In ancient times, rubies were revered as the "king of gemstones," believed to bring good fortune, success, and protection. They were treasured by royalty and worn as a symbol of power and prestige.
Throughout history, the stunning beauty and intense color of rubies have remained unparalleled. Their vibrant red hues symbolize love, passion, and vitality, making them a perfect choice for engagement rings that represent eternal commitment and affection.
Today, rubies continue to be cherished for their remarkable qualities and rich history. From their ancient origins to their modern-day prominence in bridal jewelry, ruby gemstones hold a timeless charm that speaks to the depths of human emotion and the desire for lasting love.
2. The Symbolism Behind Ruby Rings
Ruby engagement rings embody a multitude of symbolic meanings that resonate deeply with couples. The fiery red color of the ruby symbolizes love, passion, and romance. It is believed to ignite the flame of eternal love, infusing relationships with energy and intensity. Moreover, rubies are often associated with strength and courage, signifying the resilience and endurance required in a lifelong commitment. By choosing a ruby engagement ring, couples are embracing a symbol of love that transcends traditional norms, making a bold and passionate statement.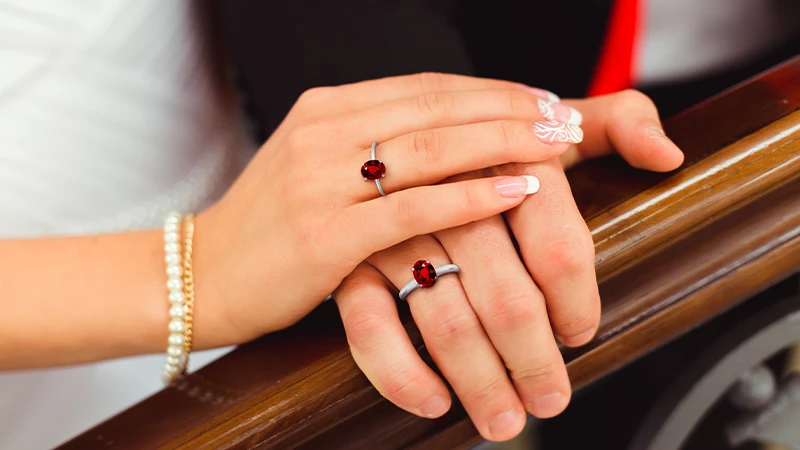 3. The Alluring Qualities of Ruby Gemstones
Ruby gemstones possess a captivating beauty that distinguishes them from other precious stones. Renowned for their exceptional hardness and durability, rubies rank second only to diamonds in terms of strength. This remarkable characteristic makes them an ideal choice for daily wear, guaranteeing that your engagement ring will endure the test of time with elegance. Moreover, rubies are admired for their remarkable brilliance and luster, dazzling the eye with their radiant red hue. Each ruby is unique, showcasing natural variations in color and clarity, infusing every ring with a touch of individuality and charm.
4. The Versatility of Ruby Rings
Let's talk about the incredible versatility of ruby engagement rings, because who doesn't love having options, right? Picture this: a solitaire ruby ring that oozes elegance and simplicity, making a bold statement without even trying. But wait, we're just getting started! Imagine that same magnificent ruby, now surrounded by a dazzling halo of sparkling diamonds, creating a jaw-dropping display of pure luxury. It's like wearing a burst of fireworks on your finger!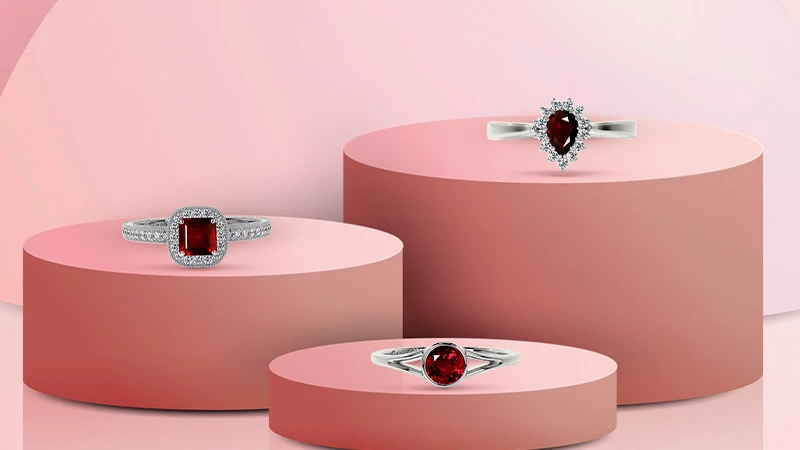 But here's where the fun really begins. Rubies are like chameleons of the jewelry world, seamlessly blending with different precious metals to create unique styles and aesthetics. Whether you're into the classic charm of white gold, the warm glow of yellow gold, or the sleek elegance of platinum, there's a ruby engagement ring waiting to steal your heart. Vintage-inspired designs? Check. Modern and minimalist settings? Double check. With rubies, there's no shortage of options to perfectly match your personal style and make your heart skip a beat.
So, let your imagination run wild as you explore the world of ruby engagement rings. Whether you're a lover of timeless elegance or a trendsetter looking to make a splash, there's a ruby ring out there with your name written all over it.
5. Ruby Rings as Birthstone Engagement Rings
Calling all lovebirds seeking that extra touch of personalization! If you're on the lookout for a truly unique engagement ring, let's talk about the amazing ruby birthstone rings. Here's the deal: if you or your partner were born in July, you've hit the jackpot! Rubies proudly claim the title of July birthstone, making them an irresistible choice for couples who want to infuse their engagement rings with sentimental significance. Picture this: a dazzling ruby nestled within your ring, serving as a radiant reminder of your unwavering love. It's not just any ring; it's a magnificent emblem of your unique connection, a tangible celebration of your shared journey.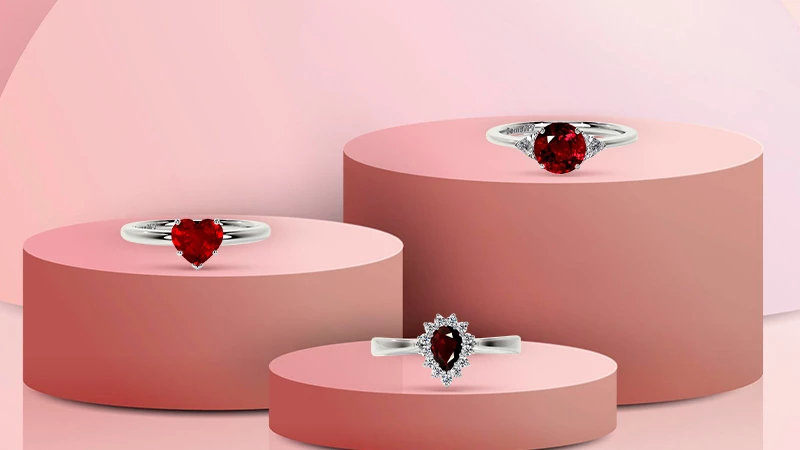 Wrapping Up with Rubies
In the world of bridal jewelry, ruby engagement rings are a rising trend that's stealing the spotlight. These dazzling gems boast a rich history, vibrant symbolism, and a unique appeal that sets them apart from traditional diamond rings. At GemsNY, we understand the power of this fiery gemstone to ignite love and passion. That's why we invite you to explore our exquisite collection of ruby engagement rings, each one meticulously crafted to capture the essence of your extraordinary love story. To match your love story, you can pick the one with the right kind of hue and shape from the thousands we have in our repository.