Lights, camera, sparkle! Ladies and gentlemen, get ready to witness a gemstone extravaganza like never before! It's time to roll out the red carpet for the one and only peridot – the dazzling diva of the gemstone world! With its vibrant green hue that rivals the lush meadows of paradise and meanings that'll leave you starstruck, the August birthstone peridot is here to steal the spotlight! So, grab your popcorn and prepare to be dazzled as we take you on a cinematic journey through the captivating color, hidden meanings, and enchanting symbolism of this gem-tastic superstar! It's showtime, folks!
1. What Makes the Peridot Sparkle Like a Green Wonder?
Turning on the dramatic music, because we're exploring the peridot gem's earliest days! Have you ever wondered how this luminous green beauty gets its alluring hue? As we reveal the mystery underlying Peridot's breathtaking brilliance, get ready for a sparkling revelation. It's like finding a hidden doorway to the molten core of our planet!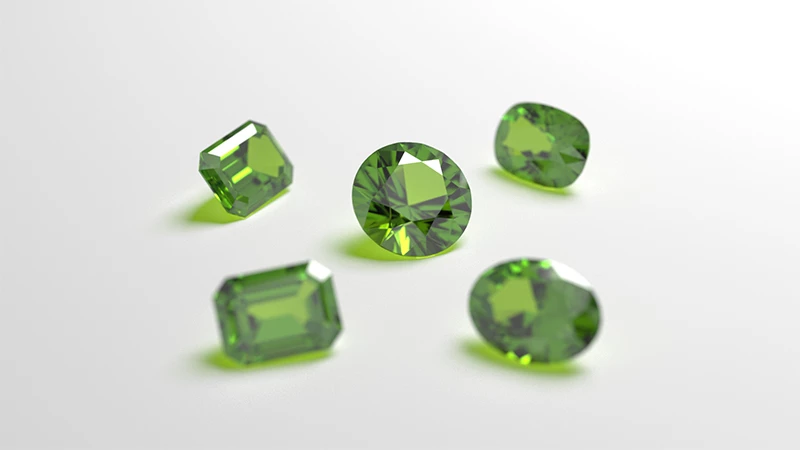 The mineral olivine, which forms deep within the Earth's mantle, is responsible for the peridot's vivid green color. During volcanic eruptions, this alluring gemstone is carried to the surface by molten lava. Can you picture it? Each peridot is a treasure from the center of our planet because it contains a piece of the molten core.
2. What Cosmic Meanings Does the Peridot Hold?
Did you know that this captivating gem is believed to symbolize vitality, growth, and prosperity? That's right! It's like having a lucky charm that whispers words of encouragement whenever life throws challenges your way. And guess what? Peridot is also rumored to strengthen friendships and harmony. Talk about a gem that spreads good vibes like confetti!
Throughout history, peridot has been cherished for its metaphysical properties. In ancient times, it was believed to harness the power of the sun, bringing warmth and abundance to its wearer. The Egyptians called it the "gem of the sun," and they considered it a symbol of rebirth and renewal. So, when you don a dazzling peridot, you're not just wearing a gemstone, you're embracing the very essence of life's energy!
3. Why is Peridot the Ultimate Symbol of Enchantment?
Peridot gemstone is the star of the show and has stolen the hearts of cultures worldwide since ancient times. From the majestic knights rocking peridot-adorned armor, believing it would grant them protection and valor, to the captivating tales that spun around this gem, it's like stepping right into a fairytale!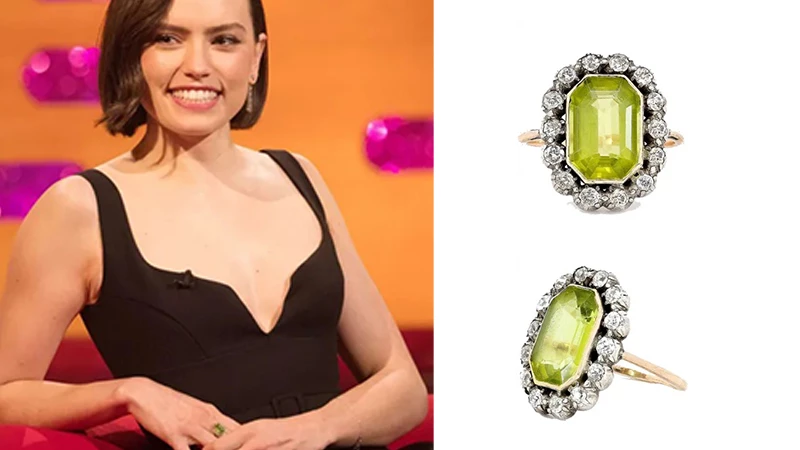 In medieval times, people believed that the peridot's power could banish darkness and keep evil spirits at bay. They believed it had the magical ability to heal and purify the heart! Can you feel the enchantment in the air? But that's not all! The peridot's mesmerizing green color was synonymous with nature's beauty and the lushness of spring. So, when you wear peridot, it's not just a gemstone you're flaunting; you're wearing centuries of enthralling beliefs and magical tales!
4. Can't Get Enough? Flaunt Your Inner Glow with Peridot Jewelry!
Are you ready to turn heads and dazzle like a star? Let's talk about peridot jewelry – the epitome of elegance and style! Whether it's a stunning ring, graceful earrings, or a mesmerizing pendant necklace, peridot jewelry adds a touch of enchantment to your every move. Picture this: decked in peridot bling, you are gracefully sipping coffee at your favorite café. Your jewelry becomes the talk of the town, sparking conversations as it sparkles in the sunlight. Oh, what a sight to behold!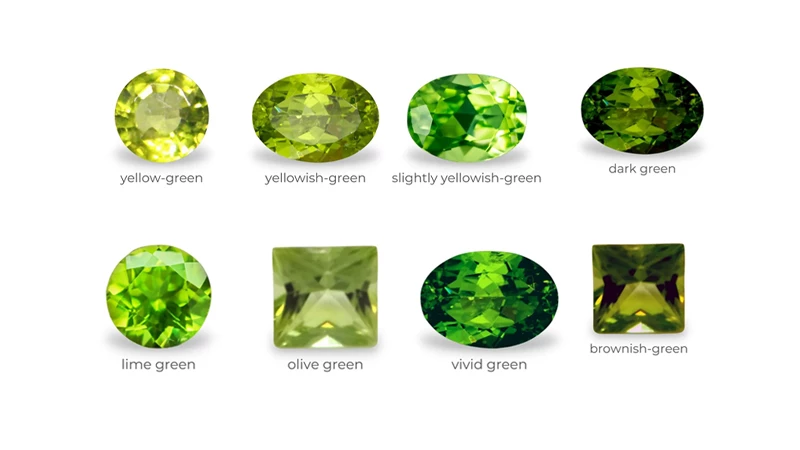 Peridot rings, with their stunning green center stones, exude an air of sophistication and vibrancy. They're the perfect companions for your daily adventures or special occasions. Want to feel like royalty? Slip on a peridot ring and let it adorn your hand like a crown!
As for peridot earrings, they frame your face with a glimmering green glow, drawing attention to your radiant smile. From delicate studs to dangle earrings, there's a pair for every mood and occasion. So, whether you're going on a date night or dancing the night away with friends, peridot earrings are the way to go!
And who can resist the allure of a peridot pendant necklace? The gem suspended from a delicate chain seems to capture the essence of the sun itself. Wearing it close to your heart fills your world with warmth and positivity. It's like carrying a little piece of sunshine wherever you go!
5. How Can a Peridot Ring Embrace Your Uniqueness?
Say farewell to conventional norms and welcome the glimmering allure of a splendid peridot ring. It's not just any ordinary jewelry; it's a symbol of your vivacious spirit! Whether you're conquering the world with your charm or simply strolling through a picturesque garden, let your peridot ring be the shining star of your individuality. Lights, camera, action – flaunt that inner glow with every gesture!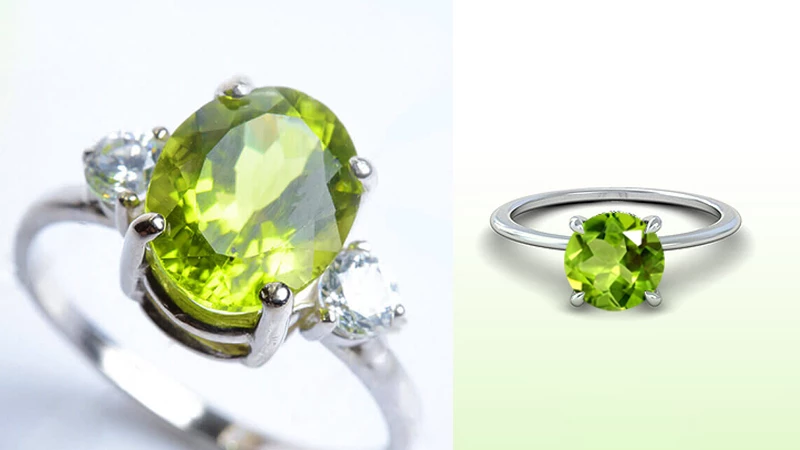 When it comes to peridot rings, the stage is set for a mesmerizing show! The options are as diverse as the cast of characters in your own unique story. Choose from modern and minimalist designs that speak to your contemporary flair, or go vintage and intricate to evoke the allure of a classic film. Each peridot ring has its tale to tell, and when you find the one that resonates with your heart, it becomes an unforgettable scene in your dazzling journey. So, take your seat in the front row and get ready to witness the enchanting magic of your peridot ring as it becomes the star of the show!
6. Need a Magical Aura? Let Peridot Earrings Work Their Charm!
Close your eyes and imagine a world where every step you take feels like a captivating dance of enchantment. Now, bring that dream to life with a pair of peridot earrings gracefully adorning your ears! Suddenly, that world becomes your reality, and you'll feel like you're walking on air. These delightful earrings don't just add elegance to your style; they sprinkle charm on every single move you make. The way the gentle sway of the peridot gems catches the light is nothing short of magical, leaving everyone around you in absolute awe. So get ready to shine and enchant wherever you go!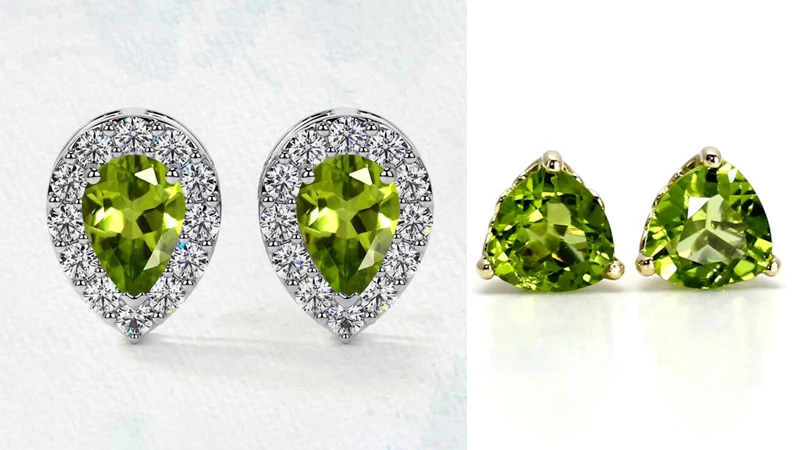 Oh, but that's not all! Peridot earrings come in an exquisite array of styles, each crafted to match your personal taste and flair. Whether you prefer a subtle touch of green with delicate studs or you're after a more glamorous look with dangling designs that sway with your every step, peridot earrings have the incredible power to elevate your outfits and brighten your day. So go ahead and embrace the enchantment; let your style dazzle with the captivating allure of peridot earrings!
7. Carry Your Dreams and Wishes with Peridot Pendant Necklaces!
Do you wish you could carry your dreams and hopes wherever you go? Look no further than a necklace with a peridot pendant! This gleaming jewel, like a celestial comet, transports your hopes to the stars above. Wearing it close to your heart reminds you that the universe is working hard to make your wishes come true. Let your peridot pendant be the key to unlocking your heart's desires, dear dreamer!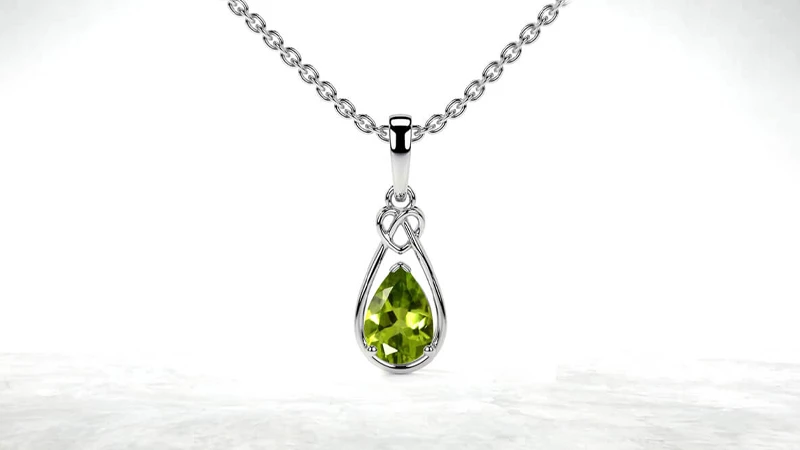 Peridot pendant necklaces are truly enchanting in their versatility. There is a peridot pendant to suit every mood and desire, whether you prefer a delicate solitaire pendant for a touch of elegance or a bold and intricate design to make a statement.
The Final Cut!
Ladies and gentlemen, drumroll, please! 🥁 We've reached the dazzling finale of our gemstone adventure – the mesmerizing peridot! From its amazing origins to the profound meanings it holds, the peridot has cast its enchanting spell on all of us. But wait, there's more! Brace yourselves for a cinematic twist – lights, gems, and action! Get ready to dazzle like a Hollywood star with GemsNY's spellbinding peridot collection. As you explore the captivating beauty of the August birthstone, you'll find yourself saying, "You had me at peridot!" 
Our Peridot collection is here to make your dreams come true! So, whether you're seeking a touch of cosmic charm or a burst of vibrant energy, GemsNY's Peridot jewelry has got you covered! Step into a world of glitz and glamor, and let the peridot be your guiding star on this glamorous journey of style and elegance.