Will you agree if we say that 'I Love You' is probably one of the most overused words all over the world? Each one of us expresses love differently – some make amazing coffee for their SO in the morning, some believe in spending time together by going on adventures and others do it through gifts! What kind are you?
Giving gifts for no reason is one of the best ways to tell her "I love you" because who doesn't love gifts, right?
How about using a symbol of love to tell your precious one how much you adore her? The red rubies are a symbol of love and also represent passion, success, energy, wealth, prosperity, and health. Ruby has many attributes to offer to its wearer, making a ruby ring one of the perfect gifts to express your love to your SO.
Looking for ruby rings to express love?
Here's a list of the 5 most adored ruby rings out of which anyone will make her eyes radiate joy.
1. Three Stone Ring Setting with Trillion Cut Diamonds (0.24cttw)
Ruby is one of the most sought-after precious gemstones and it has garnered a lot of love and attention because of its gorgeous pigeon blood shade. The dazzling gemstone looks beautiful when set in any ring setting and becomes a conversation starter!
The three-stone ring that crowns the finger is exactly the kind of tiara she needs in her vanity! If you're looking for a ring to gift your SO, a three-stone ring with a ruby center stone is our pick! This ruby ring definitely says "I love you".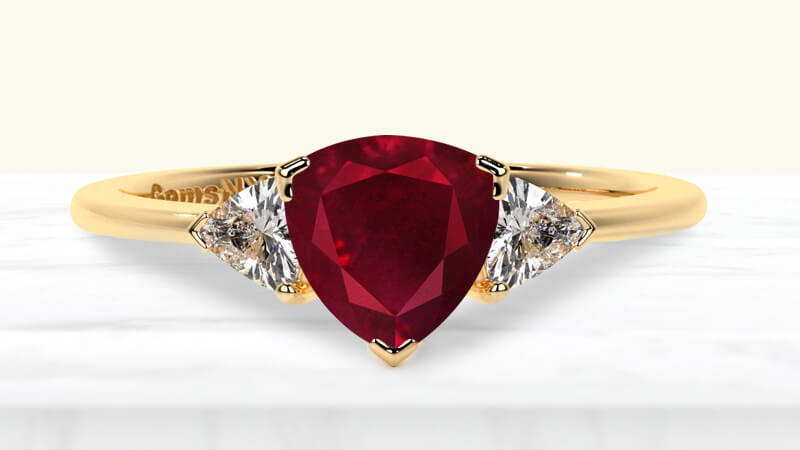 With trillion cut diamonds as the side stones, this ring proclaims itself to be nothing but perfection! What do you think of this beautiful piece? 
2. Pave And Prong Set Round Diamonds Ring Setting (0.46cttw)
Ruby is the birthstone for July. If your significant other is a July born then guess what? Ruby will bring all the luck, love, passion, and energy that she needs to excel in life. The king of all gemstones looks graceful when etched into a ring.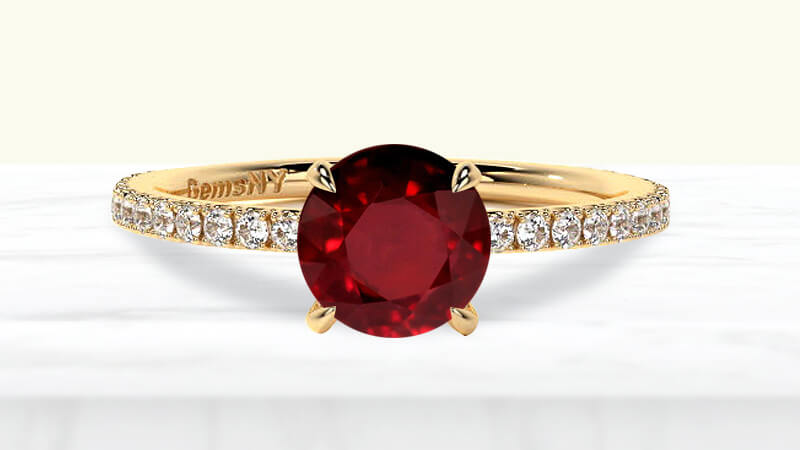 If you're looking for an extravagant ring, then the  Pave and prong set with the diamond ring setting is the one for you! With a ruby as the center stone, this ring will look ravishing on her slender fingers! What do you think?
Side-stone ring accentuates the center stone in a graceful and elegant way. This is one of the best ruby rings to express your love for your SO!
3. Petite 6 Prong Solitaire
Minimalist jewelry has always been a must-have in everyone's vanity. Also, adding a little 'color pop' to the whole minimalism approach will go a long way. A solitaire ruby ring with 6 prongs is exactly what we are talking about. The minimalism and the authenticity of the ruby ring will always help in bringing your elegant look together.
Solitaire rings are not only engagement rings but also style statements and hence the petite 6 prong solitaire ring is the perfect addition to her vanity. Women adore solitaire rings because of the inherent simplicity and class. The solitaire ring emphasizes the size of the ruby just brilliantly and gets all the focus on the ring. The ring appears to be more magnificent when there are fewer elements in it, don't you think!
4. Princess Diana Replica Setting (0.28cttw)
Princess Diana's ring is one of the most famous rings in the world. Many girls believe that they will feel like royalty if they have such a ring accentuating their beautiful fingers.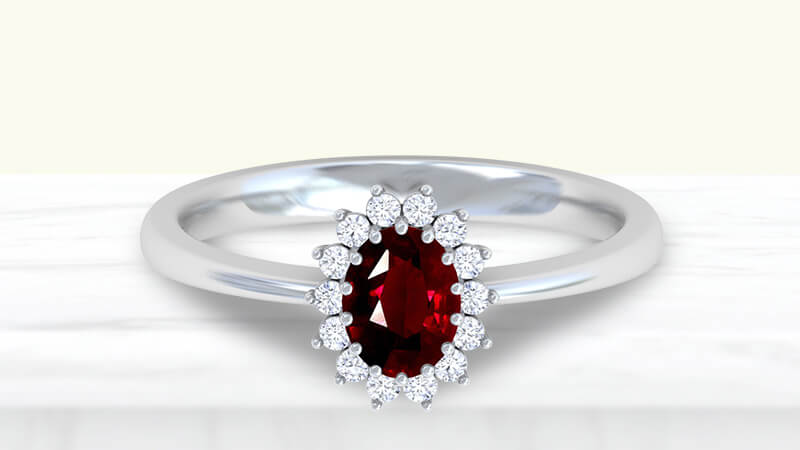 If you're stuck with "which one to choose?", you can never go wrong with a Princess Diana Replica Ring. A ruby ring to express your love is the way to strike the right chord with your significant other. A halo ring with beautiful diamonds surrounding ruby as the center stone is the most stunning gift that you can choose for her to wear with any attire she likes!
5. Prong Set Round Diamonds Ring Setting (0.17cttw)
Antique or vintage accessories are all about style, elegance, and intricate design. They are classy, timeless, and have an old-world charm attached to them! That means no matter which era, they will always be ever-green! A classy ring with an interesting history behind is worth investing in, don't you think? 
The king of all gemstones is a beautiful gem. The dazzling red gemstone will make your girl the center of attention! This ring is definitely a show stealer! Prong Set Round Diamonds Ring Setting is the ring that she would love to adorn at all times.
What's your Judgement?
With the hottest 5 ruby rings to express your love for her, which one would you choose? Express your love with the best present and all she'll have is so much more love for you! Have you decided what to get for your princess yet?