Give me songs to sing and emerald dreams to dream and I'll give you love unfolding – Jim Morrison
Emerald is one of the most distinguished stones in the family of color gemstones. If you're fascinated by this green beauty, then emerald rings are the way to treat yourself like Cleopatra or Jacqueline Kennedy. Their collection of jewelry was not without some distinctive emerald rings!
Our jewelry artists at GemsNY have crafted some of the most splendid emerald ring designs to suit your taste.
Solitaire Emerald Ring: The Magnificent Single
Emerald is such a unique stone that it's able to charm you with only its own presence which is why emerald is the most appropriate choice for a solitaire setting since solitaire rings typically have just one gemstone set in a metal ring.
Many people associate a solitaire setting with a diamond ring, and they are not wrong in doing so. In fact, the iconic solitaire diamond ring from Tiffany & Company became so popular that the two terms became somewhat synonymous.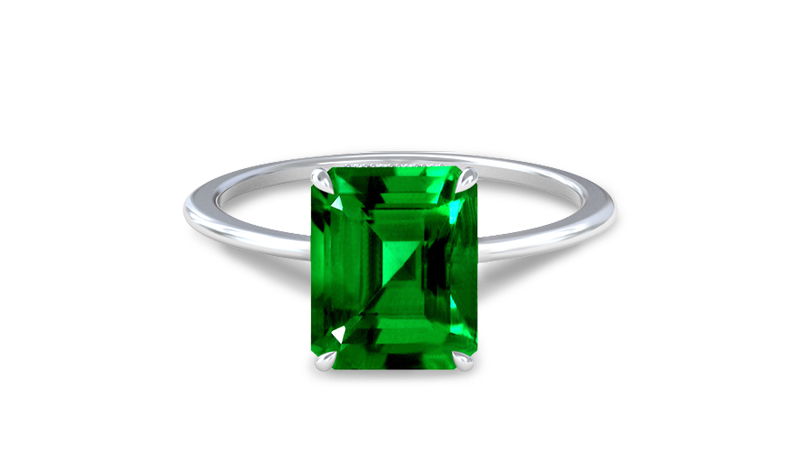 Nevertheless, you can grace your finger with a solitaire emerald ring.  With us, your choice of solitaire is not limited to round, oval, or heart shape but it goes way beyond. A solitaire emerald ring steers away from the norm and gives its wearer a more vibrant personality. 
Two-stone Emerald Ring: The Inseparable Duo
One of the most famous rings in modern times is the two-stones ring presented by John F. Kennedy to Jacqueline Bouvier in 1953.
It had a unique design encompassing a diamond and an emerald set in an innovative way. The ring was estimated to be worth a million dollars then.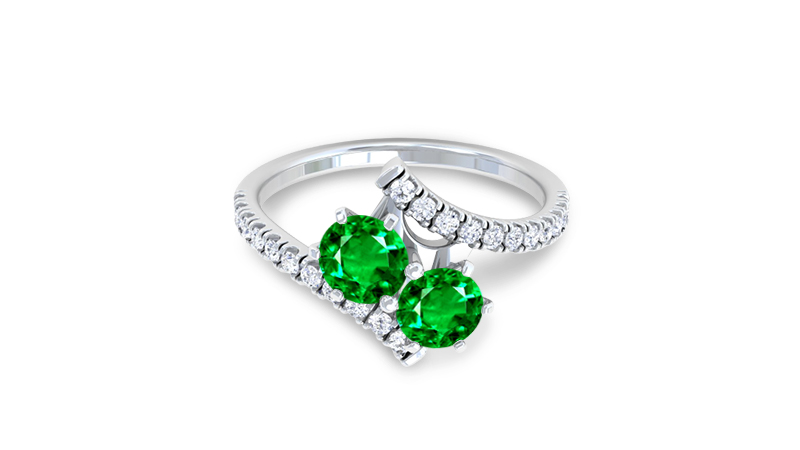 Don't you worry, you need not invest that much unless you want to. We have many scintillating designs for your two-stone emerald ring at an irresistible price. Feel free to contact us to mix and match your gems as well. 
Three-stone Emerald Ring: The Evergreen Trident
The idea of trinity is present in many religious doctrines. Likewise, the concept of a three-stone emerald ring is also not new. Some call the three stone setting a representation of the past, present and future of your relationship whereas others see it as an emblem of love, friendship & loyalty.
You can choose from a variety of stones to go with your emerald as the center stone or you can have three emeralds instead. In any case, your emerald ring will only add class and elegance to your entire appearance.
Fun Fact: Emeralds are believed to have metaphysical properties which can aid in healing a person both spiritually and physically.
Your three-stone emerald ring might help maintain balance within the nervous, digestive and respiratory system in addition to accentuating your persona.
Spectacular Halo 
Halo-style emerald rings have a mystical element to them. Whether it is a heart-shaped halo ring or a pear-shaped emerald with a diamond halo, you can't remain untouched by its magic.
Legendary Hollywood actress Elizabeth Taylor was presented with an emerald necklace by Richard Burton, her two-times husband. Each emerald in the necklace was set in a halo of diamonds. The necklace cost a fortune then and it won't be a different story today either. Now if you feel drawn to the halo but are constrained by the enormity of the investment in a Cleopatra-like emerald halo necklace, you can certainly go for a halo emerald ring.
Its sublime beauty will have everyone around riveted to you. And if you're thinking that you have to be content with just one halo, then you are mistaken; you can have as many as you want or as many as your wallet allows.
Antique – A walk into the history
What comes to your mind when you think 'antique'? Classy, timeless, and valuable right? Maybe old and exquisite, or perhaps, a representation of legacy and inheritance.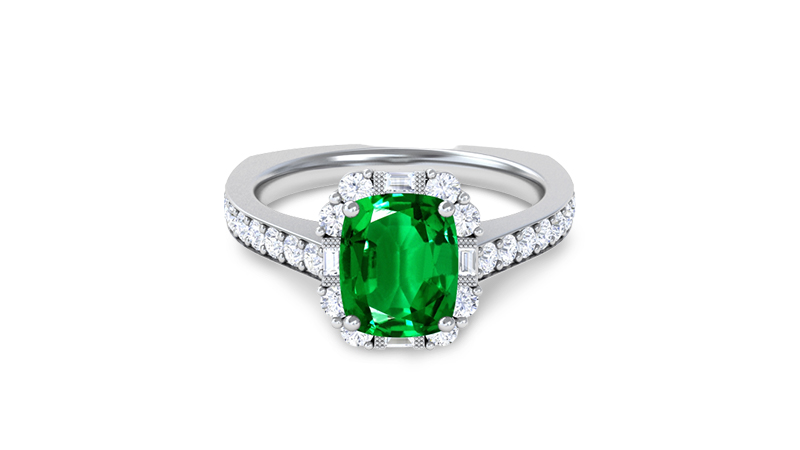 Well, an emerald ring of an antique design does just that. It imbues you with an indescribable feeling of joy and fulfillment every time you wear it or even lay your eyes on it.
Your choice is not limited to the few antique inspired designs carved out for emerald rings, instead you can reinvent any design from the history for your emerald ring. Pick style elements from various art periods to come up with something unique for your ring and our gem-smiths will bring the design to life.
Browse through our collection of antique design emerald rings to find an ideal piece or design it yourself by using your online platform.
Whether you love simplicity or you adore flamboyance, at GemsNY you can get it all. You can select your preferred metal such as white gold, rose gold, yellow gold, or platinum, and your desired ring setting. Also, if you need our assistance to help you select the perfect emerald from our huge inventory, we'll be glad to offer you our expertise. Reach out to us at gemsny.com.