Think of a beautiful pond in which a giant lotus is surrounded by various small lotuses. This is what the halo ring setting looks like. If you are struggling in the journey to find a perfect engagement ring for your loved one, then we are here to make it smooth and convenient. The good news is that you have almost reached your destination. A perfect engagement ring is a dream of every woman. As you've decided to hold her hand for life, you should make her dreams come true. We understand this and this is why we have done all the hard work to make your engagement ring one in a million. We have hand-picked a halo engagement ring setting for you.
Let us understand what a halo engagement ring setting is and why engagement rings with a halo setting are special.
What Does Halo Setting Mean?
The halo ring setting is an arrangement of small accent stones, usually diamonds which encircle a larger center stone. A halo setting can contain side stones and a center stone of the same size or different sizes. The same thing goes with gemstone cuts as well. The centerstone is usually held by prongs which elevate the beauty of the ring.
What Makes The Halo Ring Setting Special?
There are many things that make a halo ring special. The halo engagement ring setting has always been a favorite choice of celebrities and aristocrats. Surprising her with a halo engagement ring conveys that you have a good knowledge of trends and women's fashion. Many famous celebrities such as Eva Longoria, Mary Kate Olsen and Emma Roberts opted for a halo ring for their engagement. If you want a centerstone that is rare and expensive but your budget holds you from buying a stone of size, then the halo ring setting can make your gemstone look relatively bigger.
People Also Like: 6 Vintage-Inspired Ring Settings: Engagement Ring Edit
Pros And Cons Of Halo Ring Setting
Since we've already talked about a few of the pros of halo ring setting, you might be having an impression that a halo ring doesn't have any con. But it is not the case as there are some points of concern. The first is the difficulty that you'll encounter when you try to pair it with a wedding band. The broad circle of diamonds around the centerstone makes such pairing extremely hard, if not impossible. Another con of a halo engagement ring is that it is not a suitable choice for astrological purposes since the centerstone will not touch your skin. As per astrology, a gemstone should touch your skin if you want to take benefits from its positive influences.
Things To Look For In A Halo Setting Ring
If you want to end up having a perfect halo-setting ring, then you should be precise about a lot of things. There should be symmetry in the stones that encircle the centerstone. Do not hesitate to consider color gemstones to encircle the centerstone. Keep the color combination in a way that the centerstone and accent stones contribute to each other's beauty and appearance instead of one overshadowing the other.
Tips To Care For Halo Setting Engagement Ring
Halo rings are relatively delicate because they are embellished with tiny stones, so you should be extra careful while cleaning your engagement ring. Keep your halo-setting ring away from your other jewels because they may scratch the ring. Most halo-setting rings are not suitable for everyday wear, especially if you have to deal with rough objects. You should avoid wearing the engagement ring with a halo setting.
Hand-Picked Halo Setting Rings
GemsNY has an incredible range of halo engagement ring designs. We have handpicked some of them as you might have to rush for other arrangements for your engagement.
This ring is a beautiful mix of colors because diamonds and sapphire perfectly combine with white gold. Its beautifully decorated shank will compel you to choose this ring for your engagement.
Princess Diana Replica Halo Setting Ring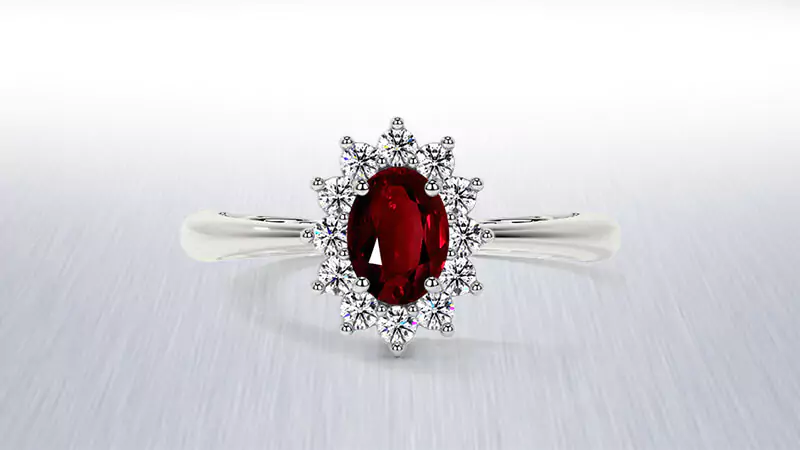 Hope you have heard about the most famous ring of its time, Princess Diana's sapphire ring. In this ring an oval-shaped sapphire is encircled with diamonds. You can get this ring to make your significant other feel like a princess. If you want to make it unique, you can set any other gemstone of your choice in this ring.
Heart Shaped Halo Ring
When it comes to expressing love, nothing works better than a heart-shaped gemstone. Tiny diamonds coupled with a heart shaped sparkling centerstone make this ring a perfect jewel to express your endless emotions.
Marquise Cut Halo Setting Ring With A Three Split Shank
If you want your engagement ring to look bold, then this ring is the perfect one. A perfectly fitted marquise cut centerstone and diamonds beautifully embellished all over its three split shank are enough to give it a look that grabs all the attention.
Emerald Cut Halo Ring Setting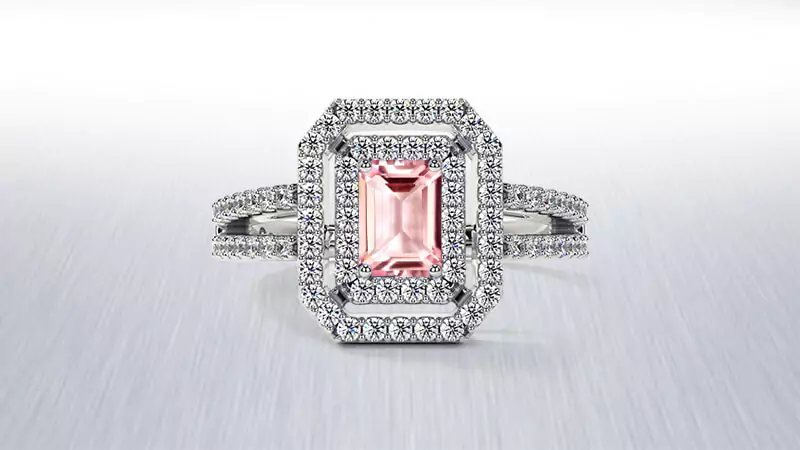 You might have noticed that most celebrities and royals prefer emerald cuts for their engagement rings. The emerald cut is not a new black but it has been in popularity for a long time. In this ring, you will be getting a gemstone with the most famous emerald cut and an extra layer of embellishment as it has an extra circle of diamonds beautifully surrounding the centerstone.
Congratulations! Finally, you have found the perfect ring for your engagement. Your engagement ring should be as special as your significant other. A halo engagement ring is a perfect jewel to mirror your emotions. A beautiful centerstone encircled by sparkling diamonds perfectly represents the way you cuddle her for life.