Picture this — the pleasant blue sky meets the tranquil sea. Does a beautiful image of an enticing shade of blue come to your mind? Wouldn't it be fascinating if you could have this stunning hue of blue in the palm of your hand so that you can treasure it forever? Well, you are in luck because that's an aquamarine gemstone for you!
The serene blue of aquamarine has always appealed to many people from time immemorial. One glance at the gem, and you can picture yourself in a tranquil state of mind surrounded by seawater, and that's only fair to visualize, given the meaning of aquamarine. If you didn't already know, the sea-like tones of this stone served as the inspiration for its name. It gets its name from the Latin terms 'aqua' and 'marina,' which translate to sea and water, respectively.
Thanks to its beautiful color, aquamarine jewelry has become popular among people. From celebrities on the red carpet to royalty, you can see people all around you donning aquamarine jewelry pieces! While rings and earrings featuring this stunning pastel-blue gemstone are quite coveted, nothing will make your heart skip a beat the way an aquamarine pendant does!
If you don't know how to style a pendant featuring this gorgeous blue gem, you have landed at the right place! Let's begin by diving into the bewitching and dazzling world of aquamarine stone and learn some fascinating ways to style the pendant!
Aquamarine Gemstone
Aquamarine is a variety of mineral Beryl. It owes its beautiful blue hue to the presence of iron. The more the quantity of iron, the richer and more intense the shade of blue. As a result, aquamarine's color can range from pastel blue and slight greenish blue to very strong greenish blue and strong blue. Additionally, it has a rating of 7.5 to 8 on the Mohs scale of hardness.
Aquamarine is also popularly known as the sailor's gem because Greek sailors in the past held the belief that carrying this gemstone while at sea would please the sea god Poseidon and offer them safety and protection during their sea voyages. Now, aquamarine is known as the birthstone for March as well as the traditional gemstone to mark and celebrate the 19th wedding anniversary.
What does aquamarine gemstone symbolize?
Aquamarine is a beautiful gemstone. Its serene blue hue expresses exhilaration as well as relaxing calm. In the language of gemstones, aquamarine stands for hope, good health, happiness, and youthfulness.
Styling Ideas Your Aquamarine Necklace
Coordinates your colors
Understanding how to coordinate colors is a prerequisite for putting together any ensemble. In simple terms, avoid wearing colors that may clash with each other. You want to pull an outfit together that makes your overall appearance look great.
Aquamarine is a light blue gemstone. So, if you are looking for clothes to pair with your aquamarine necklace, go with white, black, midnight blue, peach, rose, purple, lavender, as well as coral hues.
Consider the designs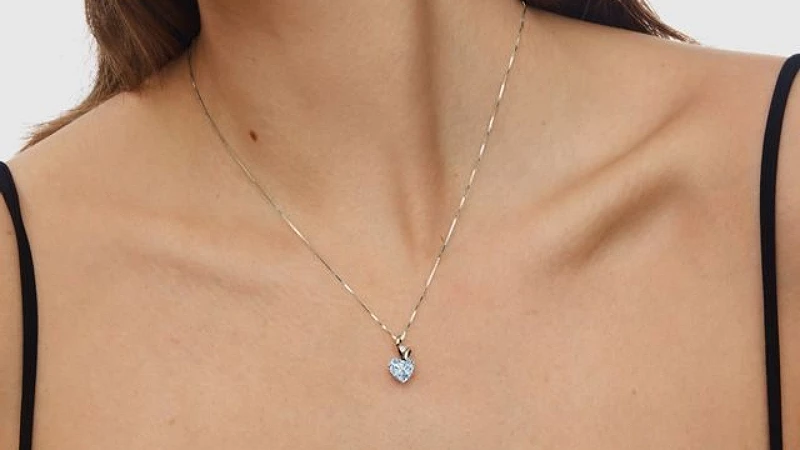 Necklaces come in all sorts of shapes and designs. From classic solitaires to designers, you can find it all! If you are getting dressed for something casual, pair a simple solitaire aquamarine pendant with a casual tee and jeans or a floral dress. If you are getting ready for a special occasion, like a birthday, anniversary, or dinner date, wear your best party dress and add a designer aquamarine necklace to the ensemble! A three-stone or halo aquamarine necklace is a great option.
Pair with other jewelry pieces
A necklace might not be enough to complete a chic and stylish look. Other than your aquamarine necklace, put on some jewelry pieces as well! A pair of diamond studs or a diamond ring looks great with aquamarine. You can also wear a sapphire or tanzanite gemstone bracelet to complement the pleasant blue hue of aquamarine.
Professional pairings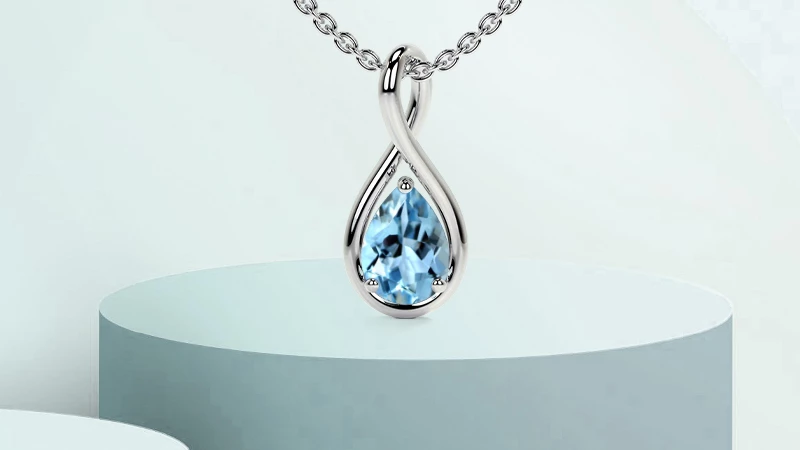 Aquamarine is a classy and chic gem ideal for wearing to the office or other professional events. You can effortlessly add a feminine touch to your professional attire by wearing a power suit and pairing it with your favorite aquamarine jewelry piece.
It goes without saying that you want to look professional at work, but this shouldn't come at the expense of style! A pear-cut necklace is a great choice to pair with your work outfits. It is simply classy and elegant and will make you feel confident.
What do you think?
An aquamarine pendant is a must-have for a woman who appreciates elegant and classy jewelry. There are no rigid rules on how to style your pendant. You have the freedom of expression! So, go and grab your favorite jewelry piece and wear it the way you want to! You can find stunning gemstone jewelry at GemsNY.
Aquamarine Gemstone FAQ
Question 1: Can only people born in March wear aquamarine stone jewelry?
Answer- While aquamarine is the birthstone for March and considered lucky for people born during that month, other people can also have aquamarine stone and jewelry! It is also considered a lucky stone for people with these zodiac signs — Capricorn, Aquarius, and Aries.
Question 2: Is aquamarine jewelry suitable for daily wear?
Answer- Yes! Aquamarine is a considerably durable gem with a hardness rating of 7.5 to 8 on the Mohs scale. Make sure to follow routine cleaning and maintenance to preserve the condition of the jewelry.