Pink tourmaline rings are a captivating choice for jewelry enthusiasts who appreciate the delicate beauty of this gemstone. With its mesmerizing pink hue and excellent durability, pink tourmaline has gained popularity as a fashionable and versatile gemstone for rings. Whether you're a proud owner of a pink tourmaline ring or adding one to your collection, this article will provide you with some fantastic tips and ideas to style and showcase your pink tourmaline rings flawlessly. If you want to gift a pink tourmaline ring to your loved one, then some personalization tips given in this article will help you make the ring a memorable gift. 
Complement with Neutral Tones
One of the most effective ways to highlight the vibrant pink color of your tourmaline ring is to pair it with neutral tones. Opt for clothing in shades of white, cream, beige, or gray to create a sophisticated and elegant look. The neutral backdrop will allow the pink tourmaline to take center stage and enhance its captivating beauty.
Create a Contrasting Look
For a bold and eye-catching style, contrast your pink tourmaline ring with vibrant and complementary colors. Consider wearing outfits in shades of green, blue or purple to create a striking contrast and make your ring stand out. This combination will add a touch of drama and create a visually stunning effect.
Stack with Delicate Bands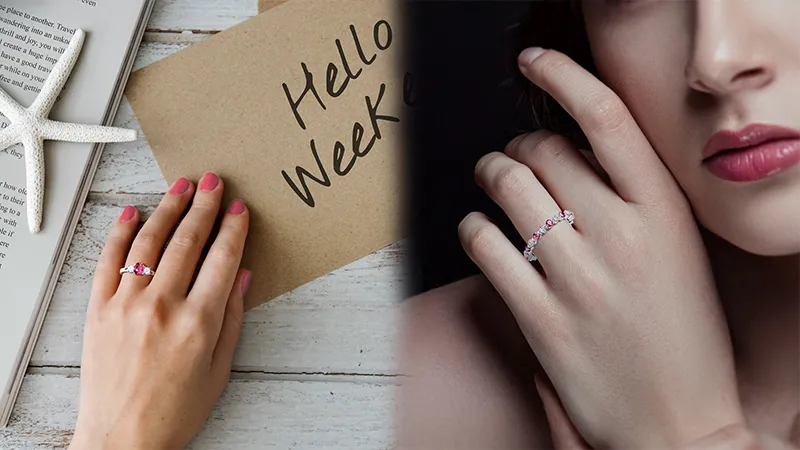 Stacking rings has become a popular trend, and pink tourmaline rings can be beautifully paired with delicate bands to create a layered and stylish look. Choose thin gold or silver bands to create a dainty and feminine appearance. Mixing metals and incorporating other gemstones can also add an eclectic touch to your ring stack.
Embrace Vintage Glamor
Pink tourmaline rings can effortlessly exude a vintage charm. Look for antique or vintage-inspired settings to emphasize the timeless elegance of the gemstone. Consider intricate filigree work, milgrain detailing, or halo settings to enhance the romantic and nostalgic appeal of your ring. Pair it with vintage-inspired clothing or accessories to complete the classic look.
Daytime Casual Chic
Don't reserve your pink tourmaline ring only for special occasions. It can be the perfect accessory to elevate your daytime casual outfits. Pair it with jeans, a simple blouse, and minimalistic accessories for an effortlessly chic look. The pink tourmaline will add a touch of color and sophistication to your ensemble, making your everyday style more vibrant and refined.
Formal Evening Glamor
When attending formal events or evening affairs, your pink tourmaline ring can be a show-stopping accessory. Opt for an elegant gown in a complementary color, such as navy blue or black, to create a striking contrast. Choose a ring with a larger pink tourmaline stone or one surrounded by smaller diamonds to add a touch of glamor and sparkle to your evening ensemble.
Bohemian Vibe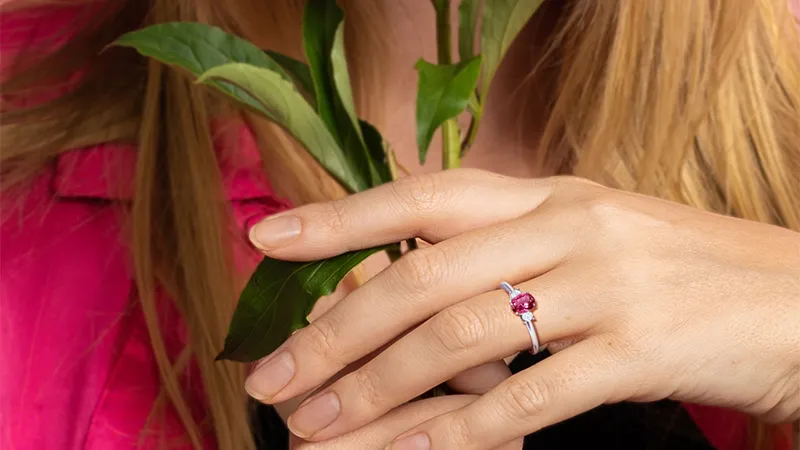 Pink tourmaline rings can effortlessly complement a bohemian-inspired look. Embrace flowing maxi dresses, floral prints, and natural elements like feathers or leather accessories. Look for rings with organic or nature-inspired designs to enhance the boho vibe. Layer your ring with other gemstone jewelry or stack it with textured bands to create a unique and free-spirited style.
Tips to Add More Personalization
If you are purchasing a new pink tourmaline ring for your loved one, here are some more tips to make your pink tourmaline ring a more personalized jewelry piece. 
1. Choose the Right Setting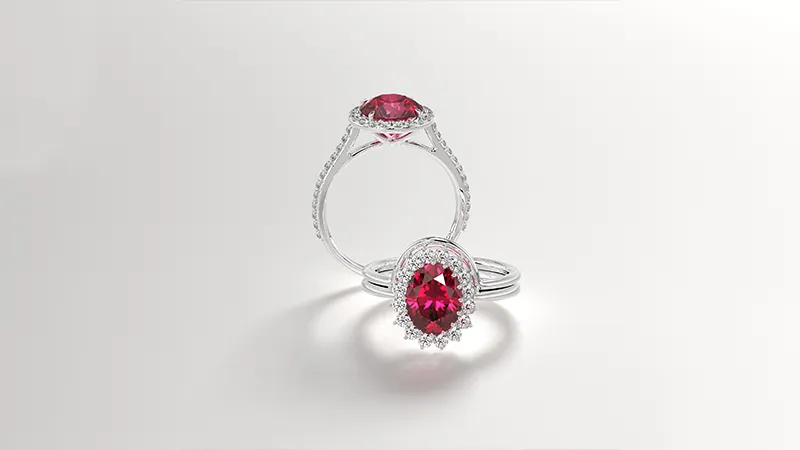 The setting of a ring plays a crucial role in its overall design and aesthetics. Consider different setting styles to find one that complements the pink tourmaline and suits your desired look. Popular options include prong settings, bezel settings, halo ring settings, or even a combination of different settings. Each setting style will give a distinct appearance to your ring, so explore various options before making a decision.
2. Incorporate Additional Gemstones
To add more color, sparkle or depth to your pink tourmaline ring, consider incorporating additional gemstones into the design. You can choose smaller accent stones, such as diamonds, sapphires, or other colored gemstones, to create a beautiful contrast and enhance the overall visual appeal. Experiment with different gemstone combinations to achieve a truly unique and eye-catching effect.
3. Custom Engravings
Engravings are an excellent way to personalize your pink tourmaline ring and add sentimental value. Whether it's a meaningful message, a special date or initials, consider custom engraving options. You can engrave the inside or outside of the band, depending on your preferences. This customization option adds a personal touch and makes your ring even more special.
4. Unique Band Designs
The band of your pink tourmaline ring can be customized to create a distinctive look. Explore various band designs, such as twisted bands, braided patterns or filigree work, to add texture and visual interest. You can also opt for a custom-shaped band or choose a metal finish that complements the pink tourmaline, such as rose gold or platinum. These details can significantly impact the overall appearance of the ring.
5. Custom Cut or Shape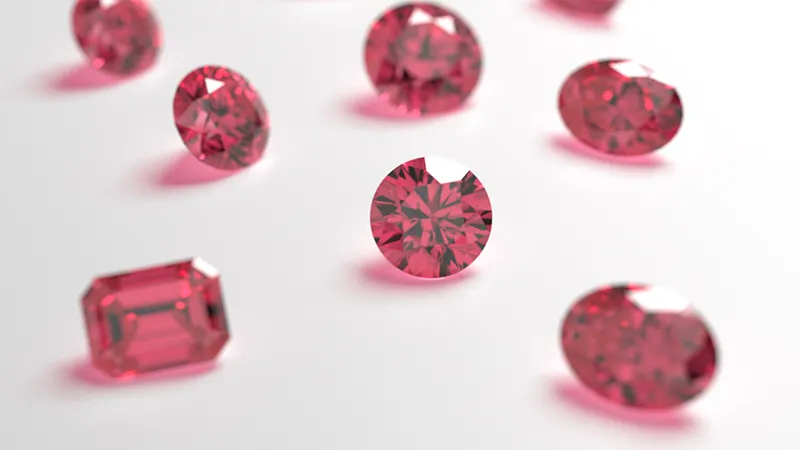 While pink tourmaline is traditionally cut into standard shapes such as round, oval or cushion, you can opt for an unusual cut or shape to make your ring truly one-of-a-kind. Work with a skilled lapidary or jeweler who can create a unique cut or shape that highlights the natural beauty of the stone and suits your style. A custom-cut pink tourmaline can add an extra element of exclusivity to your ring.
Conclusion
Styling pink tourmaline rings is a delightful opportunity to showcase the enchanting beauty of this gemstone. Whether you prefer a classic, contemporary, or bohemian style, the tips and ideas mentioned above will help you create stunning looks that highlight the pink tourmaline's allure. Experiment with different styles, colors and settings to find the perfect combination that reflects your individuality and allows your pink tourmaline ring to shine.
If you want to make it a token of love, customizing a pink tourmaline ring allows you to showcase your creativity and create a truly personalized piece of jewelry. From selecting the right setting and incorporating additional October gemstones to custom engravings and unique band designs, there are numerous ways to customize your pink tourmaline ring. Remember to collaborate with a skilled jeweler, and most importantly, stay tuned to our website for attractive discounts on gemstone jewelry. Have fun, happy shopping!