Natural gemstones started taking shape from the time when the earth came into existence, though the current natural form of these gemstones took millions of years to form. Humans have been adoring these gemstones ever since they were discovered. From precious gemstones to semi-precious stones, the spectrum is extraordinarily wide and ever-expanding. Each of these stones has its own physical & chemical properties and spiritual significance, which makes one different from the others.
In this blog, our focus is on natural peridots that are known far and near for their alluring divine hues. The subtle transparency of peridots is as priceless as the reflection of the green leaves from the dew. Just like the freshly sprouted leaves of a plant, the color of a peridot is slightly yellowish but more inclined towards green. So even though there are a lot many gemstones that are primarily green in color, peridots secure a distinct position in the crowd. So let's figure out some mixing-and-matching tricks for twinning peridots with other natural gemstones and jewelry.
Physical and Chemical Properties of Peridot
Peridots are extracted from the mineral olivine and are primarily found in yellowish-green or olive-green shades. The primary color is green and the secondary color is yellow and brown. However, the color intensity may slightly vary due to the percentage of iron in the base mineral. A higher concentration of iron leads to a brighter green color while lower concentrations cause lighter shades of green in peridots.
Fascinating Facts About Peridots
Peridot is special in many ways; it is formed in the upper mantle of the Earth in the molten rocks rather than inside the Earth's crust. Gem-quality peridots are also extracted from pallasite meteorites. Peridot is also one of those gemstones that are found only in one shade, that is, green. Also, getting gem-quality peridots from inside the Earth is quite a rare opportunity since most of the stones erode while being brought to the Earth's surface. Celebrated as one of the birthstones for the month of August. August Gemstones are a blast of freshness and calmness to the eyes.
Mixing & Matching Peridots With Colorful Gemstones
The pastel hues of peridots go down well with light-shaded gemstones. The transparent light green color of peridot can be contrasted with pink-colored gemstones such as pink sapphire, pink diamond, and morganite. The different shades of blue, such as aqua blue, purple, and violet are also cherished when combining peridots with aquamarine, tanzanite, or amethyst. The yellow hues of citrine and yellow sapphire also make a good pair with peridots. It may sound off but darker tones of green color like the ones in emerald or green tourmaline can also be successfully twinned with yellowish-green peridots for an exotic combo.
Do Diamonds & Pearls Stand a Chance?
Colorless diamonds and white pearls are the two gemstones that can be paired in whatever way you want with any naturally-colored gemstone of light and dark tones. The brilliance of peridot multiplies when surrounded by diamonds, so no matter what the occasion is, the duo can steal hearts and spotlights with a wow expression. Similarly, white pearls can add more elegance and charm to the soothing shades of peridots and the combination is absolutely stellar for flashing cameras on any occasion.
How to Become the Highlight of Every Event?
If you are rooting for stylish peridot earrings adorned with other gemstones but don't know how to carry them, then here are the tips to break the ice. Match peridot and pearl danglers with an off-shoulder evening gown on a dinner date with your Valentine and wait for the magic to begin. Diamond and peridot eternity hoops can give you not more or less but the perfect glam for official meetings and events.
Nothing could outshine the versatility of peridot and amethyst stud earrings. From daily wear to occasional treats, peridot studs are the best deal. A cluster of pink sapphires and peridots set at accurate spots can bring laurels to your bridal shower look while a combination of citrine and peridots could be the best affair for attending a summer wedding. Play hide and seek with dark and light shades of emerald and peridot drops on your nature trip to eternal greens.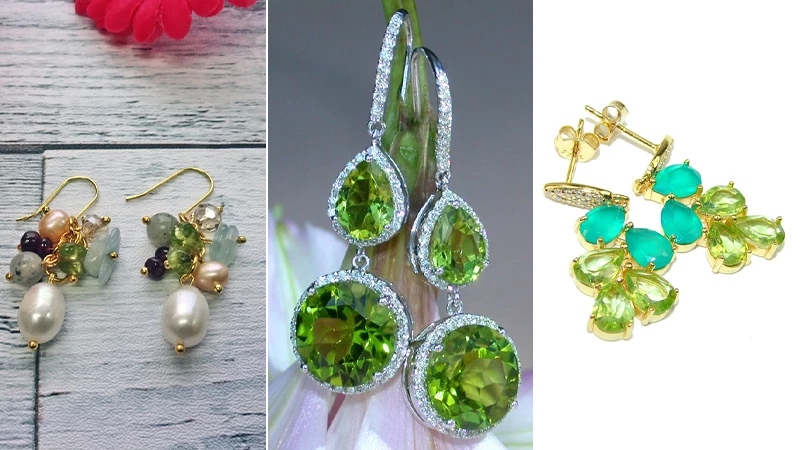 Metal Preferences for Styling Peridots
Peridots are mostly lighter in shades so they look more appealing when embedded in white metals such as silver, white gold, and platinum. Having said that, peridots when embellished in yellow or rose gold give more of a vintage look and feel which is equally attractive. So the metal preference is totally your call, choose the one that suits your budget and is hypoallergenic to avoid skin reactions.
Peridot Symbolism At a Glance
The natural green color of peridots symbolizes the renewal of life as depicted by the green shades of the spring in nature after the dry autumn bids farewell. The green color also represents tranquility, peace, hope, and optimism which are also traits of mother nature. Since the peridots are also green in color, they attract peace and balance in life & relationships. For good health and restful sleep, people are advised to wear peridots.
As per ancient beliefs, peridots were thought to subdue fear and help with sound sleep without nightmares. People from ancient civilizations believed that keeping peridots close would cause spiritual growth and awakening, thus helping the wearer realize their dreams and destiny. However, there are no scientific proofs of any of these theories.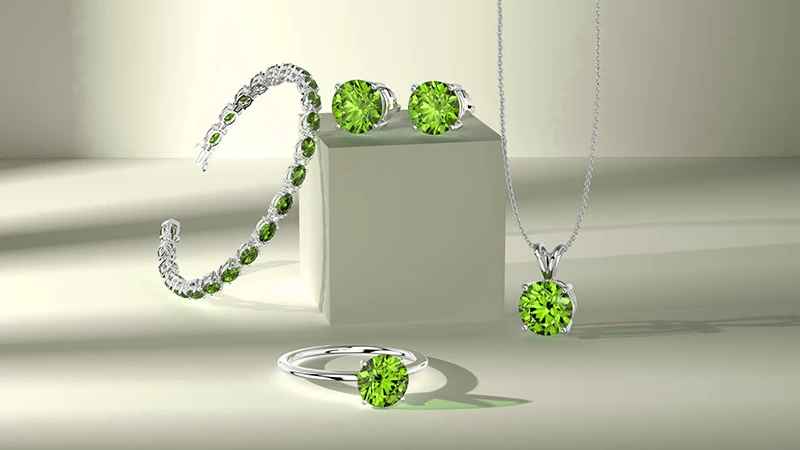 Parting Thoughts
Peridots are often confused with other naturally green-hued gemstones including emeralds for minute differences in color tones and intensity of these stones. But for true admirers, the charm of natural peridots can't be replaced with any other green-colored gemstone. Let your love for peridot ripe with the exquisite range of peridot jewelry on our website. Browse our peridot studs, bracelets, pendants, and rings in classic and designer settings. Our bridal peridot earrings are the highlight, so curate a pair just like you—charismatic and bright!