We know girls, you can glam up any occasion with your pretty smiles and charming faces. Be it conducting workplace meetings, hosting family get-togethers, catching up with pals, or dazzling dinner dates, you have that magnetic attitude and hypnotic gaze that can steal a million glances into your charismatic maze. But that doesn't mean our gemstone and jewelry sparklers can be phased out.
Flashy danglers, funky neck pieces, expressive tiaras, statement rings, and embellished bracelets—the list of contemporary jewelry options is ever-expanding. But again, that doesn't mean you must opt for the same pieces of jewelry every time when there are ample unique jewelry options to grace every outing and highlight every look. In this article, let us explore some popular jewelry options which are creating new trends in the world of bridal jewelry.
Are You Getting Hitched?
There must have been a few events you would have dressed your best for. But could anything be more special than being adorned as a bride? Even the angels from heaven would be envious of that flowing tail of your wedding gown paired with a pretty bouquet of flowers spreading the fragrance of love all over the town. Aren't you craving some gemstone bling to start a new life with your soulmate on your wedding day? Walk the aisle with a velvety pair of high heels and be the showstopper of the day with the following wedding jewelry pieces: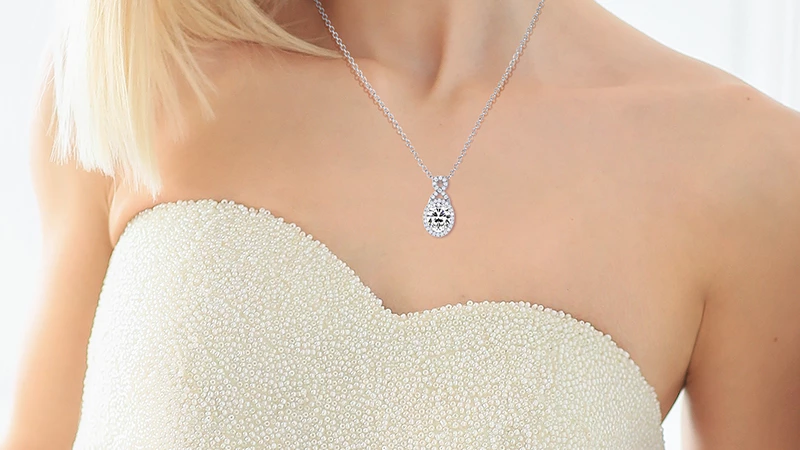 Bridal Necklaces
Want to give your bridal attire a personal touch? Whether you opt for classic necklace designs or go with contemporary neckpieces, when it comes to wearing a necklace with your bridal attire, it must rest on your neck and not on your dress. A thoughtful selection of bridal necklaces can either embellish your wedding look with unadulterated glow or make it go overboard.
For instance, donning a necklace with a high-neck wedding dress will only exaggerate your look, instead, let only the high collar of your dress adorn your neckline. But for a sweetheart neckline or strapless dress, a vibrant neckpiece is a must, and we would recommend a choker necklace for a flawless look. Statement pendants will make your neckline more expressive when paired with a V-neck engagement gown.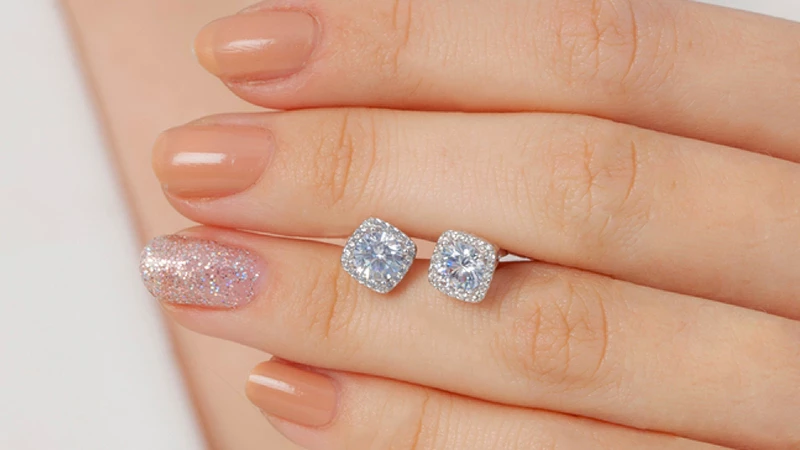 Bridal Earrings
If there is only one piece of jewelry that would tune accurately with your wedding dress then it would be a piece of exquisite earrings. No matter what kind of dress you choose to wear at your engagement or wedding ceremony, you will always find a perfect pair of earrings to glam up your big-day look. For those who want to opt for traditional jewelry options, gold, diamond, or pearl earrings are ever-green wedding jewelry aesthetics.
For amazing and affordable price tag alternatives to elevate every bride's swag, grab some colorful semi-precious beauties in your jewelry bag. Since it's your wedding or engagement event, you will always be in the spotlight so for a confident and amiable appearance, opt for comfortable earrings. For instance, if the excessive movement of danglers or chandelier earrings tests your patience then it's best to avoid wearing them on your big day. You can instead go for chunky but small hoops or cluster earrings for a modest yet extravagant look.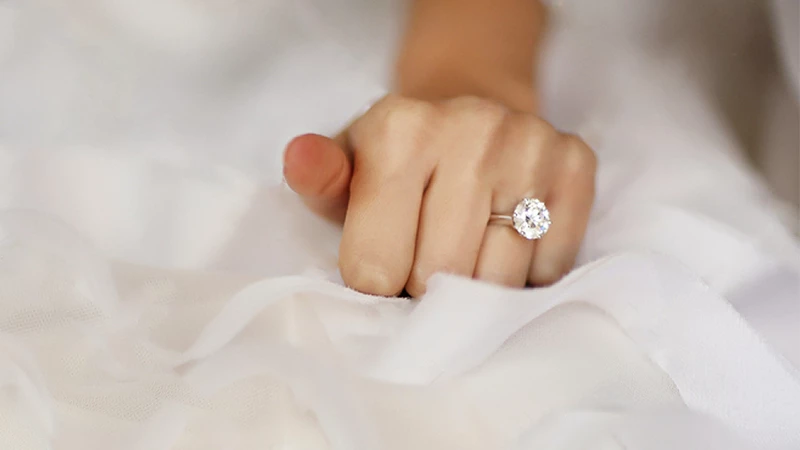 Bridal Rings
Well, if it's your big day then it will always be your engagement ring and wedding band that will be the highlights of the day. Before curating your emblems of love and affection, you must consider your budget, personal preference, gemstone quality, prong setting, and metal choice. Since hunting for so many traits in a single ring is not a piece of cake, you would probably search for the best of the most viable engagement ring options in different price ranges and styles.
Then comes the wedding band which is either stacked with the engagement ring or worn separately. Accordingly, you need to consider wedding band options as well and then, finally, if you feel like wearing something else on your hands then you can always go for additional rings or hand chains for an eye-popping look.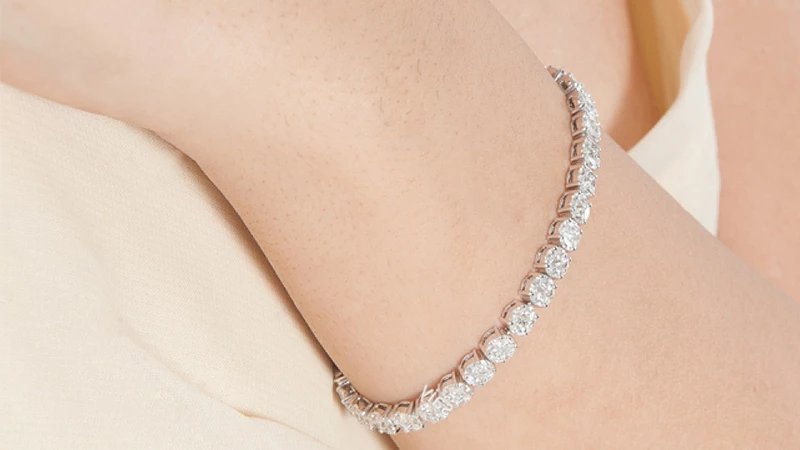 Bridal Bracelets or Bangles
A gemstone or metal bracelet can be a perfect bridal accessory to give off royal vibes, especially if you're wearing an off-shoulder outfit or one with short sleeves. Just like necklaces, bracelets or bangles can be appreciated only on bare skin so wearing one with a full-sleeve attire would be practically useless since your bracelet won't be visible most of the time.
Some commonly preferred metals and design options could be layering sleek yellow gold bangles, flaunting white gold, platinum, or silver link bracelets, or going with a classic diamond or pearl eternity bracelet. Statement wedding looks can be crafted with bracelets made up of beads, seashells, or even charms.
Bridal Headbands or Tiaras
Don't you think the queen of the day deserves to be crowned like one? Majestic tiaras, headbands, hair combs, and hair clips have been trending hair accessories for brides for decades now. Whether the bridal avatar is traditional or contemporary, one of these spectacular pieces will definitely complement the bride's look. These adornments not only keep your flowing hair intact but also raise the glamor standards high.
Likewise, decorative pieces of chiffon embroidered with laces can make up beautiful veils or satin ribbons to tie down your long braces. Just like any other piece of fine jewelry, bridal tiaras, and other hair accessories could be made of fine metals such as gold, silver, or platinum with diamonds, pearls, or other gemstones embedded in them.
Bridal Jewelry: Gemstone & Metal Choices
Modern brides often opt for platinum jewelry or diamond jewelry while traditional ones may choose yellow or rose gold jewelry. The metal choices should not only be budget-friendly but hypoallergenic as well. Pearl Jewelry is reserved for sophisticated brides while floral jewelry is the most affordable and yet the most natural and colorful bridal jewelry alternative.
Antique designs in precious gemstones such as emeralds, rubies, and sapphires are being sought after by fashion-conscious brides since vintage is the new trend in the 21st century. Apart from this, multi-colored natural gemstones, especially those in pastel shades, are also attracting the attention of 21st-century brides.
Some Popular Varieties include:

Tanzanite
Alexandrite
Morganite
Citrine
Topaz
Peridot
Tourmaline
Aquamarine
Spinel
Garnet
Amethyst
Zircon
End Note
With a wide range of trendy jewelry options available, your wedding jewelry fantasies will never be a dream that can't come true. When it's bridal jewelry in the picture, there's no way you could ignore GemsNY's wedding and engagement jewelry collections. Illuminate the most blissful day of your life with GemsNY's classic jewelry options such as diamond jewelry, gold jewelry, and platinum jewelry.
Want to be a trendsetter bride? Browse designer statement jewelry options in precious and semi-precious gemstone jewelry. Set your marital relationship goals with mementos from our wedding ring options or get your dream ring carved out by using our customized jewelry options. If there is a will, GemsNY is the ray to find your bridal jewelry on the way to a magical journey of love, trust, loyalty, and faith.