Tanzanite and Aquamarine are two gorgeous gemstones. The only thing they have in common (apart from being gorgeous) is their remarkable blueness. If you've got a case of the blues and want some precious rocks for yourself, Aquamarine and Tanzanite should be on your list as worthy contenders.
Introduction: Tanzanite vs Aquamarine
Aquamarine finds its origins in the Latin phrase 'Aqua Marina' which means 'Water of the Sea'. A fitting description because it is just as difficult to capture the striking beauty of aquamarine as it is to capture the unruly beauty of the sea. In ancient Rome, men of the sea used to carry it with them on voyages for good luck. If you are a March baby, follow the Roman sailors and get yourself some aquamarine because it is the birthstone designated to March. It is also the anniversary stone for the 19-year milestone.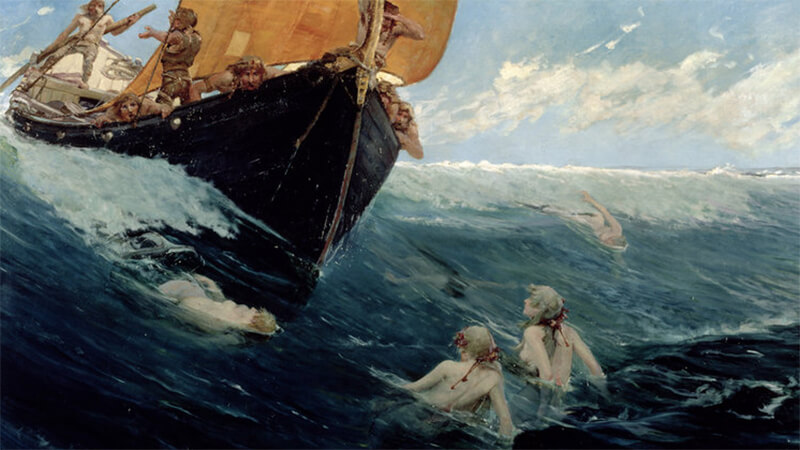 Tanzanite derives its name from the nation of Tanzania in East Africa, where it was discovered by the foothills of the dormant volcano Kilimanjaro. It is in good company among Zircon and Turquoise as a December birthstone. It was declared a December birthstone in 2002, becoming the first gemstone to be added to the official birthstone list since 1912, making it the new kid on the block. If you are celebrating the 24th milestone of your marriage, tanzanite, as the official anniversary stone for 24 years is the perfect gift.
Color 
Even though both are blue gemstones their colors are vastly different and equally dazzling. Aquamarine is icy blue; its coolness is at once electric, as well as soothing. The transparent blue of aquamarine can sometimes lean slightly towards yellow or green. 
Tanzanite poses a triple threat as a trichroic gemstone. Depending on angles and lighting, tanzanite can appear blue, purple or reddish brown. Largely, the color ranges from subdued lilac with traces of cool blue, to decadent blue sporting hues of purple.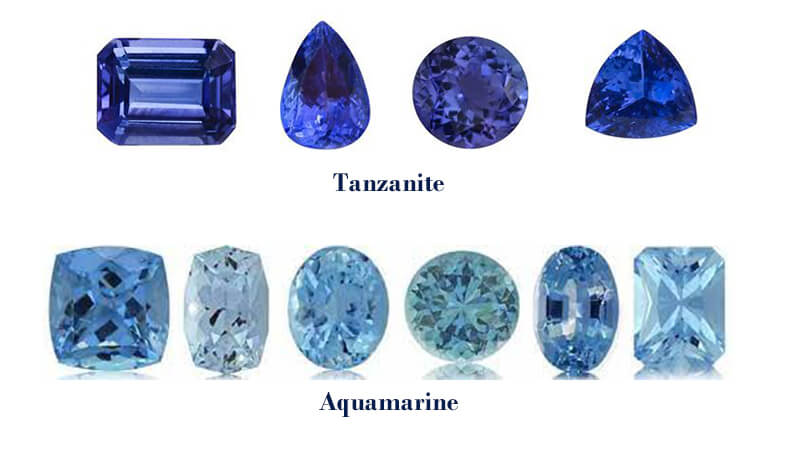 Clarity 
Both stones have high clarity. Aquamarines have commendable clarity with minimal inclusions. Tanzanite follows suit; it does not contain any impurities which can be detected by the naked eye. Any flaw can only be detected under a microscope.
Durability
Aquamarine ranks high up on Mohs scale of mineral hardness with the score ranging between 7.5 and 8. This indicates that it is a sturdy rock able to effectively withstand occasional blows and friction.
Tanzanite on the other hand leans towards the softer side. Ranking between 6-6.5 on the Mohs scale, it is susceptible to damage and can even break if struck with force. This does not mean tanzanite needs to be locked up for special occasions. Feel free to wear it on a daily basis if you want but in either case, it needs to be treated with special care.
Rarity 
While the largest deposits of aquamarine are found in Brazil, it is also mined in India, Africa and several other countries. This implies that the conditions required for its genesis are rather common.  
Where tanzanite falls back in durability it makes up for in rarity. Tanzanite is so unique that it redefines exclusivity. It takes thousands of years to develop under extreme geological conditions which have only been found at the foothills of Kilimanjaro. The probability of it being discovered anywhere else is less than "one in a million". This, combined with the likelihood of tanzanite deposits being exhausted in the near future, makes it extremely rare and one of the best gemstones to invest in.
Also Read, >> Notable Tanzanite collection || December Birthstone
Price
As the rarer stone, tanzanite is pricier than aquamarine. Aquamarine is more reasonably priced and therefore can act as an alternative to tanzanite. However, since tanzanite offers such a lucrative investment opportunity its high price shouldn't easily deter motivated buyers.
Summary
| | | |
| --- | --- | --- |
| Parameter | Aquamarine | Tanzanite |
| Color | Light blue | Blue-Purple |
| Clarity | High | High |
| Durability | Higher | Lower |
| Rarity | Low | High |
| Price | Lower | Higher |
Verdict
After considering these differences it is evident that both aquamarine and tanzanite are unique and spectacular in their own right. It will be helpful to conflate the qualities of each gemstone with the qualities that are important to you, in order to make a decision that serves your interests best.
In the battle of the blues, both Aquamarine and Tanzanite emerge champions.
GemsNY has a huge collection of tanzanite & aquamarine gemstones and jewelry. If you're a December born, then now is the right time to pamper yourself with luxurious violet-blue tanzanite. Explore the huge collection of tanzanite pendants, rings, and earrings at GemsNY to accentuate your neckline. You can also design your own jewelry with the scintillating aquamarine or any color gemstone of your choice.