In the world of exquisite jewels, few can compete with the allure and beauty of spinel gemstones. With its undeniable brilliance and a spectrum of colors ranging from rich reds to bright blues, spinel has grabbed the attention of all jewelry lovers and enthusiasts. When incorporated into jewelry, this mystical gemstone exhibits a unique sort of radiance that has been cherished for centuries. Amidst the huge realm of spinel adornments, the most famous are the spinel earrings. So, today, we'll discuss the unmatched luxury of the top ten expensive spinel earrings that can effortlessly grace any jewelry collection. Stay with us till the end to learn more!
The Mystical Red Radiance
Let's embark on this list with a pair of unique spinel stud earrings featuring rare Burmese red spinels. Each gemstone weighs over 5 carats, possessing a gorgeous crimson color that is highly appreciated amidst gem lovers. Bedecked in platinum, the rich red spinels are then emphasized by a halo of precisely-cut diamonds, creating a mesmerizing juxtaposition of colors that symbolizes grace and elegance. 
The Enchantment of Ocean
Blue spinel drop earrings showcase the tranquil azure tones of the ocean. A teardrop-shaped blue spinel gemstone, suspended with a round-shaped one, a total of  10 carats, creates a true piece of fine art that ensures to turn heads. What makes these ensembles stand out is the diamond halo that encircled each spinel, showcasing the stunning waves of the ocean. This design exemplifies that spinel can be merged with diamonds, creating a harmonious design.
The Ageless Allure of Pigeon Blood Red Spinel Earrings
Timeless beauties never go out of style. These spinel cluster earrings feature a pigeon blood red spinel gemstone in the centre, fenced with smaller diamonds. The perfect 6 carat spinel gemstone of this design is the emblem of ageless allure. Whether incorporated in silver or platinum, these red spinel earrings exhibit an essence of splendor that surpasses the test of time. This elegant yet sophisticated ensemble is a testament to the captivating allure of spinel jewelry, giving a classic touch that will be cherished forever.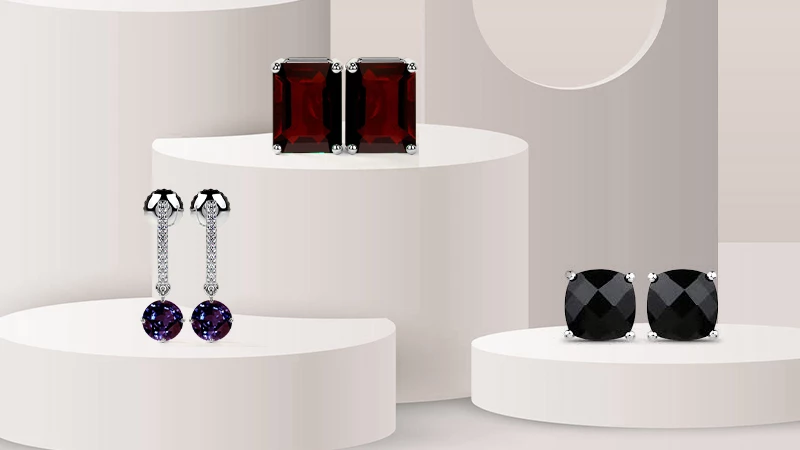 The Royal Affair
Fit for a queen, these spinel and diamond earrings ooze out regal charm. A duo of oval-shaped blush pink spinels weighing 8 carats each, bedecked with a diamond-studded crown-like design. This design is a perfect representation of the radiant beauty that spinel and diamonds exude when merged together, ideal for those who desire to showcase their royal personalities.
The Midnight Symphony
Dark and majestic, a pair of exquisite black spinel earrings steal the spotlight with their 12 carat weight. Incorporated in a classic gold or platinum band, prettified with black diamonds, this ensemble is a tapestry of dark beauty and charm. The addition of surreal black diamonds elevates the dramatic effect, leading to a symphony of night's brilliance that is truly captivating.
The Gorgeous Greens
For nature lovers, these gorgeous green spinel earrings are the ultimate choice. Oval-shaped, natural green spinels, each weighing 7 carats, are reminiscent of green landscapes of nature. They are crafted in a cascade of emerald-cut diamonds that illustrates the beauty of dew-kissed leaves. These designs are a one-of-a-kind piece, encapsulating the sense of a vibrant forest in a stone form. Green spinel gem is a true testament to its splendor and potential to exhibit the uniqueness of the outdoors.
The Celestial Blues
Blue spinel stud earrings evokes the sense of beautiful summer morning sky, a true tapestry of the beauty of nature. These settings feature two exquisite cushion-cut azure spinels, a total of 8 carats, fenced with a halo of dazzling diamonds, representing a chromatic contrast that is reminiscent of a halo of clouds. These ensembles are a true piece of fine art made with subtle and surreal beauty of blue spinel, making them an ideal extension to any jewelry collection.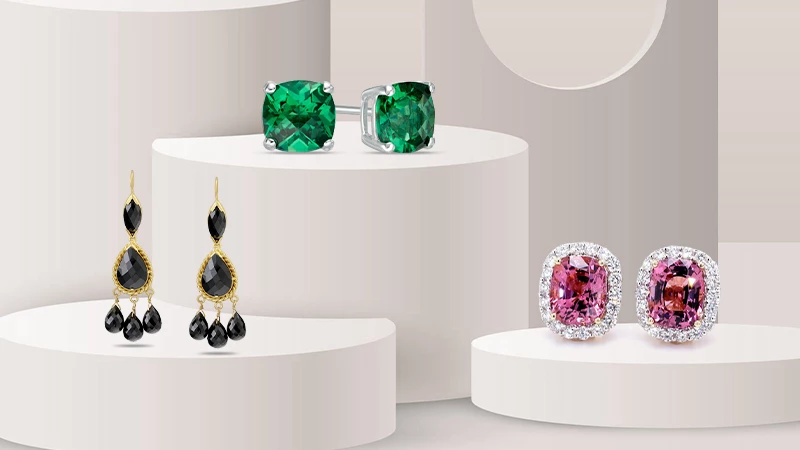 The Victorian Elegance
Exuding the elegance of the Victorian era, these unique chandelier spinel earrings present cascading spinel briolettes and striking diamond accents, creating an essence of luxury and grandeur. The complex design and peerless artistry of these earrings take us back to the golden era of charm and grace, making them a one-of-a-kind piece. 
The Bohemian Pinks
Pink Spinels take the centre stage in these earrings. For those who love pink, these spinel earrings will rekindle your love for this color. Pear-shaped pink spinel gemstones weighing 5 carats respectively are gracefully suspended from diamond adorned hoops, creating a mesmerizing look that possesses a graceful and feminine charm. These earrings are a statement to the versatility of pink spinels, which range from subtle, romantic to bold and fearless, depending on the style. 
The Harmonizing Stars
Our list ends with these night sky inspired spinel stud earrings. Two dazzling star shaped spinel gemstones, each with the carat weight of 4, are an epitome of cosmic beauty. When incorporated amidst a constellation of striking diamonds, these earrings create an illusion of star-studded night. These earrings are a witness to the various artistic possibilities that spinel provides to jewelry designers, permitting them to create a piece that is truly stunning and out of this world.
Summing Up
Spinel earrings are treasured not just for their exquisite beauty but also for their uniqueness and rarity. These top ten most expensive spinel earrings are a tapestry woven with ageless allure of these gems. These exquisite earrings serve as a reminder to the remarkable artistry and peerlessness that spinel jewelry provides to those who truly admire the unique and extraordinary things in life. 
To order a pair of gorgeous spinel earrings, explore our website and take advantage of inspiring discounts on your first order.