Sapphires – the second hardest gemstone in the world comes in all shades of the rainbow, from blues to pinks to yellows to even white, the only exception is the red color! That is because the rich red stones formed out of the same mineral corundum, has their own identity in the gemstone world! They are known as rubies.
The king of gemstones and the stone that is known for its subtle elegance have a lot in common but are a little different from each other. Yes! We are talking about the gorgeous red rubies and the pink sapphires!
If asked to choose – Ruby or a Pink sapphire? Which one will you choose? You might get a little confused. Here is a detailed analysis to make the choice a little easier for you!
Hardness
Since rubies and pink sapphires originate from the same mineral, both gemstones have the same level of durability with a score of 9/10 on the Mohs scale of hardness, making both of them the second hardest rock in the world, second only to diamonds. Want to buy jewelry to be worn on an everyday basis? These two gemstones are a perfect choice.
Symbolism
All the gemstones around the world have a deep spiritual meaning attached to them and so do rubies and pink sapphires.
Rubies Meaning – Passion, good health, wealth, wisdom, success in love
Pink Sapphire Meaning – Good Fortune, Power through hardships, compassion, intense love
The supposedly magical qualities of ruby extended to offering protection when worn as a talisman. People used to believe that by wearing the stone on their left i.e on their heart side, they would be able to live peacefully without an health and wealth issues. Nobody could claim their land or position. The stone would protect them from all dangers even the perils of a storm or a natural catastrophe.
Pink sapphire is also not distant from certain beliefs and symbolism. In astrology it is supposed to represent the planet Venus though there are other gemstones also for that representation. It is supposed to provide its wearer with better logical ability and judgment, leading to a more successful profession. Besides, it also provides emotional stability.
Color Differentiation
One of the most sought-after gemstones is the ruby. However, the subtle elegant pink sapphire comes from the same mineral called corundum. The major difference between these two stones is their color.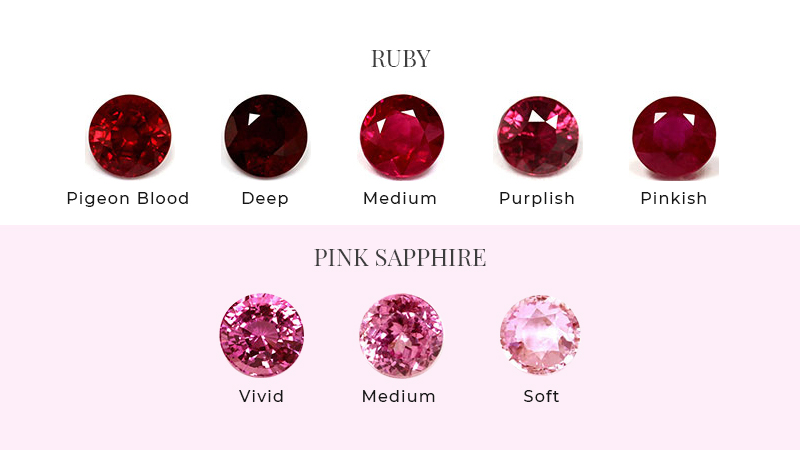 Rubies receive their rich red color from the impurities of the element chromium, the higher the concentration of chromium the more saturated red color it shows, whereas the sapphire is known to have impurities like iron, titanium, and chromium which gives this mineral an array of colors!
Although, the presence of chromium in low quantity is what makes the sapphire pink in color, it's the strength of the shade which puts the gemstone either in the category of sapphire or ruby. When the concentration of chromium in the mineral increases so as to term it red instead of pink, we call it ruby. The most coveted color of ruby is the pigeon blood red.
Price Differences
Ruby stone have always had a special place in people's heart as it has already made a place in the special "Precious Gemstones" list. Rubies are known for their bold red color, but here's a fun fact, most rubies are actually pinkish or purplish-red. The pigeon blood red is extremely rare and because of this rarity, rubies with this color saturation are always marked at a higher price point. The more popular ruby gems almost always have undertones of pink or purple.
Pink sapphires have recently gained a lot of attention due to their color and are being used as wedding jewelry and in engagement rings for their elegance and subtlety. The beautiful pink stones in comparison with rubies are priced quite economically!
Verdict
Both these stones are extremely durable and resilient for everyday use, which automatically makes them a perfect gift for your loved one and for yourself. Although keeping the price factor in mind, the pink sapphire would definitely win the battle as it is economically priced and won't drain your pockets as a high-quality ruby might.
Keeping all the factors in mind, both the gemstones have equally won our hearts, and making the right decision will always be in your hand keeping your preferences and personal style in mind.
Face off Summary Table
| | |
| --- | --- |
| Ruby | Pink Sapphire |
| Mineral – Corundum | Mineral – Corundum |
| Color – Red – Pigeon Blood, Deep, Medium, Purplish, Pinkish | Color – Pink, Intense Pink, Vivid Pink, and Soft Pink |
| Mohs Hardness – 9 | Mohs Hardness – 9 |
| Symbolism – Passionate, good health, wealth, wisdom, success in love | Symbolism – Good Fortune, Power through hardships, compassion to the wearer, intense love |
| Origin – Burma, Madagascar, Thailand, Tanzania, Mozambique | Origin – Sri Lanka, Myanmar, East Africa |
| Price – Can be expensive according to the quality one is buying | Price – Comparatively economical |
If you want to own any of these magnificent gemstones (or maybe both), then you must check out our collection of high-quality natural rubies and pink sapphires here on our website.
Also Read,
6 Most Famous Rubies | Celebrity Ruby Engagement Rings