Step into the shimmering world of heartfelt wedding jewelry styles, where love and bling coalesce…
Picture this — The sun is shining brightly, and the sky is blue and clear. The day you have been dreaming of since you were a little girl is finally here! You are walking down the aisle dressed in a gorgeous white gown and can feel your heart racing.
Wedding bells are ringing, and love is in the air! Are you a bride-to-be searching for the perfect bling or just someone who can't resist a dreamy and sparkly story? No matter your reason, you are at the right place because you are in for a treat. Today, we are diving deep into the dazzling and enchanting realm of wedding jewelry styles that will tug at your heartstrings. From custom creations to classic beauties, we have it all.
Grab your favorite drink and get cozy as we embark on our journey to explore these styles!
Bespoke Creations — Love Crafted Just For You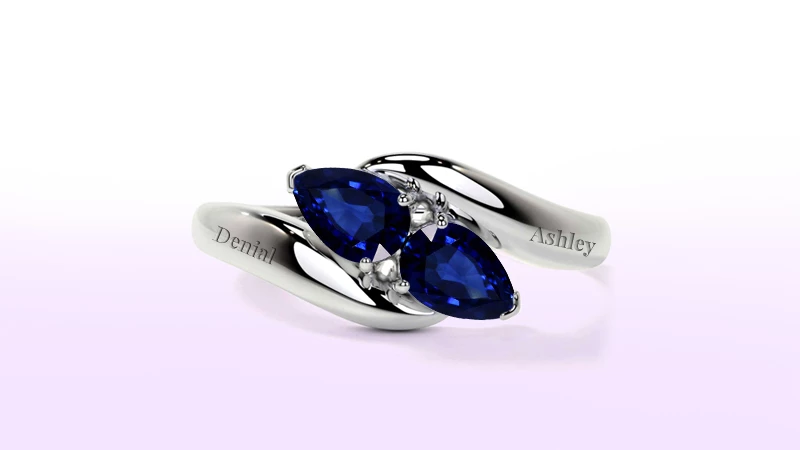 There's something incredibly romantic about personalized wedding jewelry. After all, nothing says "I love you" the way these customized creations do. It is like conveying your love story through metal and gemstones. It could be anything, from a wedding band with special engravings to a bracelet featuring your and your partner's birthstone. These jewelry pieces carry deep meaning and sentiments and reflect your unique love. Wearing customized jewelry on your big day will make the occasion all the more magical and unforgettable for you! Wouldn't you agree with that?
Nature's Embrace — Where Romance Joins Hands With Mother Earth
Nature's beauty is a mesmerizing symphony of vivid colors and fascinating shapes. If you are a nature lover, this jewelry style will be like a heartfelt embrace from Mother Earth on your big day! You can find the beautiful hues of nature in gemstones; the pleasant blue sky in aquamarines, the greenery in emeralds and tsavorites, the sunshine in yellow sapphires, the red roses in rubies and spinel, the Sakura blossom in morganites, the deep oceans in sapphires. The list could go on and on.
You can carry a piece of the magnificent outdoors with you by opting for nature-inspired heart-touching jewelry!
Vintage Treasures — A Test of Romance
Vintage wedding jewelry will never go out of style! They possess a classic and irresistible appeal that is loved by many. When you choose vintage pieces for your wedding jewelry, you add a touch of history and romance to your special day. These treasures, whether Art Deco-inspired jewelry or heirloom pieces, carry the whispers of past love stories. These are more than just accessories but also sentimental jewelry designs.
Give your wedding look a unique, timeless, and elegant touch with the help of vintage wedding jewelry pieces.
Minimalistic Touch — Less is More
Minimalism is no longer just a design trend. It has become a way of life for many. From interior decor to fashion, minimalism has made its way to nearly everywhere. And the jewelry industry is no exception. If you believe that elegance can be achieved by simplicity and less is more, minimalist jewelry designs are for you.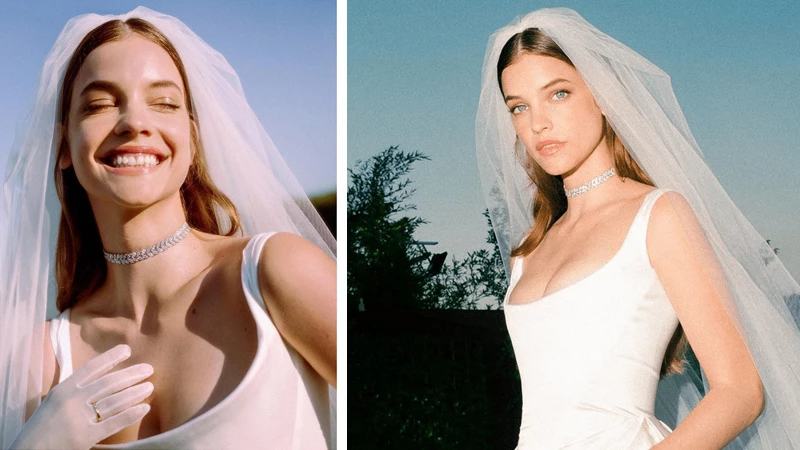 You can wear a delicate diamond pendant or classic sapphire studs or opt for simple wedding bracelet styles. It is a style that whispers elegance and beauty rather than shouting it. Do it like Barbara Palvin (now Barbara Sprouse) did on her big day, and shine radiantly with a piece of minimalist jewelry and a beautiful smile!
Symbolic Pieces — Express Your Love Beyond Words
Have you ever felt that you are at a loss for words when expressing your feelings? Sometimes, what words can't convey, your jewelry can! Symbolic wedding jewelry is a heartfelt choice that communicates the depth and essence of your love. These pieces, whether an infinity ring, a pair of classic birthstone stud earrings, or a heart-shaped pendant, can convey emotions that words can't capture.
Wearing such symbolic jewelry pieces on a special occasion, like your wedding, elevates the ceremony, infusing it with a timeless aura. Choosing such pieces reflects your desire to express your love beyond words and ensure that your wedding day harbors fervent sentiments that will resonate through the years.
What's Your Pick?
It goes without saying that your wedding jewelry is no ordinary accessory but a part of your love story. Whether they are sentimental classics, nature-inspired pieces, or vintage treasures, each wedding jewelry style tells a tale of love, emotions, and memories.
So, wear your jewelry with pride and shine as brilliantly as your love does! Celebrate the beauty of love and bling together and make your wedding day unforgettable!