Those lucky enough to celebrate their birthday in the month of October get to choose from two amazing birthstones – either the magical opal (modern birthstone) or the traditional tourmaline (specifically, pink and paraiba tourmaline). Between these two October birthstones and the myriad of color spectrums they offer, you can definitely find a gem to suit your personal taste, then set in your preferred jewelry.
Tourmaline is a semi-precious gemstone known for its vast variety of colors. As October is, however, the month of pink everything, pink tourmaline is generally the preferred choice of tourmaline among the October-borns. Pink tourmaline is also known as rubellite. Its sister stone that comes in a range of hues, paraiba tourmaline, is another great October birthstone. Comparatively, pink tourmaline has graced the market for a longer period of time than paraiba. It's because, paraiba tourmaline is a relatively new discovery, first mined in the 1980s.
Paraiba tourmaline is one of the most-coveted tourmalines because of a soothing color and incredible rarity. Its color and rarity are the most crucial reasons why the gemstone has become famous in such a small period of time. Paraiba tourmaline's calming hues are highly cherished by the people born in October.
Opals, known significantly for their dramatic play of colors and shifting hues depending on light, are as magical as everyone claims them to be. Opal too, comes in a variety of shades, ranging from whites to blacks to greens, giving us a huge collection to choose from. Opal comes from a hydrated amorphous form of silica, and due to its amorphous form, it is known as a mineraloid.
Now that you've got a little sneak peek into the world of October birthstones, let's learn a few more things.
1. Pink Tourmaline
Rubellite or pink tourmaline is a variety of tourmaline that gets its gorgeous pink hues due to the presence of aluminum or iron responsible for varying intensity of pink shade. Pink tourmaline is one of the rarest gemstones in the world and the most sought-after variety of tourmaline.
It ranks 7.5 out of 10 on the Mohs scale of hardness, making it fairly durable and versatile in nature. Due to its high durability, pink tourmaline can be molded into exceptional jewelry which can be used in the day-to-day routine.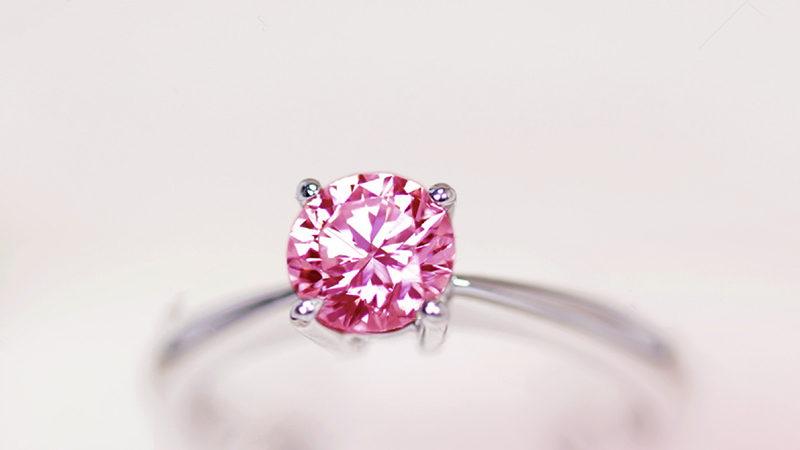 Tourmaline is mined all over the world. Countries such as the USA, Africa and Brazil are the major producers of tourmalines. The clarity in a high-quality pink tourmaline is often praised, as it's comparable to that of a diamond. GemsNY has a huge variety of this rosy October birthstone in all shapes and sizes.
2. Paraiba Tourmaline
There are many gemstones that are rare, but only few are as rare as the rarest variety of tourmaline, paraiba tourmaline. While other gemstones have deposits all over the world, paraiba tourmaline only has few deposits. Moreover, paraiba tourmaline is even rarer than diamonds. For perspective, just one paraiba tourmaline can be mined in the time taken to mine 10,000 diamonds.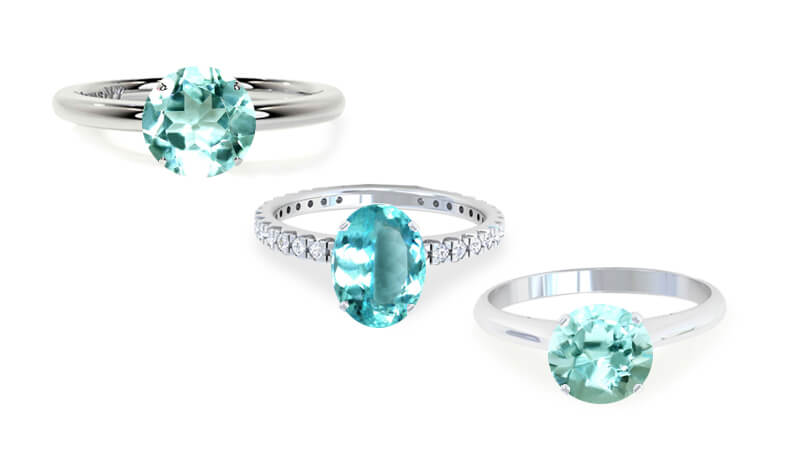 Paraiba tourmaline also comes in a range of colors, including blue, green, bluish-green, etc. In spite of paraiba tourmaline's late discovery, the gemstone has become personal favorites of many. The relaxing color of this gemstone has tickled the fancy of those looking for an eye-catching gemstone to be embellished into a jewelry piece. Paraiba tourmaline is your best bet if you connect with the tranquil vibes of the ocean.
Some of the varieties (or species, as they are often termed) of tourmaline are well known all over the world.
Schorl Species: Brownish-black to black variety of tourmaline falls under schorl.
Dravite Species: Dark yellow to brownish-black variety of tourmaline.
Elbaite Species: The bright color variety of tourmaline falls under elbaite.
Facts about Tourmaline
Tourmalines are sometimes called the "Cyolenese Sri Lankan Magnet". Due to their pyroelectric characteristics, they can both attract and repel hot ash.
The term tourmaline is derived from the Sinhalese word "tōramalli," which means 'stone with mixed colors'.
Tourmalines also possess the characteristics of being dichroic. This means that when the gemstone is held at different angles, its shades can vary in intensity or change overall appearance, due to lighting.
3. Opal
Is any gem prettier than Opal? The 'queen of gemstones' is one of the most beautiful stones ever found; with its scintillating play of colors and sheer range of hues, it is one of the most desired gems to date.
Opal is a hydrated amorphous form of silica which in itself is a form of mineraloid. This magnificent gemstone is a result of deposits at low temperatures in between the fissures of any kind of rock.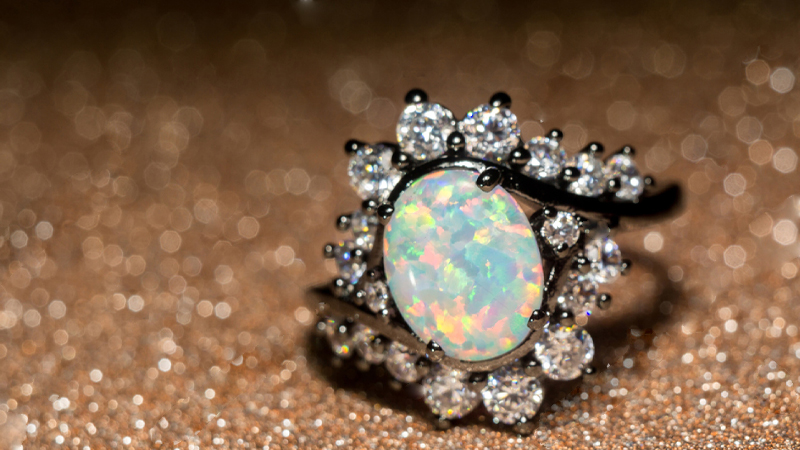 On the Mohs scale of hardness, opal ranks from 5.5 to 6 out of 10, making it a rather soft gemstone in comparison to other colored stones. Even though it qualifies to be set into fine accessories that can be used every day, regular care must be taken to increase its life.
Opals can be found all around the world. Australia, Brazil, Mexico, Ethiopia are some of the major producers of this beautiful October birthstone.
As opal comes in an array of colors, there are different varieties of it that one should know about.
Fire-Opal: This variety of opal is generally transparent or translucent, with warm shades of colors like orange, yellow, or red.
Girasol Opal: This variety is often confused with fire opal. They are transparent to semi-transparent milky quartz and also display asterism. A true Girasol opal reflects a bluish-green or neon-ish glow depending on the lighting.
Peruvian Opal: These are the semi-opaque to opaque opals with blue-green shades.
There are way too many different types of opals for you to not find one that suits your style.
Facts About Opal
Opal has been found on Mars. Only a few gemstones have been found in outer space and opal is one of them.
Queen Victoria had a very large collection of opals and it was believed to be her favorite gemstone.
Opal is also known as the national gemstone of Australia. Australia is the major producer of opals, 95%-97% of the world's supply comes from the land of kangaroos.
GemsNY is a bespoke jewelry store in New York that believes in redefining luxury. We have a vast collection of tourmalines that you can make your own jewelry from! Even though Opals are something that we do not trade-in, we can definitely source it on special request. You can get your dream gemstone/jewelry, just like you imagined it! Explore our tourmaline jewelry collections here.