Sapphires are by far one of the most popular color gemstones in the world. Though they are most popular for their intense blue color, sapphires can be found in almost all the colors of the rainbow, ranging from pink to white. On the Mohs scale of hardness, they rank next only to diamonds, at 9 out of 10, making them extremely durable for everyday jewelry. As sapphire is cut to maximize their color, they are available in various styles of cuts and are sure to please anyone who seeks to add vibrant color to their fine collection. If you're seeking an understanding of sapphires or looking to add a sapphire to your collection then this article is definitely worth a read for you!
All About Blue Sapphire Color Grading
Sapphires are available in a variety of colors and varying levels of saturation; we recommend defining your search to the preferred color and color intensity you seek. There is no right or wrong answer when choosing, as ultimately, it's a matter of personal preference but you should always check that a gemstone should have a uniform color tint.
Although sapphires come in all colors, one of the most sought-after colors is the intense blue. Due to their varying entrancing appearance and durability, it's no surprise because more couples are seeking sapphire engagement rings instead of the traditional diamond ring. Due to their high demand and popularity, their value continues to trend upward, adding prestige to this precious gemstone.
At GemsNY, we have one of the largest collections of natural sapphires available to the public for purchase and we are confident you will find something in the hue that suits you.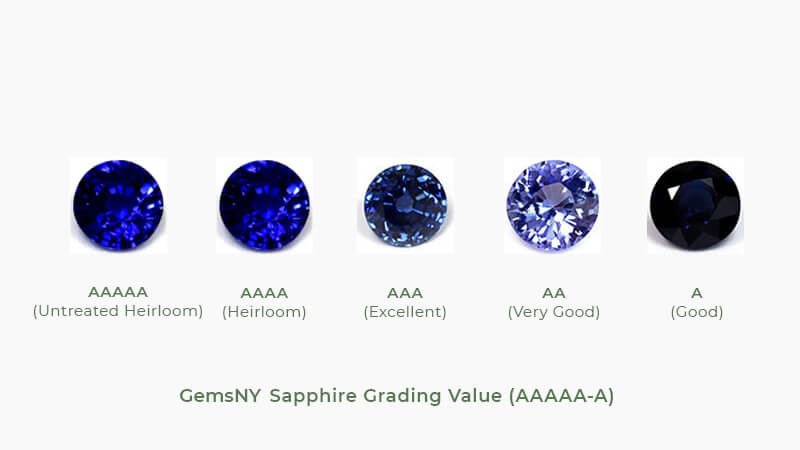 In our decades of experience of being a trusted dealer of natural color gemstones, we have developed a simplified grading system for the gems we offer. Ranging from A-AAAAA, the gems are assessed based on their cut, eye clarity and color intensity among other attributes. In the chart depicted above, you can see the examples of the varying grades of blue sapphires. Please note however, that there is no standardized grading system for colored stones. 
Never Go Out of Style
Sapphires have been synonymous with wisdom and purity throughout history and have also been thought to enhance creativity as well as calming and focusing the mind. Families of royalty also adorned this stone as a symbol of power, kindness, and good judgment, but make no mistake, this gemstone is far from being a historical relic! Sapphires have come to be known as the symbol of faith and loyalty, making them an excellent representation of the bond between two people, either in an engagement ring or to represent the 45th anniversary of marriage. Many religious and mythological beliefs are also associated with sapphire.
In 2010, the demand for blue sapphire engagement rings soared to new heights when Prince William proposed to Kate Middleton with an 18-carat blue sapphire halo ring. It was the same ring that belonged to his mother, the late (and great) Princess Diana. She was famous for always pushing the boundaries in her endeavors, and jewelry fashion was no exception. 
At the time when Princess Diana wore it in 1981, she was heavily criticized for wearing what citizens believed was a "commoner's ring". Today, that same ring is one of the most famous and most replicated rings in the world. It has almost single-handedly been considered to be the catalyst for the modern-day popularity of sapphires.  The Princess Diana Halo Ring design has become so popular among our custom ring requests that we have added it as a permanent setting to our collection! You may not be a royal, but you can be engaged like one! Click here to start building your ring today.
Buyer Beware… Or Not?
Diamonds are the hardest gemstones in the world, but did you know sapphires are the hardest natural color gemstones in the world? On the Mohs scale of hardness, sapphires rank 9 out of 10, which means only a diamond or a sapphire itself can scratch a sapphire. This makes sapphire extremely durable and ideal for everyday jewelry wear. We still recommend taking all the proper precautions you would with any fine jewelry such as removing it prior to any vigorous activity, as well as cleaning and inspecting it regularly; but rest assured you are getting a quality gemstone that will last a lifetime.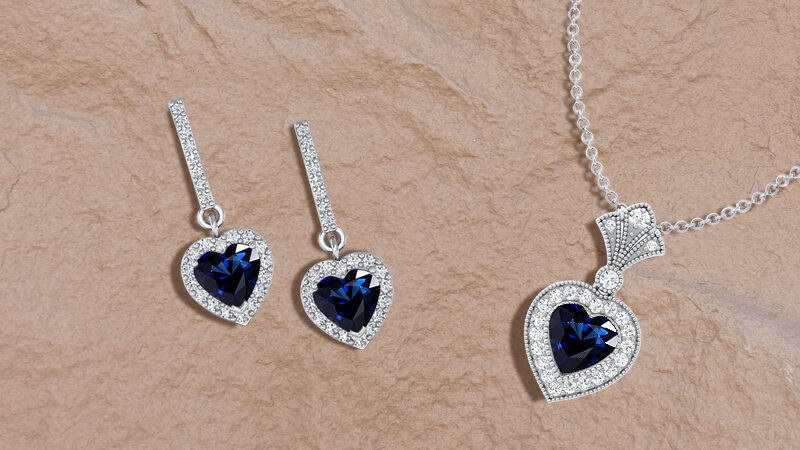 A big concern for many buyers is whether their sapphire is genuine or not. Unfortunately, there are less than stellar sellers out there who would attempt to pass off synthetic or lab-created sapphires as genuine, natural ones. That's why it's always recommended to purchase your gemstones from reputable sellers that have established themselves in the industry.
At GemsNY, we guarantee that our gemstones are 100% natural and NOT lab-created. Most of our gemstones come with independent certifications from internationally recognized organizations such as GIA (Gemological Institute of America) or AGL (American Gemological Labs) which affirm the gemstone's authenticity.