Sapphire is one of nature's best gifts to humankind. The glittering gemstone is one of the most precious gemstones in the world along with ruby, emerald, and diamonds. Loved by royalty and celebrities all over the world, sapphire has gained huge popularity among the masses too.
Are you planning on investing your hard-earned money into this dazzling gem? To make your work easier and to let you make a well-informed decision we have laid down answers to all the questions you confront before buying this sturdy gem.
Sapphire FAQS
Frequently Asked Questions about sapphire
What is sapphire's mineral composition?
Sapphire is made up of a mineral called corundum consisting of aluminum oxide with trace elements like iron, titanium, chromium, vanadium, etc. These trace elements are the reason behind the stunning shades of the gemstone.
What is sapphire's etymology?
The name sapphire is derived from the Latin word 'saphirus' and the Greek word 'sappheiros' both of which mean blue.
What are the different shades that sapphires can be found in?
Sapphires are typically associated with blue but they can also be found in a variety of different shades for example – Pink, Yellow, White, Purple, Padparadscha, etc. The mineral corundum when mixed with different trace elements during the formation results in these ravishing shades of the gemstone. You choose a color and sapphire can be found in it!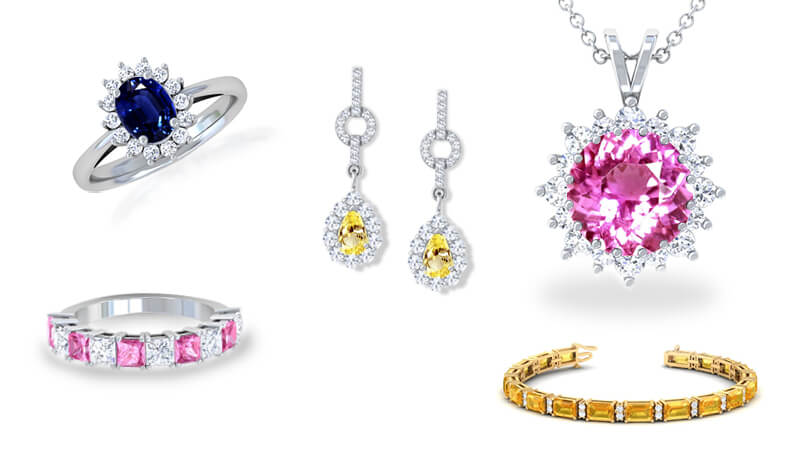 Is sapphire harder than a diamond?
On the Mohs scale of hardness, diamonds score 10 on 10 while sapphires score 9 out of 10. Mohs scale is the standard that is used to measure the hardness and durability of the gemstone and so to answer the question is a No. Sapphires are not harder than diamonds.
Which type of sapphire is the rarest and commands a high price?
Sapphires are said to be one of the rarest gemstones in the world, but among all the different types of sapphires, padparadscha sapphire is the rarest and commands the highest price because of its rarity. Padparadscha sapphire is a pinkish-orange to orange-pink-hued corundum and receives this graceful shade because of a rare combination of iron and chromium present in the mineral.
What treatments does a sapphire go through?
This is one of the most frequently asked questions. Untreated sapphires are extremely rare and very difficult to find. Enhancements in the sapphires are used to improve the color and the quality of the gemstones. GemsNY has one of the largest collections of untreated sapphires in the world. Below mentioned are the treatments that a sapphire goes through to improve its quality.
Heat – Sapphire is heated at a temperature between 800 and 1,800 degrees to increase color saturation.
Diffusion – This treatment uses chemicals in combinations with high temperatures to induce a color change. This treatment is very common among yellow sapphires
Irradiation – This treatment uses radiation to induce a color change. Because this treatment is not stable and is temporary, it is not a generally accepted treatment in the trade.
For more details head to Sapphire's education page.
What factors determine the price of the gemstone?
Sapphire's price can be determined on the basis of four important factors – the 4 Cs
Color – The color of the gemstone should be intense and evenly distributed so that when the light passes through it, it sparkles nicely.
Clarity – The clarity of the gemstones refers to the number of inclusions that can be seen through a naked eye. The fewer the inclusions, the higher the clarity. All naturally formed gems have inclusions and so fewer the inclusions, higher the price.
Cut – Cutting a gemstone is also an important factor in determining its price. The cut of the stone gives the gem its final shape which requires very intricate work leading to an increase in price.
Carat weight – The weight of a gemstone is measured in a unit called carat. The higher the carat weight the higher will be the per carat price of the gem.
Where does sapphire originate from?
The stunning gemstone is mined from alluvial deposits. There are many deposits around the world from where sapphires can be sourced, for example, Afghanistan, Australia, Cambodia, China, India, Sri Lanka, Vietnam, etc. Although Burmese, Kashmiri, and Sri Lankan sapphires have gained huge popularity as the quality of these gemstones is superior to those found in any other location, each source has its fair share in all types of sapphires.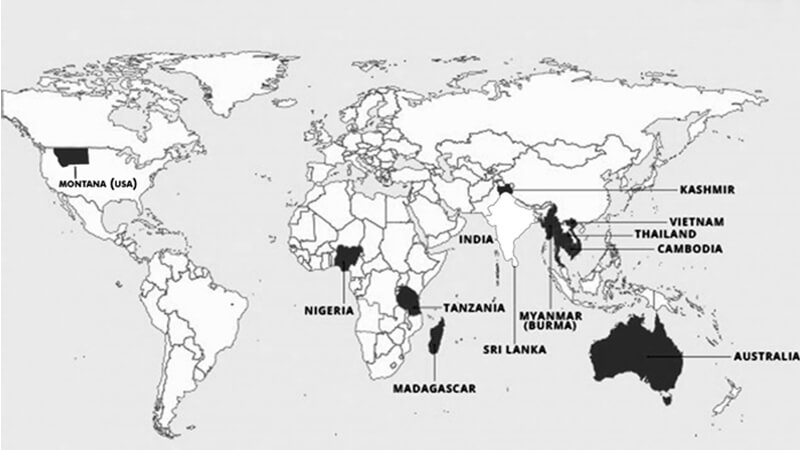 What is the overall grading value of a sapphire?
Many jewelers grade their gemstones by using letters, it is their way of showcasing the quality of the gemstone. GemsNY has an AAAAA rating to distinguish untreated heirloom-quality sapphires from treated sapphires. Please see the full grading scale and description below:
AAAAA – (Untreated Heirloom quality) – Untreated sapphires are very rare. They have very few inclusions, sometimes none, and exhibit rich color & sparkle.
AAAA – (Heirloom quality) – Sapphires of this quality have intense color and very slight inclusions.
AAA – (Excellent quality) – These sapphires have vivid to medium color saturation and consist of inclusions visible to the naked eye.
AA – (Very good quality) – Medium to light color gems. They typically have moderate to slightly included eye clarity.
A – (Good quality) – Very Light to very dark gems that tend to be opaque.
Should I buy a sapphire instead of a diamond?
Diamonds and white sapphire both have an old romanticcharm attached to them. Both have won our hearts as they are naturally beautiful. Sapphire and diamond are both stunning and rare, but we often have people asking us which one to choose for better longevity. On the Mohs scale of hardness, diamonds score a perfect 10 on 10 while sapphire scores a 9 out of 10, which makes a diamond harder and more durable. But sapphire is not far behind!
With a variety of colors to choose from, sapphires have an edge over the diamonds. Even the price range of sapphire is lower than that of diamond and so if you're on a budget but want a diamond-like gem then choosing a white sapphire is the best option.
How should I take care of my sapphire?
All gemstones need to be taken care of to increase their life and to keep them sparkling at all times! Here are a few points that you should consider –
If you want to use cosmetics such as moisturizers, oils etc. then applying those before wearing any jewelry is a good idea in order to avoid getting your jewels greased.
Swimming or bathing with your jewelry on should be avoided, as the chlorine present in the water might react with it.
Store your sapphire jewelry individually and avoid contact with other jewelry to prevent scratching.
We highly recommend annual maintenance on your sapphire jewelry, to have the gems tightened and jewelry cleaned professionally. This will ensure your jewelry lasts a lifetime.
Does a synthetic sapphire exist?
Yes, Synthetic sapphires do exist. In 1909, French chemist Auguste Verneuil synthesized a blue sapphire. During this process, he understood that iron and titanium were the cause for the blue color that the gemstone has. Today sapphires are created in artificial conditions and different elements are introduced in trace quantities to obtain the desired color. GemsNY sells only the naturally occurring sapphires which are generally evaluated from independent gem labs for authenticity.
What are synthetic sapphires used for?
Synthetic sapphires are used for a variety of purposes.
Windows – Synthetic sapphires are sometimes referred to as sapphire glass which is commonly used as a window material. It is highly transparent and extraordinarily scratch-resistant.
In Lasers – Theodore Maiman created the first laser in 1960 with a synthetic ruby rod. Titanium-sapphire lasers are popular because of their uncommon ability to tune to different wavelengths in the red and near-infrared regions of the electromagnetic spectrum.
Watches – Most modern watches come with a sapphire glass for their dial
What does a sapphire symbolize?
The majestic gemstone receives affection from all over the world, not just for its rainbow colors but also for its strength and durability. The September birthstone is a symbol of trust, nobility, wealth, wisdom, sincerity, and faithfulness. People have long believed that this jewel has the ability to promote harmony between lovers as well as peace between enemies.
Is ruby a sapphire?
The gemstone of the Royals, sapphires, and rubies, are greatly loved by everyone alike. To answer the question of whether ruby is a red sapphire, we must know that both rubies and sapphires come from the same mineral corundum and are known as sister gemstones. The only difference between both stones is that the red-colored gemstone enjoys a unique identity and has received a different name for it; all other colored corundum is termed sapphire.
Both the gemstones rank 9 out of 10 on the Mohs scale of hardness and are termed as the second hardest gemstones. Therefore, even though there are extreme similarities between rubies and sapphires, it would be a misnomer to call ruby a red sapphire.
Should I opt for a sapphire engagement ring?
There are two types of people in the world. 1. Traditional 2. Modern.
A traditional person would always have their heart on diamonds when selecting an engagement ring. On the other hand, if you're a modern person who loves to experiment with their style and have an eye for color pop then opting for a sapphire engagement ring is the best option. Sapphires come in a spectrum of colors that one can choose from – pinks, blues, yellows, and even purple.
They are the most durable and hard color gemstones in the world that can be used on a day-to-day basis. Sapphire, the gemstone of the royalty is loved by all and is an emblem of wisdom, wealth, luxury, and divine power. Who wouldn't fall in love with this gorgeous gem! So yes, opt for a sapphire engagement ring if it suits your personality and budget!
We hope all your doubts about sapphires were answered in this article. In case you've made up your mind to choose your favorite-color sapphires, head to www.gemsny.com.