Astrology is not only helpful in studying the movement of celestial bodies but also has a great impact on the lives of human beings. Astrology deals with the concept of the zodiac which is categorized into twelve signs. Each zodiac sign represents an astronomical constellation in the universe with the same name as the zodiac sign, also each zodiac has a symbol and a set of dates associated with it. With 12 months in a year and 12 zodiac signs, each sign influences a few dates in two consecutive months of the year.
Each zodiac has a ruling planet or celestial body and a few characteristics associated with it which are believed to be inherited by those who are born under that zodiac sign. Here, we are set to focus on the twelfth zodiac sign: Pisces, the water sign. So let us explore the qualities of this wonderful zodiac and the birthstones associated with it.
Pisces Zodiac Sign at a Glance
The twelfth astrological sign, "Pisces" is a Latin term translating to "fishes". It influences the lives of individuals born between February 19th and March 20th. Talking about the astrological representation of this sign, it is symbolically shown as two fish tied together and swimming opposite to each other. With Neptune being the ruling planet, Pisces-born people are believed to be romantic, creative, sensitive, compassionate and empathic in nature. These attributes make these individuals excellent at positions requiring creative edge and self-expression such as music, writing, dance, acting, etc.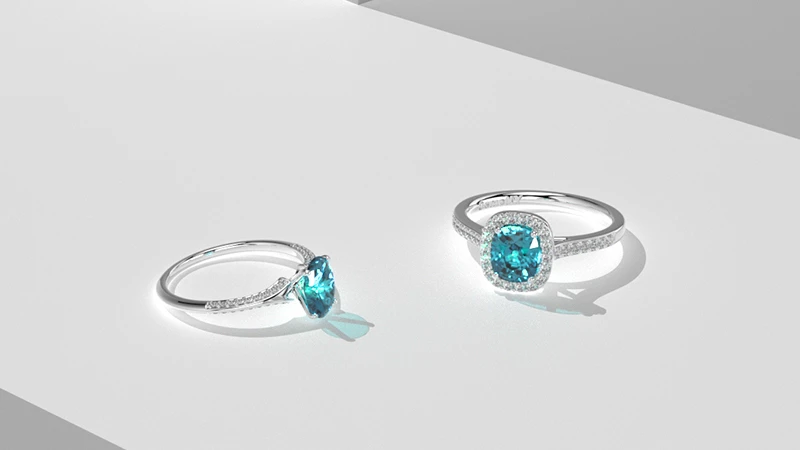 These people put their heartfelt emotions into their work and are deeply connected to spirituality. Having a Pisces in your life works like psychological therapy that can make you feel at ease during the most difficult times. As such, the empathetic and spiritual qualities of these individuals can make them earn several confidantes and believers during the course of their lives. Some famous celebrities born under the Pisces zodiac are Emily Blunt, Lupita Nyong'o, Olivia Wilde, Rebel Wilson and Rashida Jones.
Pisces Birthstones at a Glance
Pisceans are some of the most compassionate and empathetic beings you will ever come across. These people surely know their way of leaving a long-lasting impression on the people around them. Let's see what the twelfth zodiac sign has got in its secret treasure trove.
Aquamarine: The Aquatic Sunshine
Wondering which natural stone from the gemstone gallery has got the title of Pisces birthstone? Well, it's none other than an aquamarine gemstone, the March birthstone known for its super aquatic shades and transparent crystal finish.
Celebrated as one of the most coveted varieties of the mineral beryl, the term "aquamarine" translates to "water of the sea", all thanks to the ocean-inspired charismatic hues of the gemstone. You are bound to find this pastel-colored gemstone in shades ranging from pale to deep blue, some with a greenish tinge that adds more sparkle to your head-turner of aquamarine jewelry.
With an impressive score between 7.5 and 8 on the 10-point Mohs hardness scale, you can always keep your Pisces birthstone jewelry next to you. Confess your love to your soulmate with an aquamarine ring, and let its aquatic hues upgrade your life forever. As long as you are willing to pay a little attention to your aquamarine jewelry to prevent it from being chipped or scratched by hard objects or other gemstones such as sapphires, rubies and diamonds, nothing can beat the charm of aquamarine pendants as well as aquamarine bracelets.
Now comes the question, why Pisces should opt for aquamarine? If you are a Piscean, wearing an aquamarine can help you overcome all the negativity in your life. As a token of truth and wisdom, aquamarine activates the throat chakra and creates waves of peace and clarity in your subconscious mind by bringing in pure energy. It can give a boost to your creativity and confidence to venture into areas that can help you achieve great success. Aquamarine also has a great role in nurturing romantic relationships by helping you cater to your partner's emotional and psychological needs.
When it comes to dealing with emotional suffering, aquamarine is a great healer. The stone's high spiritual quotient can serve you with compassion and empathy to help you relate with yours as well as other's emotional conflicts. Wearing an aquamarine gemstone can also relieve certain health conditions in Pisceans such as psychological disorders causing emotional drain and anxiety as well as issues related to teeth, throat and jaw.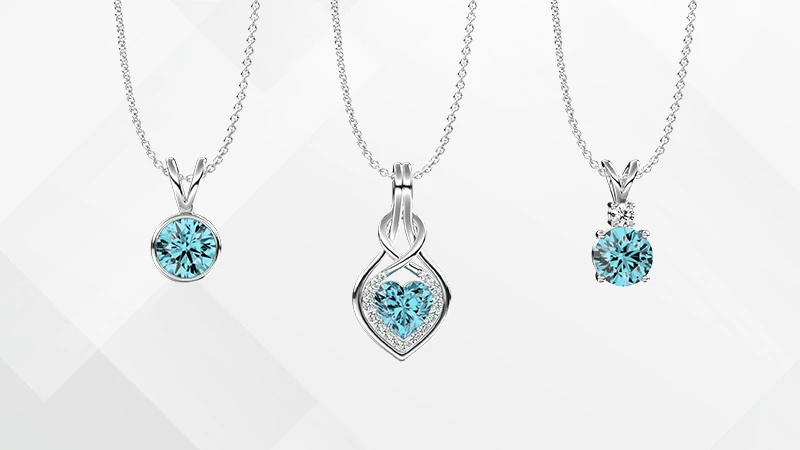 Amethyst: The Ultimate Purple Delight
Another important Pisces birthstone in the picture is the February birthstone amethyst. Known as a purple color variety of mineral quartz, amethyst gives a glassy touch to its pale violet to dark purple shades exhibiting blue and red as secondary hues. What makes amethyst popular among modern as well as traditional jewelry lovers is the fact that the dark purple color of this gemstone can be paired with white as well as yellow metals. You can set up an amethyst in contemporary or vintage designs to get your desired custom-made engagement ring.
Just like aquamarine, amethyst is an advocate of wisdom, peace and spiritual healing. If divine enlightenment is what you seek in your life then wearing an amethyst can help you connect with your higher consciousness by activating your third eye and crown chakras. As an epicenter of healing energy, your deep-rooted worries and anxieties can take a rest with an amethyst near you.
Wear amethyst in any form and it will absorb negative energy from your environment and help you with better sleep and immunity along with alleviated migraine. Better decision-making ability, a calm mental state and balanced emotional health are just a few steps away if you adopt an amethyst birthstone on your way to success.
End Note
The artistic and expressive personality of Pisceans helps them win big on personal as well as professional fronts. But there is definitely something else that can help to bring out the best capabilities of these individuals. With aquamarine and amethyst at their service, Pisceans are bestowed with serenity and clarity of mind. If you are also a Piscean and want to transform your dreams into reality then switch to your birthstone jewelry.
At GemsNY, we have an aesthetic collection of loose aquamarine stones in your preferred cut and color, alternatively, you can also invest in our ready-to-ship aquamarine jewelry. Visit our gemstone and jewelry section and order your perfect enchantment, a life changer gemstone for absolute bliss. We also have a wonderful range of engagement rings and gemstone jewelry in precious gemstones such as rubies, emeralds, sapphires and diamonds along with semi-precious varieties such as alexandrites, tanzanites, garnet, etc. available at the best prices.