Within the vast expanse of astrology lies the intricate Zodiac, a cosmic mosaic woven with twelve unique signs, each guiding the destiny of those born under its influence. Today, our focus is on Gemini (♊︎), the third astrological sign in the zodiac, represented by the twins, Castor and Pollux, known as the Dioscuri in Greek mythology. Ruled by Mercury, Geminis embody adaptability and duality, mirroring the dynamic nature of air. Like a flower bouquet in full bloom, they flourish in the richness of their multifaceted personalities. Join us in exploring the captivating world of Gemini birthstones and jewelry, where sparkling gems become celestial companions for life's journey.
What's the Story Behind Gemini Zodiac?
Geminis, those born between May 21 and June 20, are charming and adaptable souls. Imagine them as the life of a party, always ready with a witty remark and a captivating smile. Represented by the symbol of the Twins, Geminis embody a duality that's truly fascinating.
Geminis shine the brightest in social gatherings, effortlessly charming everyone they meet. Their quick wit and sociable nature make them the go-to friend for engaging conversations. But, surprise! There's another layer to them. Geminis also treasure moments of quiet introspection, delving into their intellectual depths.
Linked to the element of air, Geminis excel in the art of communication and are natural problem solvers. Their curious minds love soaking up knowledge, and they can discuss anything under the sun. Think of them as that friend who always knows a little about everything and a lot about making you smile.
Oh, and did I mention some famous Gemini faces? Think Naomi Campbell, Helena Bonham Carter, Tom Holland, and many more. It's like they carry the star power of the universe within them.
Now, how does Gemini's magnetic personality align with birthstones and jewelry? Let's unravel the glittering world of gemstones and see how they echo the essence of these vivacious Twins. Ready to sparkle? Let's go!
The Gemstones of Gemini
1. Pearls: Embrace Your Inner Elegance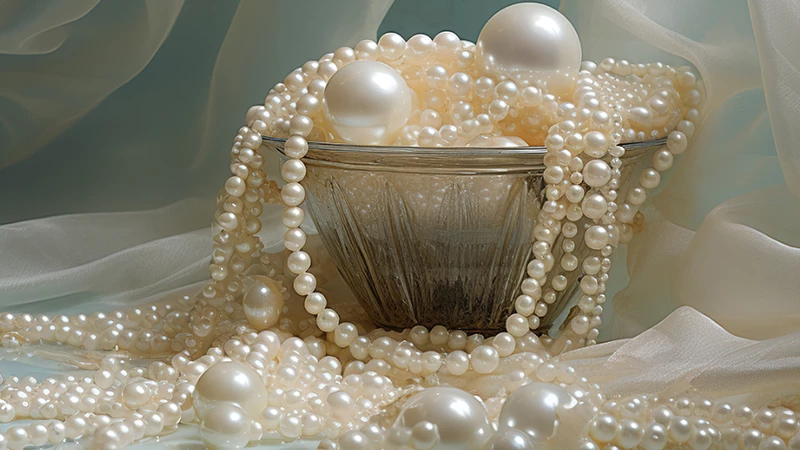 Pearls, those timeless treasures from the depths of the ocean, embody pure elegance and innocence. Geminis, ruled by the airy vibes, resonate with pearls like a soothing breeze. Just as the wind can change course effortlessly, Geminis share the pearls' adaptability. This trait makes pearls a top pick for those under this zodiac sign.
What's remarkable is how the soft, iridescent hues of pearls capture the duality within Geminis. Their knack for seamlessly shifting from one role to another mirrors the gentle interplay of colors on a pearl's surface. Be it a fancy soirée or a relaxed get-together, pearls prove to be the adaptable companions that effortlessly enhance a Gemini's grace and charm.
2. Alexandrite Birthstone: A Gemini's Color-Changing Marvel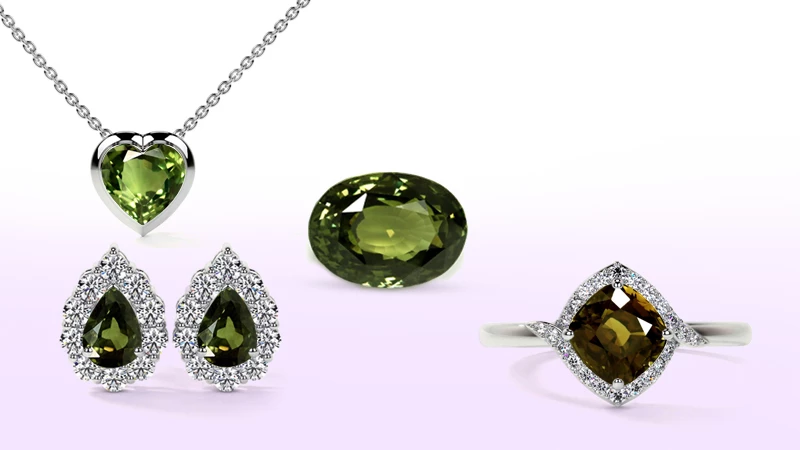 Alexandrites, these magical gems that shift colors under different lights, are like a mirror to the many facets of Gemini personalities. Think of them as a cosmic mood ring! By day, they sparkle in vibrant green, just like a Gemini's lively and communicative side. But as twilight creeps in, they transform into a deep, passionate red, mirroring the zodiac sign's fiery intensity.
The charm of alexandrite jewelry doesn't end with its mesmerizing color-changing dance. Geminis, known for their gift of gab, often discover that wearing an alexandrite piece kickstarts captivating conversations. These gems aren't just eye candy, they're like a conversation starter at a lively gathering, much like the charismatic and adaptable Gemini individuals themselves.
When it comes to birthstone jewelry, Geminis enjoy an array of choices. Beyond pearls and alexandrites, there are vibrant sapphires, lush emeralds and passionate rubies. It's like a treasure trove of possibilities, allowing Geminis to express their multifaceted personalities through the language of gemstones. Your style journey starts here!
How to Choose the Perfect Gemini Birthstone Jewelry?
1. Engagement Rings: Expressing Love and Versatility
Gemstone engagement rings featuring pearls and alexandrites make a truly unique choice for Gemini brides and grooms. Pearls, symbolizing purity and love, blend seamlessly with the color-changing allure of alexandrites, adding a profound depth to the commitment and making these wedding rings exceptionally special.
But for those Geminis who relish their versatility, don't forget about the vibrant blues of sapphires, the lush greens of emeralds, and the passionate reds of rubies – they offer an array of options to express those many sides of your personality.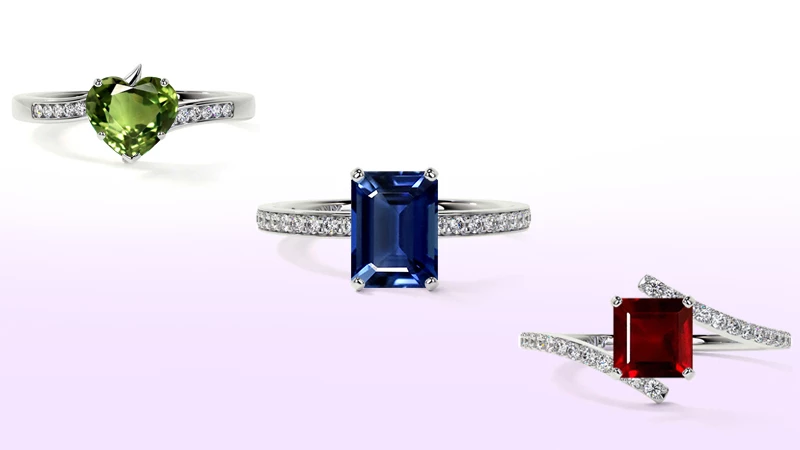 2. Pendant Possibilities: Adorning Elegance with Gemini Birthstones
Gemstone pendants, artfully crafted with pearls or alexandrites, bring exquisite elegance to your accessories collection. Whether it's the subtle sophistication of a single pearl pendant or an alexandrite pendant designed to spark intriguing conversations, Geminis will find it effortless to express their unique style through these pieces.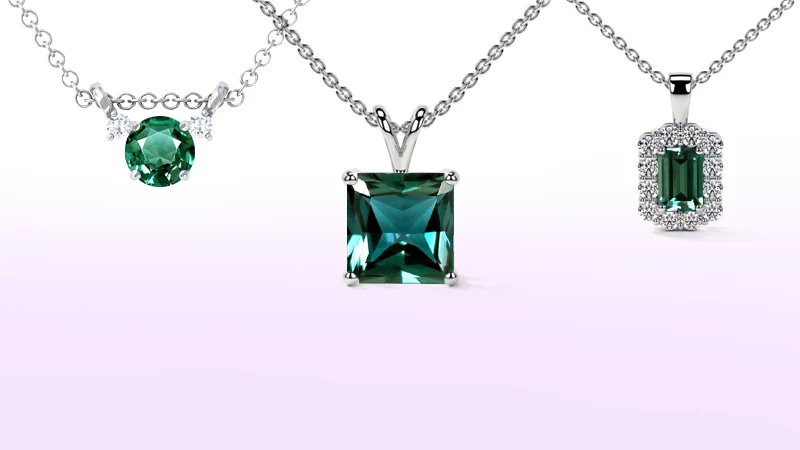 3. Earrings that Captivate: Dangling Delights for Geminis
When it comes to enhancing the charm of a Gemini, look no further than gemstone earrings featuring alexandrites. From the timeless elegance of alexandrite studs to the playful and elegant color-changing alexandrite hoops, these earrings will add that extra touch of flair to your outfit, beautifully reflecting the versatility that's at the core of the Gemini personality.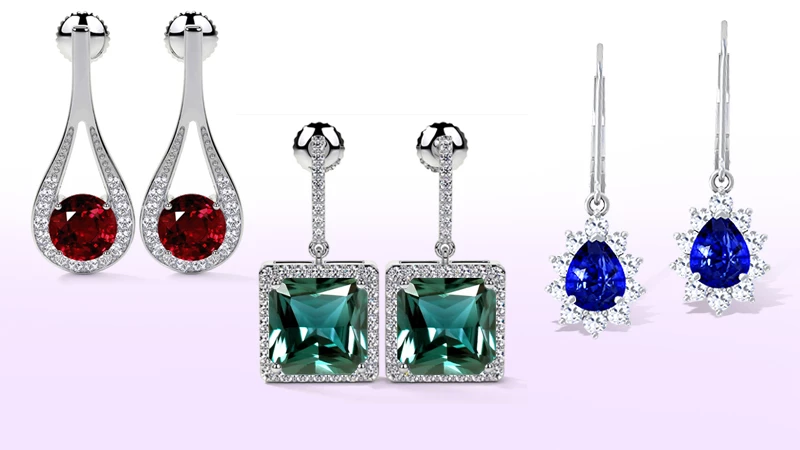 FAQ about Gemini Birthstone and Jewelry
Can Geminis wear different gemstones besides pearls and alexandrites?
Totally! While pearls and alexandrites are the classic go-to for Geminis, you can jazz up your style with sapphire rings, emerald earrings, and ruby jewelry. These gems add pizzazz to your energy and make your style pop.
Any special jewelry designs for Gemini guys?
Absolutely! Guys, there are plenty of options to complement your style. Consider adding a touch of class with a sleek alexandrite ring or a set of alexandrite cufflinks. These pieces will add a subtle, sophisticated charm to your outfit, perfectly tailored to Gemini's versatile personality.
How does Emerald vibe with Gemini vibes?
Emerald, the ultimate stone for fresh starts and new beginnings, is like a cosmic match for Geminis craving growth. It's all about nurturing connections, spreading love and staying loyal. In a Gemini's collection, it's a true gem!
What's the lowdown on Ruby for Geminis?
Ruby, the gem of passion and courage, mirrors the fiery side of Geminis. It's your confidence booster, supercharging your knack for gab and connecting with others. A dash of ruby in your jewelry? Get ready for sparks to fly in your life!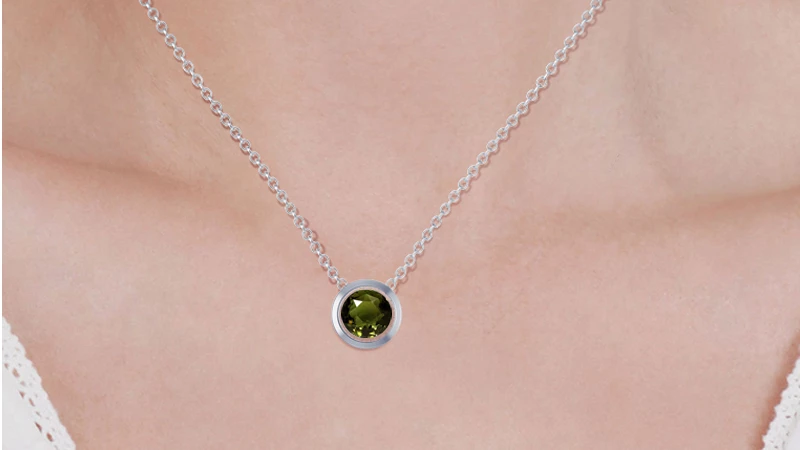 Final Thoughts
In a nutshell, Gemini birthstones and jewelry offer a fabulous way to embrace your dual nature and celebrate what makes you, well, you! Whether you're all about the elegance of Pearl or totally captivated by the mystique of Alexandrite, gemstone jewelry lets you shine in all your dazzling, multi-sided glory. But here's the real gem of the story: it doesn't end there!
Why limit yourself to just two stones when you can dive into the cosmic sea of Sapphire, get lost in the lush greens of Emerald, or ignite your passion with fiery Ruby? Your jewelry collection is like an ever-evolving masterpiece, and these gemstones are like the colorful brushstrokes that paint your story.
And here's where the excitement kicks in – with GemsNY, your journey to find that perfect piece is like a treasure hunt for your very own cosmic connection. Whether you're on the hunt for that ideal Gemini engagement ring or a statement gemstone pendant, GemsNY brings the thrill of discovery right to your doorstep. Get ready to let your cosmic sparkle shine and allow your jewelry to tell the ever-evolving story of your unique and utterly fabulous personality.